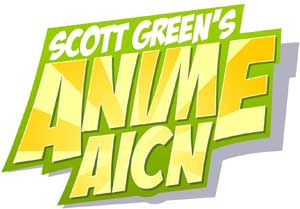 Logo handmade by
Bannister
Column by
Scott Green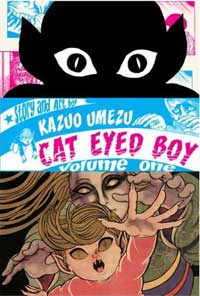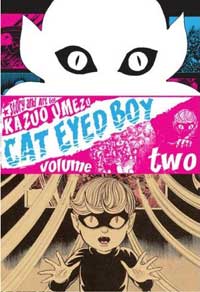 Manga Preview Cat Eyed Boy by Kazuo Umezu Based on First 150 pages Volume 1 and Volume 2 to be Released by Viz Media on June 10, 2008 500 page collections return for $24.99 Pre-order them at your local comic shop this week
For students of manga and or horror, Cat Eyed Boy offers a compelling snapshot of an important stage in the development of popular Japanese horror, but for those not looking to collect a library of landmarks, be aware that beyond being a significant work, Cat Eyed Boy is a raucous one. The passage of forty years has not dulled the threatening creepiness of Kazuo Umezu's world of lurking freaks and shadowy spirits. Given that, from the works of Takeshi Miike to Mermaid in a Manhole, a thread of celebrated, or notorious, Japanese pop media is its shock films, if your interest in horror veers more towards cinematic works than sequential art, Umezu is still a figure to know in the genre. The "dead wet girl" subset of Japanese horror has theatrical underpinnings. The nexus in that thread is the Ghost Story of Yotsuya. This tale of a poisoned samurai wife who returns as a deformed creature with running hair and a white face was introduced as a kabuki play in 1825, and generated over 30 film adaptations, going as far back as 1912 and continuing as recently as 2002. Alternatively, when a horror movie starts painting the walls red or tossing around internal organs, it is hard not to see inspiration by way of manga. This is not just due to the fact that people like Miike and Ataru Oikawa are frequently adapting from the medium. The mindset of capturing the world on a canvas that can be graphically warped and splattered upon feels very manga. If Osamu Tezuka is the God of Manga, and Go Nagai is the crazy uncle who introduced piloted mecha and magical girls, Umezu is the elder prankster who unleashed the snapping dog that is horror manga. From Hideshi Hino's boils and puss to Junji Ito's pitched maddness, there are antecedents to the later greats of the tradition in Umezu's work. David Hajdu's The Ten-Cent Plague is now widely popularizing a narrative of which students of American comics are very familiar. Targeting violent crime and horror comics, Fredric Wertham's Seduction of the Innocent put a spike through the eye of the medium. After putting a muzzle on work like EC's horror anthologies, popular comics circled the wagons around a select few, safer genres, eventually narrow focusing around super heroes. To willfully ignore the underground comics movement for a moment, North American comics eventually produced Walking Dead and Black Hole, but the Wertham movement marked a sort of mass extinction in the medium, after which decades passed before certain niches were repopulated. In contrast to this de-clawing, Japan's manga tradition saw the rise of Kazuo Umezu. Born in 1936, Umezu began his career in 1955 with titles such as "Betsu-Sekai" (Another World) and "Mori-no-Kyoudai". At the time, these where available through Kashi-hon, which were rented to manga readers. After working on sometimes risqué romantic comedies known as rabu-kome, he began working on horror manga, making a name for himself with traumatizing works like Drifting Classroom and gag manga like Makoto-chan. Umezu's shocking brand of horror did not arrive without precedence. In bringing his disturbing vision to manga, Umezu erected a particularly imposing gothic addition to the house built by Tezuka, but the fascination with the aberrant had already been a focus for Japanese media. These parallels are always precarious, but Japan's Taisho period (1912-1926) can be compared to Germany's Weimar Republic. Both were marked by liberal democracy that eventually gave way to right wing militarism. One of the artistic movements of the Taisho era was "ero guro nansensu" or "erotic grotesque absurd/nonsense." It's a tradition that began with infamous ukiyo-e prints of unnatural acts or provocative mixes of sex and violence, and it continues today in confrontational veins of music or manga. In the late sixties, manga was hedging a bit in that direction. In 1967 Osamu Tezuka produced his proto-Blade Of the Immortal, Dororo and Kazuo Umezu produced Cat Eyed Boy. As the barker proclamations of the rear cover for Viz's release of Cat Eyed Boy indicate, the spirit might not be terribly ero, but its immensely guro-nansensu A chilling concoction of dark vignettes with the macabre, the grotesque and the absurd. Hated by humans and demons alike, the cat eyed boy dwells in the shadows of the human world. No matter where he goes, terrifying situations involving humans and demons begin to unfurl. Revenge! Obsession! Retribution! Cat Eyed Boy, is the second earlist of Umezu's works to be released in English. The first to be released, was Viz's now out of print, volume long Orochi: Blood, a gothic horror melodrama concerning sibling jealousy and an unaging girl, not unlike what is thought of as "J-horror." More recently, Viz has nearly completed their release of his 11 volume frenzied epic Drifting Classroom, an experiment in extreme sociology with a school full of children stranded in a lethally barren, apocalyptic future. Perhaps the most relevant reference to Cat Eyed Boy is his Scary Books. Three of its ten volumes where released in North America by Dark Horse before they halted the title. It was an anthology that would tell a pitch black, feudal tragedy, but more often had devilish fun recounting either gothic or frenzied school children tales. Cat Eyed Boy feels like an earlier work. The 1965 Repitilia, released in North America by IDW is the early amphibian stage of the evolution between the Rabu-kome and what was to come, but Cat Eyed Boy still seems raw, and openly experimental. Umezu was going wild in a new playground. The manga offers an inclusive look at oddities and monstrosities. Opening on a creaky, mildew stained mansion, the manga closes in on the attic, then, on a pitch shadow in the attic, and in this shadow lurks a pair of cat eyes. When the view is eye ball to eyeball, laughter springs out of the darkness, and the Cat Eyed Boy introduces himself and addresses the reader as a co-conspirator. "Wherever I appear, something frightening happens. It must be that terror summons me. I hope nothing happens in this mansion." This devil child offers a participatory point of view of events that trade on anxiety, repulsion and fascination. The perspective seeks out the weird and disturbing, as if the world was a rock that could be turned over in order to spy on the creepy crawlies underneath. And though the Cat Eyed Boy is indomitable, beaten and berated, he continues to willfully endure, the manga pings the reader's uncertainty about their own monstrous nature. It plays to our fear that our parents aren't our parents, and rather than scientists from Krypton, our true parents are really menacing outcasts. It plays to our fear that our flaws are glaring, uncorrectable and ultimately fatal. For an older reader, and given the grisly imagery of the manga, most of its North American readers are going to be older, the nervousness and the excitement recalled by this mix amounts to a child-like but not juvenile experience. In these early episodes, Umezu is a wobbly story teller. Narratives are more likely to carren into a development than gracefully build to one. He might present the points, but when connected, it's a herky-jerky arc. It's Umezu's illustrations that establish a absurd, grotesque world of strange dangers. The three distinct stories in the available sample escalate from the simple to the elaborate. The simple is your standard issue ghoulish burnt man. In a Fallout (the PC games) sense, there is an ironic gap between the squared jawed productive members of society and this physically and ethically threatening lurker. Umezu understands the medium in which he's working, and he utilizes that understanding to build a presence for this sore thumb character. A regular, bright eyed boy is running through the rain for most of a page and in the last panel, over his shoulder, an arm reaches out with an umbrella. Flip the page, and there's a close up of the pealing skin, asymmetric jaw, and clenched fist of this menacing figure. The carnage is gruesome, but objectively, it's not anecdote worthy the way that MPD Psycho or Drifting Classroom might be. There's no, "check out this manga, characters get eaten to the bone by tiny insects." Yet, given the way that Umezu captures this character pawing at windows with his bloody stumps, the lurker haunts the short story as a potent threat. The bloody elevator of the Cat Eyed Boy preview offered by Viz is The Tsunami Summoners. In AICN fashion, first a gripe: Japanese folklore is populated by phone books worth of quasi-spirit creatures under the wide umbrella of yokai. This include horned brutes called oni, often translated as "goblin", "ogre", ect, turtle men with water carrying bowl heads called kappa, often translated as "water imps", long nosed, winged mountain spirits called tengu, "goblin"/"ogre" again, baka neko phantom cats, shape shifting foxes, shape shifting tanuki and on and on. In 2008, an anime/manga/Japanese media fan has seen all of these terms. To translate yokai as "goblins" in a work like Cat Eyed Boy seems like a mistake. "Yokai" is mysterious and or it is an umbrella for this large cast of mythological beings. A "goblin" is a familiar, ugly half-person. The effect suggested by "yokai" is more suited to Cat Eyed Boy than the effect raised by "goblin." As that mini-rant indicated, The Tsunami Summoners is Umezu's jaunt into the world of yokai. He sets it on one of those rural villages, locked against the sea by mountains. Utility poles are one of the few signs that the story is not set in pre-modern times. Here, he reveals the works of the yokai. Like putting a magnifying glass to pond water, the introduction of the right lens reveals a startling complex, bizarre, hidden world. Walking into the wrong forest clearing at the wrong time will put the unwary face to face with will-o-the-wisps, snake women, crawling heads, hags, apes with giant eyes for backs, and a whole dreamlike grotesque mimicry of humanity. It's Where the Wild Things drive you mad or call upon the forces of destruction to ruin you. Umezu is not the only artist to pack a glen full of yokai. It's a familiar tableaux. What makes The Tsunami Summoners potent, is the way that they crawl out of the darkness panel by panel, and that once they show themselves, they are revealed to be the sort of hideous, primordial menace that every child hopes was not hiding out of sight. Again, Umezu's command of the medium comes into play. He establishes a solid shape to these creatures with a dark outline. Then, there is always something that throws off the eyes beyond their unnatural shapes. This is either too chaotic, such as streams of hair, ripples of fat and wrinkles, knots of tentacles, or it is too intricately ordered, such as clothing or scales that repeat too much of a tightly interlinked repeated pattern. Though The Tsunami Summoners has a disturbingly cruel scene of impalement, the story demonstrates the primary nature of Umezu horror. Rather than being a gorehound, he's a prankster. He twists the manga form in one way or another, invariably bending it to a point where it will provoke a reaction.
Bandai Visual Puts Titles on Shelf
Bandai Visual USA announces its decision to postpone the release of three recently announced titles: Shigofumi: Letters from the Departed, true tears, and sola. Having reviewed the current market conditions and expectations, Bandai Visual Co. Ltd. and Bandai Visual USA Inc. are now reconsidering the overall release strategy of packaged animation media in the United States and in the global marketplace. President of Bandai Visual USA Tatsunori Konno said, "Many aspects of the anime market are in a transitional phase. We need time to reinvent ourselves so that we can bring our customary quality together with better customer satisfaction. We will also try to focus much more on Blu-ray disc releases now that format war has ended." A new release schedule for the three titles will be announced as soon as possible. Other on-going and forthcoming Bandai Visual USA titles such as HARUKA: Beyond the Stream of Time – A Tale of the Eight Guardians, Super Robot Wars: OG – Divine Wars, YUKIKAZE [Blu-ray Disc Box Set], and FREEDOM [HD-DVD / DVD Twin-Disc Format] remain unaffected by this change and will be released as scheduled.
Figures News
Organic Hobby, Inc in conjunction with Happinet will be releasing Prism Ark – Priecia in May with a SRP of $110.00. The character "Priecia" is based on a Japanese erotic video game and the sequel of Prism Heart developed by Pajamas Soft. Its first release was on August 25, 2006. This work contains adult-only content of a sexual nature. Priecia is thought to be the princess of Wind land. She is also enrolled in the knight school where she met the other characters, such as Hyaweh, Kagura, Fel, Filia. In the school, she was widely known for her expert swordsmanship as well as her beauty. "Priecia" is a 8 ½" tall fully painted PVC figure (with doll eyes) and comes in a window box with a custom base for display.

Organic Hobby, Inc in conjunction with Kaiyodo will be releasing the Revoltech Gurren Lagann in May with a SRP of $24.00. Revoltech Gurren Lagann, is based on a Japanese shonen anime television series animated by Gainax and co-produced by Aniplex and Konami known as "Tengen Toppa Gurren Lagann (or Break-Through Heaven Gurren Lagann" or more loosely "Heaven Shattering Gurren Lagann)." The "Gurren-Lagann" is originally formed as a response to the Enki's initial two-headed configuration. Its status as a fused machine (with two exceptionally spirited pilots) makes it one of, if not, the most powerful entity of its size seen in the series. The figure is 5-6" tall and has 54 articulation points with 19 joint parts. "Revoltech Gurren Lagann" comes equipped with interchangeable accessories and parts (1 core drill, 1 optional pair of sunglasses, 4 optional hands, 1 optional head and 1 display base).

Yamato USA has announced that they will be releasing The GN-U DOU Braiger: Galaxy Cyclone Braiger figure in July / August 2008 for $35.00 The GN-U DOU is a tribute to the giant robots of Japanese anime in palm-sized form with meticulous attention on articulation and posing. Made with safe, high quality non-phthalate PVC, Braiger measures approximately 5.50", features over 30 points of articulation, and include interchangeable parts and themed weaponry all packaged in collectors style window boxes.

Go Hero has a new preview of the prototype for their Buck Rogers figure here Super7 Sky Deviler. $65.00. Available from Super7 on Saturday, March 22nd at 11am. Also, Kaiju's Vegitius figure CollectionDX has launched a Flickr group
Moyoco Anno Breaks for Health
ComiPress reports that manga artist Moyoco Anno (Hataraki Man, Happy Mania) announced on her blog that she will be taking a rest from work due to health problems, and that all of her work other than Ochibisan will be put on hiatus. Moyoco Anno has been in poor health for the past few years, and confessed her feelings in her blog: "during cases when my health failed, I tried to restart my work after a brief rest, but now even that has become difficult for me. Let me take a rest for a longer period of time, so I don't have to go over the same trouble again." [...] "although I can't say when I'll be back, I want to draw manga again. I want to be back so I can do it."
Awards
Anime History lists the recipients of Kadokawa's 2nd Annual Seiyuu Awards Best Leading Male: Miyano Mamoru (for Gundam 00) Best Leading Female Hirano Aya (for Lucky Star) Best Supporting Male Ono Daisuke (Minamike, Rental Magica) Kamiya Hiroshi (Gundam 00) Best Supporting Female Kugimiya Rie (Hayate no Gotoku!) Saiga Mitsuki (Moyashimon) Best Rookie Male Hatano Wataru (Terra he…, Saint Beast) Yonaga Tsubasa (Ookiku Furikabutte, Gigantic Formula) (No idea who these people are) Best Rookie Female Katou Emiri (Demashitaa! Powerpuff Girls Z, Lucky Star) (Kadokawa) Kobayashi Yuu (Gintama, Sayonara Zetsubou Sensei) (Loosely tied to Kadokawa) Singing Award Hirano Aya Katou Emiri Fukuhara Kaori Endou Aya (Lucky Star OP) Best Personality Suzumura Kenichi (Cherry Bell) Special Achievement Jyou Tatsuya Achievement Award Nozawa Nachi Hazama Michio Kinomiya Ryouko Synergy Award Kamen Rider Denou (Seki Toshihiko, Yusa Kouji, Terasoma Masaki, Suzumura Kenichi) Tomiyama Kei Award Furuya Tohru (Gundam, Kyojin no Hoshi, Saint Seiya) Production I.G's animated ad campaign Asience: Hairy Tale has been selected for the Official Competition in the Advertising Film Section of the Annecy International Animated Film Festival 2008. Makoto Shinkai's Neko no Shukai, Shinji Kimura's Attack of Higashi 2-chome and Kumio Kato's Tsumiki no Ie were selected for the short film category.Kimoshi Chioka's Hataba Kitaro, Frederic Soumagnas' Tokyo Punch, and Satoshi Tomioka's Usavich we participate in the TV Series category. Also, Production I.G and Naoyoshi Shiotani's bittersweet love drama Tokyo Marble Chocolate (2007) is one of the 5 films selected for the official competition in the Feature Film Section of the 12th Seoul International Cartoon & Animation Festival (SICAF 2008). According to ComiPress, the nominees for the 12th Tezuka Cultural Awards have been announced in the Asahi Shimbun newspaper. * Umimachi Diary (1) Semishigure no Yamugoro by Akimi Yoshida [ Shogakukan ] * Ooku by Fumi Yoshinaga [ Hakusensha ] * Kaijuu no Kodomo by Daisuke Igarashi [ Shogakukan ] * Nana by Ai Yazawa [ Shueisha ] * 81diver by Yokusaru Shibata [ Shueisha ] * Moyashimon (Tales of Agriculture) by Masayuki Ishikawa [ Kodansha ] * Ushijima the Loan Shark by Shohei Manabe [ Shogakukan ] * Yotsuba&! by Kiyohiko Azuma [ MediaWorks ] * Lucu Lucu by Yoshitoo Asari [ Kodansha ] * Red by Naoki Yamamoto [ Kodansha ]
Fall DMP Yaoi Releases
Digital Manga Publishing,, has announced the debut of five new novels under its yaoi (homosexual male romance for a female audience) Juné imprint for Fall 2008 Passion - Forbidden Lovers by Shinobu Gotoh and Shoko Takaku ISBN: 9781569705742 Available October 21, 2008 Juné Manga celebrates the conclusion of its first yaoi series Passion by Shoko Takaku and Shinobu Gotoh with the release of its original novel – Passion: Forbidden Lovers. Join Hikaru and Shima in their exploration of a forbidden love.

The Guilty by Katsura Izumi and Hinako Takanaga ISBN: 9781569706145 Available October 21, 2008 Illustrated by Hinako Takanaga, The Devil's Secret (801 Media: 9781934129227) and Little Butterfly (DMP: 9781569709078), and written by world famous author Katsura Izumi, The Guilty is a four volume series reminiscent of the DMP best seller Love Recipe (9781569708255). Toya Sakurai only went into the publishing business to work with his favorite author, Kai Hodaka. And now he's getting the chance to do exactly that! But the demands of the job are more than he ever expected. When his company wants Hodaka to publish ahead of schedule, Toya has to find some way to persuade the author to cooperate. Hodaka takes cruel advantage of the situation, demanding Toya's body in exchange for his next book. But the love of a fan is not so easily conquered… Let's just hope his fiancée understands!

All You Need is Love by Jinko Fuyuno and Noboru Takatsuki ISBN: 9781569706107 Available October 21, 2008 Junya Sawa is an ordinary man—a modestly successful bank employee in Tokyo. But that isn't the life he wanted for himself. In the eight years since he graduated from high school, he's been unable to forget the man who could have changed his life—Uzuki Kobayakawa, the heir to a yakuza dynasty in Tokyo. Now, brought together by chance once again, he's forced to face the choices he made in his youth that tore them apart and to decide whether their differences will keep them apart forever. Noboru Takatsuki is most famous for the artwork in the popular PC yaoi games Silver Chaos and Hanamachi Monogatari. Jinko Fuyuno has published over 26 yaoi novels in her career. The combination makes for an explosive novel with stunning artwork and a moving plot.

Dark Walker by Hikaru Yura and Hirotaka Kisaragi ISBN: 9781569706152 Available November 18, 2008 Tomoki Naruse has just started his freshman year in high school. And as with all healthy, young men at his age, he's been dreaming of sex. But Tomoki isn't having normal wet dreams like his classmates! In his nightmares, err… dreams his partner is a man and to make things worse, Tomoki is on the bottom! Aside from Tomoki's unsettling dreams, high school life is fun – especially with his new, handsome, best friend Yugo Oda. But Yugo is no ordinary freshman; he is involved in mysterious activities that Tomoki can't even begin to imagine…

Secret Moon by Siira Gou and Sato Tomoe ISBN: 9781569706169 Available December 2, 2008 Akihiro Tomoe has lived been living a lie for decades. A vampire, he has been able to hide his identity and somehow insinuate himself into typical town life. However, this peaceful and somewhat dull life is about to change. One night, he stumbles across a man called Taichi Yamagami. Attracted to the pure but wild Taichi and meaning to cut it off after one night, Akihiro seizes Taichi's body. But one night of passion isn't enough to satisfy Akihiro and he finds himself seeking out Taichi again and again. However, Taichi seems to have a few secrets of his own. Whenever the moon shines from the night sky onto the gentle Taichi, his personality transforms…

For more information on Juné Manga's current and upcoming titles, visit www.junemanga.com.
Upcoming From CMX
SHIRLEY VOL. 1 Written and illustrated by Kaoru Mori Further exploring the world of maids in English society which she portrayed in EMMA, Kaoru Mori moves slightly forward in time-from Victorian to Edwardian England. When Miss Bennett gets too busy running the pub she inherited, she decides that she needs some help at home. She posts a notice for a maid and young Shirley Madison replies. Shirley can clean and cook as well as anyone - even if she's only 13 years old! As readers have come to expect from creator Kaoru Mori, this one volume collection of short stories is filled with rich period detail, sympathetic characters, and moving stories. on sale July 2 o 5" x 7.375" o 200 pg, B&W, $9.99 US o TEEN

TEARS OF A LAMB VOL. 3 Written and illustrated by Banri Hidaka on sale July 2 o 5" x 7.375" o 192 pg, B&W, $9.99 US o TEEN

VARIANTE VOL. 4 Written and illustrated by Iqura Sugimoto FINAL VOLUME on sale July 9 o 5.5" x 8" o 194 pg, B&W, $12.99 US o MATURE READERS

KIKAIDER CODE 02 VOL. 7 Written by Ishimori Shotaro, Illustrated by MEIMU Kikaider is back! In a bleak, future world, a young man named Jiro is really the robot called Kikaider. Created by a scientist who built robots for an evil organization, Jiro was given a special, humanizing chip to keep him from being used for destructive purposes. This sequel picks up on the fast-paced robot action of the cult CMX series and addresses some unanswered questions. on sale July 9 o 5" x 7.375" o 178 pg, B&W, $9.99 US o MATURE READERS

DOROTHEA VOL. 2 Written and Illustrated by Cuvie on sale July 16 o 5.5" x 8" o 164 pg, B&W, $12.99 US o MATURE READERS

I HATE YOU MORE THAN ANYONE VOL. 5 Written and illustrated by Banri Hidaka on sale July 16 o 5" x 7.375" o 192 pg, B&W, $9.99 US o TEEN+

GON VOL. 5 Written and illustrated by Masashi Tanaka on sale July 23 o 5" x 7.375" o 164 pg, B&W, $5.99 US o TEEN

KIICHI AND THE MAGIC BOOKS VOL. 2 Written and illustrated by Taka Amano on sale July 23 o 5" x 7.375" o 160 pg, B&W, $9.99 US o TEEN

TENJHO TENGE VOL. 17 Written and illustrated by Oh! great on sale July 30 o 5" x 7.375" o 200 pg, B&W, $9.99 US o MATURE READERS

PENGUIN REVOLUTION VOL. 6 Written and illustrated by Sakura Tsukuba on sale July 30 o 5" x 7.375" o 192 pg, B&W, $9.99 US o TEEN
Sales Charts
blog@newsarama notes that volume of 28 Naruto, which relaunches the series with a two year time skip, ranked 17th in USA Today's USA Today book list. This is the highest position of a shonen title and two spots shy of the highest-ever ranking for manga, held by Fruits Basket, Vol. 16, in April 2007. The USA Today list tracks all genres and types of books sold in some 4,700 brick-and-mortar and online stores. Comics Snot has a top 500 sales chart
Haven To Distribute Bible Manga Series
JMG Comics, and Haven Distributors, formerly Cold Cut Comics have announced a partnership to distrbute JMG Comics' titles into comic shops starting with JMG's first series, Mecha Manga Bible Heroes. Issue 1, a sci-fi retelling of the biblical story of David and Goliath, will be released in May. The full color, 32 page issue retails for $2.25 US.
Culutral Notes
Japan's time travelling robot cat Doraemon was named Japan's first Anime Ambassador by the nation's foreign ministry. Fujiko F. Fujio's Doraemon manga ran 1969 – 1996, the anime has been running since 1979. Anime News Network reports leaders from the Russian Protestant Church have the country's attorney general to ban television broadcasts of the anime series Ikki Tousen, as well as South Park, Sealab 2021 and well as up to ten other series, and to cancel the channel's broadcast license. Ikki Tousen was noted specifically for "glorifying cruelty and containing elements of child pornography." Ikki Tousen airs on Russia's 2x2 channel under the title Shkol'nye Voyny (School Wars). The other programs were similarly criticized for promoting homosexuality and drug and alcohol use, and contributing to the destruction of public norms and values. Earlier this month, after receiving a government warning, 2x2 stopped airing two other cartoons, Mondo Mini Shows' Happy Tree Friends and Aardman Animation's The Adventures of Big Jeff. In case you missed it, bad things happen when you immitate Naruto's sand ninja Gara Around the world kids are hurting themselves immitating Naruto.
Bleach Movie Licensed?
Rumor has it that Viz is preparing a delux release for the the Bleach movie Memories of Nobody.
Super Hero Cartoon
Vi blog@newsarama With 4Kids taking over CW's Saturday morning programming, Legion of Super Heroes will be ending with a two-part episode, set to air on March 29 and April 5. Wolverine & the X-Men as well as a new Iron Man will be airing on the Nicktoons network. Wolverine & the X-Men gained notoriety when an online trailer was pulled for unauthorized use of music by the Foo Fighters. For more, see this USA Today article.
Japan LA & Pop Japan Travel Trip To Tokyo Toy Show
Pop Japan Travel and Japan L.A. have organized the Japan L.A. Super Mega Fun Tokyo Trip, a one week tour of Tokyo from June 18 to 25. Attractions include stops at Sanrio Puroland, the Ghibli Museum, Akihabara, Nakano Broadway, Hakuhinkan, Kiddyland, Kappabashi, and to the Tokyo Toy Show. There is also a two day extension to Osaka and Kyoto. The tour is priced at $2,098 plus a fuel surcharge of about $235. The extension to Kyoto and Osaka runs an additional $750, If you're interested, stop by Japan L.A. at 648 N. Fuller Ave., Los Angeles, CA, for an application, or e-mail Jamie at info@japanla.com or Pop Japan Travel at travel@popjapantravel.com.
Worth Checking Out...
The cover of Batman: Gotham Knight ComicsWorthReading provokes some noteworthy PiQ talk and Comic212 performs a page by page post mortem Anime World Order has posted an interview with Helen McCarthy, author of The Anime Encyclopedia Anime Pulse has posted a recording of Jan Scott-Frazier's "Jan Scott-Frazier Live" panel from Anime Wasabi 2008. Time looks at gender-bending teen Pokemones Manga Before Flowers — Manga Licensing Wish List Panelosophy - Growing Up Manga SAME HAT! SAME HAT!!'s A GLIMPSE INSIDE THE NEW MARUO...(and Shintaro Kago manga) Bandai Visual USA is streaming the first episode of HARUKA: Beyond the Stream of Time – A Tale of the Eight Guardians on dot-anime here Episode 62 of Right Stuf's Anime Today podcast spoke to voice actress Monica Rial. In this new, three-part interview, Rial – who has acted in more than 150 shows to date – discusses her introduction to the anime industry, her work as a columnist for NEWTYPE USA and as a ADR script adapter, how her foray into directing has brought a new perspective to acting, and her views on the current state of the anime industry. Nikkatsu screening schedule April-May On the Games Front Emblem of Gundam for Nintendo DS Bleach: Hit the Soul 5 for PSP New Super Robot Wars: Endless Frontier media Subatomic Brainfreeze looks at Go Nagai's Rambo Sensei here An interesting deconstruction of Millennium Actress Via Pop Culture Shock Your Definitive Guide to Fumi Yoshinaga Previews of Puchi Eva Well, this is animated, so it's kindof relevent. Via ITS JERRYTIME!