---
@$$ie Categories (Click category to go directly to the @$$ie Award) BEST SINGLE MOMENT SINGLE ISSUE BEST COVER ART/ARTIST BEST MINISERIES/SPECIAL/ONE-SHOT In Memoriam… BEST COMIC BOOK CHARACTER BEST ARTIST/ART TEAM BEST WRITER BEST PUBLISHER BEST ONGOING SERIES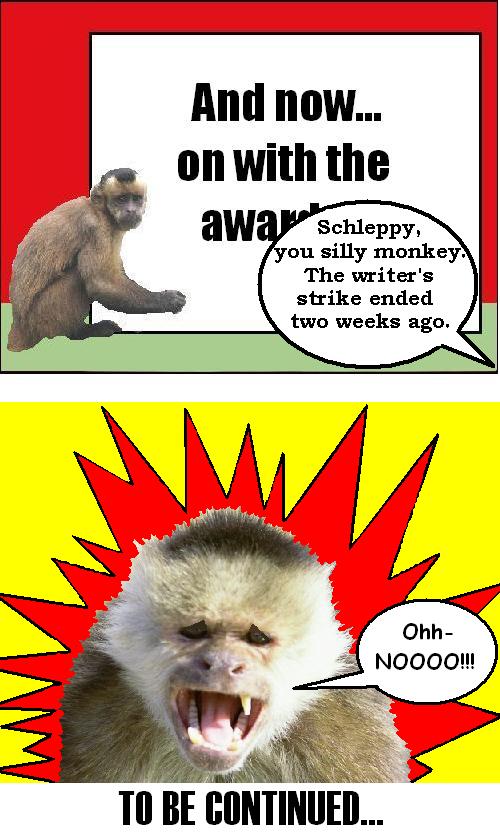 ---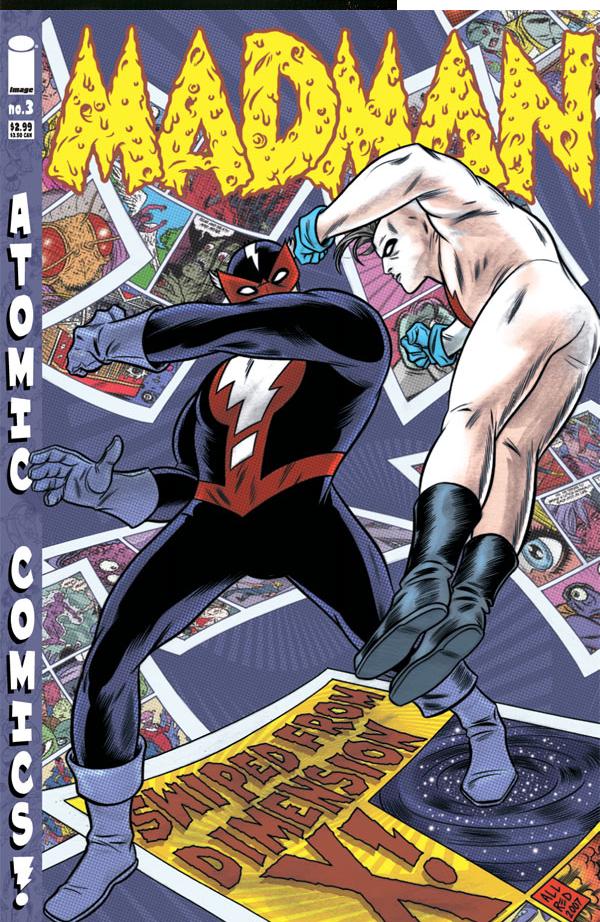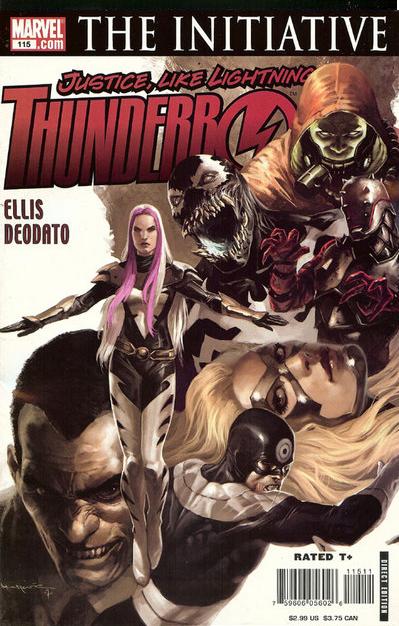 Sleazy G
- For best single issue, MADMAN #3 was a trippy tour de force where Allred pays homage to so many comic strip and book greats so quickly it takes your breath away. It reflects a genuine love of the field and its masters, and it was a joy to read. As for best moment, it's hard to forget the smack-down of Bullseye in THUNDERBOLTS #115. Warren Ellis brought a feeling of righteous vengeance to the near-fatal beating of a character who has earned everything he got and then some. It was far more satisfying than I could have expected, and stuck with me long afterward.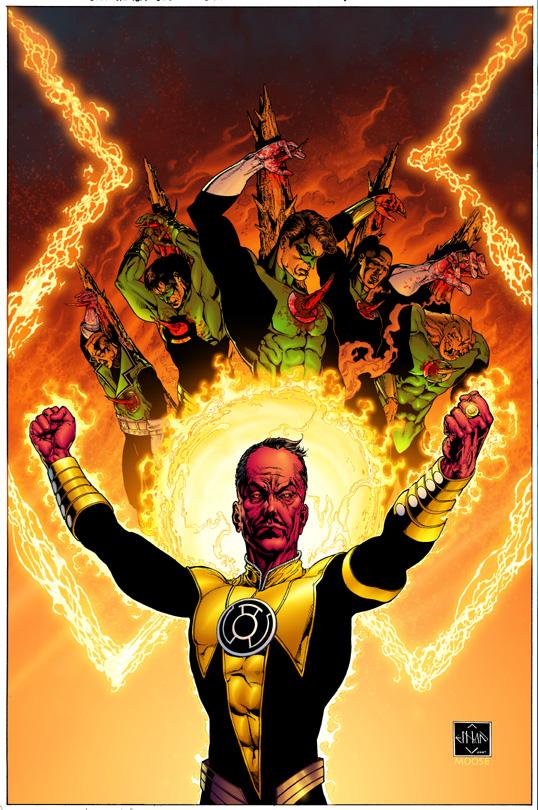 Prof. Challenger
-
GREEN LANTERN: SINESTRO CORPS SPECIAL #1
(DC) for the most exhilarating and outstanding piece of super-hero stuff I've read in years. Made me feel like a teenager again.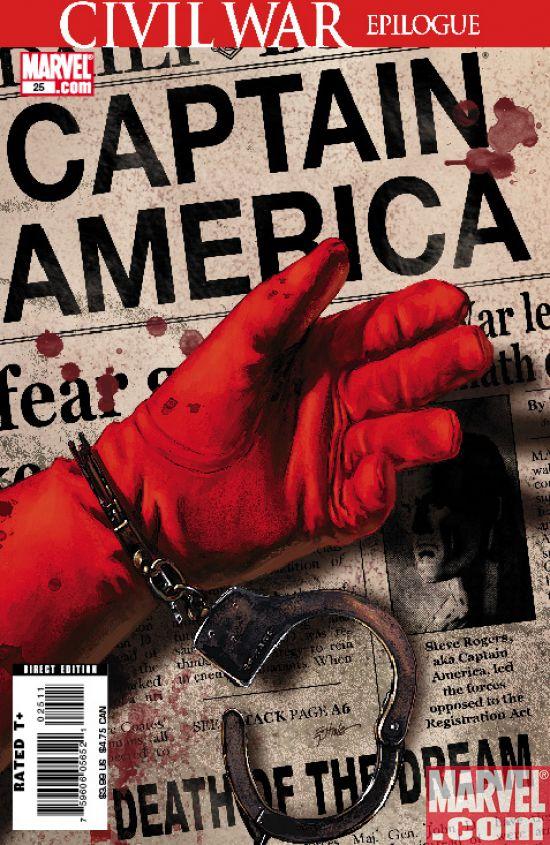 Jinxo
- I have to go with
"The Death of Captain America"
, CAPTAIN AMERICA #25 (Marvel). There were many "big moments" this year. Some had impact but no true long term significance, some had impact but were maybe contrived in some way. The death of Captain America to me seems to hit the bases in all ways. It was big with real impact. While the Civil War itself might have felt contrived, this didn't feel contrived but an organic outgrowth of what was going on in the Marvel Universe. I like the fact that it would serve as a wakeup slap to Iron Man that he isn't as fully in control and making all the right calls like he tends to think. I like the similar impact it had on the other heroes--for example, the recent conversation between The Patriot and The Winter Soldier about what being a patriot means was a good moment for both characters and a total outgrowth of Cap's death. I like that it wasn't played off as a fast quickly solved gimmick but that we're going on for nearly a year now with a Captain America comic but no Captain America. I like the irony of reviving Cap's "dead forever" partner Bucky and then killing the "lived forever" Captain. Interesting flip.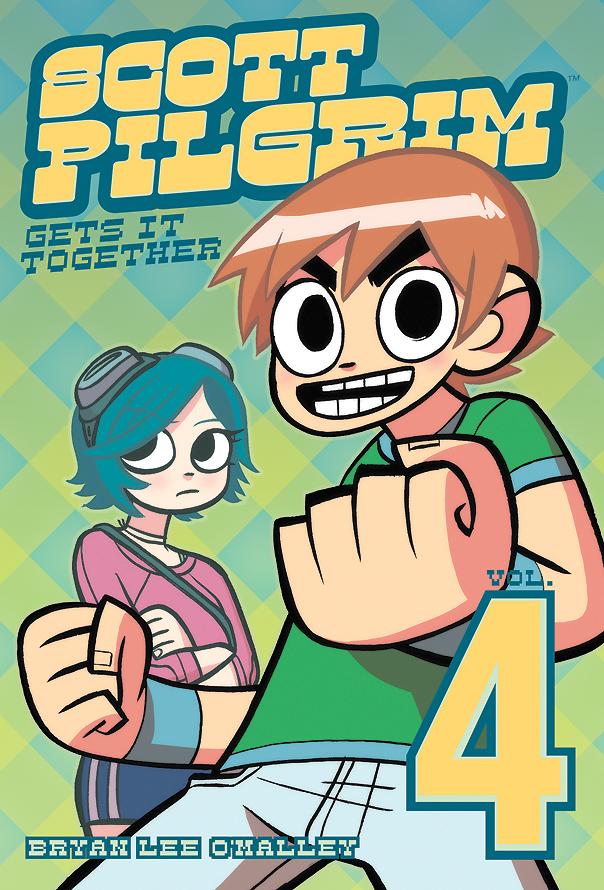 Vroom Socko
-
Roxanne Richter versus Mr. Chau versus Scott Pilgrim: SCOTT PILGRIM GETS IT TOGETHER
(Oni). The climax of the latest installment of the Scott Pilgrim story was the wildest, craziest, silliest, best fight yet. Not only did Scott come into his own, not only was the action paced amazingly, not only did it pay off a lot of what had been built up in the previous three volumes, but it was the most fun I had reading comics this year.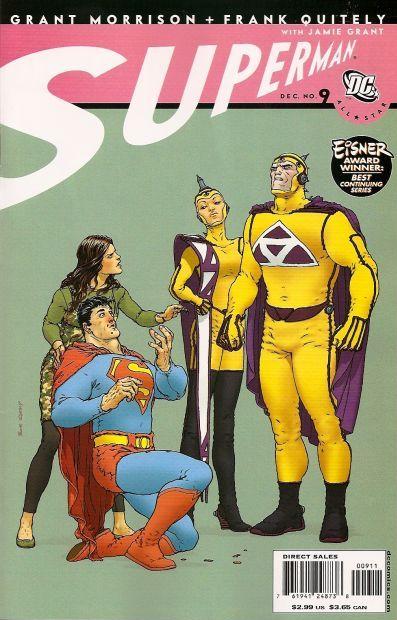 Stones Throw
- Had it not failed to meet the letter of the official consideration rules (four or more issues must be left lying in the bathroom of a theater in Los Angeles for at least one week), you can bet ALL STAR SUPERMAN (DC) would've been romping home with my "Best Ongoing Series" @$$ie. As it is, Morrison and Quitely are gonna have to settle for this honor. This year they produced a fantastically quirky
two-parter set on Bizarro World
which also gave us a Superman supporting character for the ages—Zibarro—but it was
#9
that I felt epitomized what makes this book great. One more classic and timeless SUPERMAN story in 22 pages is enough to sweep home my award and put almost every other book on the stands using an iconic superhero to shame. I guess the Scots are good for something other than invading and forcing into centuries-long Unions…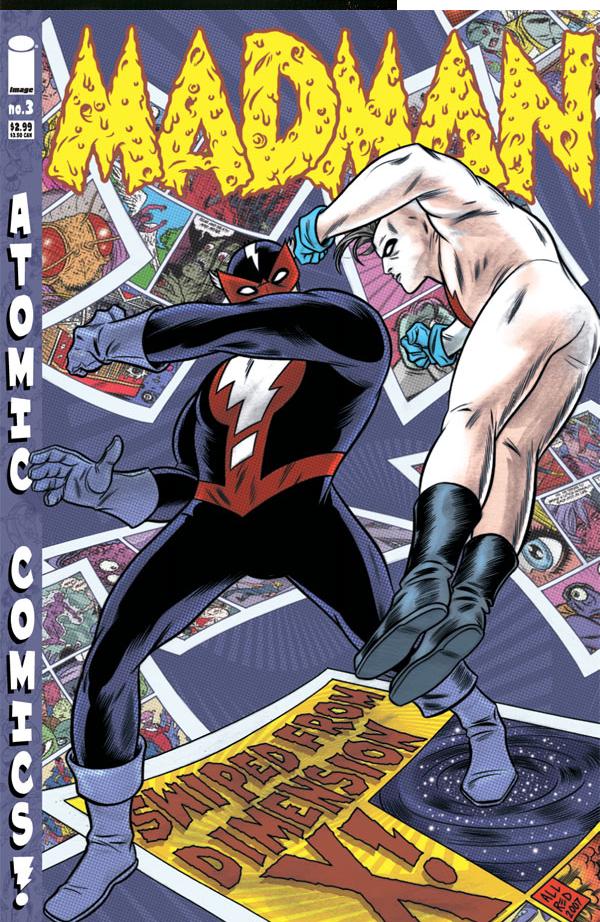 Humphrey Lee
-
Mike Allred pays homage in MADMAN ATOMIC COMICS #3
(Image). It's rare that I give something a nod based on art alone, but if there was ever a time to praise a comic up and down for its pencil work, then it has to be now with this issue of MADMAN that came out over last summer. For those unfamiliar with this issue, what happens is that our lead Frank Einstein is on a bit of a "Journey Within" having a sort of existential crisis in his own head, alongside a figment of his favorite comic book character Mister Excitement. What makes this all so special though, is that throughout the issue, as Frank goes on his trip for Personal Truth, Allred takes the character on his journey through personal influence and self-discovery stylistically too, mimicking cartoon and comic book artistry both past and present. And I'm not talking just one or two or a handful or even a dozen styles here; there's well over 100 artists all credited at the beginning of the issue from long time greats as Steranko and R. Crumb and Gil Kane and Los Bros Hernandez to your more modern masters like John Cassaday and Frank Quitely, Paul Pope and so on. Hell, there's even a smack of Dr. Seuss thrown in for good measure. It's just a complete visual feast and such a wonderful love letter to the realm of comic story telling, not to menion being a testament to Allred's own skills, that it just completely blew me away to the point where even half a year later I still can't help but pull it out of the long box and flip through it all time and again. A fantastic comic deserving of any and all praise it gets.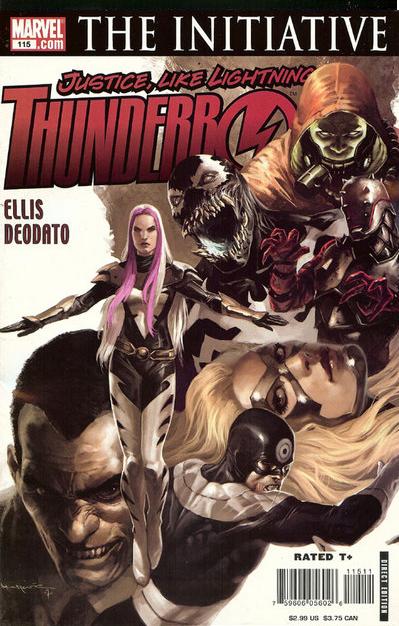 Rock-Me Amodeo
- Although I laughed out loud at Superman killing Lex Luthor with a super-spit shot through the brainpan, I have to give it up for
THUNDERBOLTS #115
(Marvel). Venom puts that huge mouth of his to the obvious test when he bites off one of Steel Spider's arms, but more importantly, American Eagle gives Bullseye the richly-deserved beating of his life. As terrifying as Bullseye has always been to the non-powered types, it never occurred to me that he's just an annoyance to a warrior-type meta, and was treated as such in a payoff that was decades in the making.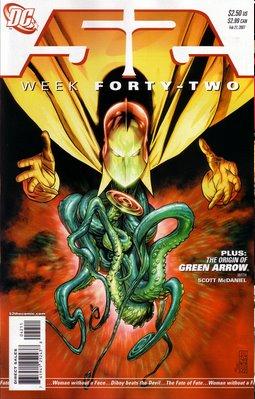 Squashua
-
52 WEEK 42
(DC): Ralph Dibny doing that thing he does all up in Dr. Fate's tower.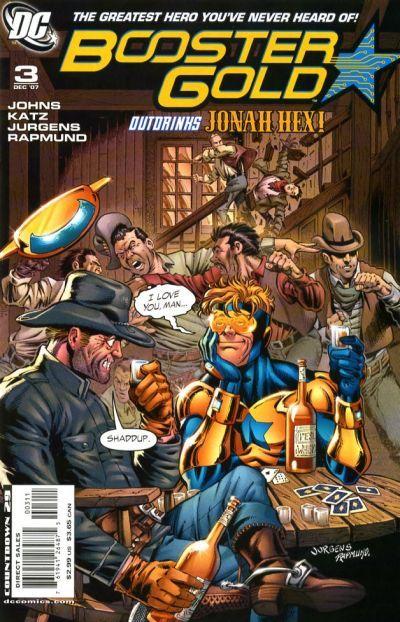 Ambush Bug
- Sure there were many mega-events and issues that rocked all of comic book-dom, but to me the issue that stands out as the best is
BOOSTER GOLD #3
(DC) where our time-traveling hero challenges Jonah Hex to a drinking contest and ends up proving how much of a lightweight he really is. The scenes of a drunken Booster confiding in his robot-friend Skeets and his horse were the funniest I've read all year. "You can't handle a cape. And he took it! He took my cape, Skeets! Do you know how it feels when Superman tells you you can't handle a cape? Not good…I forgot to eat today." Funny because it's funny and funny because I've been there so many times.
---
WORST RET-CON
AMAZING SPIDER-MAN: One More Day

THE BEACH BLANKET BINGO AWARD
THE SPIRIT #7 (DC), the Summer Special for the smashing contributions to this clambake by writers and artists like Walt Simonson, Kyle Baker, Chris Sprouse, Jimmy Palmiotti and Jordi Bernet.

BEST USE OF MAGIC IN A SPIDER-MAN COMIC
SPIDER-MAN/RED SONJA (Marvel, Dynamite) - A fun tale in continuity (well, it WAS in continuity) with magic effecting Spider-Man as it should: as a huge, fun, pain in the ass that is just one more pain-the-ass to deal with. Oh yeah, they also actually bothered to explain what the hell was going on, how the magic worked...

BEST MARTIAL ARTS COMIC
THE IMMORTAL IRON FIST (Marvel)

THE COMPOUND X AWARD FOR THE BEST USE OF A ZEMO
Writer Fabian Nicieza with artists Tom Grummett and Gary Erskine for the woefully under-appreciated THUNDERBOLTS PRESENT: ZEMO – BORN BETTER (Marvel).

BEST COMIC BOOK ROBOT
Tie: Skeets, (BOOSTER GOLD, DC) and Atomic Robo (ATOMIC ROBO, Red 5 Comics)

THE BRITNEY SPEARS/PARIS HILTON AWARD FOR OVEREXPOSURE OF A COMIC BOOK CHARACER
Sure Spidey, Supes, Bats, and Wolvie each have multiple titles, but the fact that Iron Man (Marvel) has to rear his goateed head in every other issue of every other title wins the race hands down.

---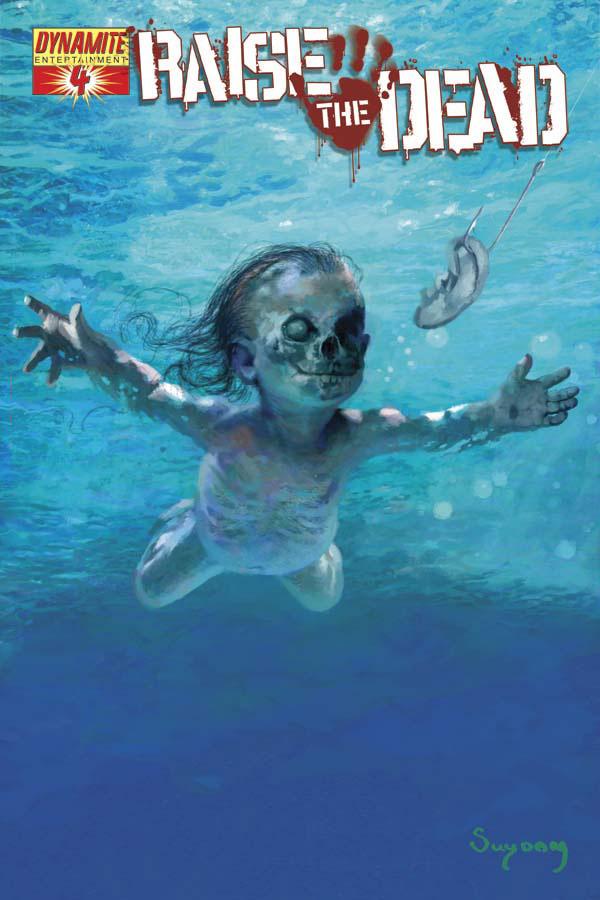 Ambush Bug
- Thinking back on all of the covers of all of the books I've read this year, I'd have to say that the ones that stood out were made by
Arthur Suydam
and although Dynamite's RAISE THE DEAD miniseries wasn't groundbreaking (yet it was a fun little zombie romp), Suydam's covers for that series were some of his best. These zombified versions of classic imagery are a motif that has been done before, but Suydam's undead renditions of the Uncle Sam poster and especially the cover to Nirvana's "Nevermind" album were the best I've seen all year.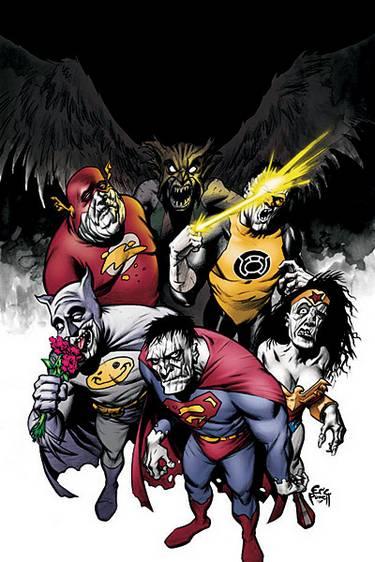 Sleazy G
- Gotta go with
Eric Powell
(Dark Horse) on this one. His work on his covers for THE GOON are always amazing, and he's continued to improve over the last year. Add in his funny yet creepy covers for the three-issue Bizzaroworld storyline he drew and I think he had some of the best covers of the year.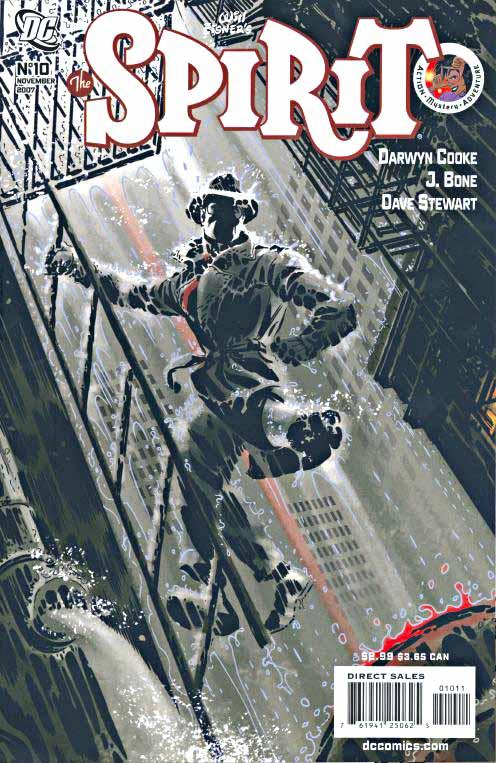 Prof. Challenger
-
Darwyn Cooke
for THE SPIRIT, specifically issue 10 (DC).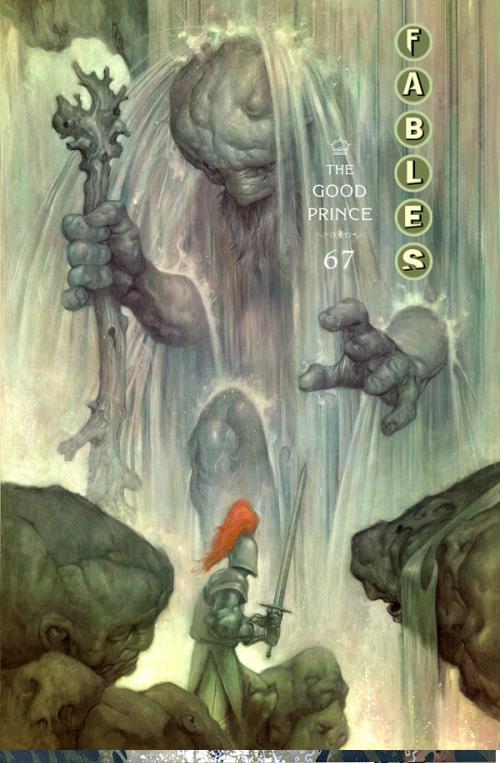 Jinxo
- He was included in last year's awards and I gotta throw him into the mix this year:
James Jean
for his cover work on both FABLES (DC) and UMBRELLA ACADEMY (Dark Horse). His covers somehow look classic and painterly while at the same time cutting edge and modern. His covers can also evoke a mood like no other covers I've seen. In short, he's good with making the big pretty pictures.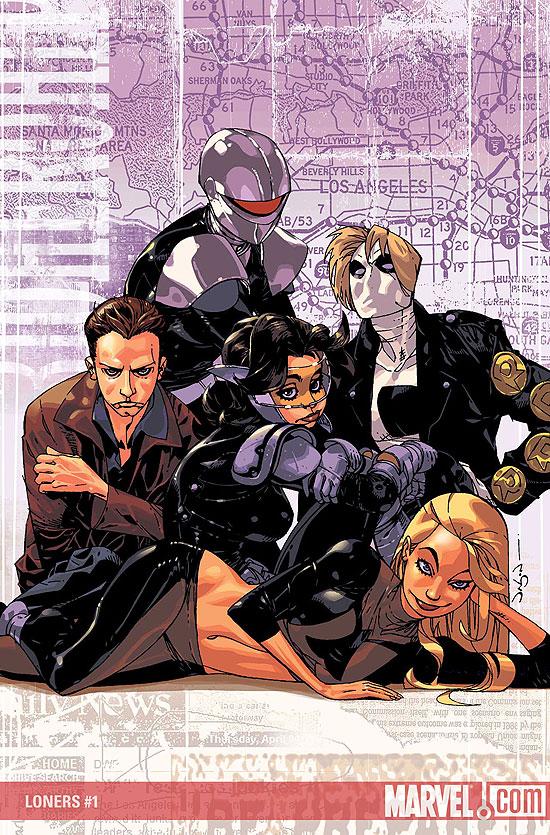 Vroom Socko
-
Jason Pearson:
THE LONERS (Marvel). What can I say, I spent my formative years in the 80's. That, and the covers here just plain rock.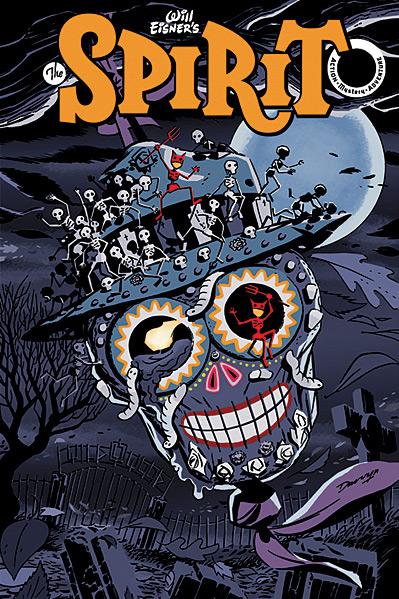 Stones Throw
-
Darwyn Cooke & Dave Stewart
(
THE SPIRIT
, DC). I think the best way to explain this choice is to say how difficult it was for me to decide which cover to…ah, ask Ambush Bug to put up a pic for. Every one is a stunner. I think I'll go with #11's zombie, creepin'-crawlin' Spirit head. Seems like a good choice. (Note: this also recognizes the double-page spread updates of Will Eisner's motif of the title being spelled out in the background that featured in every issue. I don't know how that Canadian guy did it, but each one was intelligent, surprising and able to keep you admiring for minutes on end without getting bored.)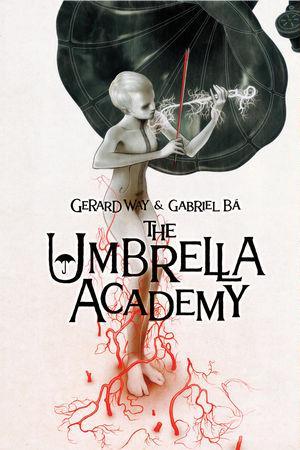 Humphrey Lee
-
James Jean
(Dark Horse/DC). I was trying really hard this year for this batch of @$$ies to not duplicate too many, if any at all, of the selections I made last year. Really, I'm just trying my best to spread as much love as I can around and give some attention to those that might be a little underappreciated or unknown, even with information literally only a click away in these days of the burgeoning Internet. That said, James Jean is still hands down one of the best cover artists in the industry today. Really, he's so amazing that I don't really know what more to say about the man's work that I haven't said in reviews past and last year's @$$ie for the same category. Hell, I basically just wrote those first two intro sentences simply to fill this out since I'm pretty much grasping for things left to say about his cover art. All you have to do is take a gander at either his work on FABLES or THE UMBRELLA ACADEMY and it should be apparent why he's held in such regard. It's lush, it's playful and provocative, it's vibrant…it's just fucking good cover art. Really, I guess that's all that had to be said, but sometimes I just like to be a wordy bastard.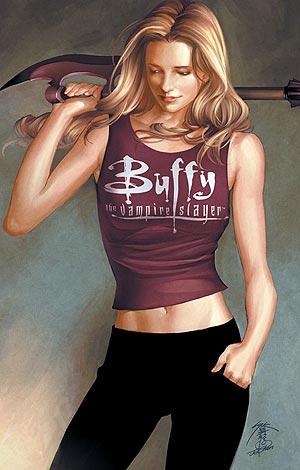 Rock-Me Amodeo
- I think the BUFFY covers (Dark Horse) by
Jo Chen
have been outstanding. I know it's unfair to expect a comic based on real people to always LOOK like the people in question, but her covers almost made up for the interior artwork.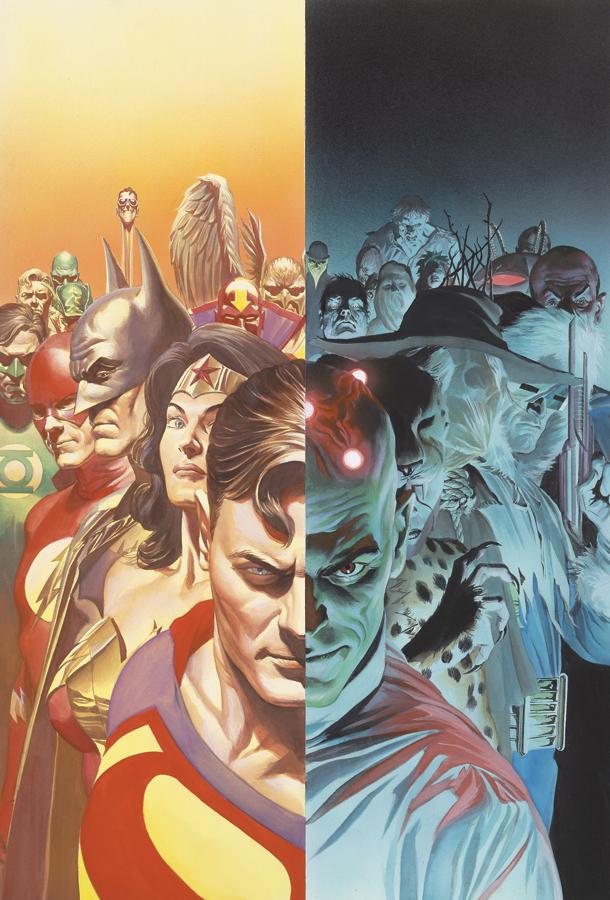 Squashua
- JUSTICE -
Alex Ross
(DC)
---
MOST CREEPY OEDIPAL COMPLEX
AMAZING SPIDER-MAN: One More Day

BEST MINISERIES THAT DESERVES TO BE MADE INTO AN ONGOING
3 Way Tie: BEYOND!, TERROR INC., & SUPER VILLAIN TEAM-UP (Marvel)

BEST WESTERN COMIC
JONAH HEX (DC)

THE MOST EXTENSIVE DISPLAY OF SUCK
Tad Williams' laborious AQUAMAN: SWORD OF ATLANTIS (DC). The words start sucking so quickly that it takes willful and relentless willpower to even finish it. I mean, really, The Human Flying Fish…really?!?!??

THE POWER GIRL AWARD FOR BEST NEW BOOBS ON THE COMIC BOOK SHELVES
Paul Dini's rather zaftig MADAME MIRAGE (Top Cow)

BEST COMIC BOOK MONKEY
Dr Pogo, UMBRELLA ACADEMY (Dark Horse)

BEST USE OF A GOOD AUTHOR TO MAKE A BAD COMIC BOOK AWARD
Jodi Picoult single-handedly destroys WONDER WOMAN's already dismal readership (DC)

BEST SUPERHERO SLUGFEST
WORLD WAR HULK #1 (Hulk vs. Black Bolt, Marvel)

---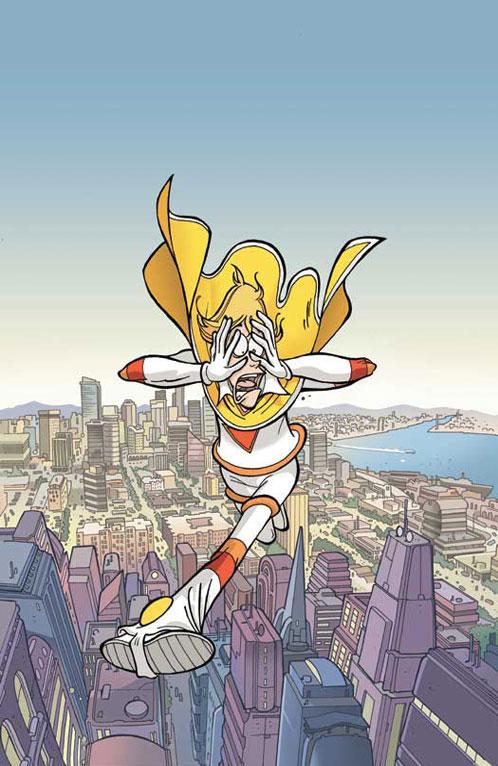 Squashua
- 52; can't forget it still ran through 2007. Barring that,
TRUTH, JUSTIN, AND THE AMERICAN WAY
you can avoid all the 1980's puns.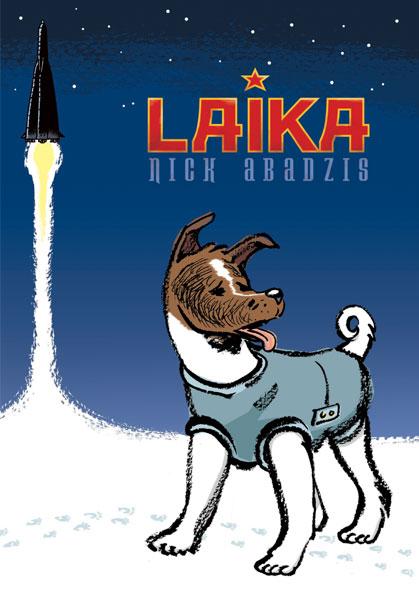 Ambush Bug
-
LAIKA OGN
(First Second) by Nick Abadzis is by far the book that stuck with me the longest this year. It's the heartbreaking tale of a courageous little dog who is fated to be the first animal in space. This story is a powerful tale about the ethics and humanity of science and how much innocence is lost when we become blinded by pride. Thinking about this book makes me want to read it again and if the final pages don't make you misty, you need to check for a pulse.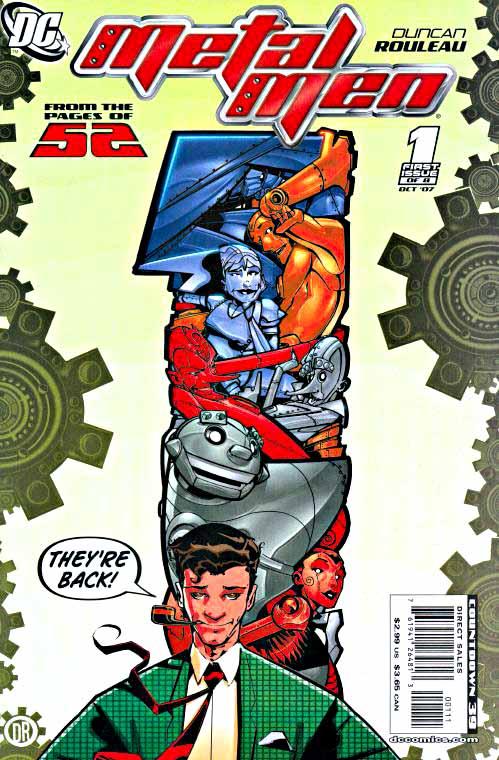 Prof. Challenger
-
METAL MEN
(DC) was the best surprise of 2007 for me with Duncan Rouleau's writing and art (building on some bizarre Grant Morrison concepts). Rouleau's artwork is absolutely glorious and jumps off the racks compared to your standard comic artists. This series is seriously smart and funny with a wickedly clever perspective. You had me at Death Metal Men!!!!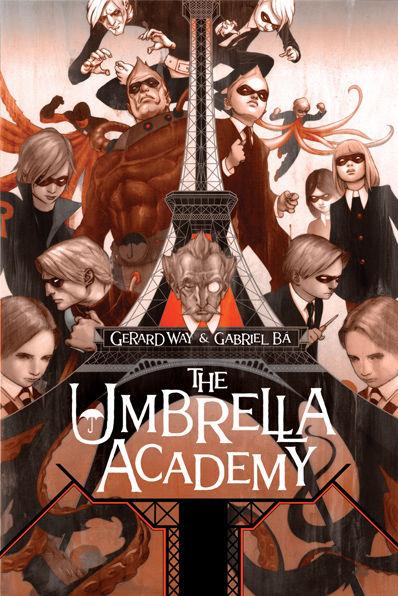 Jinxo
- How can I possibly pick? I mean, there were 147 "Search For Ray Palmer" one shots alone. The alternate world they went to where everything was exactly the same as the main DC universe except all the colors were slightly more yellow, where the whole story added up to nothing at all (as they all did) was just great! But I'm afraid I have to go with
UMBRELLA ACADEMY
(Dark Horse). The book is such a crazy fun mash up of all sorts of genres and elements but with a look and a voice that is uniquely its own. The reveal on The White Violin alone was great. Had me thinking, "Wow, normally a hot mostly naked chick would make me very very happy. But my stomach is dropping in a very this-is-so-not-good way." And, hello, super intelligent chimps, an older than hell toddler from an apocalyptic future, crazy retro robots... and that's barely scraping the surface. All that in only five issues with one to go. Good good stuff.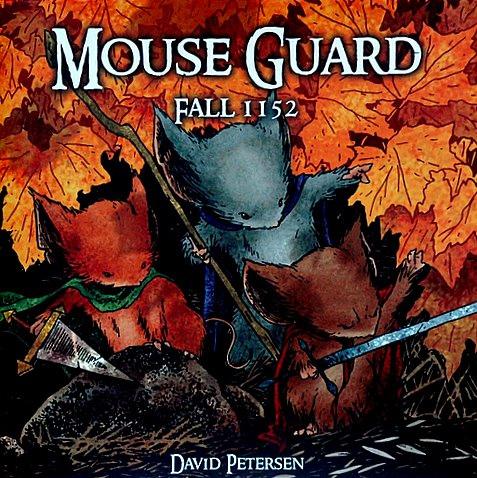 Vroom Socko
-
MOUSE GUARD
(Archaia Studios Press). This series is packed with intrigue to the gills, has action to spare, and is written and illustrated with top notch precision. And those damn mice STILL manage to look cute in every panel. (Note: every time I see this series mentioned lately, it's been while people are taking sides as to whether it or MICE TEMPLAR is the better book. I enjoy that one to bits as well, but TEMPLAR is an action story that features mice. GUARD is a mouse story that has action, and that pushes it over the top for me. But by all means, read them both.)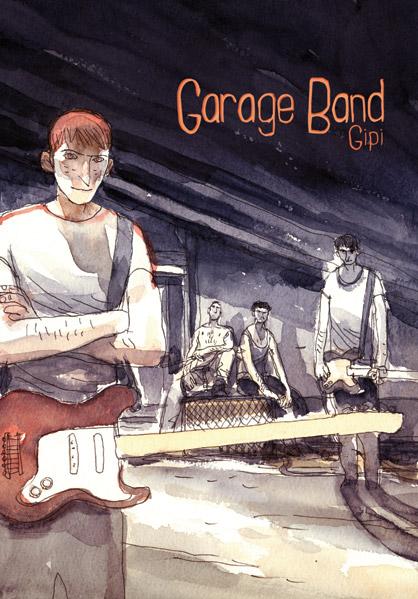 Stones Throw
- I'm giving this as a tie between two original graphic novels that were translated into English this year, both by the writer/artist known as Gipi:
GARAGE BAND and NOTES FOR A WAR STORY
(First Second). The best thing about European comics is the fact that there's no universal perception that they're strictly kids' stuff, which allows for the kind of careful, intelligent and genre-free examination of weighty themes and real lives as seen in these books, also two of the most beautiful I laid eyes on all year. Both are coming of age stories about young male friends in Europe, GARAGE BAND focusing on the lives and dreams of four middle class kids in an Italian backwater who are in a rock n roll band, while NOTES FOR A WAR STORY chronicles how three boys much lower down the social scale get caught up in the Balkans wars of the 1990s. Both are absolutely heartbreaking reads and will stay with you long after you close the back cover.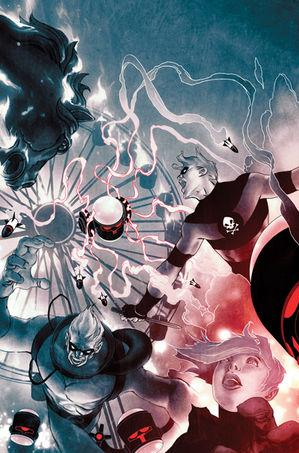 Humphrey Lee
-
THE UMBRELLA ACADEMY
(Dark Horse). Even though the series hasn't wrapped yet (and we all know how important an ending can be) I still don't think there's been a comic series this year that has enthralled me with the unbridled creativity and craziness of THE UMBRELLA ACADEMY. Gerard Way and Gabriel Ba have ripped out the kind "anything goes" super-heroing that I haven't seen since the last time I've gone through my volumes of Grant Morrison DOOM PATROL, which to be put up in that kind of company has to be saying something. THE UMBRELLA ACADEMY is just pure, blissful entertainment, and something that gives me hope that superhero comics can still occasionally be anything they want to be, not something just caught inside a company box. I could definitely go for a mini a year for this series. If there's any good fortune left in the world the powers that be will make this happen and every year I'll be able to throw up an easy blurb for it in this space here.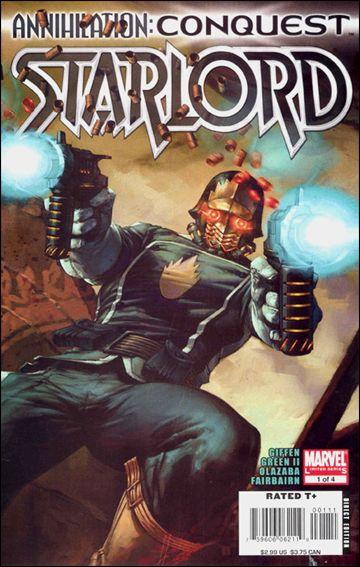 Rock-Me Amodeo
- Thought-provoking, jaunty, funny, scary…many series started out that way, only to fizzle out at the end, or even by the second issue. Others (like FALLEN SON) only had one or two issues that delivered the goods. So my vote goes to
ANNIHILATION CONQUEST: STARLORD
(Marvel), the one aspect of ANNIHILATION that started and ended strong.
---

In memoriam by Prof. Challenger/Images by Ambush Bug
---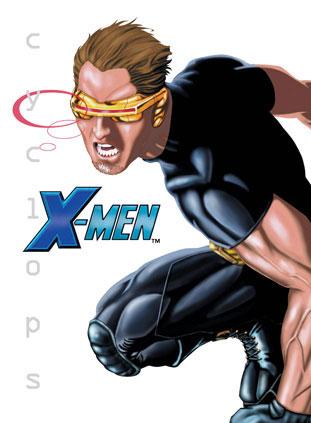 Rock-Me Amodeo
- There are so many great nominees, I can't list them all. But it recently occurred to me that one character stands above all others as a brilliant tactician and leader. On the personal side, this man is so true to himself, so guileless and so noble that he's had not one, but TWO incredibly strong telepathic women fall in love with him. Think about that for a second. Most women would be shocked to see what actually goes on inside a man's head…unless that man was some kind of man. And that man is:
Scott Summers, aka Cyclops
(Marvel). Whedon has done a fantastic job of bringing this character back into his own, and I would love to see the trend continue.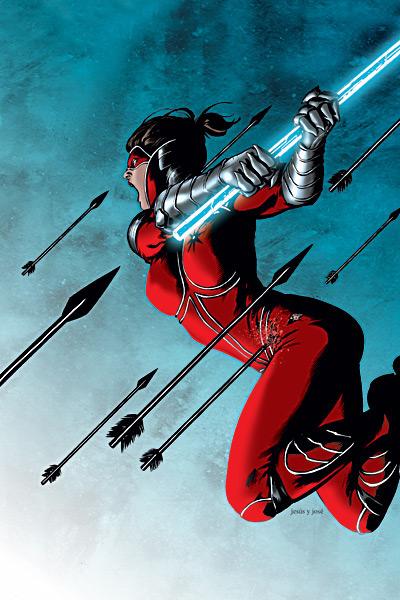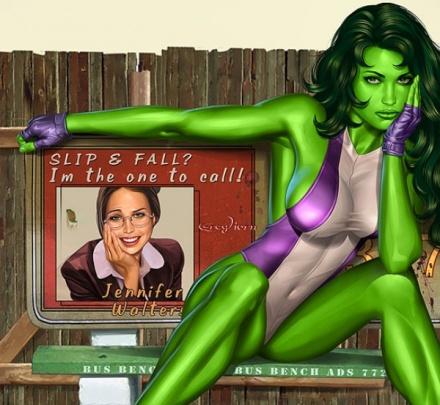 Squashua
- Tie:
Manhunter
(DC)/ Dan Slott's
She Hulk
(Marvel).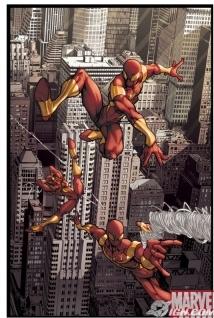 Ambush Bug
- A three-way tie with
the Scarlet Spiders
(Marvel). Although their costumes are reminiscent of CIVIL WAR and that leaves a bit of a turd-taste in my mouth, the appeal of these three clones is too much to handle. Watching the three spindly warriors flip and bound through NYC battling a trio of Vultures and an unmasked Spider-Man in AVENGERS: THE INITIATIVE # was one of my favorite issues of the year. All at once, the Scarlet Spiders represent some of the worst Spidey stories ever (The Clone Saga, his involvement in Civil War), but Dan Slott made them uber-cool by making them noble, charismatic, and most of all fun to read. The fact that underneath that Spidey-armor are clones of Initiative-trainee MVP makes it even cooler. Here's hoping they make it out of THE INITIATIVE alive. These clones deserve a shot at being superstars.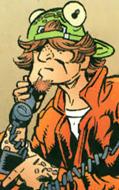 Sleazy G
- When 1001 NIGHTS OF SNOWFALL was released, I was troubled by the background story established for
The Frog Prince
(DC Vertigo), as it seemed far too dark and out of place for the character. Over the last year, though, he's really come in to his own in the pages of FABLES. Instead of just transforming him into an ass-kicker, Bill Willingham took a much more interesting approach. Frog gets to keep his gentle personality, show surprisingly quick thinking, and puts magic to great affect. Single-handedly putting The Adversary's forces to shame with minimal bloodshed and re-establishing an outpost in the Homelands for the Fables, then surviving what seemed like certain death and getting the girl, what looked to be an inappropriately dark turn for the Frog Prince ended up cleverly and sweetly. It was the most unexpected turn for a character this year, and one I'm glad I stuck around for.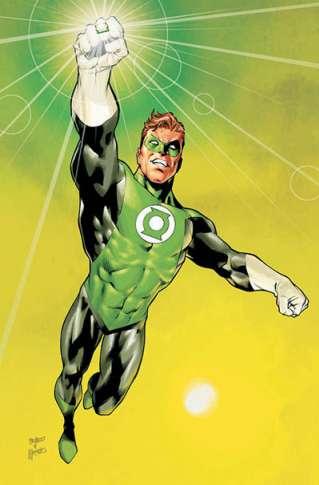 Prof. Challenger
-
Green Lantern.
(DC). So nice to see my favorite all-time hero also having his finest year to date.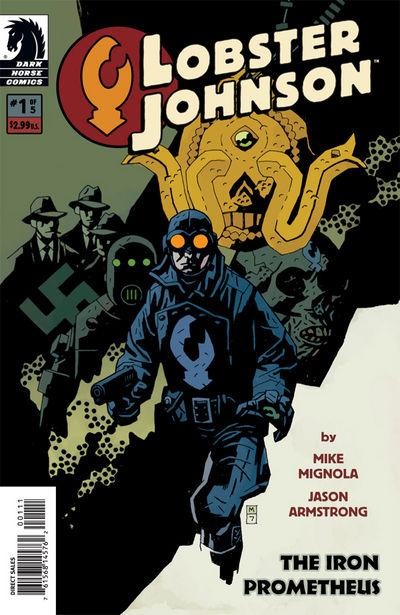 Jinxo
- To my surprise I'm going with
Lobster Johnson
(LOBSTER JOHNSON, Dark Horse). I've been a HELLBOY fan for a long time but I never really got Lobster Johnson in any of the backup pieces and supporting roles he played in the Hellboy world. He just never clicked for me. But with his retro pulp series this year, putting him in the context of WWII with his own group of supporting characters against a mystical villain, man, something clicked. They can serves me up some Lobster Johnson whenever they want.
Vroom Socko
-
SCOTT PILGRIM
(Oni). What can I say, this year he really got it together. Handling the latest Evil Ex, moving out of his old place, getting paid regularly for once... The man is on a roll. The way Scott has grown in his latest volume is storytelling at it's finest. (That's what storytelling is about, right? Characters are supposed to grow and change, not stay the same way they were when you were twelve. Who'd want that?)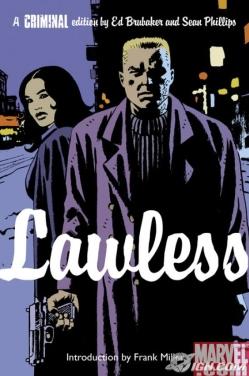 Stones Throw
-
Tracy Lawless
, CRIMINAL (Marvel). I've tried to spread my @$$ie loving out between the books I think are most deserving, and based on its quality in 2007, CRIMINAL is a comic that I could easily have ended up naming "Best Ongoing". It didn't quite make it because it only produced one storyline—"Lawless"—last year, and it's relaunching with a new #1 soon for some vague reason (it wasn't selling?!), but it did give us five practically perfect issues and one great, tragic character who was probably the most enthralling and multi-dimensional to follow down his ugly (and, much to its benefit, fully resolved) path. A lot of books would give you tough guy clichés with a character like Tracy, but underneath the classic noir trappings, CRIMINAL stayed emotionally realistic and all too believable with this Bosnia/Iraq veteran. CRIMINAL is something kind of new in comics: finite character studies and stories in the fashion of crime movies or novels that nevertheless work perfectly in the serialized, panelled format, and the depth to which the older Lawless brother was explored was as satisfying as any good crime flick. Above all, this character made me feel like I should read more good crime fiction, which can't be a bad thing.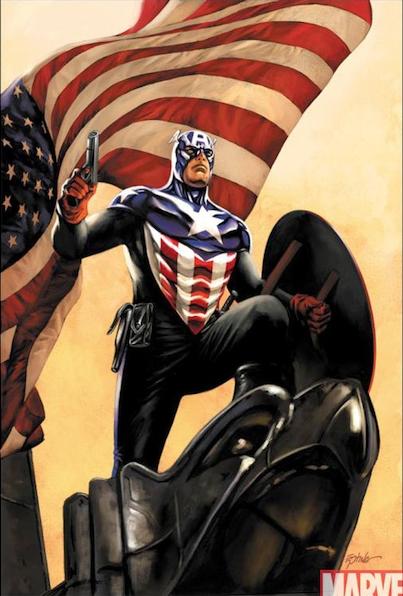 Humphrey Lee
-
Bucky Barnes
(Marvel) At first, I wasn't so sure I was going to go with the Star Spangled Avenger's former sidekick here. One thing is that even though these @$$ies of ours don't come out until March-ish, they still are a "Year End" column. So, yes, while as of writing this the former WW2 poster boy has now become the Star Spangled one in one of undoubtedly the biggest comic moments of 2008, well, technically that doesn't count. But, thing is, even by the end of '07 we all knew this was going to be the case. It was all just a matter of him putting on that (hopefully less shiny) Alex Ross designed costume that we'd all seen by Christmas. Either way, this was Bucky's year. From dealing with the turmoil of regaining his senses out from under his Winter Soldier brainwashing and then to dealing with his mentor's death and then the build to inevitiably becoming his replacement, it was just too much character development to be denied.
---
LEAST IMAGINATIVE STORY
AMAZING SPIDER-MAN: One More Day

BEST IMITATION OF AN INVERTEBRATE or the "I DIDN'T NEED THAT SPINE, ANYWAY" AWARD
To Supergirl, who gets a spike through like seven-eighths of her torso in BRAVE AND THE BOLD #6, but only needs to bask in the glow of a triple-sun to heal.

BEST BAD GIRL COMIC
SHANNA THE SHE-DEVIL: SURVIVAL OF THE FITTEST (Marvel)

MOST DISTURBING COVER OF A MAINSTREAM COMICS PUBLICATION
HEROES FOR HIRE #13 (Marvel). Not remotely safe for work, which tells you all you need to know.

THE RADICALLY WAY TOO EARLY MARKETING BONANZA AWARD
RADICAL PUBLISHING for their nearly year-long advertising blitz for comics that won't even appear on the shelves until May 2008 at the earliest.

BEST LETTER COLUMN
THE GOON (Dark Horse) - What other column has comedy, pics of tattooed Goth girls, and wanton references to dung, alcohol, and all other forms of mayhem?

THE "I CAN'T BELIEVE IT'S NOT BUTTER" AWARD
COUNTDOWN – Spreading out about five issues of story over the span of a year (DC).

BEST CROSSOVER/EVENT
GREEN LANTERN: SINESTRO CORPS WAR (DC)

---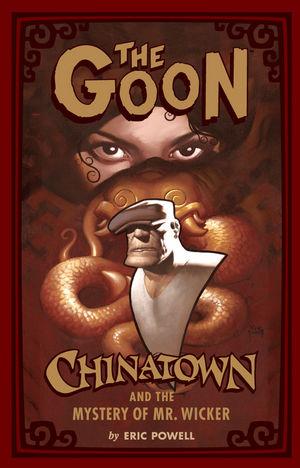 Humphrey Lee
-
Eric Powell
(Dark Horse) Yeah, sure, I know I picked my Best Single Issue pretty much based all on art, and yet here's my Best Artist vacant of the man who created the comic in question. Thing is, as great as that was I think we got maybe, what? Five issues worth of Allred art all of last year between some FABLES and MADMAN? Sadly, that just doesn't cut it for me. What does work though? That'd be Eric Powell cranking out his fantastic painted art for a 3-part ACTION COMICS arc, producing the same for his 100+ page THE GOON: CHINATOWN OGN, and doing a slew of miscellaneous covers as well. Hell, THE GOON book was almost enough as is to make me put him at the top of the list; adding those other books was just icing. It's just gorgeous work, quantity of it aside. On the outside it comes off as very simple, more on the cartoony side than anything, but there's a lot of depth behind the Saturday Morning antics and just the lushness of the paints. There's a lot of emotion there whenever Powell lets us see it, as what really sold me on his work this year boils down to a sequence of absolutely wrenching splash pages in CHINATOWN where The Goon stares himself down in the mirror after having been left by the love of his life and begins to breakdown completely. Absolutely haunting stuff which stuck with me up to the point now where I can't help but use it at the basis for this End of the Year nod. I can't wait to get more GOON.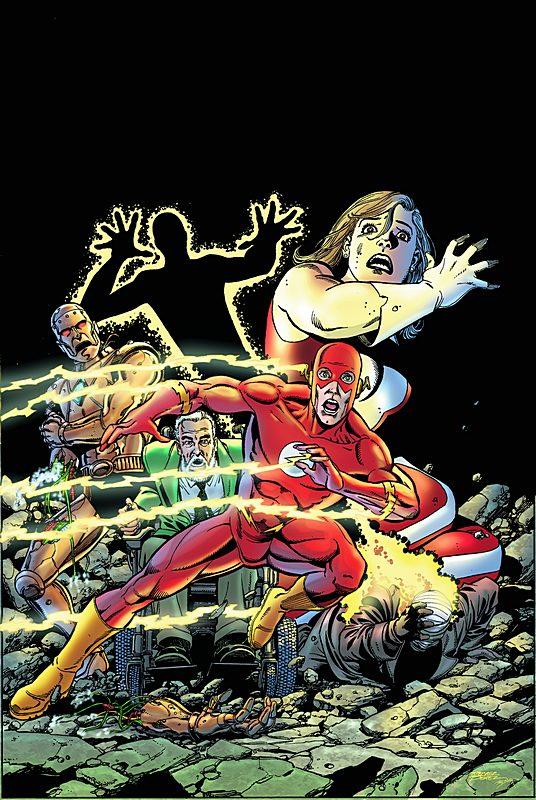 Rock-Me Amodeo
- Again, so many great teams. So many new talents. But
George Perez & Bob Wiacek
on BRAVE AND THE BOLD (DC) are giving Masters classes in comic book art, issue after issue. I can only think of a half-dozen artists that even come close.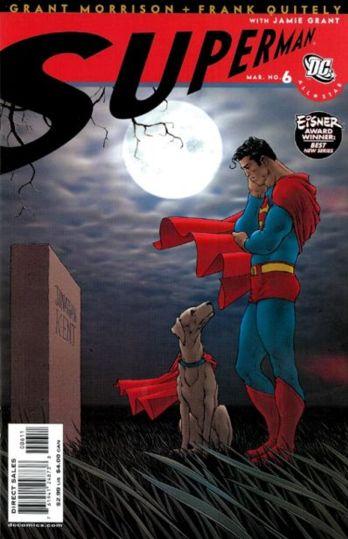 Squashua
-
Frank Quitely
– ALL-STAR SUPERMAN (DC).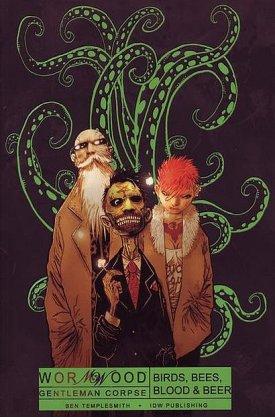 Ambush Bug
- Comic book fandom tends to like things literally spelled out for them.
Ben Templesmith
(IDW) doesn't do that. And I love his work for that simple reason. Sure it's abstract. Sure occasionally it takes a while to understand what's going on in the panel or Templesmith makes you soak in the image before knowing that you're looking at one of the most horrifying images imaginable. Steve Niles gets a lot of credit for bringing horror back to comics, but in reality, it was Ben Templesmith's art from 30 DAYS OF NIGHT that made the thing so damn scary. Templesmith continues to make me cringe on a semi-monthly basis in his book WORMWOOD: GENTLEMAN CORPSE, which he also writes. Reading through this year's issues of WORMOOD showed that Templesmith has developed quite a bit, reigning in his style and telling more cohesive tales. His imagery still packs a punch from a clawed fist and a bite from a maw full of shark-like teeth, but his evolution as an artist continues to impress me.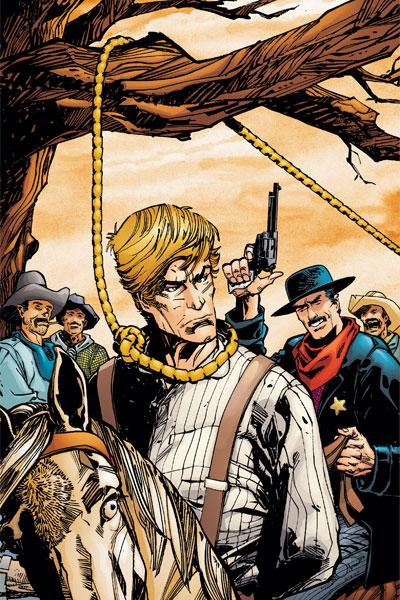 Sleazy G
- I have to give this one to
John Severin
(DC). He doesn't work often, but when he does it's never anything less than amazing. Only the first issue or two of the current BAT LASH miniseries came out in 2007, but for me, that's enough.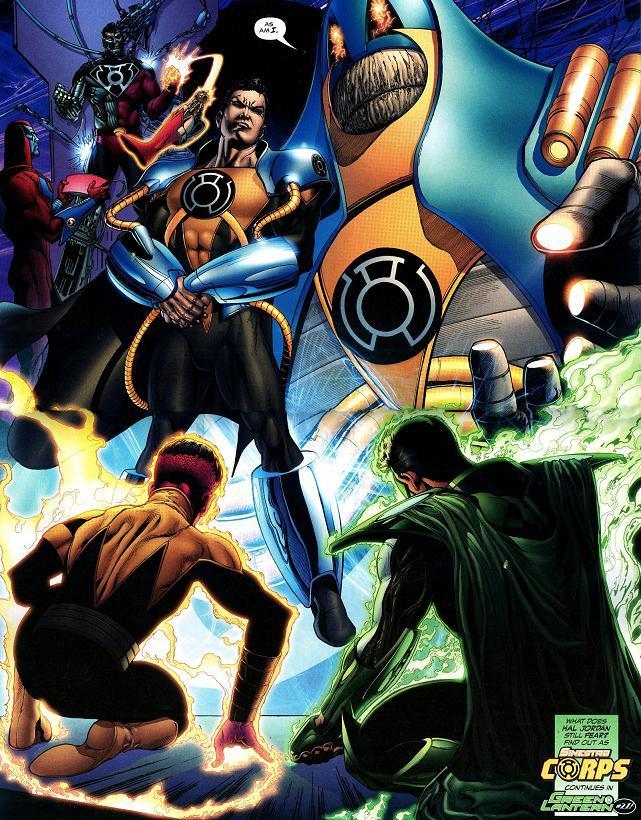 Prof. Challenger
-
Ethan Van Sciver
for SINESTRO CORPS SPECIAL (DC). Perfection from cover to the last page.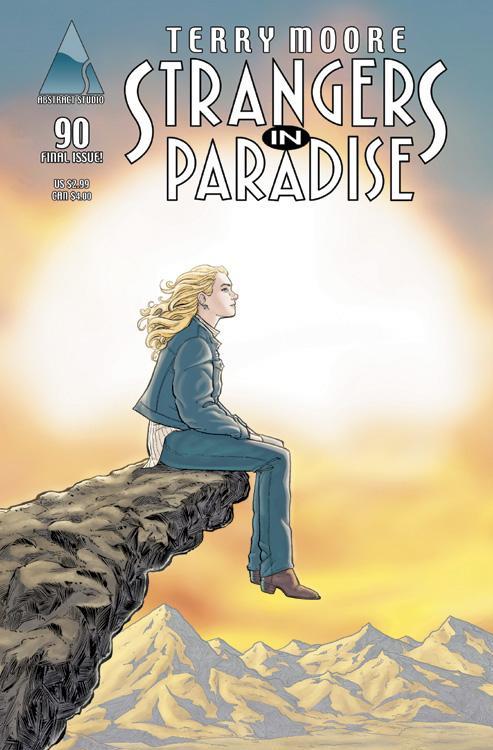 Jinxo
- I'm using my vote to give up the love for the last possible time to
Terry Moore
's work on STRANGERS IN PARADISE. Does he do epic battles and crazy landscapes from beyond the fifth dimension? Nope. But can he draw real people with real emotions? In a medium where big and bombastic rules, Terry Moore gets the little things right. You remember the episode of "The Simpsons" where Lisa crushes Ralph Wiggum? Bart slows down a video tape of Lisa dumping Ralph and says, "If you look carefully you can see the actual moment where his heart breaks." Terry Moore can capture those small yet huge emotional moments. Terry Moore, I choo-choo-choose you! And see, there's a picture of a train. What's that? I'm being told there is actually not a picture of a train.Having concluded SIP's run, I eagerly await more of Moore starting with his upcoming book ECHO.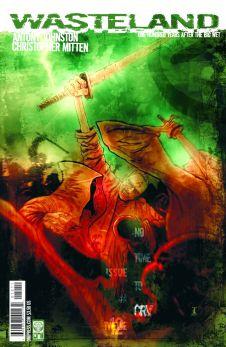 Vroom Socko
-
Christopher Mitten.
Every time I read WASTELAND (Oni), my pulse quickens a little. This is due to not only one hell of a storyline, but Mitten having drenched every square centimeter of the page in the most atmospheric ink to be published in comics since Bill Sienkiewicz left Marvel.
And he can draw a mean Cyberman too.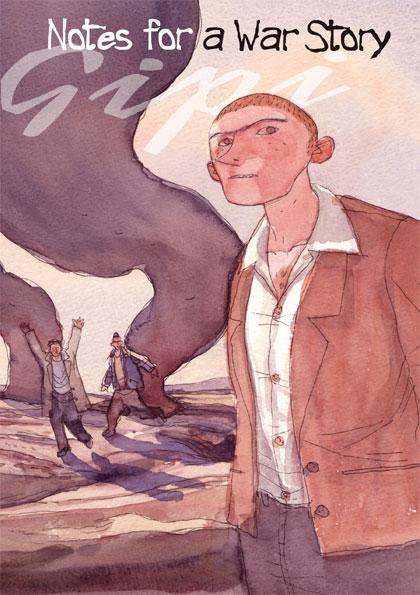 Stones Throw
- Whenever I thought I should recognize someone better known or more traditional, I just had to take another look at the way
Gipi
(First Second) draws Giuliano and his girlfriend taking a dip in the ocean in GARAGE BAND, or the full page panoramas of Italian wasteland in that same book, or his absolutely amazing and subtle use of different shades of green watercolor paint and dream sequences in NOTES FOR A WAR STORY. This artist uses what looks like a really sharp pencil and watercolor washes to create a totally distinctive and mature look – one that's vastly different in each book to boot. GARAGE BAND uses muted, occasionally vibrant, colors and big, open panels, while, fitting the bleaker tone, NOTES… is an exercise in dark gray/green monochrome and has far more claustrophobic layouts. His figures may look cartoony, but Gipi can create and sell emotion like no other. This guy is a master of the form, and I can't wait to see any more of his work that gets translated.
---
BEST EXAMPLE OF SELFISH IRRESPONSIBILITY
AMAZING SPIDER-MAN: One More Day

BEST SPY/ESPIONAGE COMIC
CHECKMATE (DC)

MOST INTERESTING SHIP JUMP
Steve Wacker making the leap from DC's 52 to Marvel's "Brand New Day"

THE COMIC BOOK ENDING THAT WAS MOST REMINISCENT TO THE MORNING AFTER WHEN I HAVE TO SNEAK OF THE HOUSE OF THE FAT CHICK I MERCY F*CKED
GIRLS - The Luna Bros.

BIGGEST MINDF*CK
LEAGUE OF EXTRAORDINARY GENTLEMEN: THE BLACK DOSSIER (Alan Moore and Kevin O'Neill, DC)

THE ZIBARRO AWARD FOR OVERUSE OF A CHARACTER
Not goes to Bizarro who am did not appear all over the place in 2007 with appearances not in ALL-STAR SUPERMAN, ACTION COMICS, SINESTRO CORPS WAR, and more (DC). As much as I love the moron, maybe a little less Bizarro for a while, DC?

THE BEST USE OF SOUND MODIFIERS
WORLD WAR HULK #5 (Marvel) – GRGG-PAKK!!!

THE AICN COMIC BOOK WRITER TO WATCH
Fred Van Lente (SUPER-VILLAIN TEAM-UP, THE INCREDIBLE HERC, Marvel

---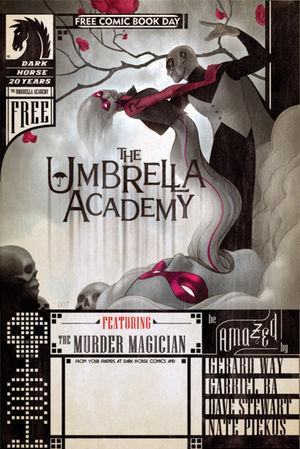 Stones Throw
- I imagine a lot of cats in the talkbacks might think it's hyperbolic to name
Gerard Way
, a musician by trade on his first major job in comics, as the best funny book author of the year. But we have an advantage over those brutes, which is that we've read his miniseries THE UMBRELLA ACADEMY (Dark Horse). Way is a writer who knows what goes into making exciting and imaginative comics, and based on the quality he's displayed thus far, the promise of many more miniseries with the Umbrella Academy characters is something I find highly exciting.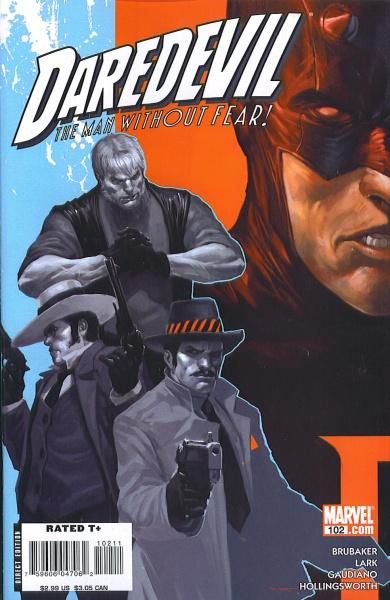 Humphrey Lee
-
Ed Brubaker
(Marvel) Yeah, this one was a no brainer. As it is, last year I remarked that the only thing standing in the way of the Brumeister was one Brian K. Vaughan and an absolute knock out of a year on his part. But now that BKV has more made his way more LOST bound (as well as settling into a nice WGA picket line I would guess) this was the easiest pick for me this year by far. CAPTAIN AMERICA and CRIMINAL are easily two of the ten best books I buy when they come out, and DAREDEVIL and IRON FIST are damn close. Four titles being in the top quarter of the 60+ I buy a month is just mind-boggling from a consistency standpoint. Basically, that's all he produces: Good Fucking Comics. The man is a machine and it's great to see him getting his day in the sun after having watched runs like his GOTHAM CENTRAL work with Greg Rucka and CATWOMAN plus books like SLEEPER come and go with really little or no public fanfare at all. Sometimes the world is a fair and just place indeed and I'm hoping that '08 is more of the same from a writer that can seemingly do no wrong right now.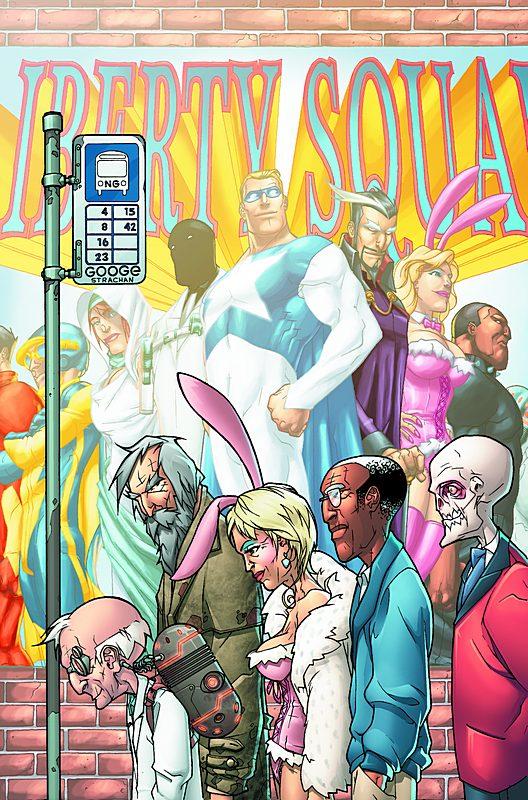 Rock-Me Amodeo
- No one can question my devotion to Mr. Whedon, who delivers superior goods whenever he delivers. But when it comes to an issue after issue workhorse, bringing the goods and bringing it on time, I have to give it up for
Gail Simone
(DC). She's made BIRDS OF PREY, TRANQUILITY and GEN13 so enjoyable, month after month, there's really no one like her.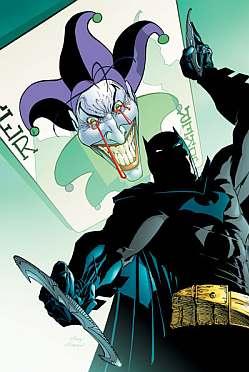 Squashua
-
Grant Morrison
(ALL-STAR SUPERMAN, BATMAN, DC); Though he apparently has characters saying weird shit like "Oioioioioioioi" for no apparent reason, I can't stop picking up every book he writes.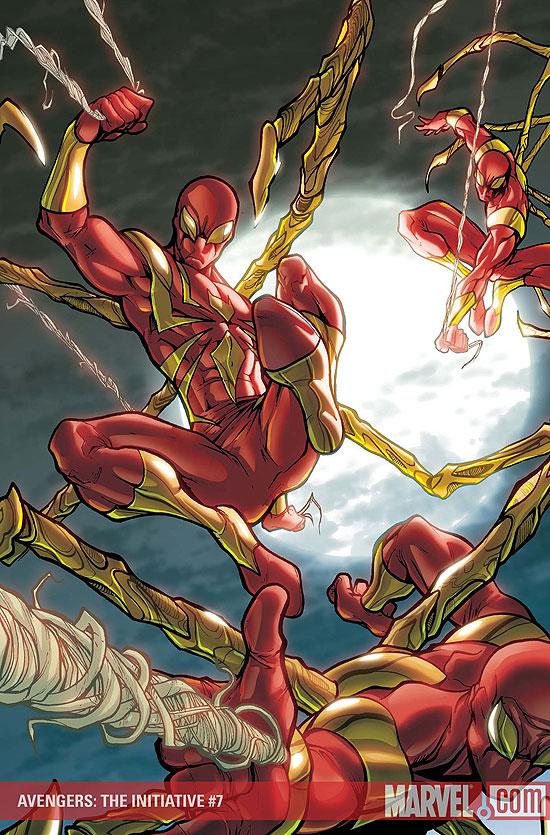 Ambush Bug
- I hated CIVIL WAR. You hated CIVIL WAR. We all hated CIVIL WAR. But leave it to
Dan Slott
(Marvel) to make lemon-squeezies out of lemons and give us books like AVENGERS: THE INITIATIVE and SHE-HULK, which reminded us that the Marvel Universe we all know and love is still alive and kicking. Slott even walked the plank and took over AMAZING SPIDER-MAN after the most controversial Spidey story in history pissed off all of comic book-dom. Because of his imagination, bravery, and child-like love for the Marvel that I want to see more of, Dan Slott gets my @$$ie for Best Writer.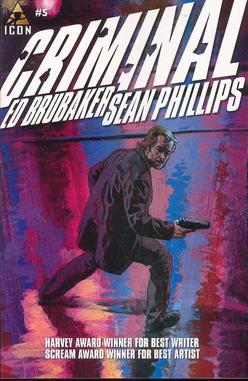 Sleazy G
- I'm hardly the first to say it but I won't be the last, either:
Ed Brubaker
(Marvel). I was a big fan of his work on CATWOMAN and GOTHAM CENTRAL, but he's really come into his own this past year. CAPTAIN AMERICA and DAREDEVIL are the best they've been in a long time, but CRIMINAL is where he's really putting out his best work. It's clearly closer to his heart, and crime fiction is clearly where his work tends to shine. Brubaker has the chops to stick around and turn out great work for years to come. Less flashy than some writers, and less likely to do big, overwrought event comics—and those are both strengths, not weaknesses, as far as I'm concerned. I'm looking forward to many years of great reading to come from him.
Prof. Challenger
-
Geoff Johns
(DC) for GREEN LANTERN, BOOSTER GOLD, ACTION COMICS and JUSTICE SOCIETY. He's my favorite super-hero writer but has been bumped out of the top spot each year for Best Writer. But not this year. Even with the odd glitches in ACTION COMICS, nobody has been so consistently strong in his output (insofar as comics I read regularly) for me this year. His titles jump to the top of the stack consistently from week to week.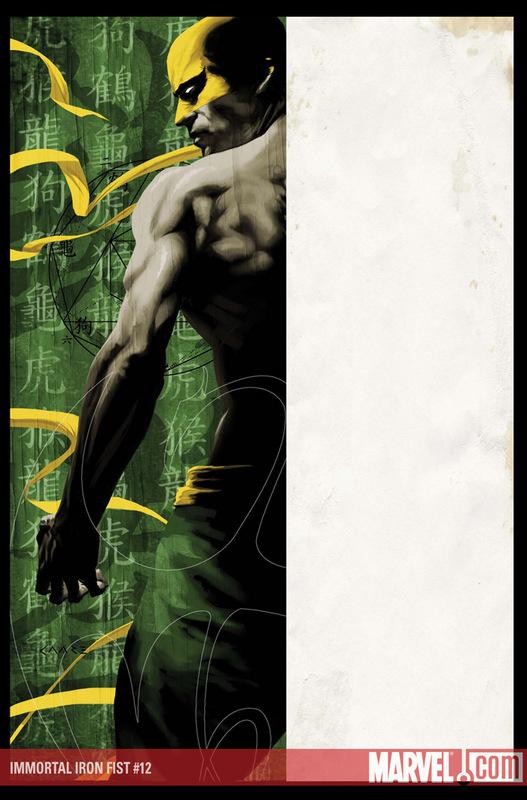 Jinxo
- I gotta go with this crazy retro writer/artist E.C. Segar. He's put out these two giant books about the adventures of this grizzled sailor named Popeye and...what? Oh, he's not "retro", he actually wrote and drew those stories in the 1930s? Oh...he's dead now. Did he die recentl...? 1938. Really. Wow. That is…he really wouldn't qualify for best writer of 2007, would he? Hmmm...is Walt Disn...yeahh I figured.
Sigh. Well hell. Then I guess I have to go with
Ed Brubaker
(Marvel) for his kick ass work on DAREDEVIL, CAPTAIN AMERICA and THE IMMORTAL IRON FIST. I especially love his keeping CAPTAIN AMERICA a great read with a lead character who has been taking an extended dirt nap. And IRON FIST is just the tits. Congrats, Ed! Of course, keep in mind, if Segar hadn't died, um, seventy years ago, things might have turned out differently. But a win's a win.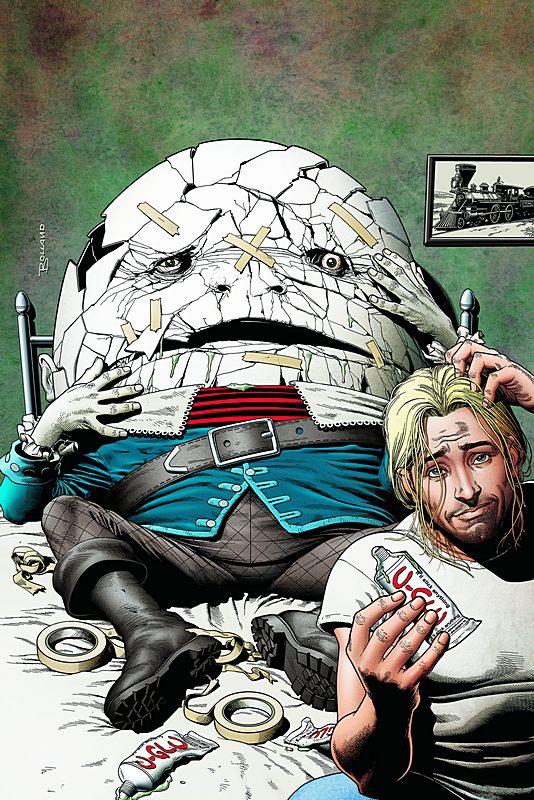 Vroom Socko
-
Bill Willingham
(DC). Okay, so SHADOWPACT wasn't the hottest thing on the racks. But JACK OF FABLES more than makes up for that. Hell, if the only thing that Willingham had released this past year was The Good Prince arc of FABLES, that'd earn him a nod for Best Writer. But what secures him a spot on this year's top of the typing heap? One thing: Babe the Blue Ox and his Walter Mitty-like flights of fantasy in the pages of JACK each month. Priceless.
---

---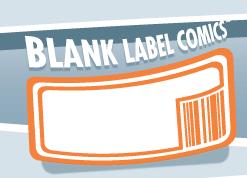 Vroom Socko
-
BLANK LABEL COMICS.
Sure, it might be a cheat selecting a non-print "publisher" this time out, but these guys are batting a thousand for both quality and diversity. There's the semiautobiographical fun of GREG DEAN'S REAL LIFE, the gleeful "There's no such thing as overkill" SF action of Howard Tayler's SCHLOCK MERCENARY, the balls busting hilarity of Paul Southworth's UGLY HILL, and as for WAPSI SQUARE...ah, WAPSI SQUARE. Check them out, it's not like it'll cost you more than a moment of your time.

Stones Throw
- I didn't read a lot of books from
First Second
this year, but the ones I did read—Nick Abadzis' LAIKA, Eddie Campbell's THE BLACK DIAMOND DETECTIVE AGENCY and Gipi's NOTES FOR A WAR STORY and GARAGE BAND—were some of the best I looked at all year both in story and art and were released in beautiful formats with exemplary production standards. First Second seems like a publisher with a lot of resources behind them and a dedication to putting out the highest quality product.

Humphrey Lee
-
Dark Horse
This was a toss-up between several companies for me, but at the end of the day I ended up going with DARK HORSE for my Best Publisher because they just produced more books that tickled my fancy and gave it to me more often. Picking up Rick Remender's FEAR AGENT was huge, and that title has been nothing but outstanding since it made the jump from Image, and of course we're getting a heavy dosage of HELLBOY lore now, with basically a BPRD mini being out at any given time, and the Red Right-Handed Wrecker himself finally appearing in a story of his own for the first time in a bit. Throw in some BUFFY, a new GRENDEL series from Matt Wagner, some more GOON in OGN form, and the ever delightful UMBRELLA ACADEMY, and that's just a fantastic lineup worthy of Publisher of the Year. Overall though, that's just a hell of a list of comics. If for some reason you've never tried a DARK HORSE product go and pick up any of these gems and get started. Consistently some of the finest pieces of comic booking on the market.
Rock-Me Amodeo
- This was difficult. I know I'm going to get ragged on by my cooler peers (i.e. everyone) because I mostly read the Big Two, but it's only fair to decide between them. On one hand, I have the company that graced us with BLUE BEETLE, BIRDS OF PREY, JSA, ALL-STAR SUPERMAN and the recent excellence known as GREEN LANTERN. But on the negative side, they also gave us AMAZONS ATTACK et al, COUNTDOWN et al, various searches for RAY PALMER, ASBARTBW, and AQUAMAN. With Marvel, I am blown away by how many titles that have that I enjoyed: ANNIHILATION and friends, WW HULK and friends, NOVA, ULT