TV writers: Is your showrunner back at work today?
"The Office" showrunner Greg Daniels is picketing his own Van Nuys set. Cast members – including Rainn Wilson, Jenna Fischer and John Krasinski as well as WGA members Steve Carell, B.J. Novak, Mindy Kaling and Paul Leiberstein – are not crossing the picket line.
Losing its cast shuts down NBC's highest-rated sitcom a lot faster than a lot of other series, which are trying to put into production the last few scripts written before the strike.
An excerpt from a TVWeek story on the matter:
"We have non-writing producers on the show who are perfectly capable of doing any non-writing producing duties," Mr. Daniels said. "They want me do to writing-producing and just pretend it's producing. Every decision you make has a writing aspect to it. If they really just thought it was producing, they could just as easily get somebody else to do these tasks."
Read all of TVWeek's story here.
According to a Nov. 6 TVWeek post, other sitcoms said to have already ceased production include "Back To You," "Big Bang Theory," "Everybody Hates Chris," "Miss/Guided" and "Rules of Engagement."
"Law & Order: Criminal Intent" showrunner Warren Leight told the L.A. Times he will not cross the picket line.
"30 Rock" writer/star/mastermind/showrunner Tina Fey was picketing, but also continues to work in front of the cameras, ironically to play WGA member Liz Lemon.
Joss Whedon reports that his old "Buffy" actors Alyson Hannigan (now on "How I Met Your Mother") and David Boreanaz (now on "Bones") were both picketing alongside the writers outside the Fox lot.
And there's this:
Hey, Herc -- They're telling the striking workers down at CBS that Julia Louise Dreyfuss walked off the set of "New Adventures of Old Christine" today and promptly joined the picket line. I now love Ms. Dreyfuss.
And this:
Outside of Universal this morning was the bearded one himself, ["Battlestar Galactica" showrunner] Ron Moore, picketing the Universal Studios Gates with the entire writing staff.
And this:
I can confirm that the entire writing staff of TERMINATOR: THE SARAH CONNOR CHRONICLES, including showrunners John Wirth and Josh Friedman, were out picketing at Warner Bros today.
And this:
Herc,

Heads up, another show to add to the list of frozen productions.

Rules of Engagement, starring David Spade and Patrick Warburton has officially shut down as well. Their last episode was filmed Sunday night instead of the usual Tuesday night.

I work on the show and it's officially shut down until further notice.
And this:
CSI showrunner Carol Mendelsohn has been with her staff picketing outside Universal both Monday and Tuesday.
And this:
Jason Katims, who runs Friday night lights (and also recently ran bionic woman) has been picketing at universal the last two days with his entire writing staff. Today I saw him chatting and picketing with CSI actor bill petersen.
And this:
Will Scheffer and Mark V. Olsen creators/showrunners of Big Love on HBO have been picketing with their entire writing staff outside studios Sunset-Gower.
And this:
The entire writing staff of SAMANTHA WHO?, including showrunner Donald Todd, have been picketing outside CBS Radford since day one, outside the parking garage gate on Radford.
And this:
Showrunner/Creator Hart Hanson and Executive Producer Stephen Nathan are picketing at Fox. Stephen Nathan is particularly noisy.
And this:
"Desperate Housewives" showrunner Marc Cherry picketed Universal Monday, alongside WGA President Patric Veronne and lead negotiator David Young. Entertainment Tonight popped by as well. Marc will be back tomorrow, he is picketing with his entire writing staff.

Marg Helgenberger showed up all by her lonesome to join the picket, and did actually picket for several hours.

Joss Whedon's fan club, Whedoneque, had pizzas delivered to all gates, including a special anchovies-only for Jane Espenson (she did drop by and did enjoy a slice).

And a man I am told was Ahmet Zappa came by with several dozen iced blendeds from Coffee Bean for everyone's enjoyment.

The honks from drivers passing by were deafening and constant, and greatly, greatly appreciated - keep honking! NBC even sent down an *intern* to beg us to quit encouraging the honking, as it was "distracting" to the suits inside. We'll get right on that.
And this from Jane Espenson:
Ron Moore is indeed picketing with his entire staff, and I wanted to report that Neal Baer, from Law and Order SVU was out there with his staff as well this [Tuesday] morning.
And this:
Yesterday I was on the picket line at Fox with Howard Gordon from 24 and the creator/showrunner of House David Shore and Steve Levitan from Back to You.
This from longtime AICN contributor "Derek Flint":
Bryan Fuller was picketing Warner Brothers with the entire writing staff of PUSHING DAISIES.

J.J. Abrams picketed alongside the producers of LOST.

Reportedly, Tim Kring wouldn't comply with a weekend rewrite that would tack a season ending onto the last script written and is now off HEROES.
That report on Kring appears to be erroneous. From a Nov. 6 AP report:
Tim Kring, a producer and writer of the NBC hit "Heroes," said he had to revise the ending of the show's 11th episode on the chance that it might be the last one to air this season. "Fortunately we were able to hustle back," Kring said from a picket line in an effort to shut down the show. "The audience won't be left in a lurch."
An email from "Grey's Anatomy"/"Private Practice" mastermind Shonda Rhimes:
I have to tell all of you that this email directly reflects the stance I came to over a very long night in New York. I absolutely believed that I would edit our episodes. Until a thought hit me: how can I walk a picket line and then continue to essentially work? How am I supposed to look at myself in the mirror or look at my child years from now and know that I did not have the courage of my convictions to stand up and put myself more at risk than anyone else? So I choose not to render my services as a producer. I choose to honor the strike. And I am proud that you all stand with me.
Shawn Ryan, showrunner on CBS' "The Unit" and FX's "The Shield," is also staying out of the office and on the picket line with "Unit" star Robert Patrick. Ryan writes:
At the Showrunners Meeting it became very clear to me that the only thing I can do as a showrunner is to do nothing. I obviously will not write on my shows. But I also will not edit, I will not cast, I will not look at location photos, I will not get on the phone with the network and studio, I will not prep directors, I will not review mixes. These are all acts that are about the writing of the show or protecting the writing of the show, and as such, I will not participate in them. I will also not ask any of my writer/producers to do any of these things for me, so that they get done, but I can save face.

I will not go into the office and I will not do any work at home. I will be on the picket line or I will be working with the Negotiating Committee. I will not have an avid sent to my house, or to a new office so that I can do work on my show and act as if it is all right because I'm not crossing any picket lines.
Read more of Ryan's thoughts on the matter here.
If anyone knows of other showrunners and/or cast picketing and/or staying home today, kindly get in touch: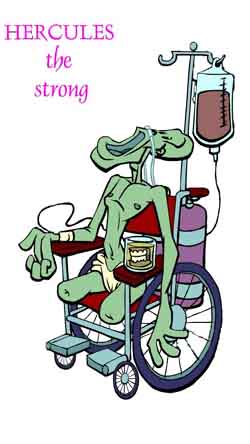 TWILIGHT ZONE: THE COMPLETE SERIES!!
$164.99!!
That works out to $33 Per Season!! The extras-crammed Definitive Editions!! Individual seasons cost $69.99 New; $50 used!! They were going for close to $100/season not too long ago! (The discount presumably celebrates the release of the "Twilight Zone" movie in HD, so don't expect it to last ...)
ALSO SHIPPING NOW!!
Angel: Complete Series Collector's Set ($97.99!!)
*
Avatar 3.x Vol. 1
*
Biography: Saturday Night Live
*
Everybody Loves Raymond: The Complete Series
*
Family Guy Freakin' Party Pack
*
Looney Tunes: Golden Collection Vol. 5
*
My So-Called Life: The Complete Series
*
Mystery Science Theatre 3000 Vol. 12
*
Outer Limits Vol. 3
*
Scrubs 6.x
*
Suspense: The Lost Episodes Vol. 2
*
TV Animation Giftset

George's Super-Exciting Star Wars Vault!!