Greetings humans, Monki here with the winners of the 8 Bit Art contest that coincided with the showing of 8 BIT at the Alamo Drafthouse. Have you bought your ticket for the screening this upcoming Tuesday? You should!
I was unsure as to how this contest was going to turn out. I hadn't received a terrible lot of entries until the final few days of the contest...and then there was a flood of incredible work.
I gave myself an out...five winners...all the same prize. I figured there would be one or two really awesome pieces and a few others that were decent. I got a ton of incredible work making it even difficult to wean it down to the final five, but some choices were made and here are your final winners in no particular order.
The first one up came from Blain Hefner along with a great email explaining the piece:
Ms. Pac-Man is the first video game I can remember playing about the time I was 4. I would beg my mom for a quarter everytime we went to the grocery store to play it. I never did make it past the third level so most of the time I stood on my toes watching an older kid kick ass at the game.

What always intrigued me though, more so than the pixilated version of Pac-Man's counterpart, was the graphic images of her on the sides of the arcade game and also the merchandise.

I thought she was hot. Like, a Betty Rubble hot. In a polaroid taken at Pepperment Palace (a Chuck-E-Cheez-esque place that was Wichita Falls, TX looong ago), I can even be seen affectionately leaning up against the Misses, with her hubby none-the wiser next to me.

Not only did Ms. Pac-Man kick ass munchin' on ghosts, she did it all wearing nothing but red shoes, gloves,a bow and a smile. Long before Lara Croft, Ms. Pac-Man was THE original video game sex goddess.

That is what inspired my piece "One Call Does It All." I decided to depict the softer, sexy side of her -- as a classic pin-up girl in the style of classic pin-up artists like George Petty, Alberto Vargas and Gil Elvgren.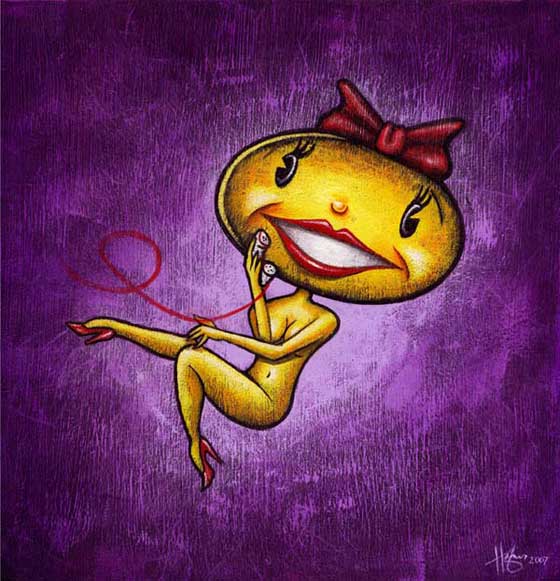 Excellent job Blain...Betty Rubble hot, very nice.
On the theme of hotties next I present to you a work by Terrence Molnar called simply enough, "Pauline Accepts Her Fate."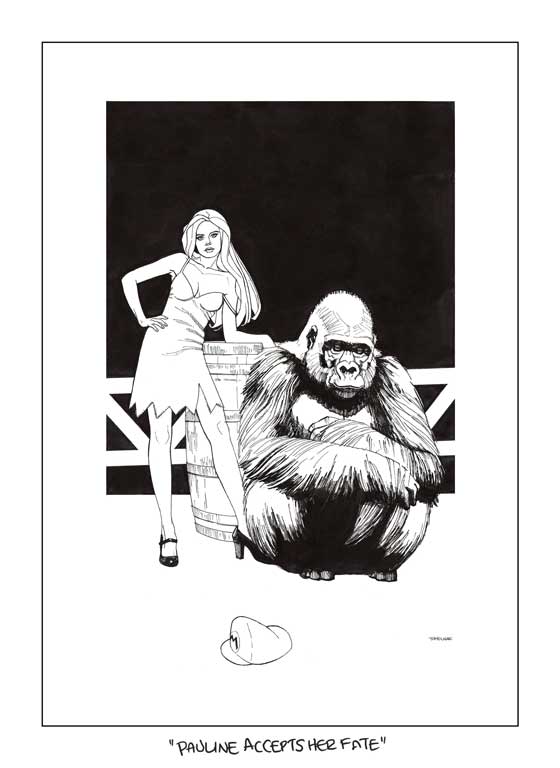 I love the simple laid back pose from Pauline as she has come to realize that her Mario isn't going to make it to the top of the scaffolding. Glorious.
Next up are actually a couple of pieces I received from an artist by the name of Matt Smith. Matt has done cover art for the Minibosses, a video game cover band I've featured before in one of my weekly-wrap ups. Enjoy the two images I've chosen to feature from a collection he sent in. Breath-taking.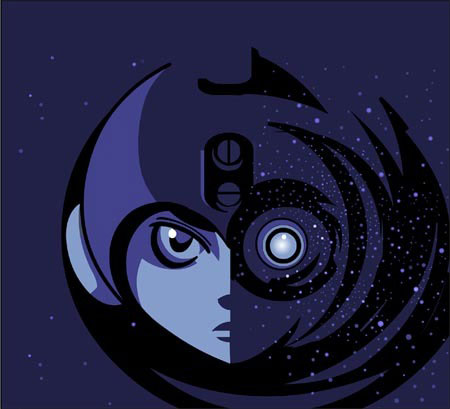 A long long time ago...in a Hyrule far far away. Very awesome.
Up next is a piece that brings everything back to the start of things. The NES controller. Jordan Linde submitted this graffiti-like work paying homage to the device we all grew to love...the NES controller.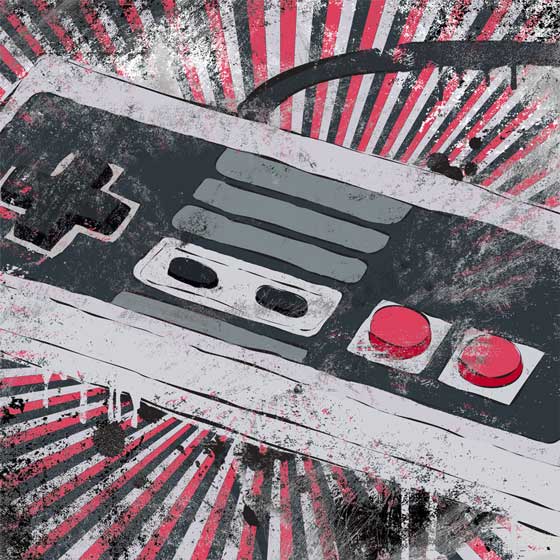 Last but certainly not least comes a classic image from Max Haig of Ryu about to throw a classic fireball. Do you remember the first time you threw a fireball? The gentle thrust of down, down-forward, forward - punch and that glorious blue orb moving towards your opponent. What magic.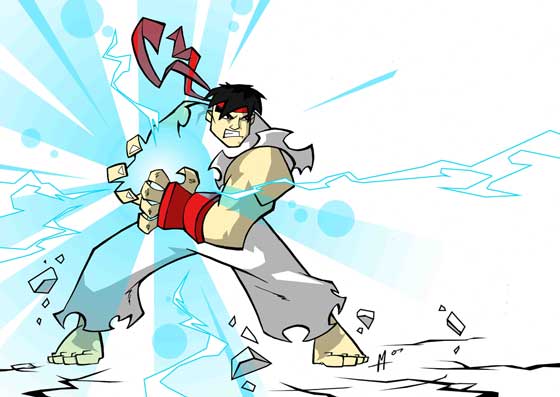 Congratulations to all of the winners. I will be contacting you all shortly to get your information as to where to send off your prize package gracefully donated by the band Treewave and I Am 8-Bit.
So, I couldn't just leave some of these other pieces sitting in my mailbox, so I'm going to show off a few more works that I thought were awesome but just barely didn't make the cut. The first is actually a movie that was sent to me by Matthew Jeanes. Him and a buddy put together this animation called "Refuse." Music and animation by Larvae.
On the subject of music, Scott Kinnebrew sent in some photos of "8-bit Axe," a guitar that he has modified to honor his childhood obsession. Awesome.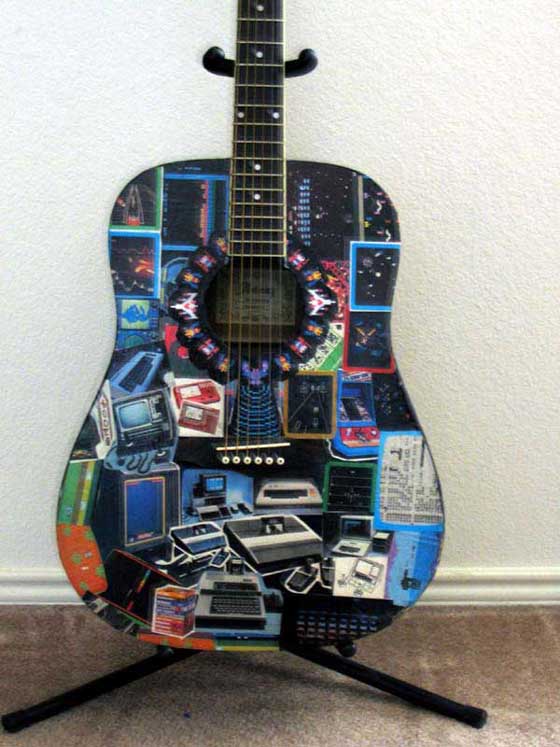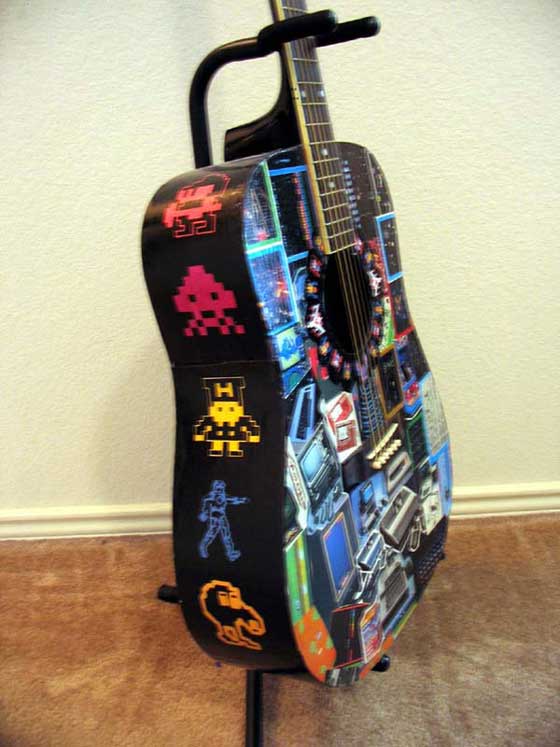 Mike Groves sent in a piece that was actually done on a piece of scrap metal. Dustman from Mega Man 4 is faithfully represented here. Excellent work. Hard to frame.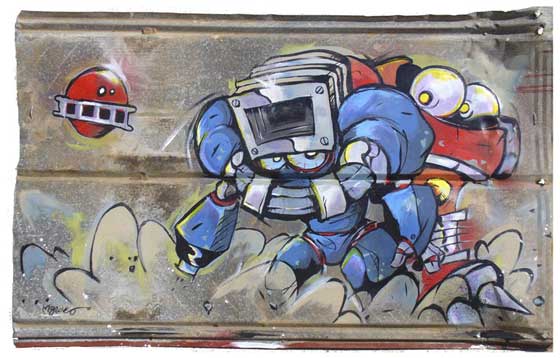 Up next is another semi-movie-inspired piece. It is called "Bomberman's Retirement Plan" done by Drew Wilson.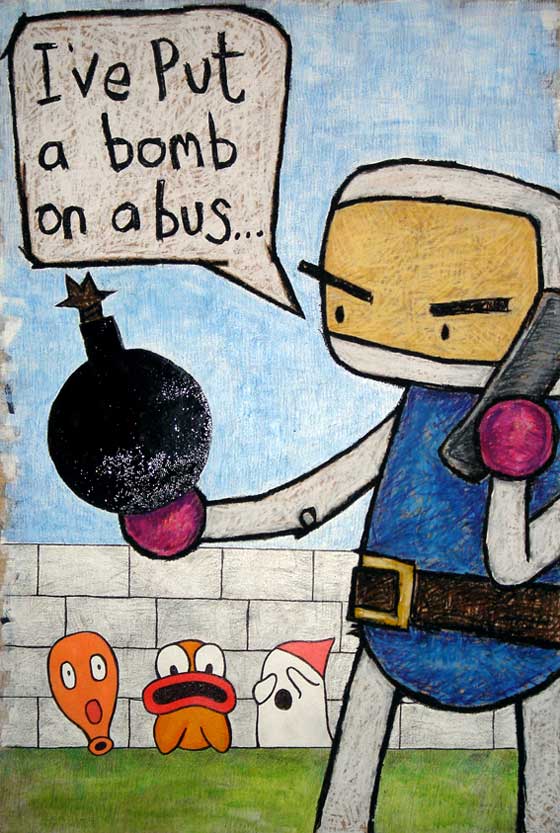 And the last piece is done by the elusive Red Penguin, this piece is inspired by a painting by Vasquez of Pope Innocent XII. This is the video game world's pope.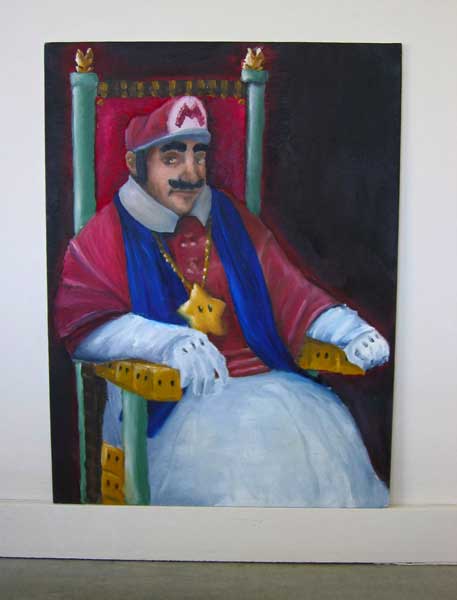 So that does it for my first official contest here with AICN Games. I'm currently setting up the next one to be launching within a matter of days. It is another artsy type contest, so stay tuned for it!
Again, thank you all who entered, your work was fantastic. Until next time, back up the tree I go!