"No, no, no, no. Hold on. Wait there. I've got something to say. There's something I had to tell you. Something important. What was it? No, hold on, hold on... Oh, I know! Merry Christmas." - Doctor Who: The Christmas Invasion
Welcome to the fifth annual @$$hole Last Minute Comic Book Gift Giving Guide. Comics readers are a finicky, obsessive lot. Finding that perfect Christmas or Hanukkah gift can frequently be a pain. That's where these guys come in. For all of you last minute shoppers out there, here are a few suggestions for that little @$$hole in all of us. Let's see what these lunatics plan on giving and are interested in getting this year…
---
Last year, I offered up 4 comic book-related items that I believed would make the perfect Christmas gift for your average geek. They were
THE SMITHSONIAN BOOK OF COMIC-BOOK COMICS, FRANKENSTEIN
(illustrated by Berni Wrightson),
JOE JUSKO'S EDGAR RICE BURROUGHS
, and Win Eckert's
MYTHS FOR THE MODERN AGE
. Then I offered up the one book I wanted more than any other, which was
GEORGE PEREZ: STORYTELLER.
Now this year, since that Perez book got delayed for a whole frickin' year, it's back on my list and I'm just offering up 2 additional books that I feel were the best overall productions of 2006 and should be required on every geek's bookshelf. So….awaaaaayyyy we go:
(1) For the total geek fanboy in me, I've been drooling over this stupid thing for over a year. Yes, once again I'm proclaiming my personal wishlist demands
GEORGE PEREZ: STORYTELLER: The Art of George Perez
be under the tree this year. This 200 page trade paperback by Chris Lawrence is published by Dynamic Forces and lists at $29.99. I can not believe Perez has not already received an extensive retrospective like this, but better late than never. Perez is producing the best art of his career right now and I cannot wait to sit down and read through the evolution of his art from those early Man-Wolf backups through the various CRISES and onto BRAVE AND THE BOLD today. Perez truly is a master storyteller and this is my personal must-have.
(2)
THE COMPLETE DICK TRACY: VOLUME ONE
published by IDW and also retailing for $29.99. Some of you may have missed my glowing review awhile back of this book, but it essentially comes down to the fact that this book exudes "labor of love" insofar as an historical collection of an old newspaper strip can be such. Wrapped in a gorgeous goldfoil dustcover, this hardback book features hundreds of pages of meticulously reproduced comic strips from 75 years ago, including the five dailies that Chester Gould worked up as a proposal for the series. This book is a great example of getting the most "bang" for your "buck" and its historical significance as the trendsetter for all modern crime and detective comics can not be overstated.
(3)
DC:THE NEW FRONTIER-THE ABSOLUTE EDITION
by Darwyn Cooke and published by DC Comics. There are seminal works and then there are SEMINAL works. This hefty 900 pound gorilla of an oversized slip-cased graphic novel is quite simply the best thing published by either of the "Big Two" publishers in 2006-bar none! DC has a history of publishing revolutionary books that establish new industry-wide trends (CRISIS, DARK KNIGHT RETURNS, WATCHMEN, KINGDOM COME). Personally, I see NEW FRONTIER as the missing puzzle piece of a triumvirate of near-perfect DC Comics: THE GOLDEN AGE and KINGDOM COME. Squeeze NEW FRONTIER in the middle there and you've got a classic tale of the JSA at the end of WW2, the rise of the JLA, and the final years of the Heroic Age begun by the JSA.
Darwyn Cooke hits every note perfectly. I remember giving some grief when the second issue came out and word was that Hal Jordan was a war pilot who wouldn't kill. This rubbed me wrong at the time, but reading that bit in context with the entire story landscape Cooke lays out, I accepted his logic and went with it. The artwork flows like animation storyboards in a style reminiscent of so many early Silver-Age artist (Kirby especially) while not directly copying any of them. With Cooke's SOLO issue, the recent BATMAN/SPIRIT, and now this collection, he has rocketed to that top tier of comic book professionals whose work I can't get enough of. This Absolute edition, besides just being oversized, includes notes, sketches, tons of additional artwork, amazing additional pages to the story, and panel-by-panel annotations by the author. This truly is what I would expect from a package billing itself as "Absolute" and I feel like I've got more than my money's worth out of it already. In fact, I've had it for two weeks now and I keep going back to it.
Before I die, I want to shake Darwyn Cooke's hand and just thank him for this wonderful story and art.
---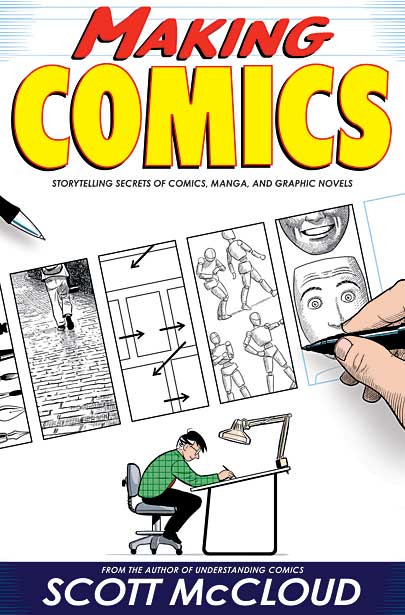 MAKING COMICS: STORYTELLING SECRETS OF COMICS, MANGA, AND GRAPHIC NOVELS by Scott McCloud:
I'm sure many of the people out there who read AICN comics have had either a passing interest in how comic books are produced or possibly some of you out there are budding comic book professionals yourselves. Well, if you've ever wondered what the secrets are to making your own great comics or you just need a little help along the way as you put together your own great tome of sequential art greatness then this may be the book for you. Scott McCloud has been impressive in the past with his other books about comics ( UNDERSTANDING COMICS and REINVENTING COMICS) and I can think of no one other than the man who brought us the 24 hour comic book to help educate all of us in the ins and outs of comic book production. Other than Will Eisner, that is. As a matter of fact this book is probably the perfect companion piece to Eisner's COMICS AND SEQUENTIAL ART. So if you know someone who's interested in creating their own comics, run out and get them both of these books.
DUNGEONS & DRAGONS: THE COMPLETE SERIES (DVD):
Sweet Fancy Christ on a cracker! They finally came out with these on DVD! YES! If you were as much of a nerd as I was growing up then you spent many an afternoon gathered around a table battling ogres and giants with nothing but a twenty-sided die and a pencil and paper to guide your way. Then, when this cartoon premiered you practically crapped yourself with anticipation. Sure, it was different from Gary Gygax's pencil and paper adventure game (Cavalier? What the hell is that? Acrobat? Who cares! She's cute!) but they were moving images of kids duking it out with dragons! Fantastic! Of course, the cartoon might not hold up to how you imagined it (have you watched an episode of G.I. Joe or He-Man lately?) but the nostalgia factor alone plus the wholesome quality of the cartoon would make this a great gift for the older geek you know or the young geek in training you're rearing.
GORILLAZ: RISE OF THE OGRE book and PHAZE TWO-SHOWBOAT TO HADES DVD:
Know a geek that sees themselves as a bit too cool for school? Or know someone who isn't too incredibly comfortable with their geekiness? Well then get them these. If your Christmas nerd is into animation or design or music then these two items are the perfect gift for them. SLOWBOAT TO HADES DVD features fantastic music videos from the band's album "Demon Days" as well as "live" performances along with tons of extras. RISE OF THE OGRE is a beautiful hardcover book that details the band's beginnings and how they rose from obscurity to become the best cartoon band in the history of animation. Take
that
Josie and the Pussycats! If you want to make your gift giving experience the perfect holy trinity then pick up the DEMON DAYS (LIVE) DVD as well.
WORLD WAR Z: AN ORAL HISTORY OF THE ZOMBIE WAR by Max Brooks:
Do you know someone who loves horror? Or know someone that digs THE WALKING DEAD comics? Well, this baby may be the ultimate gift for them this year. Sure it doesn't have pictures but any fan of Kirkman's DEAD book is more than likely going to love this sucker. Yes, many of you out there might not be cool with giving someone a horror novel for X-Mas but if your truly love the horror freak in your family you'll look past your prejudices and pick this book up for them. I mean, come on…it's the holidays, right? Don't be so selfish! Get your goth teenager something they'll actually enjoy this year! Skip the Izod shirt you'd wish they'd wear and get them a chunk of grand old zombie horror! Then, to prove you love them even more, pick up Brook's ZOMBIE SURVIVAL GUIDE as well. They may not love you for it but at least they'll want to kill you in your sleep a little less this holiday season.
---
ABSOLUTE SANDMAN VOL 1:
This is the Wii of the comic book year. Even if it was just an oversized collection of the first twenty issues of the SANDMAN series, with a host of background notes and extras, it would still be worth giving as a gift. But the recoloring, the glorious Gaiman-given recoloring makes the artwork pop in a new and beautiful way. It reads like a brand new story. If your family comics fiend doesn't already have this, he probably wants it. Trust me.
INVINCIBLE ULTIMATE COLLECTION VOL 2:
If last year you heeded my recommendation of the first volume, then you'll definitely have the second one all lined up for this season. This one features the prolonged fallout from Invincible's battle with Omni-Man, High School graduation, Mark revealing his identity to his girlfriend, and the origin of Angstrom Levy. Not to mention the fact that INVINCIBLE is one of the few remaining superhero books where the main characters not only are noble, but actually seem to enjoy the fact that they're heroes.
THE EVERLASTING:
No matter what I do on this site, and elsewhere, there are still people that don't read comics. Here's how you can help. If there's a literate snob on your list, give them Jamie S. Rich's monstrous novel about twentysomething life, romance and ambition. Main character Lance Scott is the personification of the young male I bump into on the street every day.
And when your friend finishes reading this one and asks you what else Rich has done with these characters, then you spring
LOVE THE WAY YOU LOVE
on the sucker. If that hooks them, introduce them to BLUE MONDAY, and their journey to the dark side will be complete.
---
Comic book fans are notorious collectors. Relatives and friends can never buy for them because they already picked up the best version of whatever they want. The problem is that relatives need to go to the periphery. I'm not talking buying a t-shirt with the SUPERFRIENDS on it; no one likes clothes as a present and anyone who tells you differently is either lying or a woman or gay.
In the past few years I've ended up with duplicate trades, unwanted shirts, and one time my mother-in-law sent me a few issues of Superman from the mid-70's that she bought from an antique store. Not even a comic store, but an antique store! I'm positive she was ripped off.
So here you go, a few things that the geeky comic gamer nerd in your life might not actually own:
THE BATMAN HANDBOOK: THE ULTIMATE TRAINING MANUAL:
I just received this as a present last week and it's by far the coolest item that I never would have bought for myself: an extensively detailed manual on how to BE Batman. And it's not a silly book out for laughs, it's an actual, mostly workable guide. For the more scientific geek, you could get them THE PHYSICS OF SUPERHEROES. If you search Amazon, there's a whole genre of these physics/science books for super-heroes and villains and very likely your Secret Fan-ta target has never heard of these tomes.
THE TICK VS. SEASON ONE:
Screw Batman: The Animated Series; Tick was greatest super-hero cartoon of the mid-1990's. It's entirely possible your comic nerd owns the first season of this essential DVD series, so check his stash before you buy. In the event that he does, you can always fall back on THE VENTURE BROS. I'm continually surprised at how many geeks have never even heard of this series. Get it, especially if he doesn't have Cartoon Network broadcast to his house.
If all else fails, Choose Cthulhu.
First it was zombies, then pirates. Now Lovecraft has slithered back into popularity. There are a number of online stores that sell all sorts of squamous Lovecraftian creepiness that I bet your target geek doesn't own. From obscure DVDs (The Call of Cthulhu Silent Movie!) to mugs and hats, to dolls, dice and votive candles, here's a list of the Lovecraft stores I trust in alphabetical order:
Arkham Bazaar
Dagon Industries
H.P. Lovecraft Historical Society Bazaar
Kthulhu Kitsch
If you must go the comic route for Cthulhu, make him your bitch with a copy of
THE HAUNTER OF THE DARK TPB by John Coulthart.
Disturbing vistas and ultra-detailed pencilling can't be beat!
---
ALIAS OMNIBUS by Brian Michael Bendis:
Back before he became "The Award Winning Writer of NEW AVENGERS and ULTIMATE SPIDER-MAN!" Brian Michael Bendis used to write dirty, dirty books with lots of swearing... and I really miss those days. So if you have a buddy or a loved one who enjoys the work of Marvel's little Jewish wunderkind now, well wait until you present them with this amazing package. This is the story of Jessica Jones, one of the most realistic and intriguing characters I've had the pleasure of reading in a comic book series, and plays a little bit more on the adult and dirty side of the Marvel Universe thanks to the MAX imprint. Collecting every last issue of Bendis' opus and the WHAT IF? issue featuring the title character Jessica Jones in a slightly oversized hardcover binding, this is a hell of a package. It's a little on the expensive side coming in at a whopping seventy dollars, it's definitely a gift reserved for some a little more on the special side of your life, but even if you couldn't find it on places like Amazon for about forty bucks it'd still be worth every penny.
PRIDE OF BAGHDAD HC GN by Brian K. Vaughan & Niko Henrichon
has turned out to be one of, if not the most, critically acclaimed pieces of comic book art this year. And for very good reason. Brian K. Vaughan has crafted a hauntingly beautiful story, with tons of emotional highs and lows, and is actually a very deep and symbolic read depending on how deep you choose to read into it. There's so many ways you can take this story. It really is one of those books that is "made for everyone" making it a gift you can give to the most hardened of comic book reading veterans or a relative newbie. The best part? It's only twenty bones and comes in a very sleek and durable hardcover format. Put this one at the top of the list.
FABLES: 1001 NIGHTS OF SNOWFALL HC GN by Bill Willingham & various artists:
A pretty well self-contained OGN for one of the best and most critically lauded monthlies on the shelves today, 1001 NIGHTS OF SNOWFALL is a great treat. This graphic novel does wonders to introduce those not familiar with the series to a wonderful cast of characters, but also does a lot to flesh out the stories behind some of the events going on in the FABLES book proper. And it also features one of the best assemblages of artists I've ever seen including such greats as Jill Thompson, John Bolton, Charles Vess, James Jean, painted Mark Buckingham art, and hell, even Brian fucking Bolland contributed a couple pages. Even though it does deal with fairy tale characters, this is definitely a mature book and not for everyone, but this is a great gift for fans of Willingham's epic saga. It's a great hook for the uninitiated too. And it also comes in Vertigo's spiffy little hardcover treatment with a lovely James Jean dust-jacketing, all for only a twenty spot. You really can't go wrong with this.
WILL EISNER'S NEW YORK: LIFE IN THE BIG CITY:
Simply put, Will Eisner is a goddamn genius. There's a reason why the comic book industry's highest award is named after the man. But the sad part is there's not many people familiar with the work of the man himself, both non-comic readers and Wednesday warriors alike. So it's time to school some of those ignorant bastards in the ways of one of the greats. And there's really no better way to do it than with this excellent collection of some of the his greatest tales of everyday life and its great ups and horrible downs. Including collections of stories such as THE BUILDING, CITY PEOPLE NOTEBOOK, and INVISIBLE all for a mere thirty bucks this is one of the most inspirational and heartbreaking collections of comic book literature out there.
THE FOUNTAIN Softcover GN by Darren Aronofsky & Kent Williams:
Arguably one of the most brilliant films I've seen this year, THE FOUNTAIN was first one of the most brilliant graphic novels I've ever read. A wonderful story story of life, love, and tragic loss featuring amazing painted art by Kent Williams, this is one of the greatest testiments to the graphic novel medium. Another prime example of what the medium can be and a great intermediary between the comic elite and novices alike. Also a great pick for fans of the actual film (or Aronofsky fans in general) as this is more the "Director's Cut" as it unfolds the events seen in the movie rather differently and fleshes out some of the more intimate parts. And it is properly oversized to show off Williams fantastic art and sports a lovely cover design all for a paltry twenty bones. And be on the look out for a hardcover version that came out last year for forty as well.
---
Some Friendly Holiday Advice from Your Ol' Pal Buzz Maverik
Take the money you'd spend on isolating yourselves from reality and making comic pros rich and donate it to a homeless shelter or a food bank or a boy's or girl's home. And don't buy 'em comics. If they get a gift allotment, they can get their own comics if they want.
Don't get me started on those damned $200-$300 inflatable Santas/Frostys/Grinches/Power Girls that people have in their front yards. Actually, you can respect the people with the Power Girls, but otherwise...
---
For those of you who know fans of Greg Rucka's QUEEN AND COUNTRY or CHECKMATE, or just fans of well-done spy stories in general, some recommendations from across the pond are in order.
First, the thrilling and dramatic TV series
THE SANDBAGGERS,
the story of a beleaguered British spy chief and his three spies as they deal with Cold War issues. Sound familiar? It should, it was a major influence on Rucka during development of QUEEN AND COUNTRY.
If you want to stay in the print medium, try Peter O'Donnell's superb novels about sexy ex-criminal mastermind turned sometime spy
MODESTY BLAISE.
The stories are always intriguing, and Blaise and right hand man Willie Garvin have a relationship that's just plain fun to read about.
Want to keep to comics only? I've still got you covered. Peter O'Donnell wrote the adventures of
MODESTY BLAISE
in strip form in newspapers for decades, and Titan Books has begun collecting them in nice volumes, each with extra interviews or articles about the comic. This is some great work, brought back to life.
---
If I were to have…just one wish this holiday season, I'd go Scarlett Witch on the comic book industry, murmur the words,
"No more crossovers."
and watch the last few years of pee-hole tight interconnectedness in today's mainstream comics disappear. It's not that I don't mind the concept of a shared universe, but I'm sick to death of these status quo changing, multi-part crossover-ed, deconstructing/reconstructing stories. There was a time when stories could be told
with
the character and didn't have to be always
about
the character. Maybe this new trend in storytelling has a lot to say about the "me first" direction society has taken in the last thirty years. It's all about topping the last status quo shaking crossover now and the creator making his mark on the character's story. Just tell stories. Stop trying to make headlines. Writers, you're trying too damn hard.
If I could have…two wishes this holiday season, I'd first wish "No more crossovers." then I would ask for a set of trade paperbacks from a pair of early DC Vertigo series that I have yet to read,
ANIMAL MAN
and
DOOM PATROL.
There are those who deem Grant Morrison's early works as precious tome, but I have yet to read them and wish to pass my own judgment. I do know that they sport some of the coolest covers I've ever seen in quite a while by Brian Bolland. It's prime time I take a look at these books and see what all of the hubbub is about.
If I could have…three wishes this holiday season, first "No more crossovers", then the ANIMAL MAN and DOOM PARTROL trades, then third, I want a few more trips through the surreal and demented images and texts of Crispin Glover. Through his Volcanic Eruptions website, three of Glover's books are available.
RAT CATCHING
(which I've read) is a bizarre instructional manual meant to educate those interested in capturing rats, but the narrator goes delightfully off subject throughout the book.
OAK MOT
and
WHAT IT IS AND HOW IT'S DONE
(which I haven't read) both look like fun nosedives into the weird. These three books were read aloud by Glover himself when he visited Chicago a few weeks ago with his Big Slideshow and feature film, WHAT IS IT? Although the intensity of watching Glover read his own stuff could not be reproduced upon reading these books themselves, I'm sure you'll find the stories, while offbeat and sometimes unsettling, entertaining nonetheless.
If I could have…four wishes this holiday season, first, I'd definitely go with the "No more crossovers"-thing, then the early Morrison trippiness, then the Glover kookiness, and finally, I'd dig deep into yesteryear and wish for everyone in the world to read
IF I RAN THE ZOO, by Dr. Seuss
which speaks to the critic in all of us as a young boy, Young Gerald McGrew, goes to the zoo, and tells the zookeeper how a zoo run by him would be much better that the one he's in now. Filled with Sues-isms and rhymes, this one will take you back and make you smile.
And if I could have…five wishes this holiday season. Blah, blah, crossovers. Yadda, yadda, Morrison. Hammy-shammy, Ratcatching. Rhubarb, rhubarb, Seuss…and finally, I'd ask for
CRYSTAL LAKE MEMORIES; THE COMPLETE HISTORY OF FRIDAY THE 13th by Peter M. Bracke,
a book that will surely satiate the bloodlust of any F13 fan. I
need
this book which delves in to the history of the movie series, the behind the scenes juiciness, and much more. Just stumbled upon this and it is definitely going to be in my hands soon. I don't care if he thinks I was naughty or nice this year, if Santa doesn't drop this badboy down my chimney, he'll have a machete embedded up that rosy red nose of his. Ch-ch-ch-ho-Ho-HO!
---
From all of us @$$Holes to all of you Faithful Talkbackers…Happy Holidaze!