BOOKS
Cheap ($24.99 and under)
The Last Christmas Trade Paperback. I thought this would be a great starter for the Books section. It's Holiday-themed and it's gloriously wrong. This Trade Paperback is a compilation of the 5-issue comic book series scripted by some really funny men, including Brian Posehn. This is a post-apocalyptic tale where zombies and mutant hordes run rampant and the violence soon reaches the North Pole, resulting in the death of Mrs. Claus. Santa slips into an alcoholic depression and tries to kill himself, only to find that he is immortal as long as one single child still believes in him. So, he goes out into the wastelands to kill that little fucker so he can finally off himself. Twisted, no? This is a lot of fun and I wouldn't be surprised if someone snaps up the rights to the film. And cheap, too, at $10.19.
Here's another Geeky Christmas book, this time penned by the stop-motion genius' that go by the name of The Chiodo Bros (of KILLER KLOWNS FROM OUTERSPACE fame). I've been able to see this book and it's really cool and unlike the above LAST CHRISTMAS TPB you can show this one to the kiddies. $14.00.
If you can't wait for the release of Richard Kelly's SOUTHLAND TALES, you can at least start on the prequel story told through a series of graphic novels. The first book, SOUTHLAND TALES: TWO ROADS DIVERGE, is widely available at the low price of $10.36. I found the second book at the local comic book store last week as well.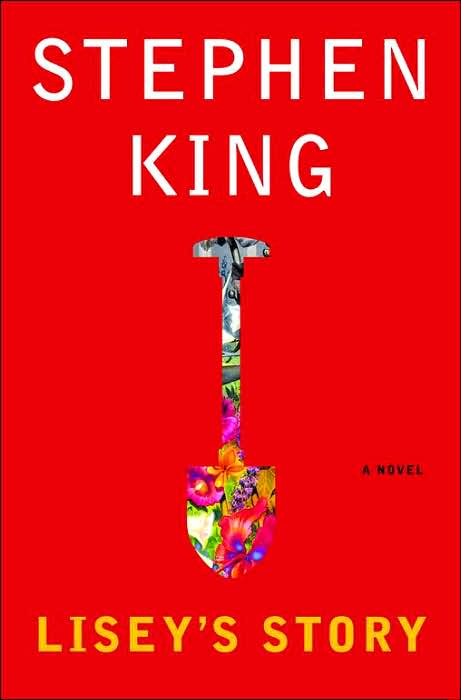 Lisey's Story is the newest Stephen King book and I'm a big fan of the author, so of course this made my list. The book is very much a love story as only Stephen King would tell it. There are elements of Bags of Bones, Gerald's Game and The Talisman in this story and I found that once I got into it I was compelled to see how it ended. $16.80.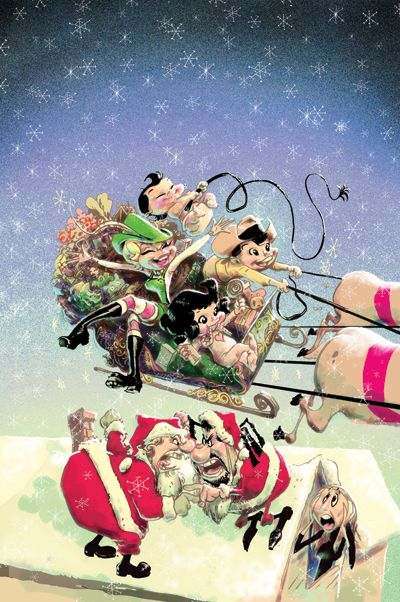 It's not Christmas unless Jingle Belle shows up. This time Paul Dini and Jingle Belle team up with Kyle Baker and The Bakers for a Holiday one-shot comic book. Dark Horse Comics is putting this out December 13th at the low-low price of $2.99.
This is one of the items brought to my attention from you guys, the readers. This actually looks really interesting... It's $19.14 at Amazon and is well over 500 pages of Roger Ebert's best stuff (reviews, interviews and essays on film). Many of you suggested it and I'm actually looking forward to picking it up and seeing with the man has to say.
Peter Jackson has picked up the rights to make films out of Naomi Novik's TEMERAIRE series. The above book is $16.90 and is a little hard to get. It's a hardcover collection of the first 3 books of the continuing series, set during the Napoleonic wars, but in a world where the British and French have not only ground battles and sea battles, but aerial battles thanks to dragons. At the time of this writing there are only 15 of these on Amazon. But never fear, if you want the books, you can always pick up the regular paperbacks at $7.50 each. Book 1, HIS MAJESTY'S DRAGON is here! Book 2, THRONE OF JADE is here! And Book 3, THE BLACK POWDER WAR is here! I'm a big fan of this series and really can't wait to see what Jackson does with it.
I am one of the last people in this world to see THE FOUNTAIN, but I'm so looking forward to it. At Comic-Con a couple years ago I saw some of the artwork and thought it was gorgeous. At $13.59 this is sure to be a great companion piece to Darren Aronofsky's film.
Now we get into the zombie section... to kick it off, I have to include Robert Kirkman's THE WALKING DEAD, which is a comic book series still going strong, but I believe it is the hands down best take on a zombie story since George A. Romero made them what they are today. The writing is tight, suspenseful and surprising, the characters interesting and entertaining and the black and white artwork is fantastic. Like all the best survival stories, not one single character is safe. Anything can and probably will happen to these guys. The above linked book is a special hardcover edition that's $19.79 at Amazon. This hardcover edition is a little bit more special than the usual trade paperbacks. You can pick up the regular TPBs a little cheaper. BOOK 1 is $9.95. BOOK 2 is $10.36. BOOK 3 is also $10.36. BOOK 4 is $10.39. And BOOK 5 is again $10.39. I highly recommend this series.
Max Brooks' follow-up to his incredibly successful ZOMBIE SURVIVAL GUIDE ($11.16) is a huge favorite amongst the readers and of myself. Brooks takes the fantastic, over-the-top, premise of a Zombie War taking place in modern day and treats it as real as someone documenting World War 2 or Vietnam through Oral stories from people who lived through it. Great read and only $16.47
You can also pick up the audio book, as well. Even though it is abridged, you get 6 hours of stories from the book, approved by Max Brooks, performed by some amazing talent, including Mark Hamill, John Turturro, Rob and Carl Reiner, Henry Rollins and Alan Alda. It's incredibly entertaining and good if you love you some audio books. $19.77
Ah, Frank Miller's 300. This one's been out for a while, but if you were ever going to read it, buy it, own it... now's the time. I guarantee you'll want this come March when Zach Snyder's movie comes out. Miller's epic Spartan war tale is a great read and just shy of the $20 mark, at $19.80.
This next book isn't a single book, although the above cover is indicative of the series. Hard Case Crime puts out at least 1 book a month, either a brand new Hard Boiled Noirish detective story or a reprint of a long lost or forgotten story by one of the masters. Ed McBain, Laurence Block, Donald Westlake, Max Allen Collins and even Stephen King. These books are a throw-back to the pulp fiction days of yore. I have a stack of the books myself and highly recommend them... And if you go to the publisher's website you can subscribe you or someone you know to the Book Club, that has a novel a month delivered for $3.99. Add on to that 30% off any back issues, that's a helluva deal. Under $50 a year and you have continuous entertainment courtesy of some of the best storytellers of all time.
Moderate ($25.00-$70.99)
I'm a big of a junkie for Effects house books. I remember scouring my Junior High and High School libraries for books on ILM's work... STAR WARS, INDIANA JONES, POLTERGEIST... all that stuff. I was always fascinated by the behind the scenes artwork, seeing the elements that make up the films I love. Matte paintings, monsters, creatures, storyboards, etc. This book, The Winston Effect, is Stan Winston Studio's book. It clocks in at $32.97 at Amazon. Looking at the cover, it's a safe bet we'll get JURASSIC PARK, TERMINATOR, PUMPKINHEAD and PREDATOR. I hope we'll get to see some of the more obscure Stan Winston stuff, like MONSTER SQUAD.
I had the pleasure of meeting Eli Wallach earlier this year when he came to the Alamo Drafthouse to do a signing for this book as well as introduce the extended cut of THE GOOD, THE BAD AND THE UGLY. Mr. Wallach has been around a long time and has been in some amazing films... the stories he was telling about working with Leone were absolutely great. I'm sure this book is great, too... I still need to pick myself up a copy as they only had a handful at the signing and I was not one of the lucky few to get one. If they're at all like the stories he was telling at the screening, then this is gold. $25.00 on Amazon (or less).
Ah, the beginning of another series of great reading. There are 3 EC Archives books out and the first I'm bringing up is Tales from the Crypt Vol. 1. 212 pages of some of worst puns ever thought up and some of the best, most gruesome artwork and stories ever put to paper. $32.97. Good for a pre-order, as it's released December 28th.
This is one of the EC Archives that's out already, but is quickly disappearing from shelves and sold out at a lot of online places. Amazon still has a few copies at $32.97 or lower if you go with the few in used and new section. This is great geek reading.
And the final of 3 I'm linking to, Shock Suspenstories Vol. 1, with a forward by Spielberg. Great stuff... God, I love these covers. It's also $32.97 and is released November 28th.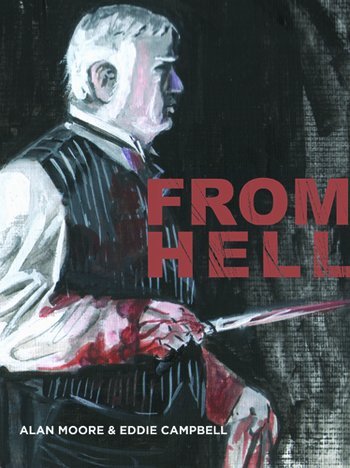 Alan Moore and Eddie Campbell's classic is given the done-up, hardcover treatment. It's cheaper than most of the others listed at $26.60. If you don't know, it's a twisted tale about the Jack The Ripper killings. Some great stuff here... much, much better than the movie.
Last year was pretty SIN CITY-centric, but this year you see some other Frank Miller books mentioned. I linked 300 earlier, but here's a more expensive and completely different bit of work from Mr. Miller. His THE DARK KNIGHT RETURNS is a benchmark achievement in comic book history and some of the best superhero writing ever put before our greedy eyes. The above is $62.99. A little pricey, but it'll be a great gift for any comic book, Batman, Superman or Frank Miller buff.
Another of the Absolute series, here we have the beautiful KINGDOM COME, with amazing painting artwork by Alex Ross (check the ART section for one more Alex Ross piece) and words by Mark Waid. It shares some similarities with THE DARK KNIGHT RETURNS, in that it's a twist on the superhero tale and it's set in a future time where the old guard heroes (Batman, Superman, Wonder Woman, etc) are at war with a new generation of superheroes. Great stuff and a bit cheaper at $47.25.
Now that we're almost to the end of the books section I'm compelled to do one of the only repeats I've ever done in one of these guides... For Absolute Watchmen. It's $47.25 and arguably the best work ever done in a comic book medium. Limited, hardcover super snazzy release. So nice, I've mentioned it twice!
If you haven't seen enough of Alan Moore on this list yet, here's one final shout-out to him. This one is for the kiddies. Please feel free to buy these for nephews and nieces, god children and the neighbor's kids. I'm sure their parents would appreciate it. Seriously, this collection of 3 hardback books is about graphic and fucked up and bizarre as anything I've ever seen. Not for the feint of hearted or those who shock easily. Might want to buy this one with some kleenex and hand lotion.
Expensive ($71.00-$499.99)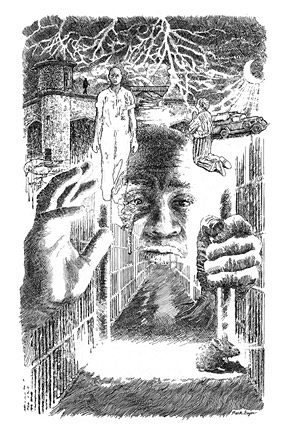 And one more Stephen King item to round out the books portion of the guide. This one is a little more special. I really wish Grant Books' announced special edition limited hardcover re-release of THE GUNSLINGER was out in time for Christmas (with the new artwork by Michael Whelan and added in LITTLE SISTERS OF ELURIA short story), but this will certainly do. It's hard to believe THE GREEN MILE book was released 10 years ago, but it was and Subterranean Press is releasing a limited hardcover cloth-bound slipcased gift set with new artwork. $150 plus shipping, but something very special and not readily available.
MUSIC/CDs
Cheap ($24.99 and under)
Weird Al is the man and his newest album shows he's still at the top of his game. Al's take on "Trapped in a Closet" is great. $13.88.
Brian Posehn's NERD RAGE is incredibly funny, especially if you have no idea who the hell Brian Posehn is. This plays like a greatest hits of his best live work, all done in one set for this album. If you can't picture him he's "that guy" from Mr. Show, Devil's Rejects and the Comedians of Comedy tour. $13.99.
Lewis Black is the man and his Carnege Hall Performance is pretty vintage Lewis Black. His theory on Candy Corn is so crazy that it could actually be true. A cheap $8.99.
For the kids or for those adults with a heart. The soundtrack to this flick was catchy, a Moulin Rouge for the preteen crowd. $12.88.
"If Church Music Was Like This, I'd Go Every Sunday" -- Paul Dini via Harry Knowles. How bizarre is this? A Twisted Sister Chirstmas Album... the mind boggles. $15.88.
Moderate ($25.00-$70.99)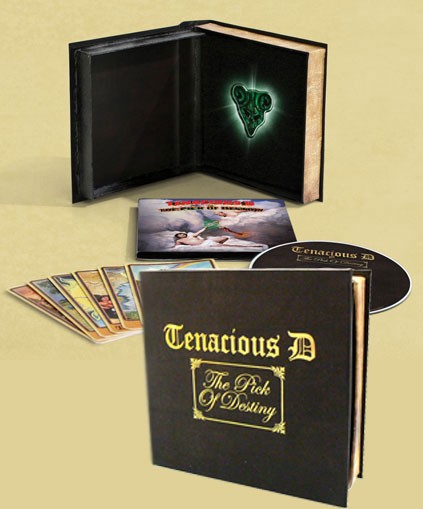 New kick-ass Tenacious D music - check. Super deluxe edition with cool goodies? - check. With this CD soundtrack release you get a Pick of Destiny for yourself and Tarot cards specific to the movie (if you've seen it by now, you'll know which ones). $23.99 or super cheap $7.99 for just the CD.
More stuff for the LOTR devotees out there. Howard Shore's brilliant work in a complete packaged, with every scrap of music he recorded for THE TWO TOWERS. 4 CDs and a DVD-audio disc featuring the score in "4 superior sound configurations." Plus a booklette with liner notes. You can get the Complete Fellowship of the Ring score as well, for $57.88.
ART
Cheap ($24.99 and under)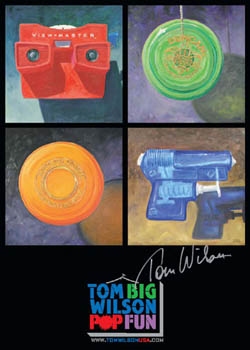 McFly! Think, McFly! Think! You butthead! Yep... that's Tom Wilson's art. Aka Biff Tannen from Back to the Futures 1-3. His original work is mega-super-expensive, but you can buy the above print, autographed, from his website at a measly $10 each. Great for an impressive, but cheap gift for any back to the future fan. And his work is actually good, to boot. How about that?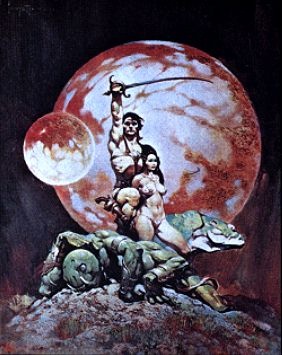 The immortal Frank Frazetta has a website up selling prints of all his best known pieces. The above poster is, of course, his work for the '70s releases of Edgar Rice Burroughs' JOHN CARTER OF MARS series, which someone is dragging his feet getting to the big screen... ahem. That art above is for PRINCESS OF MARS, but that's not all he has available... all his Conan, Heavy Metal stuff, nudie women... everything. Nearly 150 prints, all $10 each. I have something Frazetta a little more special in the For The Super Rich Only section.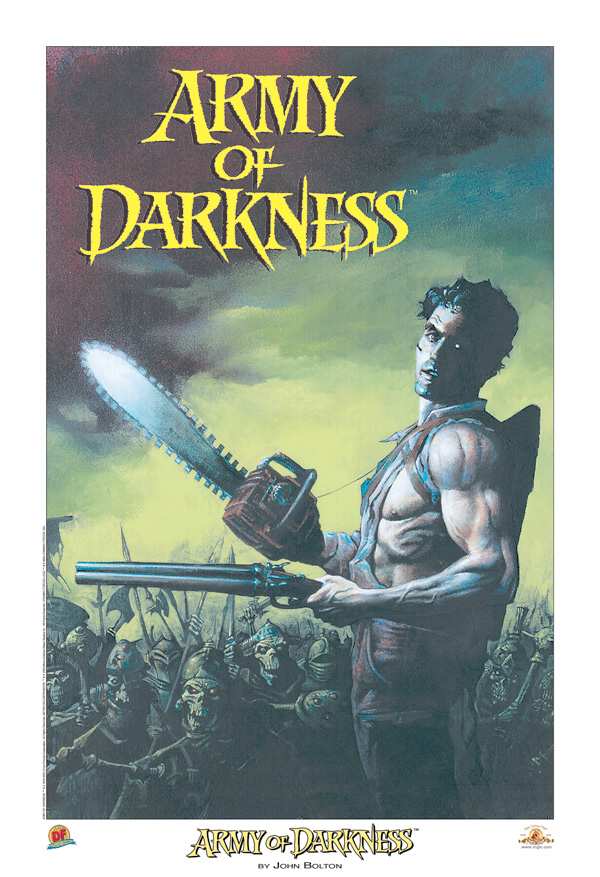 The art of Ash? Pretty nifty and something not every Evil Dead fan might know of. Dynamic Forces have the litho, printed on high quality paper, at 13x19 inches for $19.99. Groovy.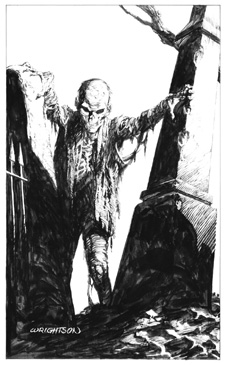 Another zombie addition. Keepin' the tradition alive! Or undead. Something. This one's pretty cool. It's a limited printing, done by Bernie Wrightson for Comic-Con of this year. 500 pieces. He had some left over after the Con and is putting them on the site you can reach by clicking the above image. Regularly $25, but on sale for $20. You get 5 11X14 plates with a different piece of Wrightson art in this collection for that money.
Moderate ($25.00-$70.99)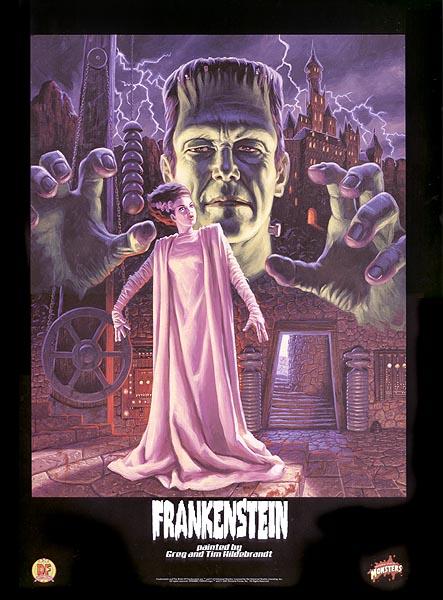 One half of the artist team of the Hildebrandt Bros. died earlier this year. Tim Hildebrandt is no longer with us, so I thought I'd find a piece he and his brother did to feature in the article. If you don't know, the Hildebrandt Bros were famous for their Tolkein art in the '70s and they even did the art for one of the original STAR WARS posters. The above is geeky cool and a good reminder of how talented they are. Regular price was $50, but it's on sale for $35, signed by Greg Hildebrandt. Be quick, there are only 12 available.
Expensive ($71.00-$499.99)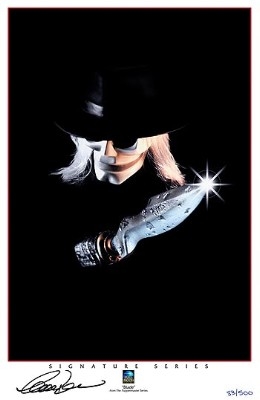 For the Full Moon fans out there. Full Moon has 3 different prints at $75 each. All three are autographed. My favorite image is the above poster of Blade from the PUPPET MASTER series. That print is signed by Full Moon's Charles Band and the other two prints are TRANCERS (signed by Tim Thomerson and Charles Band) and DR. MORDRID (signed by Band and the great Jeffrey Combs).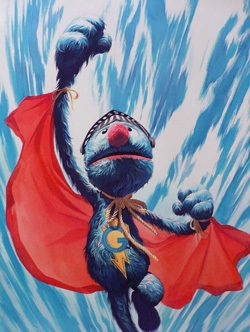 Yes, that's Alex Ross art. And yes, that's the one and only Super Grover. $100 from Dynamic Forces and you get limited 18X24 litho, signed and numbered by Alex Ross. There were only 250 made. Who knows how many are left?
For The Super Rich Only ($500 and up)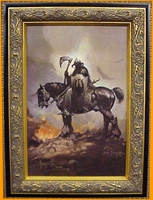 I know that's an incredibly small image. Sorry about that... What you see there is a quality reproduction of one of Frazetta's best and most recognizable works. There are at least a dozen more on his site. They call these "impressions", which apparently preserve the original painting's details, down to brush strokes. Only 300 of each painting were made, all under the careful supervision of Frazetta himself. Apparently, these impressions are as close to the originals as anybody can ever hope to owning. Each is "stamp-signed" and numbered by Frazetta and are the same dimensions as the original, roughly 22X28. And a whopping $600 each.
CONTESTS
As in years past, this year's Holiday Shopping Guide has a few givaways. I have two different things to give away this year. First up, from Sideshow: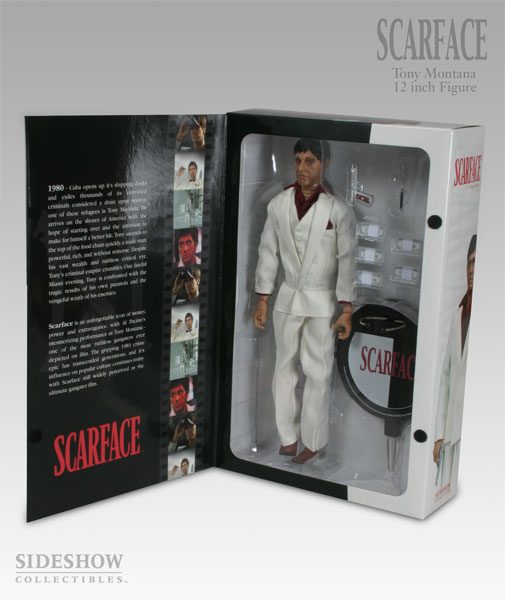 Both mini-Pacinos have found homes, with Steve Meyer and Carl Arens. Thanks guys!!!
These 12" talking Scarface figures retail for $45, but I have two of them to giveaway here. On these, I can only ship to the Continental United States, so all entrants have to live in the Continental US. Sorry to the rest out there... The first two emails I get to quint@aintitcool.com with the subject line SCARFACE CONTEST, a mailing address and the correct answers to these three questions will get their own little friends! Good luck:
Question #1: Name the other film Al Pacino starred in for Brian DePalma and tell me what year it was released. Question #2: Brian DePalma has directed many great films... the film he directed before SCARFACE is my favorite. Name me that film. Question #3: The male and female leads in the answer to Question #2 worked together in another DePalma film. What film?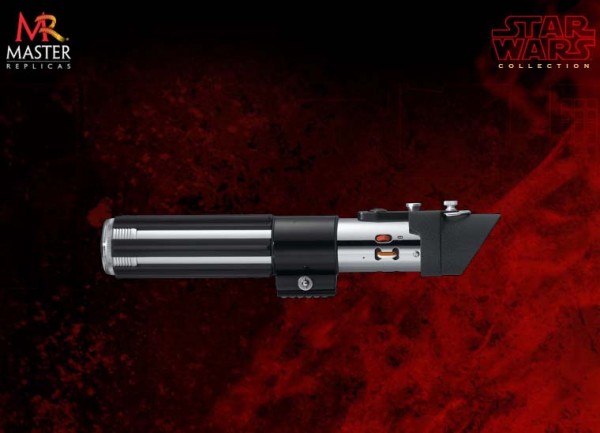 That was fast! All 6 mini-sabers have been claimed. The winners are Chris Muir, Diane Grant, Nkosi Anderson, Jason Crosslin, Brad Brown and Daniel Gushard! Thanks for entering!!!
Master Replicas have given us 6 mini-sabers... specifically Darth Vader's EMPIRE STRIKES BACK sabers. These things are really geeky cool... a great prop for those Star Wars geek dads with little jedi's running around. These are about half-scale. So, I have 6 of them. Email me at quint@aintitcool.com with the subject line GIVE ME A FUCKING MINI-SABER! and your mailing address in the body of the email (this one is open to anybody in the world!). The first 6 I get will have a cool little geeky stocking stuff this year.