…with a follow-up to yesterday's rumors-turned-certainty-turned announcement regarding the "Special Editionalization" (that's a word, you know?..."Editionalization"…) of the original STAR TREK series (herein "TOS")
This article is very much a sequel. If you haven't read our previous post, you might want to do so by CLICKING HERE, as I'm not sure this piece will make any sense otherwise.
First off…
Many people are asking two extremely logical questions about this new announcement & undertaking: 1) How could they have kept it a secret for so long?; and 2) If it's just being announced, how can it be ready for syndication Saturday September 16? This ties in with a question I was asking myself about our sources: yesterday's announcement seemed as surprising to them (all are rather well placed to be privy to such information) as it did to everyone else. So…what the hell?
The answer to all of these questions is staggeringly simple, and thoroughly mind blowing: this whole shebang is a relatively new project -- a few months old at most. No multi-year conspiracy of silence, no information suppression beyond what we'd normally expect to find on a…well…enterprise of this magnitude.
At the moment, they're hustling to get the first batch ready to air starting on the 16th. The TOS SEs have been sold into syndication on the presumption that (more or less) an episode a week will be tweaked, generated, and whatnot. Undoubtedly, the regularity of this schedule will stumble a bit. It almost has to.
One would assume that…should these SEs be well received by the fans and stations airing them… "back up" personnel could be brought in to help diffuse the pressure and workload. But, as is, I'm told it'll be a race to the finish to get these episodes delivered on time.
This sounds worrisome, as it would be nice to imagine each episode being afforded the time, attention, and TLC many of us feel they deserve. On the other hand, this kind of schedule/tight delivery is nothing new to episodic television. However, given the circumstances (and the complexity of what's being attempted), it's a tad unnerving.
Which brings us to…
By now, most of us have seen this image of this CGI Enterprise, as it will appear in the Special Editions.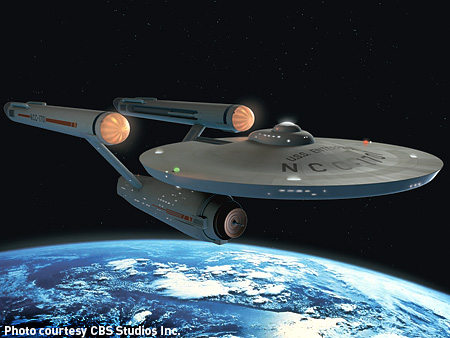 Some people think this CGI model looks just like the one featured in the ENTERPRISE episode "Through A Mirror, Darkly". Doesn't look as good to me…but….whatever. Many folks are disappointed by the lackluster vibe conveyed by this image . It feels…unfinished…somehow. Personally, it reminds me of the model kit I built in the 70s. Perhaps it will dominate once we see it in motion? Perhaps not. I bring this up because it pertains to the following…
In yesterday's article, we referenced a different TOS SE proposal submitted to Paramount by the great Daren Dochterman a while back. As soon as our article was posted, e-mails started pouring in. "Daren is doing the Special Editions!" "Daren MAY be doing the Special Editions – he's not sure!" And so on.
Today, Dochterman posted a reply to all the fans and hopefuls regarding his involvement with this new project. The short answer is "no", he is not involved. You can CLICK HERE TO READ HIS MESSAGE TO FANS & SUPPORTERS (click on "Clips", and then "The Long Trek Ends"). You can also see footage of how Daren would have approached TOS SE. This is a huge disappointment. 'Twould have been a tremendous asset to the production.
Speaking of how other parties might have handled TOS SEs…and (evidentially) would have given us a vastly superior product to what we may end up getting (based on that shot of Enterprise, at least)…
Here's a side-by-side comparison culled from yet another "Special Edition" demo -- this one worked up by the great Eden FX (formerly Foundation Imaging).
As either Foundation or Eden, they worked on STAR TREK television productions for many years…ten if I'm not mistaken. They handled DS9's "Trials and Tribulations" retro fest, as well as the painstakingly considered detailing on Robert Wise's STAR TREK: THE MOTION PICTURE Director's Cut.
Eden's goal was to make their CGI Enterprise look as much like the original ship as possible, just cleaner and more detailed. And, in HD.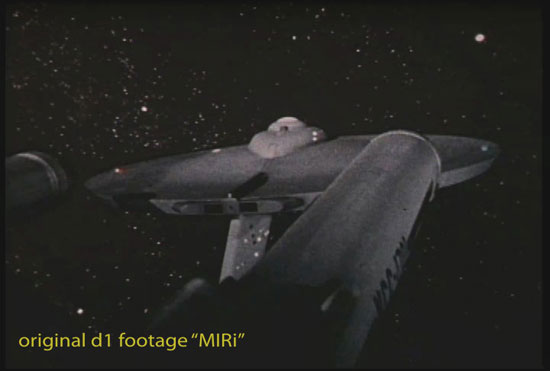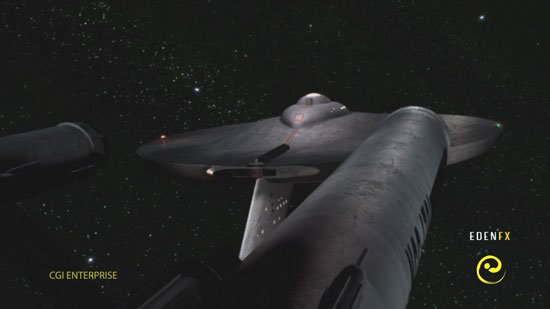 Wowzers.
Quite a difference, hunh? This...FEELS like...it belongs. Alas, much like the Dochterman proposal, The Powers That Be decided the quality wasn't worth it. They proceeded to use an in-house effects organization without the credentials of either Dochterman, or the Emmy-winning Eden.
So unfortunate. I'm not prepared to authoritatively write-off the TOS SEs without seeing them, but this is already starting to smell like it could have been so much more promising.
SEE THIS FOOTAGE IN MOTION at Anthony Pascale's TREKMOVIE site, along with a substantive write-up about Eden's proposal.
And, to give credit where credit is due, Anthony was posting information about the TOS SEs actually happening a few days before the rest of the universe woke up to it. Well done!
Finally, for those wondering where they can see the TOS SEs when they launch on Sept 16th? Finding a local station currently airing an iteration of TREK would be a very good place to start. Word is the TOS SEs are being piggybacked with other TREK series in markets that air the shows weekly (weekends?) I checked with my local station today. Sure enough, that's what's happening 'round here. If anyone out there has access to the promotional material used to sell stations on the TOS SEs (someone who works at a TV station, maybe?), we'd love to get a look at that.