Intriguing glimpses of what appears to be a Michael Bayified Optimus Prime are sneaking onto the Internets.
Nothing too telling…his face is blanked out with an annoying "protect the innocent' bar in one shot…but still it's a pretty cool sense of the look/style Bay's robots in disguise will sport.
Here are the images…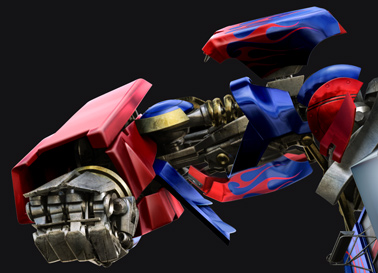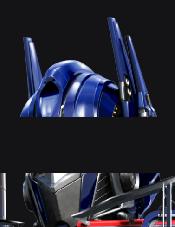 I'm told these pics are appearing on numerous message boards and sites, so I'm not sure how to credit their origin. If you know where these first appeared, please give credit where credit is due in the Talkbacks below. For whatever it's worth, I took these directly from this location.
Typical... Hungover - and just as I post - Merrick beats me. Fuck. Here's what I wrote...
Harry here - sorta... rehydrating after the BEERFEST fun last night. I wake up - and what do I have in my email... but dozens and dozens of emails from readers saying, "You drunk fat fuck, update your site - OPTIMUS PRIME!!!" Well - excussssssssssse me. I had fun last night. But ok - I see your point. Here are some leaked Optimus Prime renders... some tests - that have been censored. But it's nice to see Optimus has his mouth guard thingee. I don't know... it isn't the TV show - but it looks kinda cool - even if I'm not the biggest flames fan. I guess it adds detail... but I'd rather it be scraped paint and stickers. And Playboy mudflaps. Heh. JUST KIDDING. Here ya go. Thanks goes to Patrick - he was first: