Ahoy, squirts! Quint here. The day wrapped up with Guillermo Del Toro and Doug Jones running a panel on PAN'S LABYRINTH, which ultimately turned out to be a panel on all things going on in Guillermo's life, although Guillermo himself seemed sure the only thing people wanted to do was ask Doug about the rumor of him playing SILVER SURFER in the new FANTASTIC 4 movie.
Tidbits from the panel:
- Let's start with the Silver Surfer thing. Doug was finally asked about 3/4ths of the way through the panel about the Silver Surfer rumors. His response was "No comment... I'm so sorry. That's like taking porn away from a teenager..." Let's pause a second and look at his shirt.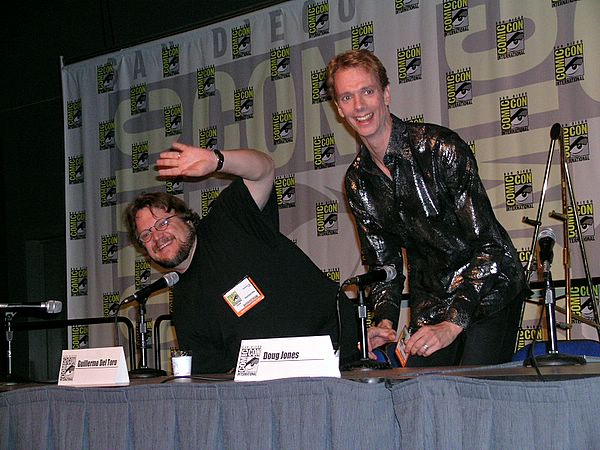 Obviously it's a shiny, silverish shirt. He further commented: "I will not be wearing a greenscreen leotard or mo-cap suit in the near future, that I'm aware of... What do you think of this shirt on me? Let me just say I tried this shirt out and I want to buy it, but they're authorizing my credit card as we speak. If I do end up with this shirt, I promise I'll treat the suit very, very carefully and with great respect." Nice, eh?
- Guillermo said that PAN'S LABYRINTH was the film where "my balls dropped," then two ploping sounds came from his mouth.
- Guilermo: Filmmaking is vision plus faith plus balls, all 3 of which Hollywood knows little about.
- HELLBOY 2... from week to week, day to day almost things change. From a go picture to a total no-go. He said as soon as anything goes with it, he'll tell the world. He thinks the script is beautiful, even if it is without Lobster Johnson (Mignola refuses to include him, but Guillermo told the audience to get on his case about it because he wants Lobster Johnson, too).
- MOUNTAINS OF MADNESS... this one might be moving a little bit more, at least Guillermo insinuated it was. He said he was in Romania recently scouting locations for the Antarctica set. He wants to do this movie so bad. Here's a quote: "If you saw the maquettes (for MOUNTAINS OF MADNESS) you would go off into a corner and cry and jerk off... then die." Not 100% certain, though.
- DEADMAN... Guillermo's definitely producing and he said he may step in to direct, but he's more focused on producing for first and second time directors. He feels they're the ones that need the most help to get into the industry and he wants to give new talent a try.
- Doug Jones is doing the voice for Abe Sapien in the animated HELLBOY toon.
- Guillermo was asked a rather serious question by a kid that couldn't have been any older than 14 and he dropped at least 7 f-bombs with his response. It was classic. The audience was in stitches. Guillermo just kind of brushed if off saying, "Fuck is my second language."
- Ron Perlman will have a role in every movie Guillermo does, provided he can pronounce the dialogue.
- Perlman has a part in THE WITCHES film that Alfonso Cuaron and Guillermo are doing.
- Perlman has a role in MOUNTAINS OF MADNESS as a dog sled handler.
And that was the panel. The US trailer they played beforehand looked great. I'm not sure if it's out yet, but I really dug it. The fantasy aspect just looks gorgeous. I can't wait to see this one. Okay, that's it for me today. I'll play catch-up with some of the animation stuff I saw today as the Con goes on. I have tons of interviews tomorrow and some cool looking panels. See ya' then.