Ahoy, squirts! Quint here. Looks like Variety let the cat out of the bag early here. There was going to be a "big announcement" at Comic-Con this weekend about the long in waiting movie adaptation of Will Eisner's THE SPIRIT. Seems the big announcement was the director. Frank Miller, comic book writer and artist who co-directed SIN CITY with Robert Rodriguez, will helm the flick. Here is some info: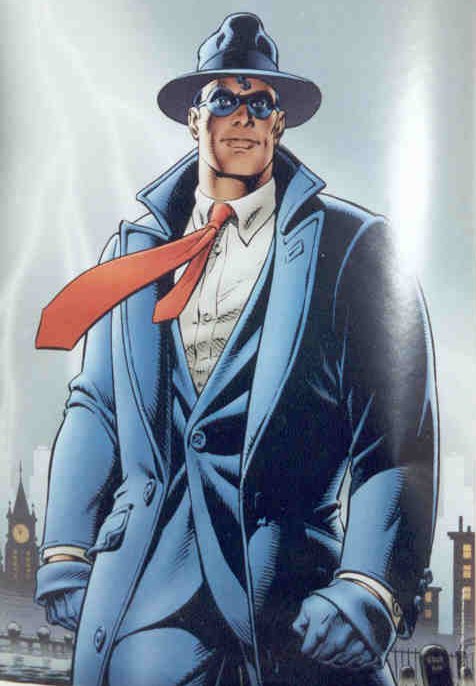 Miller told Variety, "I intend to be extremely faithful to the heart and soul of the material, but it won't be nostalgic. It will be much scarier than people expect," said Miller.
Miller is perhaps best known for his 1986 comic book, "Batman: The Dark Knight Returns." Amazon.com wrote of it: "If any comic has a claim to have truly reinvigorated the genre, then The Dark Knight Returns by Frank Milleris probably the top contender. Batman represented all that was wrong in comics and Miller set himself a tough task taking on the camp crusader and turning this laughable, innocuous children's cartoon character into a hero for our times. The great Alan Moore (V for Vendetta, Swamp Thing, the arguably peerless Watchmen) argued that only someone of Miller's stature could have done this. Batman is a character known well beyond the confines of the comic world (as are his retinue) and so reinventing him, while keeping his limiting core essentials intact, was a huge task."
The official announcement of Miller's involvement will be made on Saturday in San Diego at Comic-Con International.
Production of "The Spirit" film, from Odd Lot Entertainment, will start in about a year, after Miller finishes "Sin City 2," based on his own best-selling comic book series.
Are there any creators who have more greatly affected their chosen medium than Will Eisner and Frank Miller? Before Eisner's death in January, 2005, the legendary innovator and godfather of sequential art, Will Eisner, and the modern master of cinematic comics storytelling, Frank Miller -— discussed one-on-one, in an intimate interview format, the ins-and-outs of this compelling and often controversial art form. The book, "Eisner/Miller" (Dark Horse Books) was an instant classic.
The same year that "Eisner/Miller" was published, so to was the only thorough biography of Eisner's life, "Will Eisner: A Spirited Life," (M Press/Dark Horse) by Bob Andelman.
Meanwhile, "The Spirit" returns to regularly published comics for the first time in 54 years with all-new, monthly stories in November written and draw by Darwyn Cooke and published by DC.
I saw Frank on the set of SIN CITY and saw the way he worked with the actors to steer them right with their characters. Rodriguez did most of the technical directing (camera placement, etc), but you could also argue that Miller did a lot of that work with his original art for the SIN CITY graphic novels.
I'm really looking forward to Miller's take on the movie. Will he do it SIN CITY style or will he go for a less stylized, more realistic approach? I'd wager on a SIN CITY approach, but I'm sure we'll find out more this weekend during the big SPIRIT panel at COMIC-CON!
Speaking of, if you're going to Comic-Con, especially if you're going for the TV stuff, anime stuff or comic-book stuff, and want to report back to us feel free to send us your thoughts at harry@aintitcool.com. I'll be at the Con, but I'll be dedicated to the movie panels. I'm even missing the LOST panel, which makes me sad.