Set more than 50 years before the "Battlestar: Galactica" miniseries, "Caprica" will deal with the origins of the Cylon race! And apparently with Bill Adama's parents, uncles, aunts and/or grandparents!
Look!! A press release!!
SCI FI CHANNEL UNVEILS POWERHOUSE DEVELOPMENT SLATE
Unprecedented Commitment to Original Programming With Top Tier Creative Talent Including Jesse Alexander, Freddie Prinze Jr., Eric McCormack
NEW YORK SCI FI Channel's Mark Stern, EVP, Original Programming, announced today an aggressive slate of original scripted dramas, miniseries, alternative reality and late night series for the Channel. Already established as an industry leader with highly acclaimed and award-winning shows such as 'Battlestar Galactica,' SCI FI Channel's latest slate of high profile projects showcases top industry luminaries and offers imaginative, broad appeal entertainment.
Scripted Series
'CAPRICA'
From executive producers Ronald D. Moore and David Eick ('Battlestar Galactica'), writer Remi Aubuchon ('24') and NBC Universal Television Studio, this new series is set over a half a century before the events that play out in 'Battlestar Galactica.' The people of the Twelve Colonies are at peace and living in a society not unlike our own, but where high-technology has changed the lives of virtually everyone for the better. But a startling breakthrough in robotics is about to occur, one that will bring to life the age-old dream of marrying artificial intelligence with a mechanical body to create the first living robot - a Cylon. Following the lives of two families, the Graystones and the Adamas (the family of William Adama, who will one day become the commander of the 'Battlestar Galactica') 'Caprica' weaves corporate intrigue, techno-action and sexual politics into television's first science fiction family saga.
'SNAP'
From 'Alias' and 'Lost' producer Jesse Alexander, 'Snap' is a one-hour Hitchcockian thriller about a Federal agent who uncovers a deep-seated and seemingly unstoppable conspiracy. The Internet has secretly become sentient, infiltrated every aspect of our lives, and is surreptitiously manipulating human beings towards some larger unknown agenda. Without ever revealing its full intentions, the Artificial Intelligence uses a disparate group of people to commit seemingly unrelated and petty crimes. But every person has been chosen for a reason, even if they don't know it. And every crime is not as innocent as it seems. When our Federal Agent tries to fight back, his life is put in danger. But how do you fight an enemy that can watch your every move? The only way to combat this ubiquitous foe is from within, going undercover as a "willing" participant in the AI's grand plan, and trying to stop the conspiracy before it reaches its terrifying conclusion.
'PERSONS UNKNOWN'
From Academy Award-winning writer Christopher McQuarrie ('The Usual Suspects'), who executive produces with Heather McQuarrie, 'Persons Unknown' is a surreal mind-game of a series centering on a group of strangers who awaken in a deserted town with no memory of how they arrived, only to realize that there is no escape. Watched by omnipresent security cameras, their every attempt at leaving the town's borders is thwarted by mysterious forces. The only source of information is fed randomly through remotely controlled televisions, and as mistrust begins to breed, every alliance will be tested, especially when new guests begin to arrive. 'Persons Unknown' is from Fox Television Studios.
'THE BISHOP'
From executive producers and writers Freddie Prinze, Jr. and Conrad Jackson, this one-hour drama revolves around a young slacker whose charmed life is disrupted when he discovers that he has a supernatural gift. Initially rejecting the responsibility that comes with his newfound power, he soon realizes that the mystery surrounding his gift is rooted in his lineage, and in the father he never knew. As he goes on a quest to uncover his secret past, he discovers some shocking truths about himself. 'The Bishop' is from Brillstein-Grey Television.
'BLINK'
From executive producers Eric McCormack ('Will & Grace') and Michael Forman, and writer Irving Belateche, this thought-provoking series asks the question: what would happen if you could freeze that moment in time when something you do or a decision you make changes your life forever? A group of Afterlife investigators try to help those about to make the wrong choice, in the blink of an eye before destiny is sealed forever.
Miniseries
'CHARIOTS OF THE GODS'
A six-hour miniseries based on the worldwide best-selling novel by Erich von Daniken, 'Raiders of the Lost Ark' meets 'The Da Vinci Code' in this startling tale of extraterrestrial infiltration of human evolution. When a soldier returns from his tour of duty, he brings with him an artifact that holds the key to uncovering one of the greatest secrets in the human existence - aliens have been interfering with human genetics since ancient times, and Earth has become a pawn in a covert war between two alien factions. Suddenly, his seemingly harmless souvenir makes him the target of forces he cannot comprehend. As he struggles to accept these cataclysmic truths, he discovers that he alone may hold the key to securing Earth's future. 'Chariots of the Gods' will be executive produced by Irwin Winkler ('Rocky Balboa,' 'De-Lovely'), David Winkler and Rob Cowan, and will be written by John Whelpley ('Star Trek: The Next Generation').
Reality
'DESTINATION TRUTH' From Neil and Michael Mandt, 'Destination Truth' takes us on one man's search for the truth in a reality show that investigates stories of the unexplained across the globe. The show, hosted by Josh Gates, is a credible investigation of these stories with a first-person style that often alternates between moments of dramatic tension and humor. Every week, Josh visits a different destination around the world that is home to notorious supernatural and mysterious stories, such as the Fire Worm of Mongolia or the Chupacabra of Chile. He attempts to get to the truth by talking to witnesses and experts while immersing himself in situations that, while bizarre, are real and relatable.
Late Night
'GROUND CONTROL'
From Carson Daly Productions, this half-hour late night strip focuses on a wide-range of human interest and news topics relating to science fiction and the world of the supernatural, the paranormal, and the unexplained. With a fast-paced news/talk format including spirited debates and celebrity/expert guests, this will be a hallmark show for the network - a homebase for the expanding sci-fi genre. Fresh, innovative, and even irreverent, 'Ground Control' will be the kind of program that offers something for everyone.
'UNTITLED MINISTRY OF UNKNOWN SCIENCE SKETCH COMEDY SERIES'
A half-hour, hybrid sketch comedy, 'Ministry of Unknown Science' uses the classic "PBS" science news magazine show format as a launching point into mockumentary segments, sketches, commercial parodies, field tests, interviews and other stream-of-consciousness insanity. The content of the show seems remotely real, but is, of course, totally unreal and always hilarious. Features "The Ministry of Unknown Science" sketch comics Jason Berlin, Tim Walker, Rico Gagliano and Eric Truheart.
SCI FI Channel is a television network where "what if" is what's on. SCI FI fuels the imagination of viewers with original series and events, blockbuster movies and classic science fiction and fantasy programming, as well as a dynamic Web site (www.scifi.com ) and magazine. Launched in 1992, and currently in 85 million homes, SCI FI Channel is a network of NBC Universal, one of the world's leading media and entertainment companies.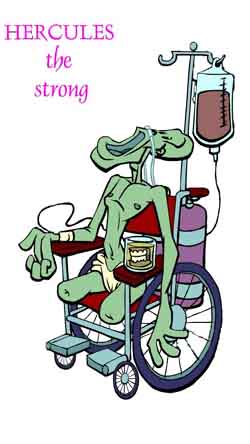 What book about Stanley Kubrick could possibly be worth $200? How about The Kubrick Archives??



The extra-cheap "Buffy" slimsets (all the episodes and extras at a fraction of the price) ship May 30!!
Or … you can buy the whole 7-season shebang right now for just $169.98!!!