Ahoy, squirts! Quint here with the results of the Jason Voorhees Premium Format Sideshow Statue Contest. You may remember I was looking for an artful depiction of Jason fighting someone or some thing. I left it up to you folks to pick a foe for Mr. Voorhees, my only stipulation being that you couldn't just photoshop a pair of pics together. I wanted it drawn by hand, sculpted or at the very least sketched and colored with computer assistance... Something artistic and creative.
I got well over 100 entries. There were no less than 3 Jason Vs. The Carebears (although strangely enough not one of them had the Carebears giving Jason the Carebear stare), there was one that had Jason stomping on Smurfs, there was one that was Jason Vs. The '80s, with everybody from Megatron to RoboCop to Indiana Jones. He-Man, Aliens, Godzilla... Lots of quality entries. My thanks to everyone who entered.
Now, I know this opens me up to a bunch of criticism, but I love running my favorite entries to these contests. I usually get blasted for picking the wrong entry doing it this way, but I can take the heat. A lot of work was put into these entries and I'd love to showcase them. Keep in mind that these are just the ones that I took to the most. If your entry isn't here, don't take it as a knock against your artistic ability. If I ran every one that I thought was well done, I'd be showcasing 40 pieces, not 6.
To start the runners up, I'm going to begin with probably the most detailed colored work I got. This piece comes from Chris Meeks, who was one of about 8 people who chose to pit the masked one against a xenomorph. I love the small stuff here... The blade smoking from the acid blood... The drawbacks for me... I'm not a fan of computer coloring, however Mr. Meeks did one of the best computerized color jobs of all the entries.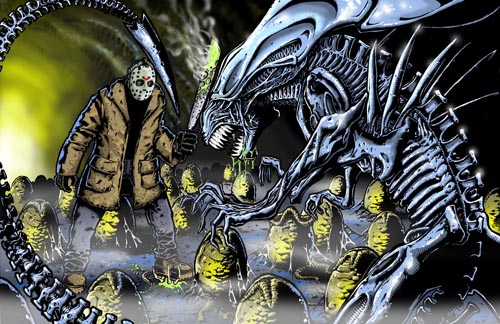 This next one really made me smile and really played into my personal tastes. Another computer-created entry, this time from John Wilson. I think he went the whole way, creating every bit of the art in the computer. Great pose, great idea... I'd love to see this one play out in real life.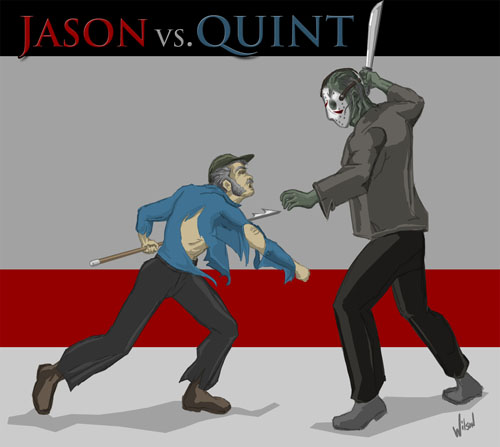 Mike Carey sent in at least a dozen entries, all with an eye towards the absurd or different. Two of his entries made the final count. This is one of his entries that I thought was fucking hilarious. It's called "Jason Vs. His Own Personal Inner Demons."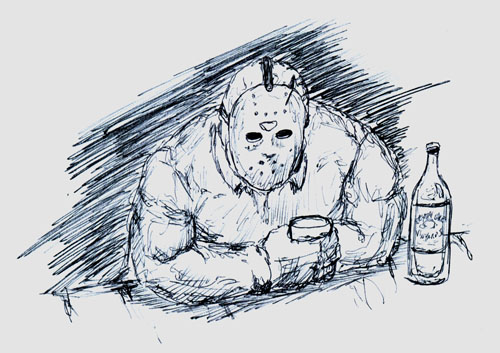 This one damn near came close to winning just based on the idea. Plus I love that it's all pencil drawn. I love seeing this raw form of artwork. Good work, Christopher Cochran.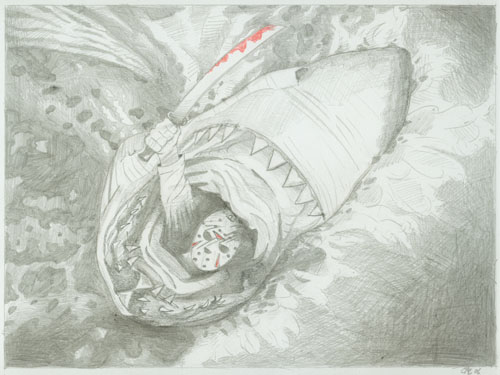 Another Xenomorph, but I love the action of the piece, the eye for atmosphere... and it was all done using a graphite pencil by Kevin Lingenfelser. If there was a second place prize, this would get it. I could see this being in a Dark Horse comic. Enjoy: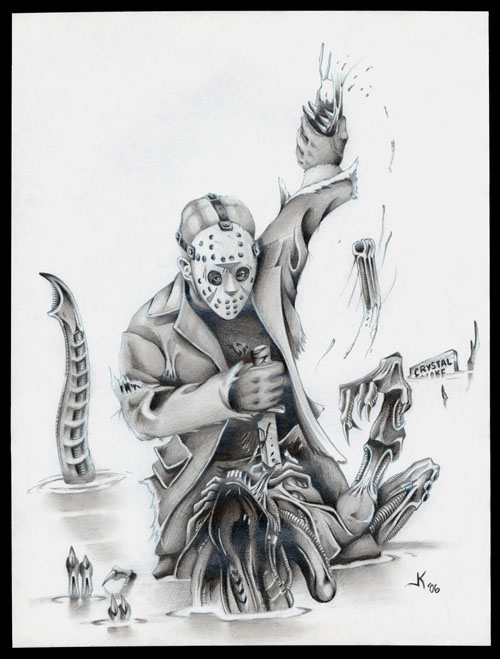 And the winner... You saw Jason Vs. His Own Personal Inner Demons above. The winner is Mike Carey, who did that piece, but the one he wins for... Is the below piece. Ultimately, what it came down to with me was imagination, a feeling of the art being made by hand and ingenuity of the piece. I love the opponent Carey figured out for our masked menace and I love the perplexed Jason not really knowing what to do. I also just love the rawness of the art. It's not as polished as some of the pieces I got, but it didn't need to be. It conveys the feelings of both adversaries. With that... I say, "Have At You!!!"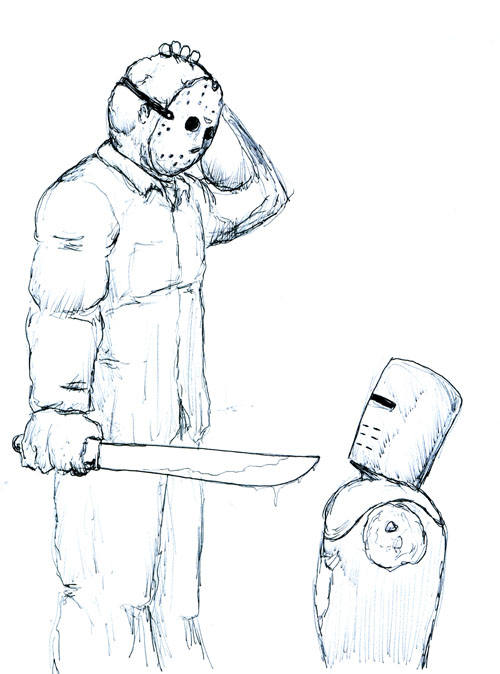 Once again, thanks to all who entered. This is another contest where I found it incredibly hard not only to pick a winner, but to pick the runners up! Enjoy your statue Mr. Michael Carey!