Hey Folks, Harry here... THE NOTORIOUS BETTIE PAGE is my favorite new film that I have seen in 2006. (I saw V FOR VENDETTA in 2005) The flick has an innocence and a joy for life that you just don't see in many films. Especially films about an "exploitive" lifestyle.
When I saw the film, it was while I was on assignment for my first issue of PENTHOUSE, due out around the first of April, and I was putting together a fun, sexy slate of cinema to discuss that month. This, ARTHOUSE CONFIDENTIAL and HARD CANDY. All three were wonderful films, but it was THE NOTORIOUS BETTIE PAGE that frankly, blew me away. The film has that same zest for its subject as one of my favorite Tim Burton films of all time, ED WOOD. Gretchen Mol is perfectly cast as Bettie Page, though in a million years I never would have guessed it. Prior to seeing the film - I was in the same boat as most of you in talkback... wanting Jennifer Connelly or Rose McGowan or Dita Von Teese. In fact, I was convinced that Gretchen was terrible, abysmal miscasting... like when they were thinking of casting James Cagney as Robin Hood or Ronald Reagan as Rick in CASABLANCA. Just wrong.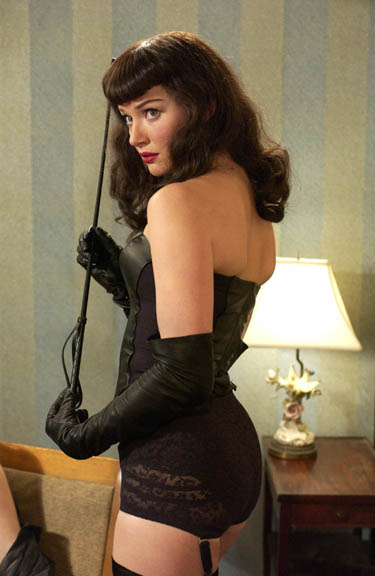 Then I watched the movie. First off, this is absolutely the most subtley erotic and tantalizing movie made in at least a decade... at the very least for me and my friends. Roger Ebert once told me that you can't talk a man into an erection, and that's very true. The full frontal nudity and frequent nudity isn't what does it. It's the expression on Bettie's face. It's one of pure joy and blissful innocence. There's no sense of SEX about it. It's just that same sort of look as when, if you have kids, the joy a child has of popping out of the bathtub naked not wanting to be put back in clothes. It's that giggling nudity you have on a playful morning romp with the woman you love. Where it isn't about sex, but about wrestling and rolling and tickling and laughing and spanking a butt. It's about having no hang ups and not at all feeling dirty. Gretchen does the job of being Bettie Page perfectly. Now - this film within a film that we have for you - is a clip from the movie. It's a very nice clip, but frankly - while it is indicative of a part of the film, it does not reflect the whole - unless you just see how innocent and fun it all is. Here ya go, choose your format...