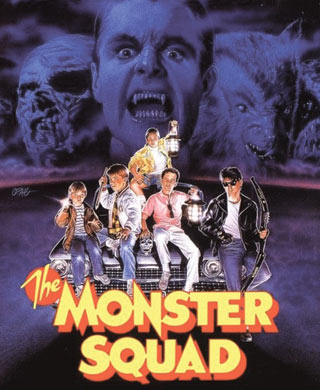 Ahoy, squirts! Quint here and boy am I excited. One of my all time favorite movies is the '80s classic THE MONSTER SQUAD and working with Kier-La and Tim at the Alamo Drafthouse I've managed to set up the world's first reunion screening of this film!
Sunday, April 16th. Austin, TX at the Original Alamo Drafthouse there will be two shows, the first at 7pm and the second at 9:45pm.
In attendance will be Director Fred Dekker (who is also responsible for another of my favorite 80s flicks, NIGHT OF THE CREEPS) and Squaders Andre Gower (Sean) and Ryan Lambert (Rudy).
How friggin' cool is that? We got the cool kid and the leader of the Monster Squad live and in person!!!!
I've spoken with Andre and Ryan while doing my small part in setting up this screening and they both seem like incredibly nice and cool gentlemen. I'd love to pack these screenings with real deal MONSTER SQUAD fans, show them how much this movie means to many of the folks from my generation. The tickets are only $14 a pop and can be had by clicking the link below!
This screening is a dream come true for me... It could very well be the first time an audience has seen THE MONSTER SQUAD projected on that ol' silver screen in glorious 35mm since 1987. I'll be in hog heaven and I don't think I'm going to be alone. I hope to see many of you there next month!!!