Longtime fans of "The West Wing" may be keen to tune in tonight, and the spoiler-saturated reasons are buried deep within the snowy white invisotext!
* In the teaser, Donnatella Moss and some of the other staffers get word that – following the deadly nuclear disaster we saw way back in January - Matt Santos is, three weeks before the election, suddenly tied in the polls with Arnold Vinick, both nationally and in Vinick's incredibly important home state of California.
* Donna, crazy excited with the news, runs to Joss Lyman's hotel room, where the exhausted campaign overseer has managed to pass out without fully undressing for bed. When he comes to the door, Donna spills the news. He grabs her head and gives her a big kiss. And decides he likes it so much he keeps kissing her. His hotel door slowly swings shut.
* It's not a hoax, dream or imaginary story. But there's no sex yet; A good chunk of the Santos/McGarry staff is soon in Josh's room. Fate determines to keep the two apart a bit longer.
* Meanwhile, it's dark days in the Vinick camp. The Republican National Committee wants a meeting. Bruno thinks they want his ass fired. Vice presidential nominee Ray Sullivan takes senior Vinick staffer Sheila Brooks to lunch.
* Back at the White House, the president and CJ continue to fret about the Russian-Chinese showdown in Central Asia, and we learn that national security gal Kate Harper has taken to boning White House communications director Will Bailey.
* Bartlet summons Santos, Leo McGarry and an ailing Vinick to the White House to brief them on the dire international situation.
* When Josh learns Vinick has a cold, he becomes so happy he lifts tiny Annabeth Schott very high in the air. By episode's end, a desperate Vinick will essentially sell his soul to the Christian right.
* Will tells Donna (you'll recall both worked on the Bingo Bob Russell campaign together) it's cool to date fellow campaign staffers. Before episode's end, Donna will act on this advice.
* And I think this is the last episode in which the late, great John Spencer appears as McGarry. Appropriately, Santos and Vinick are kept waiting while Jed consults first with Leo alone.
For those who might not have heard, this is the final season of "West Wing." After tonight, I believe there are only six episodes left. Those final six episodes will include appearances by Sam Seaborn, Ainsley Hayes, Amy Gardner and John Hoynes, among others. Learn more of this here.
8 p.m. Sunday. NBC.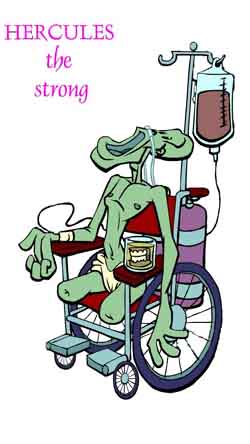 The extra-cheap "Buffy" slimsets (all the episodes and extras at a fraction of the price) ship May 30!!
Or … you can buy the whole 7-season shebang right now for just $164.38!!!