Tonight's the night Conan O'Brien devotes his entire show to his travels into the heart of the backward third world nation of Finland. The foolish Fins, for those unaware, only started making commonplace use of indoor plumbing within the last hundred years. And they continue to worship invisible people in the sky. What fun Conan will make of them!
Look! A press release!!
IT'S FINLAND FRIDAY ON "LATE NIGHT WITH CONAN O'BRIEN" MARCH 10
Show Devotes Entire Hour To Air Footage of O'Brien's "State Visit" to Finland
NEW YORK, March 2, 2006 - After making headlines worldwide for his February visit to Finland and his meeting with look-alike President Tarja Halonen, Conan O'Brien is devoting his entire March 10 episode to show his Finnish travelogue.
A studio audience will join O'Brien as he presents his coverage of his visit.
"Late Night," is wildly popular in the Nordic nation and became somewhat of a political player in the country's current presidential race, specifically due to O'Brien's striking resemblance to Finnish President Halonen. The show aired mock campaign ads endorsing her and has seen an increased number of Finns in the studio audience.
From landing at the Helsinki airport, O'Brien was greeted like a visiting head of state by hundreds of reporters and thousands of avid fans (some with banners reading "Tarja Is Our President But Conan Is Our King"). Over his four-day visit, O'Brien toured around Helsinki meeting fans, taking in the local custom (the sauna) and local culture - an underwear exhibit in the Helsinki's Tennis Palace Art Museum.
In addition, O'Brien and crew winged north to Lapland to take in the wintry splendor of Finland's Arctic Circle territory, visiting native Laplanders' reindeer farms (reindeer outnumber people in Lapland), dog sledding camps, and Santa Claus' reputed home.
In addition, O'Brien met with myriad Finnish media figures. From appearing with Arto Nyberg ("the Finnish Larry King"), to being followed by the Finnish tabloid press and sitting for an interview with two ten-year-old boys, every public appearance by Conan was covered in all its surreal detail by the "Late Night" crews. In addition, "Late Night" goes backstage at the Telvis Awards ("the Finnish Emmys") where O'Brien will receive a special award at the Telvis Awards in Helsinki - the Väripilkku Award - "for the most surprising and most entertaining TV personality in Finland."
Finally, the footage will showcase the main focus of the trip: O'Brien's private Valentine's Day meeting with at the Presidential Palace with his doppelganger, President Tarja Halonen. The "Late Night" crew captures a new "Helsinki Accord," of sorts.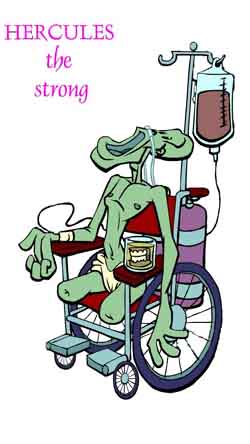 The extra-cheap "Buffy" slimsets (all the episodes and extras at a fraction of the price) ship May 30!!
Or … you can buy the whole 7-season shebang right now for just $164.38!!!