It's comic book-dom's finest night when creators, heroes, villains, and fans gather as the @$$holes from AICN Comics choose who takes home the coveted @$$IE AWARD. The room is a-buzz with anticipation.
The lights are dimming. Here we go.
Welcome, one and all as…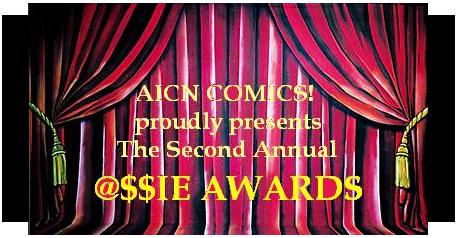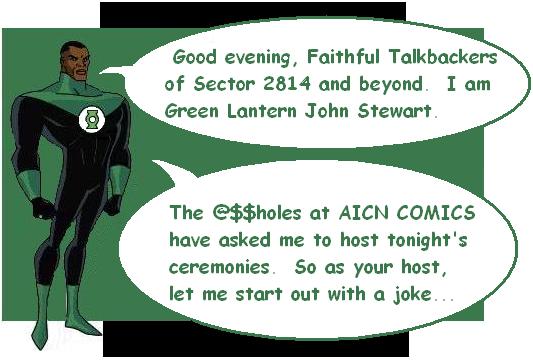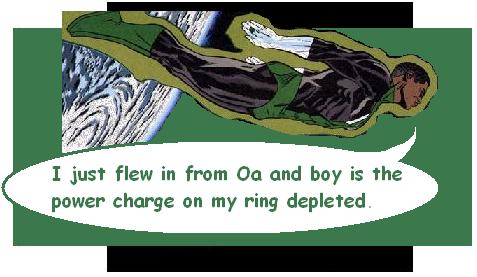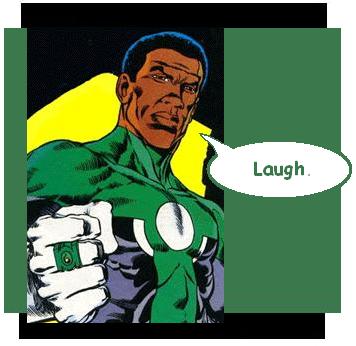 *ahem*
I'm a sworn protector of the Universe and a card-carrying member of the Justice League, not a comedian.
*cough*
…let's start with the ceremonies. As you all know, the @$$holes rarely agree on anything, so each reviewer will pick a winner for each category. Here are the categories.
And the @$$ie goes to…
(Click category to go directly to the @$$ie)
Best Single Moment/Single Issue
Best Miniseries/One-Shot/Special
Favorite Comic Book Character
Best Artist/Art Team
Best Writer
Best Publisher
Best Ongoing Comic Book Series
Special categories honoring the rest of this year's @$$IE Award Winners will be scattered throughout. Click on the links for pictures, publisher websites, past @$$Hole reviews, and more. Let's get right into it with the @$$ies for Best Single Moment/Single Issue!
---
Best Single Moment/Single Issue
Okay, so technically it's not a "single moment" but by far the thing that gave me the most joy in any comic this year was the adventures of one Boy Blue from FABLES as he SNICKER-SNACKS! his way all the way across the Fable Homelands to get to the Adversary. If you want to get technical, the best of all this was issue #37 where Boy Blue unleashed his inner badass on a terrifying mountain dragon and the three daytime Knights. It was funny, it had some great literary resonance, and it was a fantastic little series of moments that gave you joy every time that ole reliable Vorpal Blade of his went SNICKITY-SNACK! and something or someone lost their head. Even just that two word phrase is a great joy to say. Just yell it on out. SNICKER-SNACK! Do it wherever, work, school, the comic shop. It'll just scare the bejesus out of everyone and solidify you as the biggest geek of them all. Be proud.
No other comic this year affected me like this one did. I guess it is because it is a great story about some of my favorite characters. I guess it has a lot to do with the fact that it treats Guy, Fire, and Ice with respect as characters, not caricatures. I guess it has to do with Kevin Maguire's stellar art and Keith Giffen and J.M. DeMatteis' spot on comic timing and storytelling. But really, it's all about the ending of this issue. For those of you who didn't read the classic 80's JLI series, this may not have the fist-to-the-gut impact that it did for me. But the loss these characters feel at the end of this issue is a comic book moment that I won't soon forget.
This wasn't my favorite year for Bendis comics. HOUSE OF M was hit and miss with a weak ending, SECRET WAR was anticlimactic at best, and NEW AVENGERS reads more like the NEW DEFENDERS (okay, I admit that it's not you, NA, it's me...) But when Bendis was on this year, he was ON! Case in point, POWERS #11. Reading this was like watching my brother doing the post-shower cleanup in PSYCHO. This issue scared the shit out of me. It's easily the best issue of POWERS that's been published yet, as well as being a major high point on the Bendis resume.
The last page of INFINITE CRISIS #1. "This looks like a job for Superman!" The flat-out ONLY "Wow" moment of the whole year for me.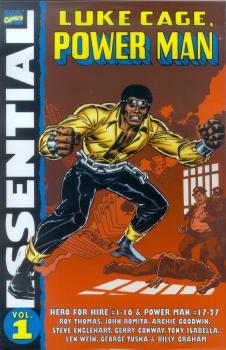 Last year saw the release of ESSENTIAL LUKE CAGE, POWER MAN VOLUME ONE, which contains my choice- HERO FOR HIRE #9. This classic features Luke taking on the FF to get a rocket so he can go to Latveria and beat up Dr. Doom to get the $200 Doom owes him. It features lines like "Where's my money, honey?" and shows Doom pulling cash out of a drawer to pay Luke like he was a hooker. You just can't beat that.
OK, if there was one single moment in comics this year that just made me go HOLY SHIT! more than when the Statue of Liberty gets tilted over into New York Harbor I honestly can't remember it. I remember right after September 11th happened and there was all this chatter on comic boards across the internet on the subject if something of that magnitude could even happen in a comic book superhero world. Well, this issue is the answer to that question. Want to know what September 11th would've been like in a superhero world? Look no further because this issue of ULTIMATES 2 captures all of the absolute insanity that would happen if a bunch of super crazies actually caused some carnage on US soil. Screw Dr. Doom, screw Lex Luthor. THIS is exactly what it'd be like if there were power mad super loonies in the real world. Let's just hope that the rest of this series doesn't disappoint as much as the end of the first run of ULTIMATES did.
In a year when superhero morbidity hit an all-time high, my lifeline was a man named Dan Slott. The single most entertaining comic he produced was SPIDER-MAN/HUMAN TORCH #3 – aka "The Spider-Mobile issue." And talk about your complete package! Not only is the issue moving - the goofy old Spider-Mobile is actually shown to be the unlikely catalyst for Peter moving past the death of Gwen Stacy – but it's bristling with laugh-out-loud moments: the Red Ghost's Super-Apes behind the wheel! Spidey using the Spider-Mobile to turn doughnuts on the side of the Daily Bugle! Yancy Street hoods leaving the Spider-Mobile on cinder blocks! And Hostess Fruit Pies, baby!! If you missed the SPIDEY/TORCH mini, for the luvva Mike, buy the digest collection! It will make you a better man.
Like all true Americans, I have an ingrained understanding of exactly what Superman stands for and why he is so important. And like all true Americans, I also understand that reading a Superman comic is so dull you can't even get paper cuts from an issue. That's why I gotta take the cheap shot here and say the best moment this year was the "oooh, FACE!" moment when Bats laid out how he felt about Clark: "the last time you inspired anyone was when you were dead." Helluva lot cooler than all that "I love Clark. He's so dreamy. He's the yin to my yang. He makes me want to be a better man."-type narration that made me sell off all my issues of BATMAN/SUPERMAN.
---
DAVE'S "JOHN MCTIERNAN" AWARD FOR BEST ACTION SCENES
Ed Brubaker's CAPTAIN AMERICA
BUG'S AWARD FOR BEST ALL-AGES COMIC
POLLY AND THE PIRATES.
I dare you not to have fun reading this.
DAN'S AWARD FOR SERIES PEOPLE ARE ASHAMED OF READING, BUT SHOULDN'T BE
TRUE STORY, SWEAR TO GOD
DAN'S AWARD FOR SERIES PEOPLE AREN'T AHAMED TO BE READING, BUT SHOULD BE
ALL-STAR BATMAN AND ROBIN
DAVE'S "RAY HARRYHAUSEN" AWARD FOR BEST GREEK MYTH MONSTER FIGHTS
OLYMPUS
by Geoff Johns and Butch Guice
PROF'S AWARD FOR MOST PAINFULLY FRIGHTENING USE OF A PHALLIC SYMBOL ON A COVER
ULTIMATE EXTINCTION #1
Ouch!!!!
DAVE'S "SCOURGING OF CHRIST" AWARD FOR PROLONGED TORTURE
Brian Bendis'
SECRET WAR 1-5
(22 months in the making! Nick Fury's big plan was to make a castle fall on the Prime Minister of Latveria!)
---
Best Miniseries/One-Shot/Special
I haven't gotten around to picking up any trades of David Lapham's STRAY BULLETS. After reading his overextended arc on DETECTIVE this year I wasn't sure whether I should or not; it had some interesting ideas, but in the end it felt like it fell short of the mark. I began to reconsider his earlier work, though, after reading his DAREDEVIL/PUNISHER miniseries for Marvel. Lapham brought his own sensibilities and crime story background to the title, but did a far better job of incorporating it into the Marvel style than with his prior work at DC. The book has the sensibilities and depth of more modern stories, but told with the style and characterization that made these two such big fan favorites in the mid to late 80's. The Punisher feels like old-school Frank Castle, Matt Murdock spends more time in costume than out, and there's action all over the place. This one definitely made me consider giving the non-mainstream work a look-see, which was the same reason I enjoyed Scott Morse's BATMAN: ROOM FULL OF STRANGERS one shot last year.
As I'm writing this I figure our fellow @$$holes are also slowly trudging through just who and what deserves to be honored from the world of comics this past year. And while I really and truly have no clue what they're inserting in these categories, I can almost feel that one of my colleagues is happily typing down the GLX-MAS SPECIAL from Marvel in this particular area as I'm doing this. Why am I sure of this? Because it's what I was going to do, and these bastards love to steal my thunder. So I'm not going to recommend that book now (even though I just backhandedly did so... teehee), instead I'm going to go with one of the best PUNISHER stories I've ever read, and I'm going to go with PUNISHER: THE CELL, as my best One-Shot. I did a full review earlier this year, but I just want to reiterate here that from head to toe, this is the perfect Frank Castle story. It totally reads, feels, and looks as grim, dark, and dirty as you'd expect a PUNISHER story to be. And it's one of the most important ones too as it actually has a huge impact on Frank's "mission" as it's a story that brings Castle into direct contact with those that were responsible for the death of his family all those years ago and unleashed one of the world's greatest killing machines. This is a perfect example of the use for a MAX title, and is the reason why I wish Marvel would get off their asses and use it more.
The best types of limited series or specials make you want to see more and no other comic this year had a concept with more potential for entertainment than FRANKLIN RICHARDS: SON OF A GENIUS. Co-creators Chris Eliopoulos and Mark Sumerak have come up with a concept that knows no bounds. Depicting Franklin Richards as an ornery little shit constantly getting into all sorts of trouble in his father's lab is a stroke of creative genius. Adding the Fantastic Four's old robot H.E.R.B.I.E. as his uptight nanny was sheer brilliance. Like a super-heroic CALVIN & HOBBES, Franklin doesn't know how to stay out of trouble and H.E.R.B.I.E. is always behind him acting as the voice of reason and trying to pick up his messes. This one shot collecting four short stories that ran as back-up features in this year's POWER PACK, with one original yarn added for good measure, is full of laughs and proof that Marvel truly can be the House of Ideas when it puts its mind to it.
As much as I enjoyed this year's earlier miniseries featuring the team, the GLX-MAS SPECIAL really takes the cake. Sure, both this and GLA are funny as all get-out, but there's some genuinely touching moments with Mr. Immortal in this one that top the mini, as well as the Doorman story. But then there's the return of the Grasshopper, who I can't wait to see return again. And there's Squirrel Girl, who was certainly a joke in her original appearance, but here she, Dan Slott, and all the rest of us are in on the joke. Besides, this has art from Paul Grist in it, fer crying out loud!
OCEAN by Warren Ellis and Chris Sprouse. Solid sci-fi story about the discovery of alien life on a moon around Jupiter. Serialized in 6 parts, this was an excellent use of the comic book medium.
Dan Grendell - THE ART OF USAGI YOJIMBO
Stan Sakai is an often-overlooked but brilliant storyteller and artist, so it was great to see THE ART OF USAGI YOJIMBO from Dark Horse. A beautiful hardcover that does a spectacular job of highlighting Sakai's art through the last 20 years, it just blew me away.
superhero - MARY JANE: HOMECOMING
To be fair, I discovered the MARY JANE books in digest collections but MJ: HOMECOMING was actually released in 2005 so this is my pick for best mini of the year. In one of my past reviews I actually asked when I had become a teenage girl because I was actually starting to like reading comics that were directed towards the teeny bopper market. Well, if I had to single out one series that transformed me into a DEGRASSI HIGH SCHOOL reject it'd have to be Marvel's MARY JANE series. Everything about these books has been perfection. I honestly cannot believe how much I've loved them. I've always loved Takeshi Miyazawa's art but Sean McKeever's the one who really knocked it out of the ballpark on this one. Everything about this book reminds me of what it was like being in high school. Everything! It's just a great all around package that I've loved since I cracked open the first MARY JANE digest. And this sequel really expanded on the first mini so that it seemed a natural extension instead of just a tacked on story. Great stuff. So much so that I actually started picking up the regular book that spawned off of both of these minis, SPIDER-MAN LOVES MARY JANE. As much griping as I do about comic prices I need a new monthly like a hole in the head but these books suckered me in. I'm in for the long haul as long as McKeever and Miyazawa are on this book.
Man, some great contenders that
almost
made it: CONCRETE: THE HUMAN DILEMMA, SPIDER-MAN/HUMAN TORCH, TOP TEN: THE FORTY-NINERS, and ADAM STRANGE, among others. But the winner is Paul Pope's 100% and that's all there is to it. Following a pack of twenty/thirtysomethings in and around a freaky New York nightclub of the near-future, it's a long way from a chick flick, but it does dare to be
romantic
. It's also the first Paul Pope story where his wildly energetic Picasso-by-way-of-Kirby ("Pikurby?") art is at last matched by a story worthy of it. Shiver at the bitter cold of the New York winter, throb to the bass of the club's pounding music, hear the whistle of 100 kettles tuned to the same note, and kick back with some Indian food while a stripper's internal organs are digitally projected on a view screen. Bizarre? Hell yes, but surprisingly approachable. If you're only gonna go out on a limb for one off-the-beaten path trade this year, 100% is your boy.
---
DAN'S BEST MANGA AWARD
YOTSUBA@!
PROF'S BEST USE OF A MONKEY AWARD
Detective Chimp
in the DAY OF VENGEANCE mini-series.
DAVE'S "CHRISTOPHER REEVE" AWARD FOR GETTING SUPERMAN
Gail Simone on ACTION COMICS (with John Byrne)
DAN'S "NO MEANS NO" AWARD
"Stop Raping Me!", Wolverine, THE PULSE #9
PROF'S AWARD FOR SERIES WHOSE CANCELLATION MADE ME SMILE
DOOM PATROL.
I was dumbfounded by the disaster that was this latest DOOM PATROL incarnation. Grunt?!?!?! Nudge!?!?!? Vortex??!??! GUH!!!!!
DAVE'S AWARD FOR BEST BATMAN LINE OF THE YEAR
"There goes the dynasty." (Batman to Gorilla Grodd upon nut-kicking him; JLA CLASSIFIED #3; courtesy Grant Morrison)
DAVE'S AWARD FOR WORST BATMAN LINE OF THE YEAR
"Are you RETARDED or something? Who the hell do you THINK I am? I'm the goddamn BATMAN." (Batman to Robin;
ALL-STAR BATMAN AND ROBIN #2;
courtesy of Frank Miller)
---
Favorite Comic Book Character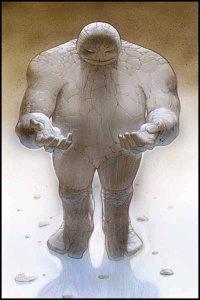 There's many a memorable character in the comics biz, but few that honestly and truly feel fleshed out. Melancholy rock-man, Concrete, is the exception. Returning at last, after a hiatus of some years, Paul Chadwick's wonderful creation even has some new tricks in the miniseries CONCRETE: THE HUMAN DILEMMA. Most notably, he finally gets to deal with
sex
- yes, somehow, even in his seemingly sexless body. After nearly two decades of dealing with his condition through humor, embarrassment, and intellectual pursuits, it's one of the most startling developments ever. It's also strange, touching, and a reminder that Concrete may be the best fleshed-out creation in comics. And that's saying something for a rock-man.
As much as I want to play the SNICKER-SNACK! card with this and pick my new favorite badass Boy Blue, I can't in all honesty do so since he was only playing the BA role for less than a handful of issues this year. But my favorite character of the year, one Kate Spencer from DC's MANHUNTER series, was kicking ass all over the place all twelve months. Simply put, Kate Spencer is the most realistic character in mainstream comics today. The way she deals with everything in her life, from spats with her ex-husband, to conflicts with coworkers and other everyday antagonists, to how she handles herself in her alter-ego MANHUNTER, deep down she's just a woman trying to do some good in the world, who loves her son and is trying to make it a better place for him without screwing everything up. She's equal parts ruthless vigilante and superhero screw up as over the last year she's mercilessly taken down some of the DCU's undercard villains but has also jeopardized a lot of innocents in the process due to her own inexperience, something that she's determined to make herself overcome. Overall she's just doing what she can with what she's got, and each month MANHUNTER is a very enjoyable read for it.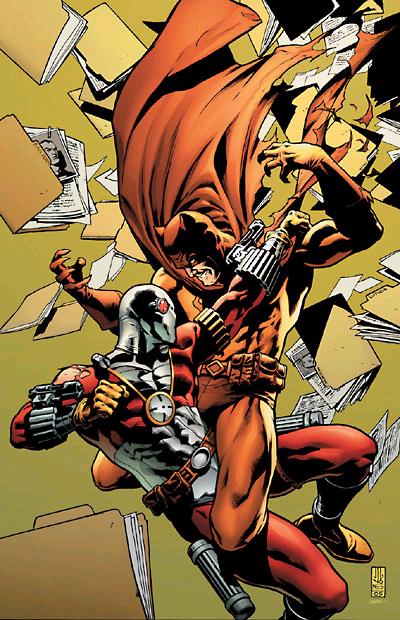 In 2005, the unlikeliest of characters became the biggest stars at DC. Blue Beetle rose to post-mortem popularity as a result of Max Lord giving him a brand new hole in his head. Obscurios like Detective Chimp and Adam Strange stood out as comic book stars in the making. But above all of these characters, Gail Simone created something special when she placed Deadshot and Catman at constant odds throughout the entire VILLAINS UNITED miniseries. The barely contained savagery of a reduxed Catman complimented to the cool precision of Deadshot turned out to be a dream team-up to beat all. Deadshot himself is cool enough alone, but cast against such a surprise coolster as Catman each interaction turned out to be classic, intense, and comic book gold. I have to pick both of these four-color characters as the best of 2005 because separately they're cool, but together they were something truly awesome. Simone left the VILLAINS UNITED miniseries open, suggesting a team-up of these two rogues in the future. Let's hope that this will soon come to pass.
He only really appeared in one issue of THE PULSE, along with his official return in HOUSE OF M, but he drove every issue of the new SHE-HULK forward with amazing strength. And besides...
(You know what's coming, don't you?)
HAWKEYE LIVES, MOTHERFUCKER!!!
This is a toss-up for me this year between the SEVEN SOLDIERS FRANKENSTEIN and JONAH HEX. Maybe I'll break them down so that FRANKENSTEIN is my favorite "new" character and HEX was my favorite "old" character. The thing about Hex is that he's so damn cool about things. As a character, he's very reminiscent of Clint Eastwood's self-loathing character in UNFORGIVEN. He doesn't want to kill anybody, but he'll do what he's got to do to do what he thinks is right. He may be a bounty hunter, but he doesn't take anybody's money for any kind of job. He's got his own personal code of ethics and he sees the world through a black and white prism. Very Ditko-ish character that way.
Frankenstein just knocked my socks off with his visual design as well as his perspective on the world as God's hand of wrath. As deadly and uncaring as a hungry cobra, he also sees the world through a black and white prism removing the cancerous evils he encounters in the most expedient way possible.
Great characters. Both of 'em.
That horse is huge, and strong, and not afraid to bite you in the head if you give it crap. That's right, I picked a horse. You got a problem with that?
I know this book has been around for a while now but, dammit, Yorick is STILL my consistent pick for favorite character. Why, do you ask? Because in the entire comic world, he's the one character I identify with the most. No, I'm not into magic or lost in a world where everyone with a Y chromosome has died. But Yorick just seems to embody the perfect everyman template in my mind. Instead of a comic geek he's a magic geek. He doesn't always do the right thing and, as a matter of fact, he really tends to pull some incredibly boneheaded moves. But that's why I like him. I can see myself and a lot of people I know in him. That's why, to me, he's been the perfect template that allows you to place yourself into whatever insanity he gets involved in. To me Yorick Brown is what Jimmy Stewart and Humphrey Bogart used to be in all those fantastic old movies. A character you could see yourself as. That's what makes him special and that's why I'll keep reading Y: THE LAST MAN like it's comic book crack.
---
DAVE'S THE "DOWN IN FRONT!" AWARD FOR THE MOST ANNOYING FUCKING AD PLACEMENT IN A COMIC
That Honda Civic Ad that showed up for the entire month of October after every recap page in every
freaking
Marvel comic.
SUPERHERO'S AWARD FOR BEST QUOTE THAT SUPERMAN SHOULD HAVE KICKED BATMAN IN THE NUTS OVER
"You haven't inspired anyone since you were dead."
from IDENTITY CRISIS #1. OK, yes, we all know it's true but, really, what would you do if one of your best friends talked to you that way?
DAVE'S THE HIGH TIMES COMIC BOOK COVER AWARD
ALL-STAR SUPERMAN #1
PROF'S WORST EXCUSE FOR A BIG EVENT COMIC AWARD
HOUSE OF M
Ugh.
DAVE'S "ARTSY-FARTSY" AWARD FOR BEST ARTIST SPOTLIGHT BOOK
PROCESS RECESS, spotlighting the paintings, illustrations, and sketches of cover artist
James Jean
(FABLES)
PROF'S AWARD FOR COMIC BOOK EXECUTIVE WHO MOST RESEMBLES G. GORDON LIDDY
Dan Didio
DAVE'S "BAIT & SWITCH" COVER AWARD
Mike Allred's awesome Batman-doing-the-Batusi cover replaced by Wonder-Girl-doing-the-Batusi cover
by order of a wussy-ass DC
BUG'S AWARD FOR BEST ZOMBIE COMIC
ZOMBIE TALES #1
Screw THE WALKING DEAD! This one had zombies in it!
---
Best Artist/Art Team
RUNAWAYS, MARY JANE: HOMECOMING, BFX2 I've been a fan of Miyazawa's work for a long time. I've been following him since I discovered his work in SIDEKICKS and it just never seems like he was doing a ton of work. Well, it seems like recently Marvel pulled him out of obscurity and put him on books which were perfectly suited for his talents. Every time I get a look at Miyazawa's work I'm just blown away by it. There's just something so simple yet energetic about his style and it's always able to impress. He can convey emotion and do kinetic action scenes equally well. While some readers out there may complain that his style isn't complex enough, what I love about his stuff is that it is deceptively simple. While there are a lot of artists out there who love to pore over details with obsessive compulsive mania Takeshi is able to convey what most artists can with straightforward line work. If you don't believe me just check out his online strip
BFX2
for some fantastic storytelling mixed with cyberpunk action. All this and he's made Cloak and Dagger look the best they've looked since the original Rick Leonardi mini-series. This guy's a great artist who I hope really takes off to greater heights in the future.
Can I get a round of applause for KLARION's Frazer Irving? In a year that saw stunning work from longtime favorites (Guy Davis on B.P.R.D., Paul Pope on SOLO and 100%) and several vivid new blips on the radar (Kyle Baker on NAT TURNER, Colleen Coover on BANANA SUNDAYS)…Irving was still the guy whose work most viscerally knocked me on my ass. And all for his art on Grant Morrison's KLARION, which gave Irving the opportunity to draw a mythic version of the legendary lost colony of Roanoke. With a woodcut artist's mastery over light and dark, gloomy cartooning like a cleaner-line Graham Ingels (TALES FROM THE CRYPT), and electric-blue puritans milling around in the
wettest
rain ever rendered (Irving colored the series, too), you have a net effect of the most enticingly strange setting comicdom saw all year.
And the man can draw a Grundy like nobody's business!
Sleazy G - Pascal Ferry and David McCaig
There have been a lot of beautiful books this year coming from mainstream and indie publishers alike. Nothing jumped off the page, though, more than Pascal Ferry's pencils and Dave McCaig's colors on the ADAM STRANGE miniseries Andy Diggle wrote for 2004-005. Ferry's design work was a pleasing blend of classic and contemporary influences, and every page was loaded with dynamism. McCaig's painting demonstrated just how far digital effects have come in the world of comics and added a feel unlike anything else on the stands. If Ferry and McCaig continue to work together they'll make a hell of an art team.
I've actually said for a good couple years now that I felt that J.H. Williams III was arguably the best artist in comics. Even though I never read his and Alan Moore's opus PROMETHEA until earlier this year (and don't ask me why I waited so long) I always at least picked up each issue as it came out on the stands to take in the very pretty pictures. I love everything about J.H.'s art, the attention to detail, the always unique page and panel layouts and designs, and just an unbelievable knack for visual storytelling. And this year has just been another stellar year for his art with a handful of issues of DESOLATION JONES, the final and remarkable looking issue of PROMETHEA, and the SEVEN SOLDIERS #0 that kicked off what has so far been a pretty enjoyable event. It's just a shame we only get six to seven comics from him a year, but at least the man knows his limitations to boot.
Dynamic. Iconic. Kinetic. Fills the stomach in my eyes with sheer deliciousness. These are just a few words that come to mind when I think of the man named Jock's artwork. Every month of last year, Jock thrilled us with vivid panels in THE LOSERS and now he's starting to branch out into other areas (just check out how damn cool
the Joker
is here and damn, isn't that
Batman
nothing short of gorgeous?). Jock is one of those artists I will follow anywhere and now that the stellar series THE LOSERS has come to an end, I can't wait to find out what this guy has up his sleeve next. Pick up any Jock-helmed issue of THE LOSERS and you will see a classic artist in the making.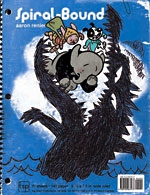 It may not be flashy, it may not have a lot of ninjas and explosions, but AARON RENIER'S work in Top Shelf's SPIRAL BOUND was easily the most fun inspiring work I saw this year. It evokes joy, excitement, sweetness, and the special sort of fun that can only be found on a lazy summer day. And it's got a giant monster in it to boot.
Doug Braithwaite and Alex Ross on JUSTICE. The pencils and storytelling of Braithwaite brought an indescribable energy and power to the dynamic realism of Ross's paints.
Honorable Mention:
Spotlight on Marc Campos, who is hands-down the best comic book inker working today. No digital bullshit. This guy takes whomever's pencils are shipped his way and he creates a work of art out of each page with pens, brushes, spattering, razor cuts, and whatever else he needs to get across the emotion and the texture for each scene. God, what I wouldn't give to take this guy back in time and see how his inks would compliment old-time greats like Kirby, Heck, Dillon and Buscema.
The master artisan behind LONE WOLF AND CUB and SAMURAI EXECUTIONER, Kojima's incredible detail work always blows me away. Close behind were the teams of Cary Nord and Dave Stewart on CONAN, and Guy Davis and Dave Stewart on the various BPRD mini-series.
---
My power ring is getting a transmission from backstage from a talking simian named Schleppy. He says he's the @$$hole mascot. What do you have for us, Schleppy?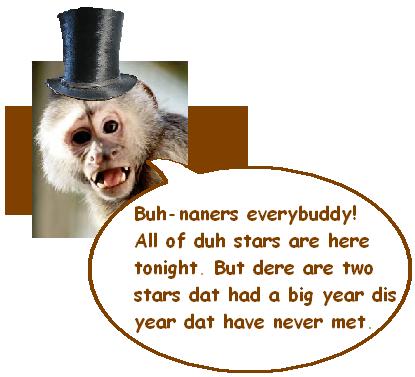 Is that so, Schleppy?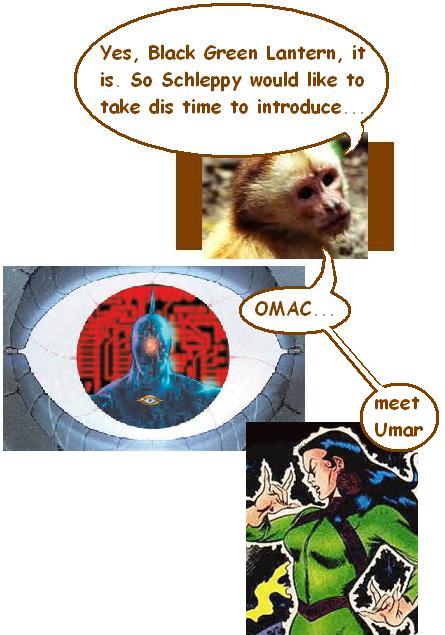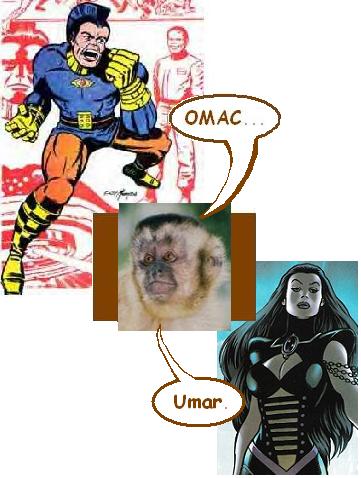 Okay, Schleppy…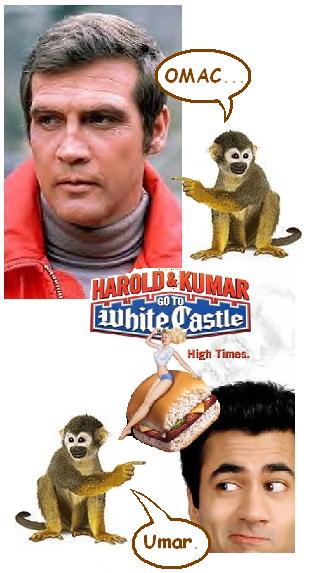 Oh, that's not even---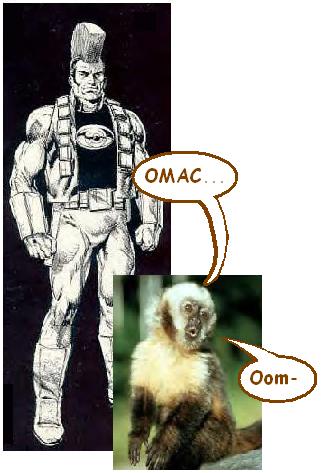 all-RIGHT!

Schleppy, that's enough…we have to get back to the @$$ies!
---
Best Writer
Though Dan Slott's classic take on the Marvel Universe made this a hard choice, in the end I have to go with Gail Simone, who always impresses me. Her BIRDS OF PREY work has been nothing short of great, and VILLAINS UNITED was the one PRELUDE mini-series that continuously held my interest and made me want more. Simply put, if she writes it, I'll read it, and probably like it.
SCOTT PILGRIM VS. THE WORLD. I love the dramatic stuff as far as comics go but as I've gotten older I'm finding more and more that I just want my comics to be really fun as well. Nothing says fun more than Bryan Lee O'Malley's SCOTT PILGRIM. Sure, it seems like he only averages to put out one of these a year but they're so great and so inventive and so out of the box that I
have
to give my Best Writer kudos to this amazingly imaginative cartoonist. I cannot imagine what is going through O'Malley's head when he puts all of this stuff down but I'm damn thankful for it. SCOTT PILGRIM is a book that makes me happy just thinking about it, and if volume two was the only bit of O'Malley's world I got in 2005 then it was definitely enough for me to put him down for my favorite writer of 2005. No one is writing a book like this out there. No one. It's a complete original and so is O'Malley
Last year he got two wins in this category and this year I'm the guy playing Johnny-Come-Lately: Dan Slott, you are officially my hero. Here's a writer who mixes humor and drama effortlessly, who uses superhero continuity only when it's a mechanism for fun, and who revitalizes old characters without shoehorning them into new "directions." His new ongoing THING series has me feeling like I'm back in Marvel's 80s heyday (Simonson on THOR! Stern on AVENGERS! Slott on THE THING!). His SHE-HULK has given the world the best new supporting character – Awesome Andy – and packs more memorable scenes per issue than any ten other comics. And as for his SPIDER-MAN/HUMAN TORCH miniseries? Let's just say that if you can make it through the final issue without a tug at the ol' heartstrings…well…I don't wanna know your evil ass.
I know some people won't agree with me on this one, because not everyone cares for the recent direction of the DCU, but I have to say Geoff Johns is top dawg this year. Even the best of writers would find a task like reworking the DCU daunting enough to make them soil their Depends (and if you wanna know which writers wear 'em, don't look at me—go ask Johnston). Johns has written his ass off: working on multiple monthly titles while masterminding INFINITE CRISIS, co-writing 52 and preparing an 80+ year old collection of titles for a cohesive push into the future. There have been some missteps, sure, but the good vastly outweighs the bad in what is a monumental task. I don't know anyone else currently writing comics who would have been up for something like this, and if that isn't reason enough to win this one I don't know what is.
There were a lot of really great books that came out this year, and a good handful of writers taking on the chores of getting them out. But there was one man I thought was a lot more consistent in his work than the others, and that was Brian K. Vaughan. It was really quite simple actually. EX MACHINA is in my opinion the best book on the stands. Y: THE LAST MAN has been a little off given the kind of standard it set in the year before, but I still found it a much more diverse and interesting read than the majority of the other books I bought. And RUNAWAYS, the little book that could, has hit a whole new level with much more entertaining storytelling, a ton of laugh out loud moments, and some really nice twists and turns making it one of the best books Marvel has in its lineup. Oh, and on top of all that, he put out a pretty enjoyable run of ULTIMATE X-MEN in his free time. I say that's about as good a year for anyone.
C'mon. Is there any other writer out there with more vision, more imagination, more versatility than this guy? I think not. First he blows me away with WE3, a modern day fable starring a trio of cybernetic animals trailed by the scientists that created them. Then he undertakes the massive SEVEN SOLDIERS OF VICTORY project, which ranged from straight-forward superhero stories like GUARDIAN and BULLETEER, to freaky-deeky macabre horror like KLARION and FRANKENSTEIN, to cosmic operas in MISTER MIRACLE, and magical journeys in ZATANNA and SHINING NIGHT. This SEVEN SOLDIERS project shows that there's no genre of comics that Morrison can't master. And then, to "cherry on top" the year with the first Superman story I actually gave a furry fig about in ALL STAR SUPERMAN proves that despite my problems with Morrison's hit and miss run on NEW X-MEN, he is still the most whacked out and fun comics writer out there today.
Even if DAN SLOTT hadn't brought back SHE-HULK at the end of the year, his name would be on this award. You want a reason besides "Death sense tingling!"? Besides THE THING back in his own book? Besides the Parker family and the Richards family sitting down to dinner? Besides Squirrel Girl vs Thanos? I've got that reason, and it's three words long:
Hostess fruit pies.
So I'm easy to please. Sue me.
Grant Morrison. Almost went with Geoff Johns, but Morrison has edged slightly ahead because of this latest batch of SEVEN SOLDIERS mini-series and most-especially ALL-STAR SUPERMAN. I foresee great things for Johns, once the ONE YEAR LATER stuff kicks in, but right now I'm feeling a little bit of weariness from his work. On the other hand, Morrison has amped up the thrills and excitement. His ALL-STAR SUPERMAN series somehow captures the most uniquely satisfying blend of old-school and modern sensibilities I've ever seen. So, for 2005, Morrison was the best o' the bunch, by a hair.
---
VROOM'S "WTF?" AWARD FOR MOST INSANE PLOT POINTS PER ISSUE
ELK'S RUN
from Speakeasy Press.
DAVE'S "OH YEAH, THE EAST" AWARD FOR BEST MANGA COVERAGE
THE COMICS JOURNAL #269
DAN'S JACK KIRBY AUTOMATIC WRITING AWARD
Joe Casey and Tom Scioli, for GODLAND
PROF'S AWARD FOR BEST BREATH OF FRESH AIR
MIDDLEMAN
Definitely the best Indie mini from 2005.
DAVE'S "ART HISTORY FOR DUMMIES" AWARD
Vertigo's
CHIAROSCURO - THE PRIVATE LIVES OF LEONARDO DA VINCI (TPB)
BUG'S AWARD FOR BEST NEW CONCEPT FOR AN OLD COMIC
WHAT WERE THEY THINKING? #1
DAN'S AWARD FOR BEST USE OF FREDDIE MERCURY
CROMARTIE HIGH SCHOOL
DAVE'S DENNIS MILLER "TOO HIP FOR THE ROOM" AWARD
Marvel's
LIVEWIRES
by Adam Warren
---
Best Publisher
*Dodges tomatoes thrown at him* OK, look, fine, say what you will about how some of the INFINITE CRISIS thing is going. I certainly don't agree with all of it. *cough* crazy Superboy dismemberment party *cough* But damn if DC Comics didn't get me to buy all of the crazy minis that led up to the comic event of the year. Damn if they didn't actually, for a while there, have me actually
believing
that picking up all those minis would be worth it (which they weren't). They got me. They suckered me in. And I'm not gonna lie I actually have enjoyed some of it. I mean years ago all of the stupid Mutant Massacres, Age of Apocalypses, Invasions, and Zero Hours made me swear off company wide crossovers forever. Hell, they almost made me drop mainstream comics
forever
. Somehow, DC Comics actually suckered me into this one. I don't know how they did it but they did and for that I have to give them credit. Marvel didn't suck me in with HOUSE OF M. Hell, Marvel's almost lost me altogether. But DC actually reminds me every once in a while why I like superhero books and this past year they got me excited about reading superhero stuff again. That being said, they may have convinced me to drop a ton of their books in 2006 but in 2005 they had me hook, line and sinker.
Make no mistake: I didn't
want
to give this to DC Comics. I hate the rape and mayhem they're throwing at their all-ages properties along with all the impenetrable continuity shuffling accompanying it. But DC is more than that. It's also the company publishing my favorite monthly, Vertigo's FABLES. It's the company continuing to put out trades of great books that might not be ratings champs (Perez's WONDER WOMAN, Byrne's SUPERMAN, Morrison's DOOM PATROL, Wagner's SANDMAN MYSTERY THEATRE). It's the company that has enough faith in wildman Grant Morrison to turn him loose on mega-series SEVEN SOLDIERS. And DC is where oddball genres like the Western get a fighting chance in books like JONAH HEX, where Harvey Pekar's THE QUITTER found a home, where Alan Moore's best ABC creation had one last hurrah in TOP TEN:THE FORTY-NINERS, and where artist's artists get the best venue they could possibly hope for in the brilliant SOLO. I almost could have given this one to Dark Horse for its stewardship of so many great properties or Oni for all the fine surprises it's given me this year, but in the end, DC juuuuuuuuust edges 'em out (advantage:
SOLO
). Now if they'll just stop fucking up their superheroes I'll send 'em a fruit basket.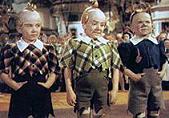 The Little Guys. You know who you are. All the indie companies out there, all the self-publishers, all the people who do this stuff for the love of it and not for a big corporation. All you people who look at the numbers every month and wonder how exciting it must be for all those people who managed to reach two percent of the market last month. It's not easy for new artists and writers to get noticed or published, and doing it yourself on a shoestring while you work a couple of "real jobs" can't be easy. I know I don't buy enough indie books, but I'm working on it and plan to do a lot more this year. It's like the active decision I made a few years ago to see a lot more indie and documentary films: frankly Universal is doing just fine without me, and the little guys need all the help they can get. We're always trying to cover more and more small press around here. We can't possibly get to everything, but that doesn't mean we don't know just how hard you're all working and how much it means to you.
Well, okay, this is how it goes. In fact, this is how it seems to have gone since I got back into comics a few years back. There is always some great independent work out there, and this year was no different. We got INVINCIBLE, WALKING DEAD, SEA OF RED and so on from Image, the TRICKED OGN and SURROGATES from Top Shelf, excellent stuff like NIGHT FISHER from Fantagraphics and on and on and on, but this award always comes back to the big two, DC and Marvel, because, well, they put out a lot more stuff and therefore have the potential to have a lot more enjoyable reads. And indeed they both did. Marvel had a great run from its books: RUNAWAYS, all the ULTIMATE titles I thought were enjoyable, anything Dan Slott set a pen to, Brubaker's stellar CAPTAIN AMERICA run and, again, so on. In fact, I found their main line much more enjoyable than DC's, which only featured a handful of books like VILLAINS UNITED, MANHUNTER, BIRDS OF PREY and a couple others that I found fun and interesting while the rest were seemingly being mutilated by crossover madness (though I'm liking INFINITE CRISIS thus far). But here's the rub: DC still owns Vertigo. And Vertigo at any given point this year was responsible for at least half of the ten best titles I was reading. Longer running books and almost instant classics like FABLES, Y: THE LAST MAN, HELLBLAZER, 100 BULLETS, and now a slew of new books with great potential like LOVELESS, DMZ, and TESTAMENT, which had a very promising first issue in December. Add to all these the great books like EX MACHINA and DESOLATION JONES from their other imprint Wil