The one, true Carl Kolchak stalks the planet no longer.
Darren McGavin, who brought Kolchak to life in both the TV movies and the short-lived 1974-75 TV series, passed away this morning.
He'll also live forever in many memories as The Old Man in "A Christmas Story." If memory serves, he also played the amputee who oversaw the "Six Million Dollar Man" project.
Primitive and pitifully underbudgeted, the 1974 "Kolchak" had at least three things going for it: 1) It was the first regular TV gig for "Sopranos" mastermind David Chase, who served as "Kolchak's" story editor and authored eight of its 20 teleplays. 2) It featured that creepy, stringy and unforgettable bass-fiddle theme music. 3) It offered a career-defining performance by Darren McGavin, who knew how to sell and showcase Kolchak's indignant, authority-defying dialogue.
Read more of McGavin's prolific life here.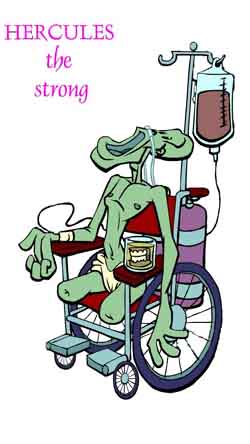 Ahoy, squirts. Quint here again. I was working on finding some sort of confirmation on this when Herc posted the above. I still don't believe it. Darren McGavin was always one of my favorite character actors and has turned in more than his fair share of classic performances, none so more than his portrayal of "The Old Man" in A CHRISTMAS STORY. "Sonsabitches! Bumpasses!!!!"
I recently stumbled upon some of his early work in Season 1 of ALFRED HITCHCOCK PRESENTS... he had an episode which was essentially a stare-down between him and another man... in one room, both pissed. The power and pure talent he had for the craft was evident even in this early role way back in 1955. McGavin also appeared in Spielberg's first ever TV movie, SOMETHING EVIL. The movie isn't very good at all, but you can still see the filmmaker that was only a few years from the triple threat of DUEL, SUGARLAND EXPRESS and JAWS peek through here and there, with McGavin once again pulling more than his fair share of the weight.
Strangely enough McGavin appeared with Don Knotts, who also died today, in NO DEPOSIT, NO RETURN and HOT LEAD AND COLD FEET.
Don Knotts' passing made me sad. McGavin's passing has gutted me. My thoughts are with Mr. McGavin's friends, family and fans.