Want a ticket to see SNL? Plan ahead. There's a waiting list, and – unless you're a movie star – the wait is better than a year. The good news for fans who prefer MADtv? We hear there are still plenty of tickets left for the next taping.
Scarlett Johansson hosts tonight's SNL with Death Cab For Cutie. Peter Sarsgaard hosts the Jan. 21 show with The Strokes. Steve Martin hosts the Feb. 4 show (his 14th SNL hosting gig) with The Bad Plus.
For those keeping score, Martin is one of only four living Americans in the "Ten-Timers Club":
1) Steve Martin (13)
2) (tie) John Goodman (12)
2) (tie) Alec Baldwin (12)
4) Buck Henry (10)
Chevy Chase will have to host at least twice more before he gets in.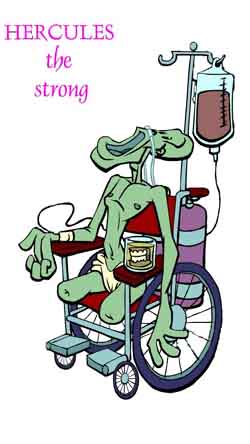 The "24"-esque graphic novel Joss Whedon wants made into a TV series!! Global Frequency: Planet Ablaze!!



Superheroes For Sale!!