What's that? You say NBC's fresh new episodes of "Will & Grace" and "Four Kings" hold little appeal for ya?
Well, have a gander at this little slice of heaven: Turner Classic Movies is colorcasting nine features directed by Hayao Miyazaki over the next four Thursdays.
They're running commercial-free, but I don't know yet if TCM is cutting out the dirty parts.
The rundown:
Jan. 5
Spirited Away (2001) 8 p.m.
Princess Mononoke (1997) 10:15 p.m.
Jan. 12
Nausicaa of the Valley (1984)) 8 p.m.
Castle in the Sky (1986) 10 p.m.
Jan. 19
My Neighbor Totoro (1988) 8 p.m.
Porco Rosso (1992) 9:30 p.m.
Whisper of the Heart (1995) 11:15 p.m
Jan. 26
Only Yesterday (1991) 8 p.m.
Pom Poko (1994) 10:15 p.m.
Read more of these masterworks here. (Thanks to Robogeek for the heads up!)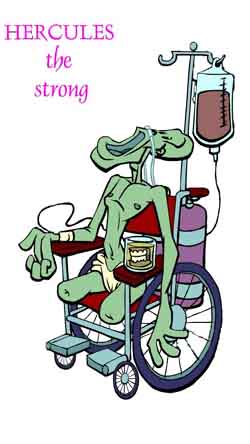 TV series for less than $21 per season!!