Ahoy, squirts! Quint here with one hell of an awesome contest for you guys.
As a lot of you collectibles enthusiasts might now, Weta has branched off from Sideshow and have started their own collectibles company: Weta Collectibles. They're kicking off with two lines, KING KONG and THE CHRONICLES OF NARNIA. They have graciously given us one piece from each line to give away to our readers.
This is the contest for KING KONG. Look for the Narnia Contest to go up this weekend!
Wanna see what you could win?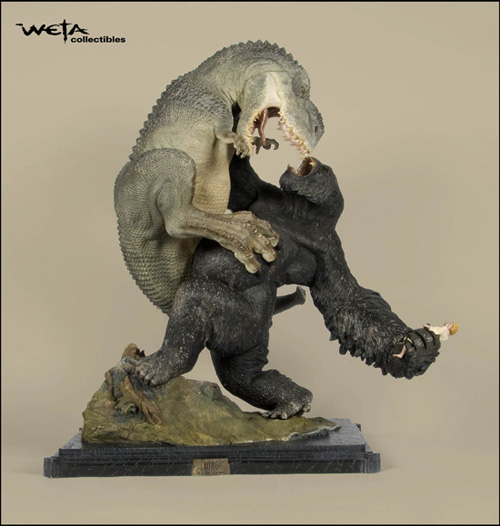 This is the crown jewel of the KONG line, Kong Vs. The V-Rex. It carries a hefty price tag, coming in at just under $500 retail. It stands 23.5 inches high and is a monster of a piece. I'm also told it will be signed (I would guess on the base) by Richard Taylor and the sculptor(s).
This special prize deserves a very special contest and I think I've got just the thing (after a little deliberation with my pet monster, Kraken).
What I want from you folks is a little creativity, a little sweat and a lot of imagination and time. I want you to come up with a new creature that Kong has to fight on Skull Island (either serious or funny, ie Giant Creepy Monster or Giant Harry Knowles) and I want you to bring it to life through the magic of Stop Motion Animation.
I require a video between 10 seconds and 1 minute in length and under 10 megs in size that captures your magnificent creature in all its glory on Skull Island. I'd prefer to see it tussle with Kong, but I won't make that anything more than a suggestion. It's not a hardlined rule. The only hardline rule for this contest is it must be animated using the Stop Motion technique.
Read these specifics closely:
How do you send your entry?
I don't want to endanger my mail server with these entries, so I suggest the use of a wonderful and free website: YouSendIt.com, which allows you to upload large files directly from your computer and send it as an email inbox saving link.
If you have your own website, you can just FTP it there and send me a link that way as well.
The final entries have to be under 10 megs in size and can be in Windows Media or a Quicktime friendly video format (preferred). Again, the video must be between 10 seconds and 1 minute in length. No more than 60 seconds, no less than 10.
Where do you send your entry?
You need to email the link to your entry to quint@aintitcool.com. Subject line should read: Stop Motion Contest.
Who can enter?
Anybody, any age. The contest is open to anybody in the world. If you want to make it a father/son experiment, a solo project, a group adventure... However you want. If it's a large group, just remember... you're only getting one prize, so work out the visitation rights in case you win.
When do you need to send it?
You have 2 weeks from today, Friday November 18th. That means this is due 11:59pm CST Friday, December 2nd.
What do you need to include?
A link to your Stop Motion Masterpiece and your mailing address. That's it. Although, you might want to have proof of your Stop Motion adventure handy if I request it.
I'm serious about it being Stop Motion only. I don't want flash animation or full motion home videos. This is for KING KONG, so stop motion is the one and only way to win him. If you have no idea how to pull off stop motion animation, click this link right here to learn about free software and see a video tutorial on how to use it thanks to the good folks at G4. Here is a link where you can find that free software! There's also a website called Stop Motion Animation.com that seems to have a wealth of information on the art form. I'm sure there are loads more sites out there to help you bring your imagination to life, one frame at a time.
Perhaps the best part of this whole thing is that the lucky winner not only gets that awesome Kong Vs. V-Rex statue, but they will also get their winning Stop Motion work featured on Weta's very own website!!! Cool, eh?
I will pick the winner based on creativity and execution of their creature as well as their eye for shots, character of their creations and overall execution of the stop motion.
Now a bit of legalese due to the fact that one sad sack loser tried to piss in everybody's punch over a previous contest. The winner I pick is final and I can change the rules at any time. By entering this contest you agree to those terms.
So, get crackin'! The clock's ticking! But before you head off... let's see the beauty of a prize once more...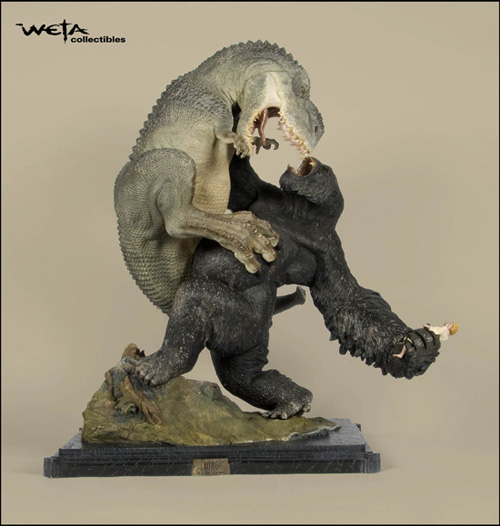 Ahhh, isn't she beautiful? If you have any questions, either drop me an email or ask me in the talkbacks below. Have fun, guys!!