Ahoy, squirts! Quint here with two AICN regulars, Capone and Anton Sirius. Capone you know from his weekly thoughts on the new releases and Anton Sirius you'll remember for being our man on the scene every year for Toronto. They've both seen WALK THE LINE and want to tell you about it. Capone loved it and Anton had some serious issues, so read on for the point/counter-point. Enjoy!
Hey everyone. Çapone in Chicago here. It's almost impossible to fathom that just a little over a year after arguably the finest biopic made about a musician, RAY, was released that another film comes along about an equally influential player that might actually be better. Also covering the death of a brother to the kicking of a life- and career-endangering substance addiction, WALK THE LINE chronicles the early years of country and rock legend Johnny Cash, played and sung with eerie accuracy by Joaquin Phoenix, who may have just surpassed Philip Seymour Hoffman's portrayal as Truman Capote as the front-runner for an acting Oscar.
Unlike Jamie Foxx's dead-on impersonation of Ray Charles in RAY, Phoenix isn't going for a performance based solely on how closely he resembles the Man in Black. Instead he concentrates on attitude, mannerisms, and above all, stage presence, including an uncanny vocal turn as Phoenix (unlike Foxx) does all his own singing here. As much as this sounds like a gimmick, the effect of hearing Phoenix's vocals sends this film into the stratosphere of greatness. The impact, especially on fans of Cash's music, is undeniable and overwhelming.
Cash's life is faithfully reconstructed, from his childhood picking cotton on the family farm in Arkansas to his loving mother (Shelby Lynne) and critical father (especially when the favored older brother dies). Robert Patrick's turn as the nasty Ray Cash is established as the driving force in Johnny's life. In his quest to win his father's approval, he never gave up his dream of being a singer, even after getting married to Vivian (Ginnifer Goodwin), having two daughters, and moving to Memphis to be closer to the heart of music in America. Cash managed to get an audition with Sun Records founder Sam Phillips (Dallas Roberts), and in one of the film's best scenes, Phillips encourages Cash to drop the gospels music he and his amateur band are playing and try something different. When Cash tentatively pulls out an original tune called "Folsom Prison Blues," nothing in music will ever be the same.
WALK THE LINE is like a trip through history as Cash gets signed to Sun Records and hits the road with the likes of Elvis Presley, Jerry Lee Lewis, Carl Perkins, Roy Orbison, and even one-time child singing sensation and member of the legendary Carter Family singers, June Carter (Reese Witherspoon, also providing her own singing). I'm a bit baffled by criticism I've read about Witherspoon's singing in this film. First off, it sounds fine. Second, June Carter said on more than one occasion (including a couple times in this movie) that she wasn't much of a singer, and that her real talents were having a sassy personality on the radio, being a crowd favorite and impressive foil for Cash, and later, songwriting. Witherspoon captures all of these here, and gives the best performance of her career. The flirting between the two is fearless, even though both are married nearly the entire time they played together.
As if to get our support and validation for Johnny and June's eventual affair, filmmaker James Mangold (GIRL, INTERRUPTED, COP LAND, HEAVY, IDENTITY) portrays Cash's first wife Vivian as a shrew who doesn't support his music even after he begins making a living with it. Whether it's accurate or not, it feels unfair and may be the film's only flaw. Of course, no one is portrayed with more faults than Cash himself as he begins a nasty pill and booze habit that lasts him many years and nearly cost him his career and his future with June. Phoenix plays Cash as if he invented the term "son of a bitch," and really shows us his acting chops like we've never seen him do before. Witherspoon doesn't play June as an entirely supportive woman in these early years. Instead, she is a protective mother of two of her own daughters, who doesn't want Cash's drugged-out ways anywhere near her family.
WALK THE LINE's emotional epicenter is Cash's legendary performance (and live recording) at Folsom Prison, and the recreation of that event here is astonishingly energetic, as Cash ignores the advise of the prison warden to still to gospel musical and unleashes a series of songs about death and killing and prison life that was unprecedented. WALK THE LINE maintains the dark and gritty feel of Cash's music, while hinting at a future filled with sensitivity and class. The film also does something far more important: it reminds us the Johnny Cash used to rock as a performer and a songwriter. There is life and fire in WALK THE LINE, and my guess is that you'll leave the theatre humming any one of a half-dozen Cash tunes because you just can't help yourself. This is one of the great films of the year.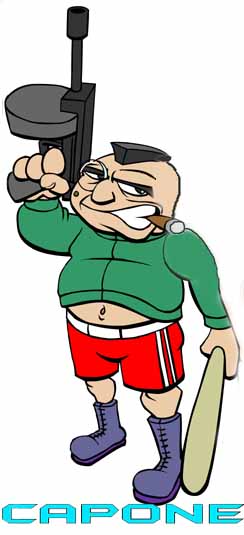 Here's Anton's reaction!
Walk the Line (2005, directed by James Mangold)
I saw this one back in September, but it took me a while to sort through it in my head, so instead of an early peek you get a thorough one instead.
Make a list of the quintessential American males of the 20th century, and Johnny Cash is going to be right near the top, jockeying for position with Muhammed Ali and Ted Williams and Henry Ford and Martin Luther King. To call him iconic is probably an understatement; archetypal might be more accurate, given the way mass media has burned his voice and image into our brains. A film about his life, coming so soon after his death, faces a massive challenge – not just to do justice to the oh-so flesh and blood person, but also to the legend of the Man in Black we all carry inside our heads.
Walk the Line tries. It really does. But like a handful of pills on a warm summer night, with your friends telling you it's a great way to keep the buzz going, one wrong decision can undo so much that is right.
The film opens in the right place – the yard of Folsom Prison, with the camera creeping towards the distant thunder of feet stomping as a literally captive audience waits for a man to come sing their pain. Cash waits in the machine shop, staring at a table saw
(and already, here, something is bothering me about Joaquin Phoenix's performance...)
saw, lost in reverie, and we're off – flashing back through his life, from childhood and desperate search for direction as a young man to Sam Phillips and his first wife Vivian, from his first staggering career peaks to his terrible personal lows, from damnation to June Carter, his salvation. Walk the Line hits all the beats it needs to of the early part of Cash's life, and hits them in a distinctly Mangoldian way. In his best films (not so much, maybe, in Kate & Leopold) James Mangold shows an understanding of how to use silence to portray internal turmoil, and it's a skill that serves him very well here. For a film, and a life, as loud as this one when the stage lights are on, Mangold doesn't overlook the quiet moments, when Cash had nowhere to hide from his pain but inside a prescription bottle.
The performances here are mostly excellent, although more in the "serving the needs of the film" way than in the "give me a little gold bald guy" way. Phoenix is intense; Reese Witherspoon is very good, although she doesn't have a whole lot to do – the film is based on two of Cash's autobiographies, and in Johnny Cash's eyes June Carter was an angel, a perfect woman, and portraying a perfect woman doesn't exactly give Witherspoon much to work with. Shooter Jennings even gets a chance to play his dad, which is a nice touch.
It's not until Robert Patrick re-appears as Cash's father though, at an awkwardly momentous Thanksgiving dinner, that it sinks in for me what is wrong with Phoenix's performance. In five minutes of screen time at the book ends of the film Patrick portrays both the drunken father who menaced Cash as a child, and the older, wiser man who understands that the adult Cash has nothing until he earns back his self-respect, and his own role in taking that self-respect away from his son in the first place. It's really an incredible piece of work by an actor whose career is probably always going to be overshadowed by the emotionless liquid metal killing machine that brought him into the public eye.
But it killed the film for me. Because in sketching out the entire arc of Ray Cash's life in just five minutes, it illustrated how impossible Phoenix's task actually was, and how far from the mark he'd actually fallen. Robert Patrick had the luxury of playing both ends of Ray Cash's story, and thus could show how the seeds of the man at the end were there all along in the man at the beginning.
Phoenix can't do that. The film, essentially, covers the pre-television portion of Johnny Cash's life. Phoenix is portraying the man at the beginning, but Johnny himself gets to play the man at the end, the man whose image we all carry inside our heads. He had find some way to dovetail his Johnny Cash into the real one, and he simply falls short. There's really nothing inherent in his performance that says "Hello, I'm Johnny Cash." He does a fair job of nailing the singing voice, although he wisely doesn't really try to get Johnny's speaking voice, but beyond those kinds of surface details there was simply no indication to me that he was playing anything other than Generic Tortured Musician. And this is not the fault of the director, or the script. There are more than a few moments and allusions than could have been used as springboards to hint at the Johnny Cash-to-be who we know is going to emerge from this crucible, but Phoenix seemed to deliberately pass them up.
It's not that he's acting badly. His craft is fine. But when the real Johnny Cash in my head answered the question, "You look like you're going to a funeral" with "Maybe I am", implicit in that answer was that the funeral might be his own. When Joaquin Phoenix's Johnny Cash answers it, he's making a joke. The real Johnny Cash in my head covered Kris Kristofferson and Nine Inch Nails and Nick Cave because he understood that pain doesn't have a genre, that something which speaks to one group of people can speak to everyone if given a chance. Joaquin Phoenix's Johnny Cash barely knows who Bob Dylan is.
Let me put it to you this way. If this were an unauthorized biopic – if the names and events had been changed enough to avoid any lawsuits – you would have had to tell me it was really about Johnny Cash. Because there is nothing in Phoenix's performance that echoes the man I listened to and admired.
If Cash had lived in an earlier time, Phoenix probably could have gotten away with it. That kind of performance in a film about, say, Hank Williams Sr. (hell, what Joaquin did on screen would have fit a film about him just as well – I'm sure Hank trashed a dressing room or two) would have been fine, because there's no direct point of comparison. Hank Sr. is nothing more than an idea now; Johnny is still an image, and an indelible one at that. But rather than trying to appropriate that image and make it his own, Phoenix simply walks away from it and ignores it. And that was a mistake.
I'm sure the film will do well. The music is of course fantastic; even if Phoenix (and Witherspoon, bless her heart) aren't quite up to the task of matching Johnny and June's vocals, what having them perform the songs does is throw the songs themselves into sharper relief, and few artists have a stronger catalogue than Johnny Cash. There may even be multiple awards coming for the movie.
But it felt like a failure to me. An impressive, well-intentioned failure.
Rodney Crowell, Roseanne Cash's ex-husband, has an anecdote about one of his first meetings with Johnny. He'd just started to get serious with Roseanne, and Johnny and June had summoned him to the family home. Being summoned to appear before Johnny Cash is not something you take lightly, especially when you're a young up-and-coming country singer yourself. He and Roseanne boarded a plane and, nervous as hell, Rodney began downing drinks like, well, like he was heading to a funeral. Once there, some fuss was made about sleeping arrangements or the like. Rodney was feeling his oats, and so he reared up and started in on how he and Roseanne were adults and in love and what they did was their own business, and likely a lot else besides that he probably shouldn't have been saying to a prospective father-in-law, much less this particular prospective father-in-law.
After he'd wound down, Johnny just looked at him and said, "Son, I don't know you well enough to miss you if you were gone."
That's about how I feel about Walk the Line.