David Goyer, who wrote all three "Blade" movies and directed the last one, hopes to bring the character to (appropriately enough) the channel called Spike!
The busy Goyer is also teamed with Brannon Braga on CBS' "Threshold" and had a hand in the screenplay for for Christopher Nolan's "Batman Begins." First-time spy "Tickle Biscuit" has read most of the pilot script. Here's his review:
Long time reader, first time caller. Had the opportunity to read the first 90 or so pages of the Blade TV series 2-hour pilot and thought I'd chip in my 2 cents. I figure this show is probably going to run pretty high on the fanboy radar, so I might as well ruin it for them now. I'm doing in FAQ style, in tribute of course,
1) So who wrote it?
David Goyer (All the Blade movies) & Geoff Johns (DC Comics guru).
2) What's it about?
A young inner-city youth learns to escape the harsh reality of his daily life through interpretive dance.
3) What's it really about?
A badass black guy named Blade who kills vampires. Duh. If you've seen the movies, or read the back of the DVD box, you'll know all you need to.
4) Is this a sequel, a prequel, what's going on?
Sequel. Think "My Big Fat Greek Life", but with Blade. All the movie stuff in in here. Familiars, those funky tatoos, UV weaponry. Of course we go through all the motions of catching people up who somehow missed the flicks. The movies are referenced pretty heavily too for the fans. It starts shortly after the third movie.
5) Weren't all the vampires wiped out at the end of Blade: Trinity?
I don't remember. Maybe. But I guess not.
6) Story, please.
As we start, Blade's flying solo (Jessica Biel and Ryan Reynolds characters are dismissed with a line - She's in Cairo, He's in Ethopia - having their own wacky spin-off adventures). We start with Blade beating up some Canadian vampires in Montreal (where I'm guessing this thing is going to be filmed) who give him a lead on some bad doins' with The House of Chton in Blade's old neighborhood, Detroit. He sets up shop with one of Whistler's proteges in an abandoned department store, and then it's time to hunt.
7) Sounds cool. What's wrong?
Blade is cool. He slices, he dices, he delivers witty banter. He tortures a tattoo artist by writing the letters of the alphabet onto his back. And to prove he's still a softy, he adopts a wounded stray dog. Awwww. What's not to love? I don't know, how about the fact that Blade gets maybe 25 percent of the screen time?
8) Huh?
Meet Krista. Late 20s, recently dishonorably discharged from the U.S. Army, just in time to investigate the death of her twin brother, a Familiar (wannabe vampire) who was working for the House of Chton. The course of her investigation will lead her to one of Detroit's wealthiest land developers, who has a strange aversion to sunlight...(hmmm, what could that be about?) She's a strong, tough, twenty-first century woman and yeah, she's pretty much the main character of the show.
9) Bottom line --
I don't want to spoil too much, because that's no fun. Overall, the stuff with Blade is fun. It's also made clear that Goyer and Johns are looking to push the boundaries of violence on cable TV. Knee-capping, bone-breaking, and lots of slicing. And who knew it? Blade can crack wise with the best of them. But like the movies, that's all he's gonna do. There's an all-too brief flashback of Blade as a child, but otherwise we get the same one-note character we always got. And rather than decide to develop that character, Goyer and Johns give us Krista. The plot itself is the usual gothic vampire/bad science scenario with ancient Indian vampire gods, and hey, did you know if snort vampire ash, you temporarily get vampire powers? Well, you do. But you shouldn't.
Having only read the first three-quarters of the script, it's not clear how this is going to work on a series. Most of the story seems like it's going to be wrapped up by the end of the pilot, and for there, who knows? Maybe they'll retool it and Blade will end up living in an apartment next to Freddie Prinze Jr. and they'll become pastry chefs. Probably not, though.
Casting? I have no idea. But this character is the Snipes character, and I doubt he's involve beyond cashing residuals, the best we're going to get is a guy doing a Snipes impression. I'm a pudgy twenty-something white guy, so I'll probably miss the auditions.
Since this is one of those backdoor pilots that will be shown regardless of whether the series gets picked up or not, you can look for this one sometime next year.
Herc, Blade may be badass, but when it comes down to it, he's no Angel.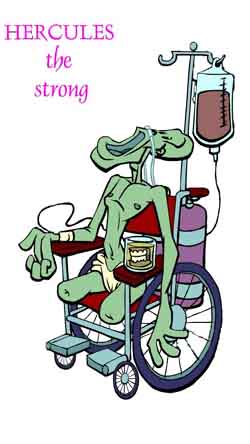 31 DAYS TO GO!! "Buffy The Vampire Slayer: The Complete Series," the best TV series ever produced, WAS available for $239.99 new (or $199.99 used). But NOW you can pre-order all seven seasons brand new, including a never-before-issued 40th bonus disc, for just $129.99!! That's like all 144 hours for – what? – 90 cents per hour!! A better Christmukkah gift is unimaginable!!!