It's a supernatural drama, from TV-movie writer John Gray (the remakes of "Brian's Song" and "Helter Skelter"), about a newlywed who sees dead people. It stars Jennifer Love Hewitt ("Garfield"), Aisha Tyler ("CSI") and David Conrad ("Relativity," "Miss Match").
It's also the worst new hourlong of autumn, an interminable throwback to CBS' "Touched by an Angel" era, boasting the blandest characters and the most tedious, cliché-happy plotting I suspect you'll see in any medium this year.
But what matters Herc's opinion? Variety says:
… cloying my-heart-(and-soul)-will-go-on drama, a shamelessly sentimental hour where the spirituality of "Touched by an Angel" and "Medium" meets "Joan of Arcadia's" former timeslot. Considerably less intriguing creatively than "Joan" … the first hour from writer-director-exec producer John Gray suffers because there's so little substance to it. … look past the surface and this throwback drama would hardly seem out of place alongside "Murder, She Wrote" and other remnants associated with the rural, old-codger image that the Eye net has labored to shed. …
… A series like this can go in a lot of different directions, and creator-writer-director John Gray takes them there. He goes for the scary, the funny and the overbearingly sentimental, but it is the latter that dominates. In the premiere, a horrific-looking and confused dead Vietnam vet appears to Melinda. As the episode progresses, not only does she assuage his torment in a most predictable fashion, but he undergoes a cosmetic makeover. By the time final credits roll, he looks good enough to be on a recruitment poster.…
… mawkish new series … a silly funereal spectacle … these whispered-to apparitions have none of the scariness of the "Medium" murder victims, the scolding of the "Providence" mom or the sass of the "Six Feet Under" corpses. The Casper-like "Ghost Whisperer" spirits could be scared off by any of these more plausible apparitions. … Neither Ms. Hewitt nor her series are malevolent forces, and the producers can feel as good as they choose about a cloying job well done. …
USA Today gives it two (out of four) stars and says:
… Will the next person who speaks to the dead do me one tiny favor? Ask them to shut up. At least the dearly departing who are yakking away on Medium are trying to help solve crimes. The ghosts who whisper to poor Melinda Gordon — Jennifer LoveHewitt, who is the heart, soul and, um, body of the show — are mostly interested in helping themselves … Doubtless this kind of death-walking sentimentality has its fans. And most of those fans probably won't even wonder why some of the dead are stuck in the clothes in which they died, while others get to rent tuxedos. …
… TV already has one successful Medium. Can this cloying, sentimental hokum succeed where Joan of Arcadia failed? …
8 p.m. Friday. CBS.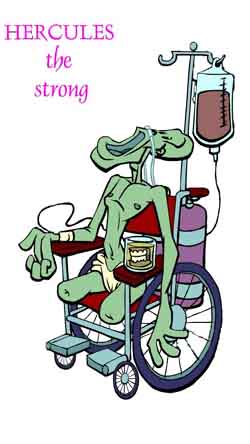 Get this!! "Buffy The Vampire Slayer: The Complete Series," the best TV series ever produced, WAS available for $239.99 new (or $199.99 used). But NOW you can pre-order all seven seasons brand new, including a never-before-issued 40th bonus disc, for just $129.99!! That's like all 144 hours for – what? – 90 cents per hour!! A better Christmukkah gift is unimaginable!!!