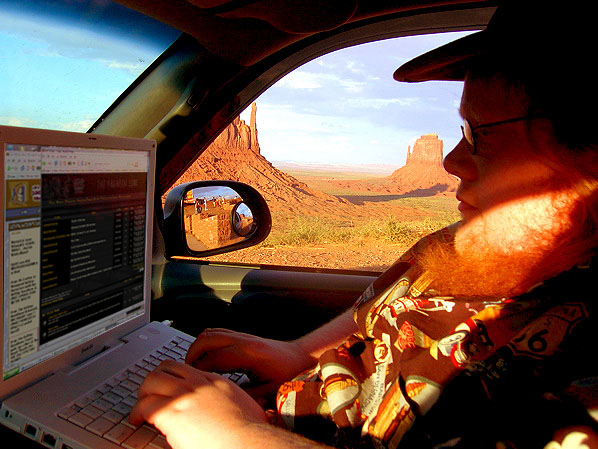 Monument Valley. Never been here. My God.
As I sit here waiting for Alex Cox to introduce C'ERA UNA VOLTA IL WEST aka ONCE UPON A TIME IN THE WEST – and for Leone's Masterpiece to unreel, I just can't believe I'm actually here. The monuments are all around me, the sun's last drowsy gaze is closing and the storm that was here a mere 3 hours ago has gone the way of its rainbows. They'll all be nothing but memories, some of the fondest of my life. As I woke up at 7am this morning in W.C. Fields' room at Hotel El Rancho, the same Hotel John Wayne stayed at while shooting on the John Ford flicks... I knew, I knew today would be a day for the books.
I can hear the echo of Steiner here, I can almost imagine an eyepatch wearing John Ford firing a gunshot in the air to start cavalry charges. I look at this place in black & white and Technicolor… I see Forrest Gump running here and I want to see the Roadrunner and Wile Coyote at every turn. But mostly it is the westerns. The bestest westerns.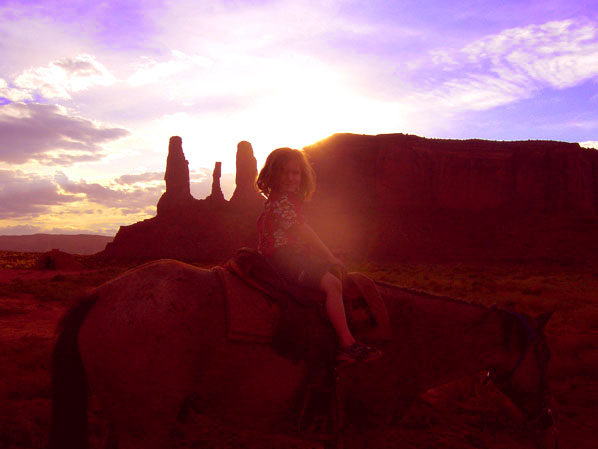 About an hour ago at John Ford Point, an Navajo Indian by the name of Gerald placed him upon a pony named Spur and my nephew road the same trails and roads as Charles Bronson, John Wayne, Henry Fonda and John Agar. He had this smile like a kid stuck smack dab in a dream. He's never seen a western set here before. I'm actually jealous. He feels this is the most wonderful place on Earth, I am agreeing.
As the music pounds out of these speakers I'm gently playing along with my harmonica, smoking strong Indian tobacco and from time to time, I'm typing to y'all. I truly wish all of you reading could be here. I am so at peace here. The cel phone can't reach me. I have to go to a motel's parking lot for wifi and frankly, I'm not all that concerned with it. But more so – I really want there to be 20,000 people here for this. I know Westerns are not the big thing nowadays. Most of you film geeks tend to worship science fiction, horror and fantasy… but dammit – this was written by Dario Argento, Bernardo Bertolucci and Sergio Leone.
There's an intimate group here, about 15 at this point. We're all friends now, we've been traveling across 4-5 different states. There was a mass mooning earlier… Don't worry, I didn't partake… These monuments have stood too long to tumble at the sight of my ass. There's a goofy elation to being here that would make you drop your pants… though it'd be the height of egotism to assume anyone would stare at your pock-marked ass when you have Monument Valley to behold instead.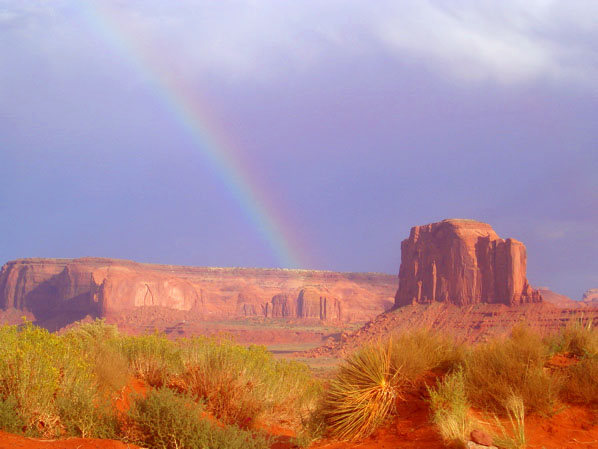 Just being in this magnificent awe-inspiring place is enough to change a person. I've been working for the past year & a half on a film that… well at it's heart & soul is this place – everything that has ever shot here. Staring at artist's pre-production work is cool – but seeing some of the landscapes with real light hitting them, through real lenses… It all pops and excites at a level I know I can't communicate. I can't believe I haven't been here already – that it took Tim League and the Rolling Roadshow and ONCE UPON A TIME IN THE WEST to get me here. But I tell you one thing for damn sure. I'm coming back to this place. It is beyond any and all expectations. For every shot I've seen shot here, there's a million angles that haven't been put up on screen – and a majesty and imagination that has yet to be seen onscreen.
There was a part of me that was going to shoot film the green screen way, but no more. I'm going to do things with this place – right over there… that have never been imagined and I can not wait.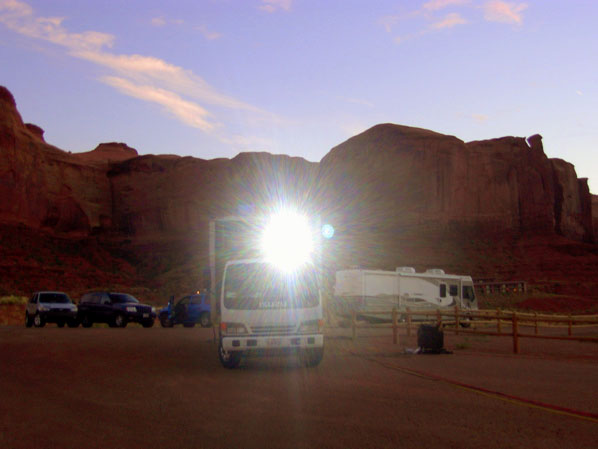 It's getting very dark now, they're setting up the lights for the opening statement. The sun has nearly completely set behind the Oljato Mesa behind us. The Projection Truck has been fine tuning the focus and light and sound levels for a bit. It's like an orchestra tuning up for a performance. Tim League comes out in a fluorescent orange jacket and takes the mike.
He welcomes the audience of 70-80 folks that made it Monument Valley with the excuse to see ONCE UPON A TIME IN THE WEST. Tim tells us that it was this location and this film that made him dream of the Rolling Roadshow tour that we're doing. That for many of the folks that have joined the tour, this was the one that made them do it all. I know that was the case for me. Originally, it was all about Devil's Tower… and while I'm frothing at the mouth to see that film there… It was ONCE UPON A TIME IN THE WEST that made me drive with my father and nephew across the entire west. I couldn't bear to hear what I might have missed.
Tim tells the audience that he hopes some of them will join the tour for the next two weeks – and when he mentioned the REPO MAN screening in Los Angeles this Saturday – he said that while he had most of the cast set up for that screening, he really wanted Alex Cox, the director, to come do the REPO MAN screening with the Roadshow. Alex was open to the idea, but kinda didn't want to do it too. Not because of Tim, but because well… he's always asked to do stuff with REPO MAN. Tim explained the whole tour to him, and Alex stopped him with this bargain. If Tim would fly him to Monument Valley to introduce ONCE UPON A TIME IN THE WEST – he'd do the REPO MAN screening and with that… out of the red dust muted by the dimming night came a man in a white straw cowboy hat and ass stomping shoes…
ALEX COX enters the brightest light in Monument Valley!
As he started, he announced that he was honored to be in our presence this evening and thanked us all, and Tim and the Rolling Roadshow. He said, he hoped this ROLLING ROADSHOW would continue every year, but his fear was that what we were experiencing this evening was a once in a lifetime experience.
I get the idea he doesn't say that lightly. Alex began talking about how this was just one of many locations they used for the film. That they shot in Spain – home of the spaghetti westerns – and other spots here in the U.S. He kept the intro short as, I think he wanted to see the film immediately… I know the feeling. Time to put this away – I'll chat after the sceening my friends.
Just a note about where I'm typing right now. I'm in a teepee on the backside of Oljato Mesa.
Purportedly – this teepee was crafted by the same teepee creator that made the ones for Kevin Costner's DANCES WITH WOLVES – remind me when JOHN CARTER OF MARS comes out to tell you a funny teepee / Dances With Wolves story. Anyway – it was hell getting into this thing, but now that I'm inside – it's really quite lovely. Father Geek and I are smoking the peace pipe he bought at an Indian Trading post. He's that sort of fella. Heh. And I'm way energized by the screening and the locale. It's about 65 degrees out and it feels amazing.
I can't shake the sensation of typing on this laptop from a Teepee. I'll send out these pixel smoke signals later today, but I must get down these impressions. The skins of this teepee are so wonderful smelling and you can hear animals and critters all about. THIS IS SO FUCKING COOL. Inquire with FIRETREE INN about staying in this TeePee or their Hogans. The 3.3 mile trip past the road is awesome, specially driving through the sand at like... oh... MIDNIGHT! Ok, back to the screening…
As great as ONCE UPON A TIME IN THE WEST was tonight, the show around it was just jaw-dropping. These are the things that I could never take a picture of, the memories that hopefully only my words could conjure and preserve.
There were trailers for THE STRANGER AND THE GUNFIGHTER, COMIN' AT YA and THE OUTLAW JOSEY WALES and a pair of Spaghetti Westerns that I was less familiar with. Then it went into the film.
As the screening began, it seemed as though there were just a few stars here and there. By the time Cheyenne appeared though… strange things were afoot. To the left of the screen was The Big Dipper – so bright, so big, so clear that it seemed the film was being poured out of it. Also to the left of the screen – untold miles away was a lightning storm – which continued to the right side of the screen as a yellow-orange moon began its gigantic debut from behind the monuments. Oh and above the screen was what I think was the Little Dipper.
As the screening continued clouds rolled in backlit by the moon, giving a nice lamp to Monument Valley whose deep black silohettes reminded me of those iron cutouts – but with majesty and a sense of scope.
Moments that I'll never forget.
The extreme close-up on Charles Bronson's greenish-yellow lion eyes as nature's light show boomed from all around. It felt as if God was pissed that we were trying to focus on anything other than his creation. But try as He might, our eyes were on Bronson. I swear his eyes are sweating at that moment. It's amazing.
Having said that… Leone's creation was the show piece that tied it all together. As my nephew saw Claudia Cardinale riding past the 3 Sisters – which he had ridden past earlier that day… he began to flip out. It was wonderful to behold. Jack Elam's blessed play with the fly. Has the idle time of a murderer ever been this much fun?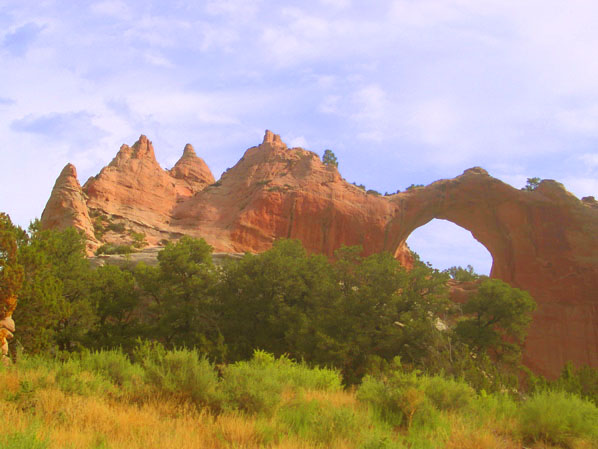 We'd been driving around all day to Morricone's score for ONCE UPON A TIME IN THE WEST – and ya know… Jill's Theme is a helluva theme for Monument Valley. But it tends to work great with just about any natural splendor. Take – Window Rock… Hearing those soaring sounds as you look at nature's tribute to CITY ON THE EDGE OF FOREVER – well – it just made me giddy.
But bopping along a road at 70 to Cheyenne's theme by Ennio… well, ya can't help but smile and be happy. And ya know what. Monument Valley actually got my nephew to put down the PSP. It was amazing. The kid wanted to do nothing but stare with a slackened jaw at those rocks. And everytime Cheyenne's theme kicked in he'd begin giggling and talking about wanting to ride a horsey.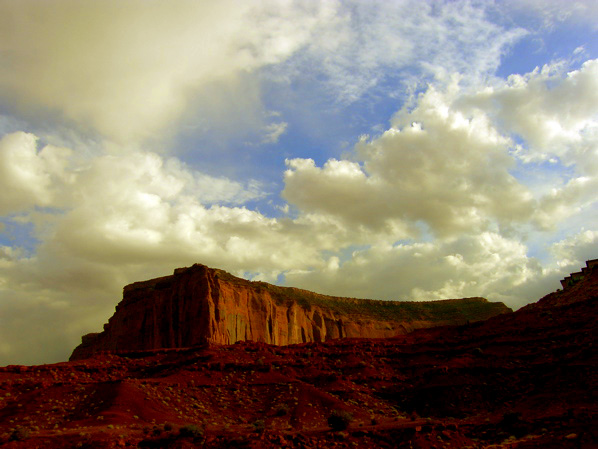 I think I took about 600 photos today. Most of them were not take-offs on Leone or Ford though. I really enjoyed trying to find different angles of familiar majesties. But the entire day was topped by the night. After the film – this was the first night where everybody had to enthuse and spill-over in regards to just how fucking amazing seeing this movie with the backdrop that we had was.
And the sound! My god. When Jack Elam & Woody Strode are walking on that amazing railyard deck thingamagig… it felt like they were moving amongst us. And Henry Fonda's eyes… has there ever been any bluer? And that young Fonda flashback… sleaziest looking S.O.B. ever… and he's such a sweetheart of a man, but when I met Peter Fonda – I couldn't get this version of Henry Fonda out of my head. God I hope GHOST RIDER uses him right.
There's also a sadness to this film. Everyone but Claudia Cardinale is gone. It's hard to imagine anybody in this film being gone. The photography has them living, breathing, sweating and being 100ft tall here.
This may very well be the greatest screening in my life. That moon, those storms, these wondrous stars and the company of folks with whom I saw it. Reverent and behaved. Every last one of them was in love with this movie. Tomorrow night at Lake Powell is PLANET OF THE APES – heh – that's going to be so much fun.
Well, from my TeePee in the Heart of Monument Valley, Hágoónee'!!!