Hey folks, Harry here... sorry if I'm caught up in the midst of Kongmania. Listen - the background of my site has been Kong ever since 9/11 - strictly because it's my favorite image of film history. King Kong and the log with the hapless sailors and men of the Venture... it's just legendarily awesome. I can not wait for this DVD. It is Kongmas this Holiday season. And I can't wait till the big furred fella's foot comes stomping on my house! Thanks to BlueBottle from the Zone for the pic!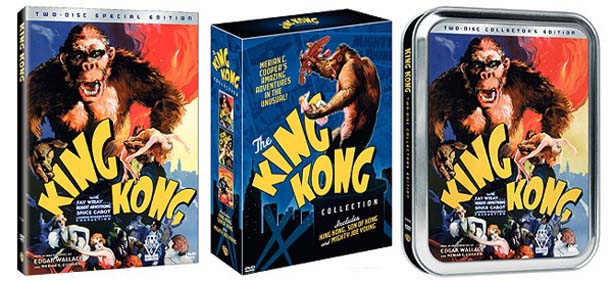 And these are the official specs I got sent:
The King Kong: Two-Disc Special Edition (SRP $26.99) will include the 104-minute restored and remastered B&W film on video in its original full frame, with Dolby Digital 2.0 mono audio and English, French and Spanish subtitles.

Extras will include audio commentary (by Ray Harryhausen and Ken Ralston, with Merian C. Cooper, Ernest B. Schoedsack, Ruth Rose, Fay Wray and Robert Armstrong)

The 2005 I'm Kong: The Exploits of Merian C. Cooper documentary

A gallery of trailers for other films by director Merian C. Cooper

The new RKO Production 601: The Making of Kong, Eighth Wonder of the World documentary by Peter Jackson (featuring the following featurettes: The Origins of King Kong, Willis O'Brien and Creation, Cameras Roll on Kong, The Eighth Wonder, A Milestone in Visual Effects, Passion, Sound and Fury, The Mystery of the Lost Spider Pit Sequence and King Kong's Legacy)

Creation test footage (with commentary by Ray Harryhausen).

The King Kong: Two-Disc Collector's Edition (SRP $39.98) will include all of the above in limited tin packaging that also features a 20-page reproduction of the original 1933 souvenir program, King Kong original one-sheet reproduction postcards and a mail-in offer for a reproduction of a vintage theatrical poster.