Hey folks - Harry here, got a couple of reports with some treats from SIGGRAPH and the Disney presentation there that I thought you good folks would love a look see of. Here's Teeth with the story:
Hey Harry,

I got video from siggraph for American Dog and A Day With Wilbur Robinson, no sound but the floor was so loud you wouldn't of been able to hear it anyway. Looks like really good stuff, really pushing the 2d cartoony animation in 3d. I also got a chance to play with the Chicken Little character rigs, its amazing how far they can push the poses on those characters and still look good.

Enjoy,

- Teeth
Then there's this report on Glen Keene and what he's up to on RAPUNZEL UNBRAIDED, sorry no video - from the sound of this report... it had to be frickin amazing. Glen is one of those magicians at Disney I was talking about. If given the freedom to experiment and play in this new medium... then the heart and soul and the magical nuance can be there... as long as they're allowed to.
I was a Siggraph05 and saw some Rapunzel Unbraided test footage presented during the Disney Special Session.

The look of the film will be amazing. The style is pure, classic frigging Disney magic. The 3D characters look like… Disney characters… Glen Keene, the creator of Ariel, the Beast and Pocohontas is directing this one and doing the art production. He based the style on this picture.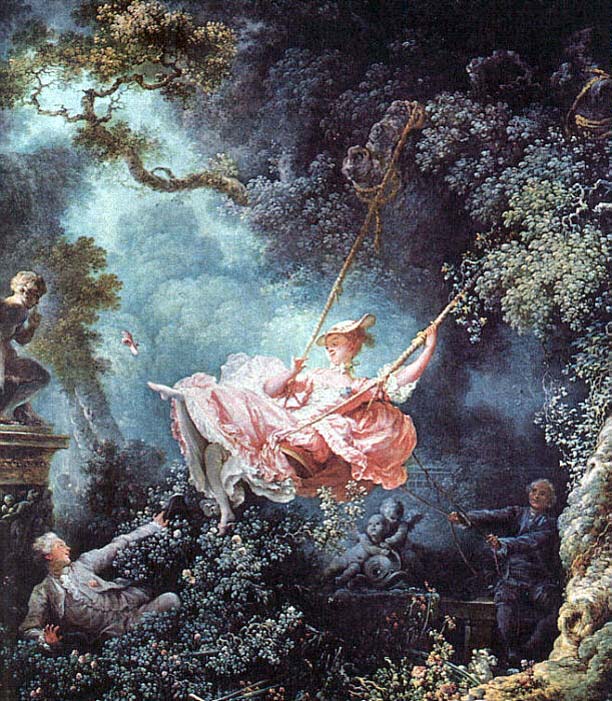 Fragonard's "The Swing"

He showed a still of Rapunzel in an environment that looked straight out of this picture, complete with swing and quirky lighting (minus the perv looking up her skirt.) Cool… Nice still.. very pretty. But THEN HE ROTATED THE CAMERA! A fully 3D environment straight out of this picture.

Then he went on to show a short (3-5 second) test clip of the animation… this movie is both BEAUTIFUL and truly, deeply, and recognizably a Disney Feature Length animation in the tradition of Snow White and Cinderella.

I am totally jazzed. The guy next to me was losing his mind over it. If only the title would lose the lame ass "Unbraided" at the end. Disney marketing needs an enema. Glen Keene is a genius… and I got his autograph.

I guess "Disney Magic" didn't totally die with them losing the 2D crew afterall. I know I was as worried as you were, Harry.

I also saw some Chicken Little footage. Cute movie, but not like as magic as Rapunzel by far.

'nuf said.

Alarean