"Alias" SPOILER!! Invisotext on: We got word today that, because Jennifer Garner's movie-star pregnancy is being written into the series (it's supposed to be Vaughn's!), Rachel Nichols, formerly of "The Inside," will be doing most of the kung-fu on "Alias" This season.
Here's when to expect fresh "Alias," and fresh everything else ABC has on tap this fall:
"According to Jim" Sept. 20
"Alias" Sept. 29
"America's Funniest Home Videos" Oct. 2
"Boston Legal" Sept. 27
"Commander In Chief" Sept. 27
"Desperate Housewives" Sept. 25
"Extreme Makeover: Home Edition" Sept. 25
"Freddie" Oct. 5
"George Lopez" Sept. 28
"Grey's Anatomy" Sept. 25
"Hope & Faith" Sept. 23
"Hot Properties" Oct. 7
"Invasion" Sept. 21
"Lost" Sept. 21
"Night Stalker" Sept. 29
"Rodney" Oct. 4
"Supernanny" Sept. 23
"Wife Swap" Sept. 12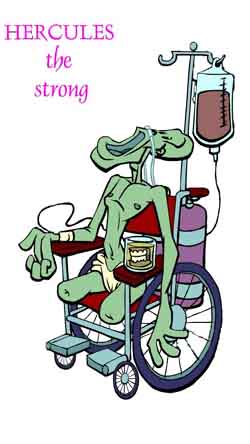 Were Anakin Skywalker and Darth Vader two different people in the early drafts of "The Empire Strikes Back"? All is revealed in The Annotated Screenplays (Star Wars, Episodes IV-VI)!!
!!
Look! Christina Ricci cavorts nakedly!
Prozac Nation on DVD!!
Look! Original casting tapes! Deleted scenes!
Audio commentaries! Backstage with Drive Shaft!
Lost: The Complete First Season on DVD!!