"The Simpsons" premiering before Halloween? It's true, at least according to Monday's announcement from Fox.

American Dad: Sept. 11
America's Most Wanted: Sept. 10
Arrested Development: Sept. 19
The Bernie Mac Show: Sept. 23
Bones: Sept. 13
Cops: Sept. 10
Family Guy: Sept. 11
Head Cases: Sept. 14
House: Sept. 13
King of the Hill: Sept. 18
Killer Instinct: Sept. 23
Kitchen Confidential: Sept. 19
Mad TV: Sept. 17
Malcolm in the Middle: Sept. 23
The OC: Sept. 8
Prison Break: Aug. 29
Reunion: Sept. 8
The Simpsons: Sept. 11
The War at Home: Sept. 11 ("That '70s Show" returns Novemberish. "24" is back early next year.)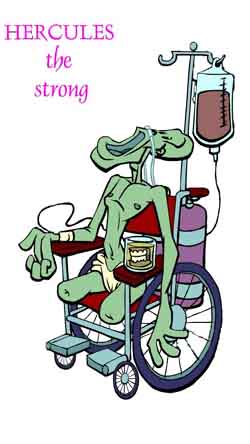 Were Anakin Skywalker and Darth Vader two different people in the early drafts of "The Empire Strikes Back"? All is revealed in The Annotated Screenplays (Star Wars, Episodes IV-VI)!!
!!
Look! Christina Ricci cavorts nakedly!
Prozac Nation on DVD!!
Look! Original casting tapes! Deleted scenes!
Audio commentaries! Backstage with Drive Shaft!
Lost: The Complete First Season on DVD!!