The BBC hired the guy who created "Queer As Folk" to write a whole bunch of new "Doctor Who" episodes. They're now airing every Saturday night in the United Kingdom, and the eigth aired a few minutes ago.
Beware the many uninvisotexted spoilers!
"Zoe F" says:
Dr Who Episode 1.8
Title
Father's Day
Plot
Rose persuades the Doctor to take her back in time to 1987, when her dad was killed by a hit and run driver, so she can see him before he dies. Unfortunately Rose can't resist the urge to save her dad thus throwing a huge squidgy bollock into the space time continuum and letting some nasty beasties called the Reapers through to decimate the population of the world.
Good Thingies
* Cheesy 80's background music at the beginning of the episode - hoorah!
* Effin' HUUGE 80's mobile phones
* The Doctor glaring at Rose for a considerable amount of time after she saves her dad
* Rose's extensive embarrassed rant about why her dad couldn't date her
* The big assed reaper materializing in the church and killing the Doctor.
Bad Thingies
* Not many really. Even the reapers looked like a cool cross between the aliens from pitch black and a dragon.
* Getting a bit fed up with everyone assuming the Doctor is Rose's boyfriend - enough with the Mulder/Scully chemistry crap already.
Verdict
Very good episode. Brilliant acting from everybody and a very sad ending which had the 8 million or so viewers weeping into their dinner.......or at least saying 'aw poo'.
"Gerald the Dalek" says:
AT-TEN-TION WRET-CHED EARTH MEN!!!!!!!!! I AM IN PAIN!!!!! GE-RALD FEELS VI-O-LA-TED!!!!!!!!!! I WAS AL-MOST DROWNED IN YOUR WRET-CHED 'E-MO-TIONS' THIS EVE-NING!!!!!!!!!! BE-WARE FOR I SHALL SPOIL YOU!!! BUT THAT COMES LA-TER - FIRST I MAY LET SLIP ON WHAT HAP-PENS IN THIS EP-I-SODE!!!
THERE I WAS HAP-PIL-Y EX-TER-MIN-A-TING A CREW MEM-BER ON THE SET OF RE-VENGE OF THE DA-LEK FOR NOT LU-BING MY PROBE FAST E-NOUGH WHEN I WAS BOM-BAR-DED WITH THE LA-TEST EP-I-SODE OF DR WHO!!!!!!!!!!
IT IS PI-TI-FUL!!!!!!! IT IN-VOL-VES PLEAS-ANT-LY SHAPED COM-PAN-ION 9458 "ROLE TY-LER" AND HER PATH-ET-IC AT-TEMPTS TO PRE-VENT THE EX-TER-MIN-A-TION OF HER FA-THER IN THE YEAR 1987!!!!!!! I SAY WHY BO-THER HE IS A GIN-GER BUT WHAT CAN YOU DO?!?!?! BLOO-DY HU-MANS!!!!!!!!!
SO SOME RE-JECTS FROM PITCH BLACK AP-PEAR AND START EA-TING PEO-PLE!! THIS IS FINE WITH ME!!! HOW-EV-ER THAT GIT OF AN ARCH NE-ME-SIS OF MINE GETS IT IN-TO HIS FLAB-BY TIME LORD CRA-NI-UM TO STOP THIS!!!! THIS DIS-PLEA-SES ME!!!!!! THEN HE IS EA-TEN!!!!!!!! THIS PLEA-SES ME GREAT-LY!!!!!!!!!!!!!!!!!! THEN THE MOST PRE-DIC-TA-BLE AND PATH-E-TIC ACT OF SELF SAC-RI-FICE TAKES PLACE AND WE ARE BACK TO SQUARE ONE!!!!!
ALSO THE DOC-TOR RE-FERS TO HIS PI-TI-FUL YET ODD-LY SOI-LA-BLE COM-PAN-ION AS A STU-PID APE! CON-SI-DER-ING THOSE EARS OF HIS I FIND THIS HIGH-LY I-RON-IC!!!!!
AN EX-TER-MIN-A-TION RA-TING OF 53 PER CENT FOR THIS ONE! BUT THE NEXT TRANS-MIS-SION HAS LOTS OF THINGS BLOW-ING UP!!! NO DA-LEKS THOUGH – IN-SUF-FI-CI-ENT!!!!!!!!!!!
UNTIL THEN YOU RAN-CID BAGS OF MEAT!!!!!!
LOVE GE-RALD.
"Doctor Dan" says:
DOCTOR WHO – 27.8
Episode 8
"Father's Day"
Writer:
Paul Cornell (Doctors, Holby City)
Director:
Joe Ahearne (Strange, Ultraviolet)
Guest Cast:
Shaun Dingwall: Pete Tyler
Camille Coduri: Jackie Tyler
Casey Dyer: Boy
Rhain James: Suzie
Natalie Jones: Sarah
Christopher Llewellyn: Stuart
Frank Rozelaar-Green: Micawber
Synopsis:
Rose persuades The Doctor to let her witness her father's death in 1987, with disastrous consequences after Rose changes history…
Verdict:
Another week, another episode not written by Russell T Davies, and (consequently) another great Doctor Who episode. "Father's Day", written by Paul Cornell, puts the emphasis on the whole paradoxical nature of time-travel. After Rose saves her father's life in 1987, the past is changed and strange creatures known as Reapers descent on London to take advantage of the situation (by "deleting/eating" people). As with most time-travel stories, not everything here makes sense, but the gist of things is sound enough and allows some interesting developments – not to mention some great acting from all concerned.
. Christopher Ecclestone again relished being able to bring some much-needed drama and anguish to his role, and Billie Piper is finally given a dramatic situation to sink her teeth into. Both prove extremely capable actors, brilliantly assisted by Shaun Dingwall (Pete Tyler) and Camille Coduri (Jackie Tyler). The performances are the best there has been on Who, primarily because there's a tangible, human, tragic aspect to the story that all actors are more comfortable with emoting.
. The effects throughout are of a high quality, particularly the excellent Reapers (imagine a pterodactyl-gargoyle hybrid), and even the incidental music (so often the bane of Who this year) proves quite emotionally-charged. It helps that the potentially complicated story is realized quite succinctly by Cornell, despite some illogical moments, and it has an underlying emotional weight absent from all previous Who episodes this series.
. Overall, this is a deft and emotionally satisfying story with some great performances from the cast. There are some moments that don't quite makes sense (why does the driver who missed hitting Rose's dad keep appearing and vanishing outside the Church – the accident didn't happen there, and there's no reason for this "blip" to exist anyway…), but if you're not anal about time-travel logic… then "Father's Day" is a fulfilling experience for all Whovians and general audiences alike.
The Good:
. a) The Reapers – superb CGI that wouldn't look out of place on big-budget US shows.
. b) Some superb performances – particularly from Billie Piper.
. c) A more adult and emotional story that, while occasionally illogical, should prove challenging for younger audiences and emotionally relevant for older audiences.
The Bad:
. a) The logic of the time-travel isn't quite up to scratch. **SPOILER**: if 1987-Jackie knows now about Rose's time-travelling, why is she so surprised by events in the previous episodes set in 2005, for example. But I guess such problems are inherent with these stories. Still, it would be nice if future episodes revealed that Jackie always knew The Doctor would come a-calling… hmmmm…
The Geeky:
. a) The TARDIS key can be used to transport the TARDIS remotely. I wonder if this "get out" will be utilized in future episodes…
. b) If time is messed with, causing a paradox, then apparently the TARDIS is programmed to slam down "double doors" and prevent The Doctor from leaving the scene of the "crime"…
. c) The Time Lords would apparently have kept this situation under control from the Reapers, if they were all still alive…
Doctor Dan's Rating for 27.8:
****
Next Week: Another two-part episode, as The Doctor and Rose travel back in time to World War II, where a mysterious cylinder is being guarded by the Army. Meanwhile, homeless children, living on the bombsites, are being terrorised by an unearthly child. And when Rose meets the dashing Captain Jack Harkness, it seems she may have found a hero greater than The Doctor himself...
"SuperToysLast" says:
Doctor Who 27.8
What's it called?
.Father's Day
Who's it by?
.Paul Cornell
What does the Radio Times say?
.When Rose travels back to 1987 and the day of her father's death, her meddling in the course of events has terrible consequences for the human race - in the form of the fiendish Reapers.
The verdict?
. Rose was just a baby when her father died, so she wants to travel back in time to see what he was like. The Doctor warns her to be "careful of what you wish for", but grants her wish. They briefly travel back to her mother and father's wedding day, but Rose wants to do one thing for her father. He was killed in a hit-and-run accident and was alone when he died. Rose wants to be there for him.
. They travel back to November 7th 1987 and see her father killed in the accident. The Doctor tells her to go to him, but she cannot bring herself to do it. She asks the Doctor for one more chance. They travel back once again, but the Doctor says that this is the last time that they can do it as two copies of themselves being in the same place is dangerous enough, let alone three. But Rose cannot bear to see her father die a second time and runs into the road to save him. This change in time causes the original copies of the watching Doctor and Rose to vanish. All appears to be well, until the dragon-like Reapers appear to take advantage of the wound in time...
. This was less touching than it should have been, but not as mawkish as some may have feared. The solution of how to fix the wound in time is obvious from the beginning, but is relatively well-handled. We get the predictable moments of Rose discovering that her father wasn't quite as wonderful as her mother made him out to be, but this is made up for by an affecting performance by Shaun Dingwall. The viewer does come to care about a man who realises what must be done.
. The best moments, for me, were after Rose saves her father's life and the Doctor just gives her stony silence for a scene or two. He then calls her "another stupid ape" who doesn't want to see the universe - just what the universe can do for her. The most interesting bit here is when the Doctor says that of course he thought about going back to change things when Gallifrey and "my entire family" were wiped out in the Time War. In a previous episode I had noticed a significant pause before the Doctor said "I don't do families". I can only speculate, but it seems likely that we will discover more about the Doctor's family before the series is out. Either in the final two-parter or maybe the person he "thought was long dead"? That may be the Master, of course, but we shall wait and see.
. After fleeing into a church to hide from the Reapers, the episode yet again gets stuck in one location. But this is less of a problem than before as this allows room for some low-key, thoughtful conversations. The main problem is that the music goes back to overwhelming the drama being played out onscreen. It really is off-putting and even the music which does work (the light piano refrains) is allowed to drag out too long, instead of being used more effectively in brief sections. I just hope that the next series will use an orchestra instead of one guy and a computer.
. Overall, a predictable episode but far from bad. And some may appreciate it all the more for being less about science fiction and more about human concerns.
Supertoyslast's rating for Doctor Who 27.8?
***
"Monko Fong" says:
Hello Hercules,
I've been meaning to write to you since the new Dr Who started airing here in the UK but haven't been quick off the mark enough to get an email off to you before you post your reviews but at last I'm getting my arse in gear! I know I've not been in touch with AICN before so in order to qualify myself to write to you just let me say that the closest I've ever seen on TV to my everyday life is Pegg/Stevenson/Wright's "Spaced"! I'll keep this all spoiler-lite.
I have read the reviews Dr Who has been getting from UK fans writing to you and I feel the need to add my thoughts. It's true that the new series does not hit all the notes geeks might be wishing to have played at them. But it does something much, much better in my opinion. Instead of fulfilling our wish-lists Dr Who is instead a major mainstream hit and has brought quality, intelligent TV back onto Saturday nights in an era where multi-channel TV is supposed to have killed off the possibility of such programming being viable. My very mainstream friends love it, discuss it and ask me questions about who played past Doctor's, I see kids in stores nagging their parents and shouting 'Wow! Dr Who!' when seeing Tom Baker DVD's on sale, I sit at dinner parties and hear new fans of the show coming up with theories on the origin of the Doctor…. I could go on and on…
Does it tickle all my fancies? No, but it is damn good and has made Sci-Fi accessible to the mainstream while still retaining the intelligence and wit that keeps folks like us following the best the genre has to offer. It's no wonder the Sci-Fi channel in the US pasted on it - I don't think it will fit their demographic at all. Instead of having my wants fulfilled, instead I have the pleasure of watching people around me finally paying attention to and falling in love with a show I could never have convinced them to watch - it is much more satisfying watching people get turned on to good TV than just enjoying it myself.
Tonight's episode 'Father's Day' was beautiful. The Doctor takes Rose back to witness the day her Father was killed by a hit-and-run driver. This being 1987 allows for some great costumes and set pieces. Rather than focusing on humour though we are taken on an emotional rollercoaster with Rose, who over come by grief saves her father and so alters history. With the Time Lords gone there is no one able to repair the 'wound' in time and soon pan-dimensional parasites has come to feed on the paradox - wiping the human race from history. As the creatures feed on damaged history, older buildings provide a hindrance to them so the Doctor holds ups with a wedding party inside a church. In the turmoil that ensues it becomes clear to Rose that her father wasn't the man she thought him to be but events take a turn which allow her to reveal to him who she is. The Doctor tries to formulate a plan to restore history and allow Rose's father to survive but his plans are disrupted. Realising that only his death can save the world and allow his daughter to grow up, Rose's father allows himself to be killed, restoring the world but allowing himself some final reconciliation with Rose and her mother.
I am very particular about my TV. The vast majority of it is utter garbage that makes me want to retch up my stomach acid and spew it over the television set just to make the torment stop. That sounds extreme but I say it only because I know how good the medium can be when talented people are allowed to pour heart and soul into a project. I am a graduate in Media Studies and I have to listen to my intelligential friends dismiss TV as an art form because all they see is rubbish 'celebrity' reality shows. Tonight's episode touched me deeply and brought more than a few tears to my eyes but what blow my mind most is that all those people defecting from ITV, all those kids and teenagers discovering Dr Who for the first time, might never have seen anything this good on TV before have just taken their first step in a larger world...
I agree with some of the criticisms given of the show. The first director wasn't great and the Alien invasion episodes were a bit too stupid at times but... man oh man. Mainstream TV in the UK hasn't been this good in years (and as a geek, my opinion now matters at dinner parties!)
Rock on.
Monko Fong's rating for Doctor Who 27.8?
*****
"Amir" says:
'Nother Saturday, 'nother Doctor Who. I was quite looking foward to this episode from last week's previews. Apart from the second episode in this series, which I missed, I've enjoyed every episode of Doctor Who so far. I have to say though, this one, while I didn't hate it, didn't quite do it for me. Don't get me wrong, it has flashes of potential and some scenes are good, but I guess this'll be the episode, unfortunately for writer Paul Cornell, which will have Doctor Who fans scathing and releasing all their critical bile.
The signs of weakness appear early on. When Rose starts talking about the day her father died, the episode shifts into melodramatic gear. Now, I'm not the kind of geek who gets into a uproar over any kind of romance. I thought the Hitchhiker's movie played it out with the right dose of humour, and I even enjoyed the teenage romance in Episode II in that goofy teenage, puppy love sort of way. Hell, A.I., a film much derided by critics for being too "Spielbergian" and soppy, is my favourite film. But this proved too much for me. Of course, it becomes obvious that Rose will save her father from a hit-and-run accident (though it takes her two tries, with two versions of the Doctor and herself present at the scene of the incident). The Doctor gets pissed with Rose for screwing up the space-time continuum, which is one of the many plot holes in the episode. After Rose asks how he can get away with it, the Doctor fudges the rebuttal of "I know what I'm doing." I've only got into Doctor Who with the new series, but on Doctor Who Confidential there was a clip from an episode where the Second Doctor was forced to appear before a tribunal for altering time. I mean, he just killed that mighty Jagrophess thing last episode and changed mankind's future (albeit for the good of mankind).
Anyway, there's a wedding at a church, but not a lot of the guests turn up. Why? Well, there's some creatures gobbling them up and making them disappear off the face of the earth, of course. These are dragon-like things (the animators say they based the design on an amalgam of various animals such as fish, praying mantises, etc.) that come from the time vortex and are devouring everything inside the anomaly. The church is a sanctuary because it's an old building, the older something is, the harder it is for these creatures to break it down (this seems oddly familiar, but I can't put my finger on it...), so the Doctor gets all the guests to run inside (apart from those who are stupid and get ripped apart). While I'm on the subject of guests, this was another positive aspect of the episode. The story is set in November 1987, and everything is appropriately, hilariously '80's. The massive hairdos, skew-iff eyeliner, annoying yuppies with bricks for mobile phones... Perfect. The dad's a typical wide boy selling odds and ends and all sorts of junk (not the great businessman Rose's mum told her he was), though the Del Boy reference was a bit obvious.
Melodramatic is a word that's going to be used when people review this episode (I was going to open this review with the cliched "Can you say... melodramatic?" but decided against it, thinking others would do the same). The same emotions, the same dramatic music... If they were used sparingly, this episode could have been better. As it is, it's too much. I was all for the idea of a family for the companion and a "real story", but here it's interfered with everything. The Doctor seems to be a secondary player in his own show. Despite Russell T. Davies' claims to the contrary in Doctor Who Confidential, this is a "soap-y" episode. That's probably why my mum liked it, not caring for this sci-fi malarkey. It was all a bit too Eastenders or "Corro" for me.
This episode served only to make Rose's mother an even more unlikable, annoying, thick-headed character. Despite telling the 5-year old Rose she loved her father, she brings up the word "divorce" when the two meet up at another couple's wedding (well, he has brought a strange woman along, even if it is his daughter, who is also in the episode as a baby. Confusing? On paper, maybe). When Rose's father realises that he isn't going to grow up to be a great father because he's supposed to be dead and tries to tell his wife that the strange girl he's with is Rose, the character of Rose's mum takes an unbelievably long time to get it through her thick skull.
The episode ends surprisingly well though. Here, the dramatics become less soapy and actually can be heart-warming. The car that was supposed to run the dad over is caught in a time loop and is haunting him by constantly appearing and disappearing in a circuit around the Church. Thank God the dad isn't as thickheaded as the mum. I thought Shaun Dingwall did a bang-up job of playing Pete Tyler, something good about the episode. His sacrifice, when he lets himself be run over by the car that will always be his doom, was well played. However, not everything's the same, as he doesn't die alone as Rose is by his side, and it's not a hit-and-run as the man who hits him gets out of the car. The people in the Church will have their memories of the incident wiped according to the Doctor, but that still goes against the whole "Butterfly Effect" of time travel and the reason that the dad could not live. Yet another plot hole. Ah well.
I'm not going to give a star rating, as it's against my nature. I might end up watching the repeat tonight, only to catch things I didn't hear or whatnot. But it won't be out of pleasure, like last week's hilarious Simon Pegg episode (this episode lacking any sense of humour whatsoever). It wasn't a complete failure, thank God, and things picked up.
Next week's episode looks cool, with a kind of Sky Captain World War II theme, with the Blitz, Zeppelins, Spitfires, and creepy plague-infected girls... Oh, and that nice old Richard Wilson from One Foot In The Grave. Then again, I thought that last week, didn't I...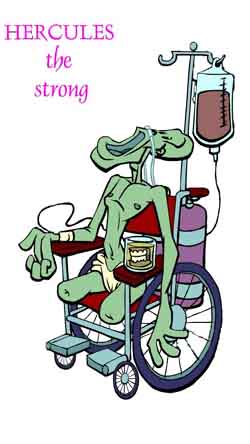 Looking for bumper stickers, plush toys and girls' underwear covered with cute cartoon double-amputees? Visit The Herc Store!