ABC has given "Alias" a fifth season, and I don't care! The Super Bowl episode in which Syd destroyed SD-6 was genius and, I now realize much too late, should have been where the show ended! I am pulling from my TiVo its season pass.
"Lost" and "Desperate Housewives" are back? News to shock no one. Both very popular shows.
David E. Kelley's "Boston Legal" is funny! And stars Shatner and Spader and Mitra and Monica Potter and Betty White! There might be another year in it!
CBS yesterday gave the boot to Don Bellisario's "JAG," the most bland and vanilla really popular show imaginable until "Housewives" came along. It's been on for like a decade. Catherine Bell? Still eleven kinds of cute, but now too old now to play Diana of Themyscira! So it's good she's all manner of rich.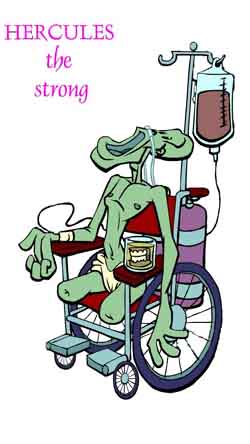 Looking for bumper stickers, plush toys and girls' underwear covered with cute cartoon double-amputees? Visit The Herc Store!