It was announced at the channel's "upfront" presentation to advertisers. The bad news is they won't start airing until early next year.
"The Venture Bros.," for those who haven't seen it, may actually be the best half-hour series in production right now. Which is to say it rivals even the likes of "South Park" in terms of its genius. It's about robots and sorcerers and scientists and bodyguards and superheroes and space-travel and pissed-off grown-ups dealing with it all. I believe they've made 14.5 episodes so far, and I've not seen one I didn't love.
"Aqua Teen Hunger Force," the show about the meatwad, got another season too, also to air in 2006. With the new season, there will eventually be a total of 75 "Aqua" episodes for you to buy and treasure on DVD.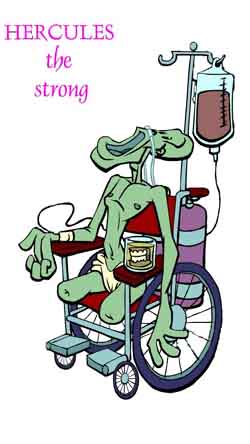 Looking for bumper stickers, plush toys and girls' underwear covered with cute cartoon double-amputees? Visit The Herc Store!