The Hollywood trade papers report Thursday morning that it's a done deal, though no start date has yet been set, and no one has been cast. AICN sources have long maintained that Warner Bros. hopes to have its big-screen "Wonder Woman" in the cinemas by summer 2006.
"Wonder Woman is the most iconic female heroine of our time, but in a way, no one has met her yet," Whedon said in a statement. "What I love most about icons is finding out what's behind them, exploring the price of their power. When ["Wonder Woman" producer Joel Silver] and I began discussing the character, I realized there is a woman behind the legend who is very fascinating, very uncompromising and in her own way almost vulnerable. She's someone who doesn't belong in this world, and since everyone I know feels that way about themselves, the character clicked for me."
For those new to the site, Whedon masterminded "Buffy the Vampire Slayer," "Angel" and "Firefly," three of the finest entertainments ever televised. He made his feature directorial debut last summer with "Serenity," the big-screen sequel to "Firefly," which hits movie screens in September. He also co-wrote "Toy Story" and created a really great script called "Alien: Resurrection," which was directed by a guy who didn't speak much English and the movie itself didn't turn out so good.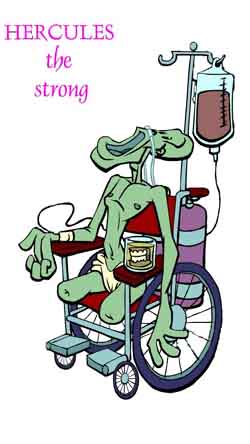 Looking for bumper stickers, plush toys and girls' underwear covered with cute cartoon double-amputees? Visit The Herc Store!