It's said NBC courted Martha to keep "Art of the Deal" author Donald Trump, who was angling for a much bigger "Apprentice" paycheck, in his place. Though Trump now gets an executive-producer credit on the Martha version, you can bet a second "Apprentice" star probably won't enhance Trump's bargaining position should the bloated boorish billionaire decide again to play TV-salary hardball. Now what did I do with that press release?
FOR IMMEDIATE RELEASE
MARTHA STEWART TO HOST NEW VERSION OF NBC'S "THE APPRENTICE"
CASTING BEGINS IMMEDIATELY IN 27 CITIES NATIONWIDE FOR "THE APPRENTICE" AND "THE APPRENTICE: MARTHA STEWART"
NEW YORK - February 2, 2005 - NBC announced today the network would broadcast an additional version of the hit reality show "The Apprentice" featuring Martha Stewart as host. The new edition will be titled "The Apprentice: Martha Stewart." The announcement was made by Jeff Zucker, President, NBC Universal Television Group. Donald Trump and Mark Burnett will serve as Executive Producers of both series.
"The Apprentice: Martha Stewart" will retain the general format of the original series including weekly eliminations, however, the style and feel of this new show will be tailored to Stewart's personality and brand identity. The tasks will be centered around Stewart's areas of expertise: media, home renovation, entertaining, design, merchandising, technology and style. Stewart will bring her own sensibilities and creativity to the elimination process.
"NBC is delighted to be working with an iconic, self-made, business woman such as Martha Stewart, a true entrepreneur who transformed a small catering business into a world-renowned empire," said Zucker, President, NBC Universal Television Group. "The series will be infused with Martha's celebrated grit and savvy as she offers others a chance to aspire to turn their dreams into hard-won reality."
"I am thrilled to be able to offer my good friend Martha the opportunity to join me in the success of 'The Apprentice,'" said Trump, Executive Producer, "The Apprentice." "As an executive producer, I'll be rooting for amazing ratings but most of all, I hope she has as much fun as I do with this venture."
"Martha Stewart is an American icon and was the world's first self-made female billionaire," said Burnett, creator and Executive Producer, "The Apprentice." "Donald Trump gives thousands of Americans the opportunity to apply to learn from and work for the most dynamic real estate tycoon in the country, while Martha Stewart offers her wonderful creative vision and expertise in the worlds of television, publishing and merchandising. This diversity of opportunity for both viewers and applicants will take our franchise to new heights."
"Martha has a unique ability to spot and nurture talent - as evidenced by the incredible team she built at MSO," said Susan Lyne, President and CEO of Martha Stewart Living Omnimedia. "We will welcome the winner of "The Apprentice" search to the MSO family in this dynamic period for the company."
Casting for both versions of "The Apprentice" begins immediately in 27 cities nationwide (see details below or log on to www.nbcuni.com). Candidates encouraged to apply should be creative, entrepreneurial, versatile, media savvy and articulate. They also should have expertise in technology, design, television, publishing or merchandising and possess good business acumen.
Casting cities and dates below:
New York, Detroit and Houston Feb. 4
Atlanta, Denver, Raleigh and San Jose Feb. 5
Las Vegas, St. Louis, Tampa and Washington D.C. Feb. 11
Dallas and Providence Feb. 12
Louisville and Philadelphia Feb. 18
New Orleans, Phoenix, Chicago, Oklahoma City, Boise and San Diego Feb. 19
Columbus Feb. 25
Orlando, Seattle, Indianapolis, Kansas City and Albuquerque Feb. 26
"The Apprentice" is produced by Mark Burnett Productions in association with Trump Productions LLC. Mark Burnett, Donald Trump and Jay Bienstock are Executive Producers. Conrad Riggs and Kevin Harris are co-executive producers.
Martha Stewart Living Omnimedia, Inc. (MSO) (www.marthastewart.com) is a leading provider of original "how-to" information, inspiring and engaging consumers with unique lifestyle content and high-quality products. MSO is organized into four business segments: Publishing, Television, Merchandising, and Internet/Direct Commerce. Martha Stewart Living Omnimedia, Inc. is listed on the New York Stock Exchange under the ticker symbol MSO.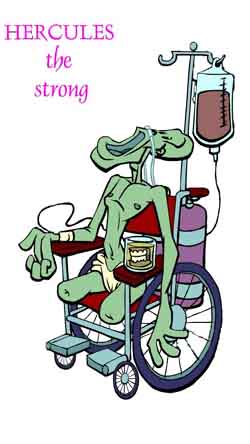 Looking for bumper stickers, plush toys and girls' underwear covered with cute cartoon double-amputees? Visit The Herc Store!