Hey folks, Harry here with my top 10 films of 2004. As most of you know, I hate making these lists. The following 10 films are just plain great. Comparing a Pixar film to a Dutch musical to a South Korean war epic to a Middle East Documentary is just plum insanity. But it's the lot in life of someone writing about film, to have to assemble a list like this. SO – here ya go…
The best documentary of the year. I've probably seen more documentaries this year, than in any other year I've been alive. This documentary is the inside story of Al Jazeera's coverage of the first part of the IRAQ war. You get to meet the reporters, producers… the folks inside what is publicized in the United States as being essentially co-conspirators of the Terrorist world. Instead – you end up seeing that they are, in fact, the only team that seems to be reporting BOTH sides of the story over there. That the U.S. Military's publicist adores them as being some of the best journalists over there. And… oh yeah, they're almost all ex-BBC reporters. The documentary crew shows some harrowing imagery kept from the petite eyes of the common American – and the truth, as they tell it, is quite infuriating. Watching the spin, manipulation and speed with which the current administration propagandizes their information… it's quite something. Especially when you see how much these reporters love the ideals upon which the United States was founded. BRILLIANT DOCUMENTARY.
Love this film. Brad Bird is two for two in a big way. THE INCREDIBLES' message of living to your potential, of communicating in relationships and simply old school superhero cool – made this film one of my favorites. It contains the very best score of the year. The pure CINEMA on display here is dizzying… especially during DASH's accelerated chase sequence. The film can not get to DVD fast enough for me. Perfect family entertainment.
Bertolucci creates a film drunk on the passions of youth… their sexual, intellectual and ideological awakenings and pursuits. The breaking of every rule, the relishing of living and the hurt that all of that can bring. The film is cine-crack for those that sit close to screens to simply see movies first. One of the great film geek date movies of all time! Eva Green… wow.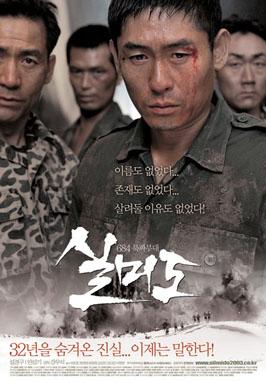 South Korea is where it's at! Watching SILMIDO and realizing that this is very much like THE DIRTY DOZEN… only this is so much better. Based on a true chapter in the history of Korea – the film tells the story of a group of condemned prisoners given the choice to leave Death Row – to be trained to assassinate Kim Il-Sung. That's all I'll tell you, that's all you really need to know. BUT – watching SILMIDO – watching what happened, how they were trained, what they endured and the ultimate outcome… the film is one of the greatest "mission" films of all time. You're not prepared for this movie.
Charlie Kaufman needs a statue built in his honor – the pure creative spark of originality and the ability to create stories with so much soul… There should be a cinema shrine erected for him. And – for the running times of his movies, there is no brighter shrine to inventive genius as his films. Michel Gondry knocked this one out of the park. Carrey and Winslet are amazing in the film, and rewatching it for the little easter eggs throughout the film is a joy. Possibly the greatest cinematic adaptation of Phillip K Dick's core literary values. And Elijah Wood is a scum bag in this thing! Beautiful film.
Wow. Talk about out of left field. I received a screener of this movie just 3 days ago. I've watched it 7 times now. Originally made in 2002, the film finally reached limited release in the United States in September of this year. Prior to that, the film was adopted by and wildly embraced by Gay & Lesbian Film Festivals all over the world. While, there's certainly nothing wrong with that, it is a shame beyond words that the film didn't find a wider audience in the United States. This isn't a Gay & Lesbian film, rather it is simply a brilliant MUSICAL COMEDY. First off, there's Tjitske Reidinga playing Jet. She's the spitting image of TROUBLE WITH HARRY era Shirley MacClaine. Oh my god is she amazing. Then there is Loes Luca who plays the titular Zuster of the film… or in English, Nurse Klivia. Loes is like some crazed bio-cloned mix of Ethel Merman and Lucille Ball. Amazing. Then there's Paul Kooij – who is simply a genius. The film is like if Busby Berkeley teamed up with Stanley Donen to make a Technicolor adaptation of some unknown Roald Dahl work of genius! Vunderval film! The English Title is YES NURSE, NO NURSE and will be hitting DVD in February!
As much as I love HERO, I love HOUSE OF FLYING DAGGERS even more. For me, HERO ultimately had a Fascist message laying beneath everything. The idea of blindly following a tyrannical leader in his pursuit to control all territories, to simply assault those that did not toe the party line… well, that's not what my upbringing and belief patterns formed in this country were based on. HOWEVER, even saying that – I love HERO deeply, though its politics were a bit too Bushian for me. HOUSE OF FLYING DAGGERS on the otherhand is a beautiful love story – based in a Romeo & Juliet-like tale of opposing factions, but given the spice of secrecy and hidden meanings. The action is stunning. That bamboo forest sequence may very well be the greatest segment of cinema this year… unless you count Zhang Ziyi's opening echo dance. OHMYGOD WOW! Gorgeous cinematography, beautiful score… I got to present this film at the Seattle Museum of Art and that is exactly where this martial arts epic belongs… to be worshipped as art!
This is Martin Scorsese's biggest cinematic geek emergence to date. Prior to this, I'd have to say it was CAPE FEAR… when he was just having fun as a genre lover. In AVIATOR – he gets to recreate TRU-COLOR, 4 STRIP TECHNICOLOR, the eras of old, his first real dynamic visual effects tour de force… and a great story filled with great characters ta boot! Cate Blanchett is simply awe-inspiring in this movie. Leo felt too young for me, but his acting ability made me completely see past his youthful presence. The flying, the clubs, every time Hepburn appears on screen, those damn Ava Gardner moments, the freak weird moments of Hughes! This film just is over-whelming in what it has to offer an audience. When Leo gets his day before Congress… I was electrified. What a wonderful scene. And Baldwin's office in the ol Chrysler Building! WOW! WOW! That was COOL! I wish all involved with this film the absolute best come awards time. They surely deserve it!
BEFORE SUNRISE was one of my favorite films the year it came out. When I heard Linklater was making a sequel – I couldn't help but believe it was a terrible mistake. The end result wound up being the best American film of 2004 in my opinion. At just a surface level – it would seem to be an easy movie to make. Only – looking back at it, there was a degree of difficulty that surpassed most all others. The idea of creating a real time walking movie of "magic hour" in Paris – between two one night standers… spilling out everything to one another in a breathless race against his leaving Paris and perhaps their forever losing of a dream left behind long ago. There's such a desperate sense of urgency with this film. That feeling of if not now, when. Jumping the curb of their everyday lives to try for a road they wish they had never left. I'm drunkeningly in love with this movie. That Linklater has one of my highest "can't wait to see in 05" movies with A SCANNER DARKLY – and this. Not to mention his homeruns with WAKING LIFE and SCHOOL OF ROCK. Linklater is making magic these days, and he's doing is consistently and often. Something that no other working American filmmaker is doing at his level today.
Fucking hell. That's what this movie is. Pure hell. If you're that person that screamed in agony when SHAKESPEARE IN LOVE beat SAVING PRIVATE RYAN – find this movie and realize just how much better TAE GUK GI: BROTHERHOOD OF WAR is than just about every war film ever made. A story of two brothers during the Korean War. The movie is spectacle larger than any film made this year, but as intimate as a tale of brothers could ever be. I grew up with Sam Fuller, Peckinpah, Spielberg and the war films of Hollywood. This thing… it's just amazing. I went to see it on "Can Day" here in Austin… where you donate 3 cans of food to the homeless and see any movie you want. I saw 4 films that day, this was the 3rd – and it just completely blew me away. I instantly got the Korean Box Set – and have seen it many times since… Unfortunately – the day I saw it in the theater was the last day it was showing in Austin. A BRILLIANT FILM. The film will just shake you to the core. The South Koreans are making brutally brilliant films. Amazing. Should be re-released with a major advertising campaign. The trailers you could cut of this thing… my god. Stunning film and my pick for the best film of 2004!
Below are the films that didn't quite make my top ten, but were exceptional films that I loved. That I didn't get to have these in my top ten is frankly a rather profound statement on just how great this year was. Seek out all of these titles and give them a chance. Some got a bum rap, others – didn't get much notice at all. They are as follows in alphabetical order.
ALEXANDER
COLLATERAL
FAHRENHEIT 9/11
GHOST IN THE SHELL 2: INNOCENCE
HELLBOY
HOTEL RWANDA
I HEART HUCKABEES
KILL BILL VOL 2
KINSEY
LOVE ME IF YOU DARE
MOTORCYCLE DIARIES
PASSION OF THE CHRIST
SHAUN OF THE DEAD
SIDEWAYS
SKY CAPTAIN AND THE WORLD OF TOMORROW
SPIDERMAN 2
SPRING, SUMMER, FALL, WINTER, SPRING
STEAMBOY