"Buffy the Vampire Slayer" mastermind Joss Whedon may write and direct a big-screen "Wonder Woman"? While Fox is still secretly pursuing Whedon for "X-Men 3"?? I tell you it's crazy enough to be true! This could be a hoax, but I find it at least a little hard to believe anyone would go to the trouble of making up something this unbelievable!! Moreover, this source seems to have the knowing of much, and is aware that, back in October, Whedon told the world that Fox never approached him about directing a third X-Men feature. Of course, October was a long time ago. Simon Kinberg (he's the fellow who did those uncredited rewrites for "Catwoman" and "Charlie's Angels: Full Throttle") has probably had time to turn in his draft of the "X-Men 3" script. So file this under "rumor." But if it turns out to be true, remember you heard the Whole Whedon Wonder Woman What here first …
Dear Moriarty, Harry and Herc:
I've sent in the odd movie review to Harry before, but never something like this. This is so good, so COOL - and so confirmed by multiple sources (hey, people hang out with work friends), that I wanted to give Ain't It Cool the world exclusive on this.
Joss Whedon is in final negotiations with Joel Silver and Warner Bros. to write and direct WONDER WOMAN for Summer 2006. Joss Whedon. Joel Silver. WONDER WOMAN. 2006. That's right, baby!!! Ain't it cool?
The only possible thing standing in this picture's way is X-MEN 3. I know what's been said, but Fox is still coming after him hard to direct that, and that's a tough thing for a guy like Joss to pass up. But he probably will. For WONDER WOMAN.
Call Joel Silver and ask him about it. I'm serious, this is very real. Negotiations are ongoing, but this could break in the trades any day. Guys, I'm giving you the exclusive because I'm such a fan of your site, but in a day or two, I'm going to send the info to other places as well...I'm that psyched about it, and I think that Joss's legions of fans should know how close they are to to gold-braceletted greatness.
So anything else I can do to prove my rightousness, email me back and I'll do it. Do your due diligigence, call Joel Silver, call anyone you want, and get this news out there. Because you guys deserve the exclusive, and the world deserves Joss Whedon's Wonder Woman.
Keep up the great work!
[spy name withheld]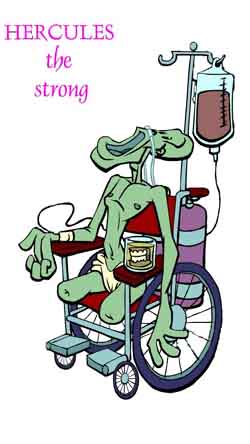 Looking for bumper stickers, plush toys and girls' underwear covered with cartoon double-amputees? Visit The Herc Store!