Hey folks, Harry here and man... this looks like seven cans of whup-ass and a triple-order of cool on the side. That sure does look like what I'd imagine a School for Super-Heroes to be like.... Only... where's all the tagging by "those" kids?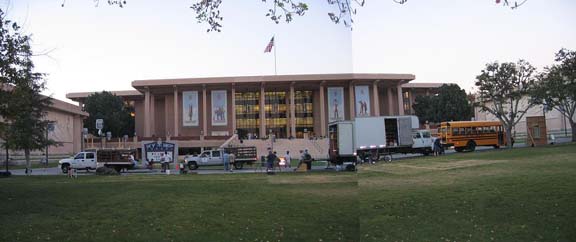 Hey Harry and Moriarty.
ZodsIllegitimateSon here with some news on Disney's new movie which has everyone's favorite big chinned, chainsaw wielding, deadite killer Bruce Campbell in it.
I attend California State University, Northridge and last week film crews began to take over the campus library. Didn't take long for me to find out that SKY HIGH would be taking that building as its own for the next two weeks.
Within the next couple days the palm trees surrounding the front of the library were covered by walls made to match the outer structure of the library. I spotted large pieces of carved styrofome sitting on the grass waiting to go up. It wasn't until today that I found out what those were. Huge murals on both sides showing caped crusaders off to the rescue. Soon enough the signs that showed this was the Oviatt Library were covered up with a sign saying it was Sky High. Banners showing the school's moto hung from the top of the main building. Another large sign erected in front welcomed freshmen to a new year.
I snapped these photos when I went to class this evening:
The first one shows one of the Sky High buses.
The second one shows the Sky High logo on the bus.
Third shows where they covered up the name of the library with the school sign.
The fourth was near one of the doors entering the library.
The fifth was out in front of the library. The other side said Welcome Freshmen, but their was a security guard looming front of it so I didn't get that shot.
Next are the four banners.
Here's various shots of the two walls.
Finally two photos showing the whole thing including crews.
Well filming actually starts tomorrow. I saw a few Starwagons, but not with the names Kurt Russell, Bruce Campbell, or Lynda Carter on them. I hope they will be there at some point in the filming. I also saw dozens of makeup chairs under a tent, no doubt for the many children that will be on set to shoot. I'm guessing this will mostly be establishing shots of the school, though I'll keep my out open for Wonder Woman, Snake Plisken, and Ash. I do wonder if they'll be in some sort of costumes. That'd be sweet, and the hordes of fanboys begging for Bruce to be a superhero will finally see him in tights... sickos.