Hi, everyone. "Moriarty" here with some Rumblings From The Lab...
This is just plain fucking cool:
When a man has a date with destiny, hell nor high water can keep him from it.
What compelled me to plant my ass on a plane for 28 hours, clear 3 airports, and numerous time zones? Nothing much, except the blessed opportunity to meet Alejandro Jodorowsky, the granddaddy of midnight movies, and the high priest of surreal cinema.
For those of you who consider stuff like Donnie Darko and Butterfly Effect to be 'weird', the films of Jodorowsky will roll you up, and smoke your ass.
In his three landmark films, El Topo, The Holy Mountain, and Santa Sangre, Jodorowsky has repeatedly performed cinematic alchemy, turning celluloid into LSD. Frogs battle salamanders in a mock battle of the Spanish conquest of the new lands, a devoted son becomes the arms and hands for his armless mother, a somber circus procession leads an Elephant's funeral only to leave the elephant to be eaten by street vagrants. These are only a few of the thousands of striking images produced by Jodorowsky's endless feverish imagination. This is a guy who leaves Fellini in the dust wondering what the hell hit him.
First out mucho thanks and recognition must go out to the Rue Morgue crew for putting on a KILLER weekend with the FESTIVAL OF FEAR, and organizing the screening of The Holy Mountain, and Santa Sangre. For those of you not up on Rue Morgue magazine, these are the folks sticking a hand grenade up the ass of generic conventions 'horror' cinema, and pulling the pin. These folks are definitely rocking the boat in a great way.
The man who totally needs to be applauded is Mr. David Daniloff of Daniloff productions, the man with the plan, and the individual who did everything he could to bring Mr Jodorowsky to Toronto to introduce the screenings. Dave totally went out of his way to make it a memorable weekend for everyone, and for that we are grateful.
So the Friday started by hooking up with Ghoulardi that resident AICN muckraker at large for a few frosty beverages, before Mrs. Kannibal and I headed off to a special Mexican feast, held for a special guest of honor, Alejandro Jodorowsky. With much nervousness I presented Mr Jodorowsky with the Korean tea set we had brought him, and in return I was given a promotional shot from El Topo, signed by both Jodorowsky, and Robert John Skipper, the man who played Jodorowsky's son in the film.
The evening was also a special occasion as it brought together Mr Skipper and Mr. Jodorowsky, who had not seen each other in thirty years. Also present at the festivities were Robert Taicher, actor and producer of The Holy Mountain, and Nikki Nichols, actor and set designer for The Holy Mountain. The highlight of the evening was an authentic Mexican 'Day Of The Dead', presentation with drummers, dancers, and a full mariachi band!
Tequila shots were drained, and the party went long into the night.
The next day after a caffeine injection, we followed the throngs of the costumed, crazed, and great unwashed to the Metro convention center, which was turned into the ground zero of geekdom. Getting into the building wasn't bad, but later in the afternoon things would become tighter then a sleepover at the neverland ranch.
The Rue-crew had managed to assemble a wicked who's who of horrordom for their first annual convention, and boy what a lineup. George Romero was the granddaddy of festivities, and along with Alejandro Jodorowsky, Tom Savini, Doug Bradley (Pinhead), Kane Hodder (Jason), Bill Mosley (TCM 2, House of 1000 Corpses), and Andrew Bryniarski (Texas Chainsaw remake).
First off we chewed the fat with Bill (Texas Chainsaw 2, House of 1000 Corpses) Mosley who is a true gent in all means. Bill mentioned that The Devil's Rejects is a hell of a lot more grittier than it's predecessor, and ventures into Morricone territory. Bill Mosley is definitely the model for the way all folks in the biz should be, solid, friendly, and respectable. People soon began to line up, as Uncle George 'I'll blow your undead head off your shoulders' Romero, showed up for a signing session. Some morons were bitching that they were charging $20 for a Romero signature, and for those who were crying in their wallets I say, go suck on a tailpipe you cheap bastards. Look at it this way; George has been pounding away to get stable funding for his past few projects for the longest time, and that's a crime in itself. Twenty bucks is nothing, but if it can help support the next Romero film, shit, I'd give him a hundred. Think of all the gore soaked goodness Uncle George has graced us with since 1968, and then think about your twenty bucks. You don't even deserve to watch Romero's films, you chintzy shit heels. (end of rant)
In the middle of the afternoon as the hordes began to swell, Mr Jodorowsky appeared for his signing, as did the fevered mob, armed with vintage stills, posters, and books. Jaws soon hit the floor, as original El Topo and Holy Mountain posters were produced for signing, giving some of us the idea to jump the poor guy who pulled them out. Alejandro seemed pleased at the numbers of people who turned out to greet him, and signed everything put in front of him, and paused for snapshots. We went through the line, shook hands and greeted our new friends once again, and decided it was time to vacate the premises.
Trying to wade through the hordes of anime, sci-fi, horror fanatics, I decided to take a seat, and drop everything. Turning to the guy beside me I inadvertently said, 'Jesus Christ, there's a lot of people here, what the fuck happened!?', to which the guy replied, 'yeah, they do love to turn out to these things.'. Once I heard his distinct voice, and looked over and noticed his Asian features, I immediately realized I was shooting the shit with George 'Mr Sulu' Takei. I'm no Trekkie by any stretch, but shook his mitt, and welcomed him to Canada, and went on my merry way out of the mass of freaks, geek, and godless souls.
Sunday brought the screening, and a mess of rain. Blew the afternoon checking out medieval weaponry and bones at the Royal Ontario Museum with Ghoulardi. After a stop for some killer pizza we made our way to the Bloor cinema, as the line up had already formed and the festivities were about to begin.
The Mariachi's from Friday night's dinner assembled in front of the theater, along with two 'hot tamale' dancing girls, shaking what god gave them. Soon Alejandro appeared, and was whisked into the theater, and we quickly followed behind him. After finding our assigned seats, the theater filled, and introductions were soon made by David Daniloff and Jamyz Bee. Once they brought Mr Jodorowsky to the stage, they theater erupted in applause and hoots, and he was given a standing ovation, even before the films were shown. Alejandro thanked the audience for coming out, and said a few short words before The Holy Mountain was screened.
We guess that about half of the theater were familiar with Jodo's work, while the other half, still remained with minds intact, but this was soon about to change. As the low bellowing chants of the Buddhist monks began, The Holy Mountain unfolded, and the visual madness washed over all of us like giant sheets of blotter acid. To dissect the layers, and significant symbols in Jodorowsky's work is damned near impossible, and half the time you are left stunned and laughing while trying to comprehend what you are witnessing.
Once the lights came on, Jodorowsky was once again brought to the stage and spoke briefly with the audience. He mentioned gaining virility from drinking elephant milk, and saving the life of an Elephant through only using chamomile oil, hair tonic, and hemorrhoid cream. The big bomb that Alejandro dropped on everyone was that he was in the midst of working on the North American re-releases of El Topo, and The Holy Mountain on DVD, now that his notorious feud with ABKO CEO and Beatles Manager Allen Klein, who had held the rights to his films for over 25 years. He also managed to mention that he is working on a new film entitled, 'Kingshot', with Nick Nolte, which should start filming in the new year.
A local film production company is currently shooting a feature documentary called 'Midnight movies', and was there to catch all of the question period on film, so keep your peeps open for that.
I managed to make my way through the mob of people surrounding Alejandro, and shook his hand and wished him well. As he knew we were from Korea, he mentioned that he loved Korean cinema, especially the work of Kim Ki Duk (The Isle, Bad Guy, Samaria), and Park Chan Wook (Sympathy For Mr Vengence, Old Boy). We said our goodbyes for now, and Mrs. Kannibal and I caught the subway back to the hotel.
Well that's my ten cents worth (more like a buck), but I'm telling you right now if any of you uncultured types don't know what's going on, immediately head down to your nearest DECENT DVD shop, grab the clerk by the collar and demand that they pre-order EL Topo and The Holy Mountain. Tell them that these are not just films, they are sacrament. Once you take the first step with Jodorowsky, you can never go back to a straight mind again….
Kannibal out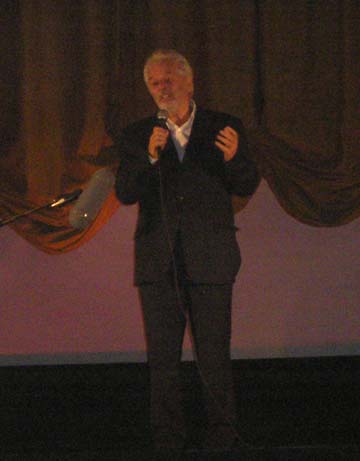 Great stuff, man. Thanks so much for sending it in. As soon as those DVDs hit, I am all freakin' over them.