UPDATE: For those who have been asking which "Wonderfalls" episodes will be screened tonight, they'll be "Lovesick Ass" and "Cocktail Bunny." I'm pretty sure the former has been available on the evil bittorrent, but - as I've said many times before - it's a much different experience watching filmed entertainment with a roomful of strangers than by yourself or with one other person. Which is why this is a rare opportunity. Plus? Series creator Bryan Fuller will be there. And so will I, laughing most loudly! The pertinent info:
This Friday, June 18 see two great un-aired episodes of the dearly-departed "Wonderfalls" -- introduced by creators Todd Holland and Bryan Fuller!
Friday June 18 -- 7:30 – only $10 @ the Knitting Factory LA – Main Stage - 7021 Hollywood Blvd.
Oh, and did I mention the free giveaways of goodies like sets of "Freaks & Geeks" and "SCTV" DVDs, Un-Cabaret CD's, and A SCRIPT OF THE "WONDERFALLS" PILOT SIGNED BY FULLER & HOLLAND???!!!
Reservations: 323-993-3305, pre-paid tickets & full festival schedule online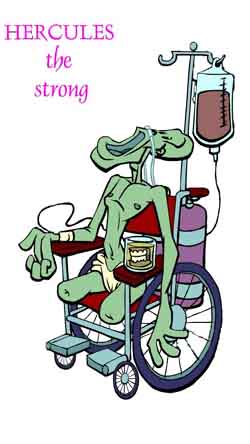 Looking for bumper stickers, plush toys and girls' underwear covered with cartoon double-amputees? Visit The Herc Store!