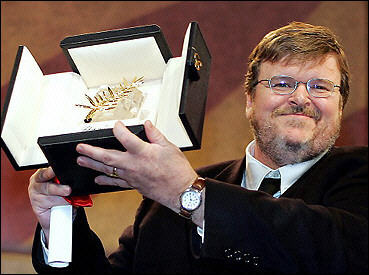 Hey folks, Harry here... the word from Cannes has just come in... a jubilant ecstatic phone call from a geek in Cannes ran down the winners and it seems that Michael Moore just accepted the Palme D'Or for FAHRENHEIT 9/11!!! Perhaps a political no-brainer... but my inner and outer Liberal screams "YESSSSS!," while the cautionary side worries about a jury headed by Quentin bestowing the top prize to any film that Harvey Weinstein is a producer of... BUT - at the same time I have no doubt that FAHRENHEIT 9/11 is the sort of emotional film that brands its message into the sympathetic viewers' hearts and minds and makes them an advocate for not only the film, but the message as well, and by giving Michael's film the award... they've guaranteed that throughout history, the film will be noted as being important. I can not wait to see this one for myself.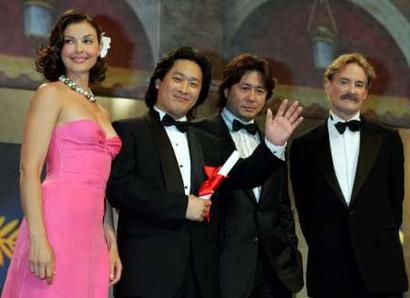 In yet another reason for me to be happy, Chan Wook-Park's OLDBOY picked up the Grand Prix at Cannes! This tickles me greatly... it is my prayer, that by receiving the Grand Prix, that we now have a glimmer of hope that OLDBOY will be distributed in the United States, and that perhaps SYMPATHY FOR MR VENGEANCE and JSA will now also be seen in this country - which has to date, ignored Chan's brilliance, but I think we'll find it hard to ignore with a Grand Prix in his clutches!
The Best Actor went to Yagura Yuuyi - a 14 year old Japanese Actor for his performance in NOBODY KNOWS, which finds him as one of 4 children struggling to survive after they were abandoned by their parents in an apartment that systematically runs out of food, electricity, water and so on. Apparently the performance is absolutely riveting from what I hear.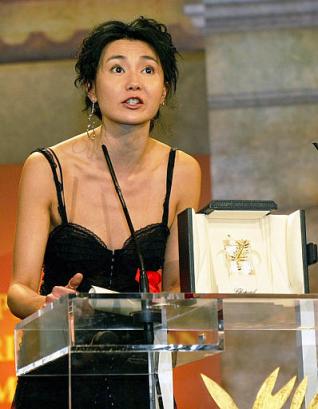 Best Actress went to the goddess Maggie Cheung for a performance as a widow attempting to kick a drug habit in Oliver Assayas's CLEAN, a French film. Now - Quentin is a long time fan of Maggie Cheung... as would any big time movie geek should be considering her wondrous work in HEROIC TRIO or POLICE STORY 2 or HERO... But also on the Festival Jury was Tsui Hark, who directed Maggie in the wonderful film GREEN SNAKE. It is so great to see Maggie honored!
The Directing honor went to Tony Gatlif for his film EXILES, and the Screenplay award went to LOOK AT ME, which had picked up quite a bit of critical acclaim out of Cannes!
The Thai film, TROPICAL MALADY garnered a third prize for it's "Walkabout-like" journey of a man in the jungle alone with no dialogue.
Irma P. Hall garnered a jury prize for her role in the Coen's THE LADYKILLERS!
MOOLAADE picked up the top prize in the secondary CANNES competition called "Un Certain Regard"! At one point in Cannes, Ebert declared this the best movie he had seen in the festival, it tells a story concerning the examination of female circumcision... which sounds like it would make me pass out.