I am – Hercules!!
Previously on Coax: Angel's been cancelled! Ah! But it looks like our Buffiverse pals could still be back in TV movies next season. From the WB Website:
IMPORTANT NEWS ABOUT ANGEL
A statement from The WB:
For the last seven years Angel and Buffy the Vampire Slayer have been cornerstones of our network. The sum total of the work done on those shows has produced some of the proudest moments in our history. Like some of the great series that are leaving the air this year, including Frasier and Friends, the cast, crew, writers and producers of Angel deserve to be able to wrap up the series in a way befitting a classic television series and that is why we went to Joss to let him know that this would be the last year of the series on The WB. We have discussed continuing the Angel legacy with special movie events next year, which is still on the table. In a perfect world, all of these details would be completed before this information went to the press so that we could be definitive about the show's ongoing future. But in any case, we did not want to contemplate this being the last year of Angel without giving the show the option of crafting their own destiny for this character and for this series. David Boreanaz continues to be one of the finest, classiest and friendliest actors we have had the pleasure to work with and we hope that the relationship furthers from here. The same can be said for all the actors and producers on the show.
***** Well, as long as you're all here, perhaps you'd like to learn a bit of the series' final episodes. 5.18 is said to see the return of a major character. You can learn who now if you've mastered invisotext: Connor. And over at buffistas.org, former star "Angel" and "Firefly" writer-director-producer Tim Minear (now hard at work on "Wonderfalls") reveals he might be returning to "Angel" to "do" (writing and directing, I'm guessing) 5.20. Okay, back to the originalish post: Two messages just popped very suddenly into my emailbox:
Herc,
Don't know if you've gotten the news yet. It's just starting to spread on the Paramount lot. Angel has been cancelled. The cast and crew were just informed a little while ago.
doverpro
und:
I have it on very good authority - from a very very reliable source.... "Angel will not be returning next season."
Sadness.
thought you should know.
be well.
-call me Bats
Great horny toads!! Series co-creator David Greenwalt has told zap2it it's all true!! (Let's hope Joss Whedon has enough time between "Firefly" production meetings to pitch a new spinoff for the fall!!) It's particularly vexing, of course, because the current season of "Angel" is rapidly developing into its best ever. Is it too late for Sarah Michelle Gellar to drop by for the finale?? And - hey hey hey - didn't that Kristen-type Wanda gossip girl over on E! Online already tell the world that "Angel" had been renewed for next season????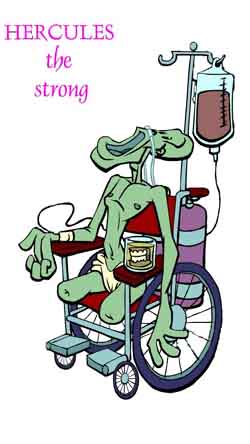 Looking for bumper stickers, plush toys and girls' underwear covered with cartoon double-amputees? Visit The Herc Store!