Moriarty's DVD Shelf Returns! SUPERFLY! Browsing! More!!
Hi, everyone. "Moriarty" here with some Rumblings From The Lab...
Ahhhh... it's nice to be back at it. I've got a lot of stuff I want to talk about. It's been a great fall for DVDs... maybe the single best season I've seen since jumping onboard the format. So many great titles released, and the way companies are servicing both new release schedules and catalog titles at the same time pleases me enormously.
One of the reasons I want to write this column each week is just to have a place to vent about all of this. I drive both my co-writer and Mrs. Moriarty crazy with my near-RAINMAN level of infatuation with my movies and my browsing habits. I'm lucky Scott doesn't mind going to Amoeba or Virgin a couple of times weekly. If he got bored with it, I couldn't pretend it was work anymore.
Mrs. Moriarty is going to kill me in my sleep sooner or later if I don't figure out a better way to store all the DVDs that are already in the house. Right now, there are about six places in our apartment where DVDs are kept, and I've got them "sorted" according to a very loose set of criteria.
First, there's the stack of stuff that's been brought into the house, but which hasn't been watched yet. This is the primary stack, the one I pull titles from every day to watch.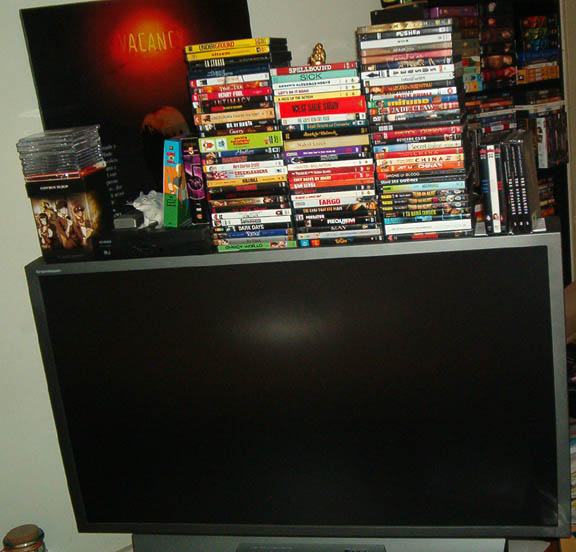 Then there's the stack of the most recent stuff watched, things I haven't had a chance to sort into other shelves, or which there's just no room for anywhere else right now.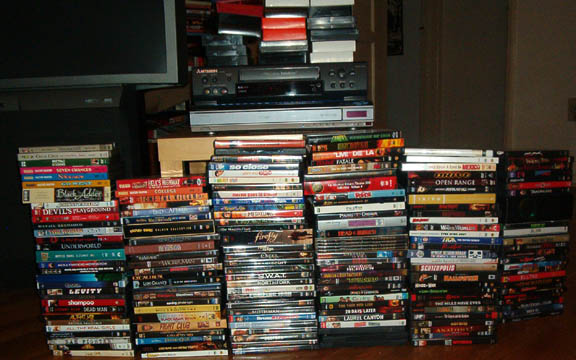 There's the original bookcase, filled with DVDs back when I alphabetized and sorted them carefully, and which is still sort of vaguely kind of in alphabetical order. The bottom shelf is stuffed with test discs, sent in smaller packaging. I've gotta have something like 200 of those alone. Overall, this is the stuff that gets the least current play in the player.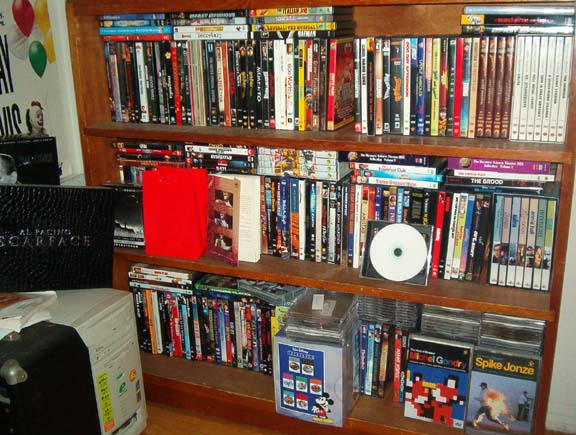 There's the second bookcase, where I've just sort of jammed everything onto the shelves, overstuffing it completely. Those shelves are stacked two deep, so there's another whole layer of DVDs you can't see there.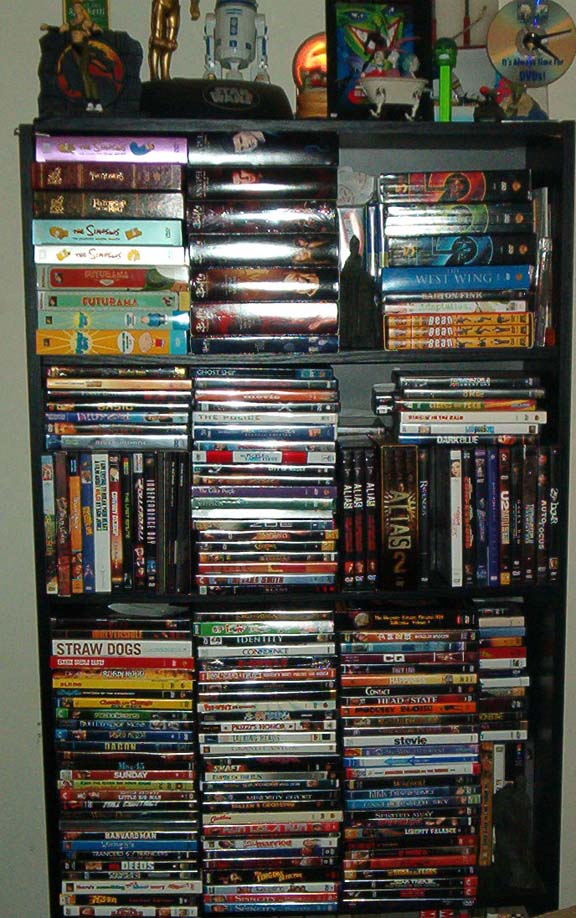 Then there's Mrs. Moriarty's shelf of movies, DVDs purchased just for her. One of the things I love doing most for her is hunting titles down that she mentions, or finding things I know she'll enjoy but which she's never seen. Giving movies is one of my favorite things.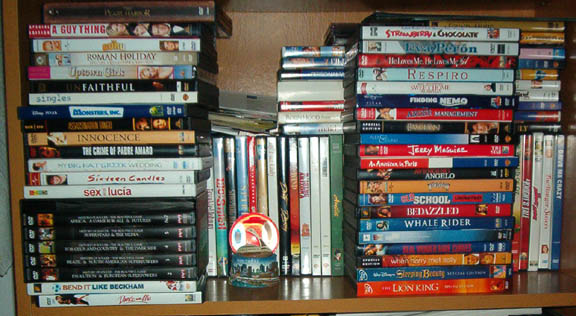 And there's my smaller "hasn't been watched" stack in front of the TV in the bedroom, stuff that I want to watch late at night, things I'd like to see in particular detail. The TV and the DVD player in the bedroom are, technically, the better set-up. I love the Panasonic bigscreen in the living room, but the resolution isn't as crystal clear as the Sony, which is where I also play the occasional game.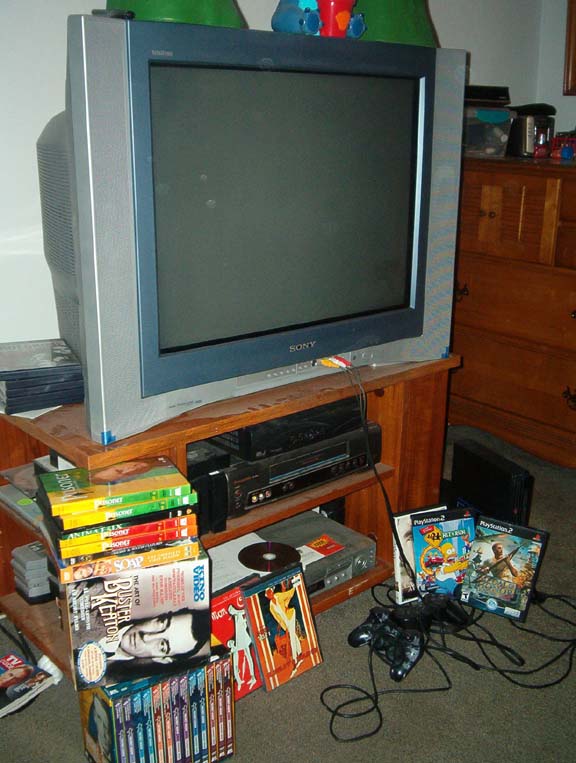 So, as you can see, DVDs have eaten my apartment. Send rescue teams immediately.
I'm working on getting new DVD shelves in the weeks ahead, and if any of you have something you recommend in particular, something that you find to be a particularly good combination of form and function, then please... drop me a quick e-mail and let me know about it.
NEW RELEASES
New release Tuesday today, and I picked up a few things. I still prefer going to the Virgin on Sunset late on Monday night, when they sell new titles right at midnight. There are so few people there, and in cases where they only get a few copies of something, it's nice to cherrypick before anyone else gets the chance.
Got ONCE UPON A TIME IN MEXICO and OPEN RANGE, first off. Haven't seen either one. I also picked up THE RULES OF THE GAME and SPELLBOUND, both of which I have seen, and which are great films, well worth owning. There were a few titles I'd been looking for but hadn't found yet that I also grabbed, like SITCOM and the Mark Dacascos action film DRIVE. Six titles for a week... felt like getting off light. I'm still interested in seeing if the new REPO MAN is anything different than the version that's already out and maybe picking up the Showtime series JEREMIAH. I'm still working my way through the BABYLON 5 boxes, and I'm enjoying them very much. I'm curious to see what else JMS is up to with his new show.
But more on that next time...
BROWSING
There are all sorts of announcements recently, and as always, I've enjoyed reading DVD File. The last week or so, as I've been watching the fourth season box set of BABYLON 5, it was nice to hear that the fifth and final season of the show is set for an April 13th release with a $100 price tag, like all the other seasons so far. I am also glad to see that the release of Mel Gibson's THE PASSION OF THE CHRIST has kicked loose a few other Gibson titles to cash in on the controversy. His HAMLET, directed by Zeffirelli, is a rather spirited take on the material and beautifully shot, and I'm surprised there are no extras to speak of on the disc. Still, $19.95 is a good price. It'll be nice when we can put this one, the Olivier, and the Branagh side-by-side on the shelf. 21 GRAMS is one of the films I missed this season, and at this point, I might as well wait for the March 16th release from Universal, which looks like a pretty standard set, no real bells and whistles. I also missed SOMETHING'S GOTTA GIVE, and that will be out March 30th. Both of these will retail for under $30.
Most of the sites I browse linked to the story from VIDEO STORE MAGAZINE about just how much Americans are spending on DVD these days. It's 71% of the overall home video market now, over $16 billion. That's a spike from last year, and if the industry is smart, they'll see even more growth this year.
Over on the always-excellent Digital Bits, they've got some great new cover art, including the artwork for the Universal MONSTER LEGACY COLLECTION discs. Can't wait. We'll be able to take those home on April 27th, just in time for Universal to release VAN HELSING the next week. Even if that movie sucks, it led Universal to finally create what looks like an excellent box set collections of the classic titles we already know we love, so that's a good thing, right?
Using the various sites I browse, I've put together my list of titles announced so far for this year that I'm interested in. This isn't comprehensive, keep in mind... just the stuff that jumps out so far. Some of it is on the list because I haven't seen it and need to, some of it is on the list because it's absolutely essential to any good collection, and some of it is on there because I'm just plain curious:
January 27
ALICE IN WONDERLAND: MASTERWORKS EDITION
THE SAILOR WHO FELL FROM GRACE WITH THE SEA
TIME BANDITS – Divimax Edition(Anchor Bay)
February 3
PLANET OF THE APES: SPECIAL 35th ANNIVERSARY EDITION
VANISHING POINT
February 10
H.R. PUFNSTUF: THE COMPLETE SERIES
MR. BILL'S DISASTERPIECE THEATER
NEWSRADIO: THE COMPLETE FIRST AND SECOND SEASONS
WONDERLAND
February 17
STOKED: THE RISE & FALL OF GATOR
February 24
JAMES: GETTING AWAY WITH IT LIVE
SPY KIDS 3-D: GAME OVER
March 2
MR. TOAD'S WILD RIDE
WITHOUT A CLUE
March 9
SCHINDLER'S LIST
March 16
THE COMITTMENTS: SPECIAL EDITION
VERONICA GUERIN
March 23
BEYOND THE MAT: DIRECTOR'S CUT
SPLASH: 20th ANNIVERSARY EDITION
March 30
THE SUNSHINE BOYS
April 6
THE MATRIX REVOLUTIONS
THE PINK PANTHER BOX SET
April 13
BABYLON 5: THE COMPLETE FIFTH SEASON
KILL BILL VOL. I
July 6
BUFFY THE VAMPIRE SLAYER Season Six
August 17
MARY POPPINS: SPECIAL EDITION
October 5
ALADDIN: SPECIAL EDITION
All release dates are subject to change, and I'm sure there's a lot of great stuff I've missed. Feel free to e-mail me and tell me what should be on this list that isn't.
FEATURED REVIEW: SUPERFLY
This is part review, part tribute. It is a sad and strange coincidence that Warner Bros. finally put this classic out the same week that Ron O'Neal, star of the film, finally succumbed to his battle with cancer. He was 66 years old, and I wish he'd been around a little longer so that there might have been a chance for people to see this new disc and maybe offer O'Neal one last round of applause for his role as a cultural icon.
Hats off to Warner (except for their shitty cardboard packaging, annoying as always) for putting together a disc that manages to not only offer up the best print I've seen of this extremely low-budget feature, but also places the film in the proper cultural context so first-time viewers now can get some sense of just how important SUPERFLY was to audiences when they first saw it in 1972. New Line did the same thing last year with their release of THE MACK (you can read my review of that here), and I think it's important. So many younger viewers who have never seen these films think they're jokes, campy, a relic of a particular time. And, no doubt, the style in a film like SUPERFLY was hip for a split-second, the exact moment the film was made. It's dated now, absolutely. The story that's being told, though, is not, and there's a lot of value to the way Gordon Parks Jr. shot the film so that it feels urgent and real, even now.
Parks Jr. was given a shot at directing a feature because of the success his father, Gordon Parks Sr., had just had with THE GIVING TREE and SHAFT back-to-back. Parks Jr. was an acclaimed photographer in his own right, something that played into the way he shot SUPERFLY. He brought a documentary sensibility to the shoot, and the fact that everything was so fast and so cheap only played into the overall aesthetic. The film practically sweats, it's so desperate. Credit for much of that belongs to O'Neal, who owns the film from the moment he shows up in it. His hair straightened, giant sideburns framing his handsome face, O'Neal looks like a lion, and he's on fire all the way through. Shakespearean-trained, O'Neal plays Youngblood Priest as a man who knows better, a man who wants out of what seems like no life at all. Priest has built a good family of drug dealers on the street, maybe 50 strong, but as the film opens, he's already tired. He's tired of his partner Eddie (Carl Lee), who doesn't understand. "You're gonna give all this up? Eight-track stereo… color TV in every room… and you can snort a half a piece of dope every day. That's the American Dream, nigga!" He's tired of low-level fuck-ups like Fat Freddie (Charles McGregor), who doesn't have Priest's money, but who doesn't want to do anything to get it back. He's tired of crooked cops and getting jumped by junkies and having to chase down his money. All he wants is enough money to get out, enough cash to give him a choice. Any choice. The tragedy, of course, is that without drugs and hustling, Priest has nothing. He has become the hustle, and he's starting to realize it.
One of the reasons this film holds up so well is the score by the late great Curtis Mayfield. The movie builds to a climactic showdown with the cops, but it's not traditional good-guy/bad-guy stuff. Instead, the cops are crooked, and Priest doesn't win by being right. He wins by threatening to kill the Deputy Commissioner's whole family, kids included. It's an ambiguous ending at best, although if you watch Washington Hudlin describe theaters in black neighborhoods when that scene played, it was the end of ROCKY, bringing people to their feet, cheering. Mayfield's score deglamourizes the film, offers up a powerful poetic counterpoint to the images we're seeing onscreen. After all, Ron O'Neal's a charismatic man, and seeing him with the amazing El Dorado Cadillac and the fly clothes and the fly ladies, it's no wonder he became a fashion icon for a time in the '70s. He was imitated in image, but Mayfield's score urges viewers not to imitate the character's lifestyle. I just recently picked up the awesome Rhino CD box set CAN YOU DIG IT? THE '70S SOUL EXPERIENCE... and one of the highlights of the 136 tracks is Mayfield's "Freddie's Dead" from this soundtrack. Great stuff, even out of the context of the film. I love seeing Mayfield actually perform "Pusher Man" in the film.
Time's been kind to this film, and so has Warner Bros. Home Video. In addition to the film, there's a secondary audio track with Dr. Todd Boyd from USC's school of cinema and television, a documentary look back at the film, a featurette shot in 1972 with O'Neal, and a great, if short, audio interview with Mayfield. This is one title that's worth picking up for anyone with even a passing interest in seeing one of the best films of its genre and perhaps remembering a great actor who never quite found the fight roles in Hollywood after this.
FROM THE SHELF
We're going to do this a little differently from now on, mainly because things changed at the Labs. The way I watch discs is a little different as a result, and it should make this column a little more jam-packed as a result.
I got a Samsung player around October... right around the time I had to stop writing this column for a while. It's a five-DVD platter, so I can just load it up in the morning and watch all day, basically. On a good day, we can even change the platter and start again.
From now on, I'm going to review the films grouped by platter, since that's how they're getting ingested over here. Part of the fun of having a changer like that is the odd collisions of theme or cast or the way one film can bleed into another when watched back-to-back. It also makes it nice when I'm trying to work my way through a box set of something. Just put it all in and watch straight through.
I'll be starting this section of the column next week, but I'm cutting this column a little short so I can get a special edition ready for this weekend. I want to go over 2003 On DVD and highlight some of the best and worst releases and trends in the format. When we get down to it for real next week, expect as many as 40 reviews per column. We've got a lot of lost ground to cover, and I'm eager to get to it.
For now, though, it's been nice getting warmed up again, and I'll see you this weekend.