Hi, everyone. "Moriarty" here with some Rumblings From The Lab...
Okay... here's one of those cases where I'm going to give you guys some stuff and preface it with some warnings. I can't vouch for either of these sources, but they seem sincere, and I thought, considering how slow this month has been so far, it was worth at least tossing this out there to see what you think.
First, there's this letter...
Moriarty,
I noticed you haven't had much news on the Lemony Snicket project in recent months, so I thought I just drop a line and let you know that things are going along most 'fortunately'.
Despite some outspoken reservations I've heard, Jim Carrey is looking great as Count Olaf, and his standard improv sensibilities are working well to create a wonderfully dark, yet comic atmosphere. Most of his on-the-spot dialogue is, unfortunately, R-rated, which will obviously not make it into the final cut, but there is enough to work with that I'm sure a large portion of his genius will be evident.
As for the script, revisions are still in progress and after some tense days where it seemed that Dreamworks and Paramount were afraid of the overly dark tone, things have settled down and hopefully Silberling can steer them away from a rosy ending, which is certainly not a characteristic of the books.
There have been only a few major problems, the first being a set of triplets hired from Florida to play the role of the toddler 'Sunny'. After only a few days of shooting they had to be let go due to the childrens' inability to not cry the second 'action' was called. After shutting down for a few days to recast the role, a new set of twins are being used and they are working out much better. Secondly, Jane Adams, who is playing one of the 'white faced women' was loudly berated on set by Silberling for not being able to shut-up and act as she was being directed to do. Every second she seemed to be asking about what direction her left arm should be pointed in order to convey her character's motivation.
All in all, things have finally settled into a groove. The Snicket crew has taken over nearly ten stages at Paramount studios within which is being created Count Olaf's house, The Baudelaire Mansion, Uncle Monte's house/reptile room, and the city streets of the nameless town in which they reside. In early spring, we move to an old Boeing Factory in Downey where we will shoot most of the third book, and the final portions of the script.
There is a strange sense that no one on the crew knew quite how big this was to become, and it occasionally teeters over into the "we're in way over our heads" mentality, but all in all, the talent (particularly Jim Carrey, Liam Aiken & Emily Browning) are coming through with very solid performances. The sets are some of the most amazing I have ever seen, and I've worked in this town for a long time, so this, combined with Emanuel Lubezki's fantastic cinematography should make for a very stylized piece.
Let me know if you have any other questions, but I just wanted to give you all an update.
-Fakie
Well, all of that sounds tremendously encouraging. I'd love to see those sets. I'm not familiar with the source material, but I'm sure I'll catch up with the books before the release of the first film so I can see what we might be in store for. In the meantime, check out this poster: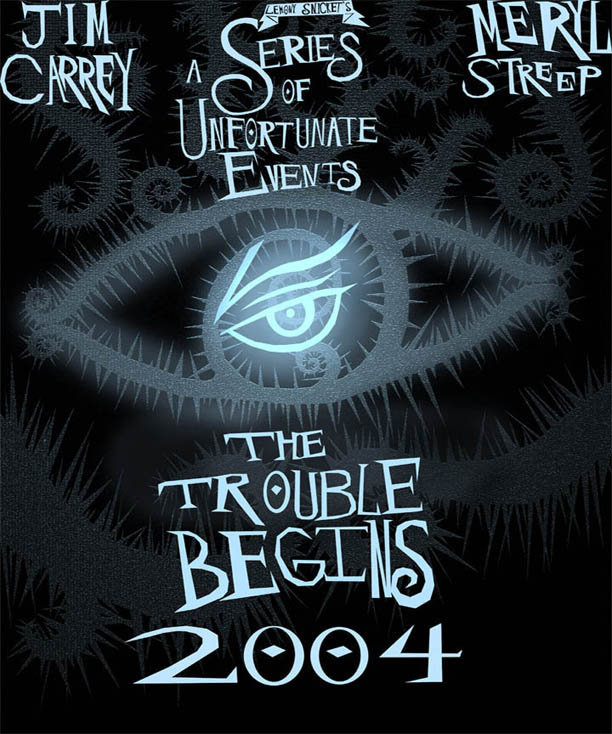 Got that from an anonymous source, who found it on something called the 667 Dark Avenue Message Board. I'm not sure if this is actually something Paramount's putting in theaters, a piece of promo art, or something by a fan, so if anyone out there can either verify or debunk the poster's authenticity, I'd appreciate it.