Hey folks, Harry here... I'm in love. I don't know who Kerry Conran is. I don't understand how this project could exist, but it is as if somebody reached into the fetish centers of my brain and pulled out my favorite geek fantasies. SKY CAPTAIN AND THE WORLD OF TOMORROW! The website is online at SkyCaptain.Com -- I joined the FLYING LEGION. I'm dying for the trailer to hit online, as I've seen the trailer twice at BNAT 5 and drool has been lathering and spilling from my face ever since. The trailer can not get online soon enough, but then I was sent the following teaser poster and... well... my brain... is... fucking... going... wild.... This is the fevered dream of vintage science pulp fiction of yesteryear... Like the creation of a lost genius from the ages of Burroughs and Robeson.... A lost pulp hero whose adventures are only just now being whispered about. Who is the Sky Captain? Who is Totenkopf? And what terrible secret lies upon the shores of Monster Island? Here's the poster...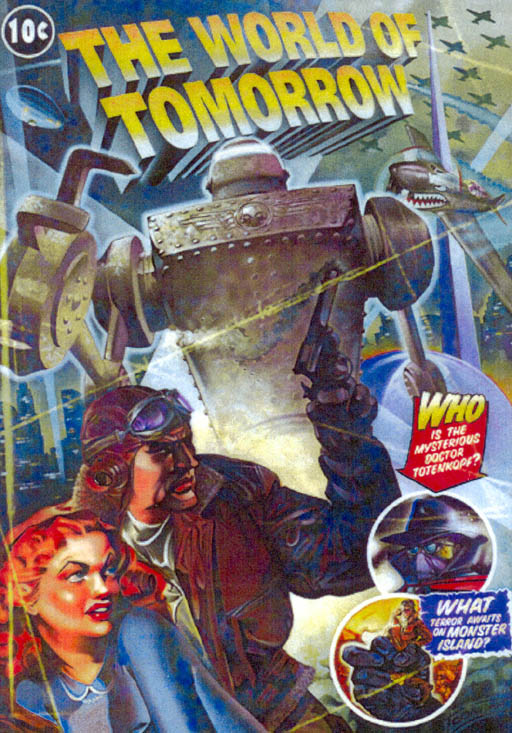 For a glimpse of the trailer Click Here
OK - Harry here... so you want to know more?
The trailer is essentially select images from the first 20 minutes of the film... ALTHOUGH - the few shots of Angelina Jolie... that's from about an hour and ten minutes in, and she's only in the film for about 25 minutes - (I believe, if memory serves)
The narrative arc of the film is essentially a mystery. Who is Totenkopf? What has happened to the world's most brilliant scientist? Why are fantastically advanced robots stealing massive generators and assorted technology from around the world?
After this initial attack on NY and Sky Captain's HQ, it then becomes a world wide pursuit to get to the bottom of these secrets. There is action in a vast array of locales. ALL the interaction you're seeing from the characters in this TEASER are from the initial moments. All the characters have histories with each other. Past unresolved issues. Polly Perkins is a reporter that is given the initial scoop on Totenkopf by an escaped scientist, that is attempting to stop the nefarious actions.
The whole film is aiming for a Pulp Action Adventure Science Fiction 30's aesthetic that has never been seen before in the realm of live action. It is heavily influenced by the 30's Science Fiction of Fritz Lang, Korda and Fleischer. However as the story moves on, not only does it have those influences, but also that of Buster Crabbe's FLASH GORDON and BUCK ROGERS... as well as the fantastic realms of EC's WEIRD FANTASY, WEIRD SCIENCE and more of the Alex Raymond SECRET AGENT X-9 and FLASH GORDON strips of the 30's. If you get it, welcome aboard... if not... I'm sorry.