Hey folks, Harry here... When I saw the film at the 'critics screening' here in Austin, it was slightly different from the screening I had this Wednesday. Originally - after the "trunk" shot looking up at the Motorcycle Helmet Uma... the "Written & Directed By Quentin Tarantino" credit came up... a couple of other credits passed, then that shot of the Airplane flying and Uma and the notebook occured. These scenes are no longer after a few credits, but now play all the way through as a cohesive part of the film. I can only assume that after my review went up where I reported that some critics left immediately after seeing the "Written & Directed by QT" credit... that Miramax, Quentin, somebody decided to make sure this wouldn't happen again, as it is integral to the film and not the standard insignificant "easter egg". Don't worry - if you have seen KILL BILL VOL 1 - you saw all the stuff I saw originally... just not divided up a bit by credits.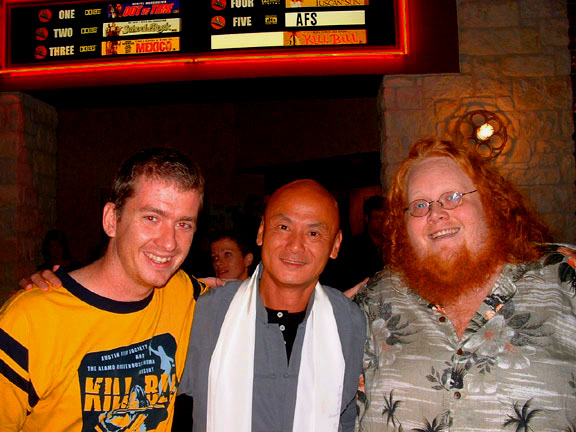 Hey folks, Harry here... Quint had a chance to sit down and chat with Gordon Liu a bit about KILL BILL... I have to tell ya, I almost didn't recognize Gordon when I met Wednesday night. The last time I saw him, he was in full Pei Mei make up and looked very different. I got Gordon to autograph my Chinese copy of the Shooting Script for KILL BILL, just like I managed to get Sonny Chiba and Kenji Ohba to sign my Japanese copy of the Shooting Script! I guess the coolest thing I saw Gordon Liu do at the Austin premiere was when a fan in the audience asked Gordon what his favorite American films were, and he spoke to his translator for a bit, we were told that Gordon couldn't name them all because there were so many that he loved, but that there was one film in particular that touched him when he saw it and he'll never forget this film or the effect it had upon him. We were then told that Gordon would not be telling us the title of the film, rather... he would sing some of the music for us to know...
At this point, Gordon took the microphone from the translator, turned sideways and began to walk while whistling the iconic Morricone score from THE GOOD, THE BAD AND THE UGLY! He then turned to the audience as we all applauded and said, "CLEEEEEEENT EASTWOOD!" Now, here's Quint...
Ahoy, squirts! Quint here presenting a chat with one of the coolest of the cool, the Master of the 36th Chamber of Shaolin himself, Gordon Liu (Chia Hui Liu)! Gordon has a couple prominent roles in Quentin Tarantino's KILL BILL, which he'll tell you about down below.
Liu was famous in the '70s for his work with the Shaw Bros studio, starring in such chop-socky classics as THE 36TH CHAMBER OF SHAOLIN and DIRTY HO.
The interview was conducted in person and let me tell you… the man is still in top form. He speaks very little English, so this interview was conducted with the aide of a translator, a really cool Chinese-American student at UT named Lizhi Chen (he's the guy sitting next to Liu in some of the pics below).
Without further ado, here is the interview!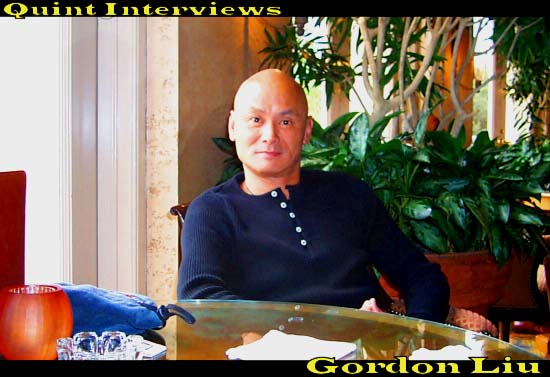 QUINT: YOU HAVE TWO ROLES IN "KILL BILL." CAN YOU TELL ME A LITTLE BIT ABOUT BOTH ROLES?
GORDON LIU: I play two characters in KILL BILL. One of the characters is a crazy master and he wears a mask in the film. He works under the character who Lucy Liu plays. The second part that I play is Pei Mei. In Chinese it means "White Eyebrow." He is the master of the character that Uma plays, The Bride.
QUINT: HAD YOU EVER WORKED WITH MASTER YUEN WO-PING AND HIS TEAM BEFORE "KILL BILL?"
GORDON LIU: Yeah, I have had collaboration with them.
QUINT: WHAT'S IT LIKE WORKING WITH HIM AND HIS TEAM?
GORDON LIU: It's been a long time since I worked with Master… [Liu interrupts and clarifies] The martial arts that Master Yuen learned is Northern China martial arts. I grew up learning martial arts from Master Lau Kar-leung. It's a kind of Southern China martial arts.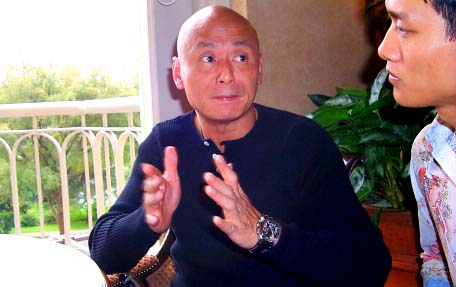 QUINT: HOW MUCH PREPARATION DID YOU DO FOR THE HOUSE OF BLUE LEAVES SEQUENCE IN "VOLUME ONE?"
GORDON LIU: When Quentin first met me, he told me I'd play a crazy killer, but he didn't tell me HOW I would play the killer. I ask him who would be the martial arts director and he told me it would be Master Yuen Wo-Ping and I know very well the kind of stuff that Master creates and does. So I was really worried.
I asked Quentin if he wanted me to cooperate with Master Yuen Wo-Ping or should I use the skills that I displayed in THE 36th CHAMBER OF SHAOLIN. The old sequences that Master Yuen Wo-Ping used to create are short sequences and very skillful. The skills that I showed in THE 36th CHAMBER OF SHAOLIN are long sequences that are non-stop.
So, Quentin told me that he wanted me to show what I used to do and what I did best.
QUINT: WHAT MEMORY STANDS OUT THE MOST FROM THE SHOOTING OF THE FILM?
GORDON LIU: It's my first time in a U.S. production and it's the system that struck me.
QUINT: WHAT WAS MORE FUN FOR YOU TO PLAY, PEI MEI OR JOHNNY MO?
GORDON LIU: I personally prefer Pei Mei. The reason I like the character of Pei Mei is because even though I was in the costume and make-up and many audiences won't recognize me that way as the "bald one" but I like it because I have more communication with the character that Uma Thurman plays. It's more than just martial arts. It's more than just kung fu. There is a communication and acting going on. It's a performance.
QUINT: DID YOU ENJOY WORKING WITH QUENTIN?
GORDON LIU: I enjoy working with Quentin because he knows what I did and he's very open minded. He incorporated what I did and those elements that I had before into something new.
QUINT: DO YOU HAVE ANY SPECIFIC TARANTINO MEMORY… BECAUSE I KNOW HIM A LITTLE BIT [FROM HIS AUSTIN QT FILM FESTIVALS] AND HE'S KINDA OF A NUTBALL. IS THERE ANYTHING HE DID ONSET THAT STANDS OUT IN YOUR MEMORY?
GORDON LIU: (laughs) He is very kind. He never gets angry. Every time when I am in the scene, whatever I wear he wears that. (laughs) And after each scene he will play a little rock music for me. He is really wild and kind. It's the first time that I've seen someone like him that'll play a little rock music to relieve my stress.
On one side I think he's trying to relieve the pressure and on the other side I think he's very music oriented as well. I think Quentin already has a music tempo in his head for each fight sequence. I remember there was this one scene when I was fighting with Uma Thurman and he played a little rock music and he told us to continue, but Uma had to stop because she said she couldn't continue. (laughs)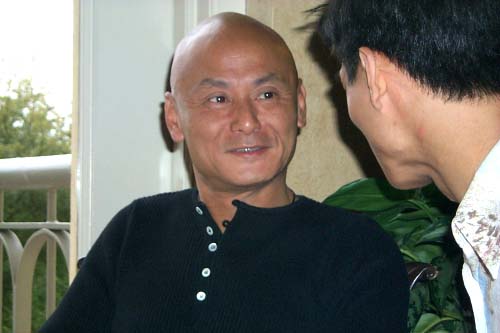 QUINT: CULTURALLY, DO YOU THINK AMERICAN AUDIENCES WILL SEE "KILL BILL" IN THE SAME LIGHT AS ASIAN AUDIENCES WILL?
GORDON LIU: I just watched KILL BILL last night at the New York premiere. I think it might attract the conservative audience. It might not attract some of the conservative audience in Asia, but I think KILL BILL is a movie for open-minded people.
As for KILL BILL, for me I can say it's a good film, but I think Quentin is very smart. He used the traditional Chinese martial arts sequence and he combined that with the Western kind of open-mind, open-idea… It's something very new.
So, this film is for modern audience. It's for new audience, it's not for the old audience and that's why it's creative and that's why the film can move forward.
QUINT: I'D LIKE TO BACK TRACK A LITTLE BIT. YOU WORKED ON QUITE A FEW SHAW BROS FILMS BACK IN THE '70s. WHAT WAS IT LIKE TO WORK IN THAT STUDIO AT THAT TIME? IT WAS A PRETTY LEGENDARY TIME.
GORDON LIU: I started my first martial arts film in the year 1976. After Bruce Lee passed away, action film was going through a hard time for awhile. So, since 1976 I was acting in THE 36th CHAMBER OF SHAOLIN and other martial arts films.
The stuff we did during the late '70s and early '80s is very different from what we see in the late '90s because we didn't have wires or any machine at that time, so we had to perform.
QUINT: WHAT'S NEXT FOR YOU?
GORDON LIU: After KILL BILL I will go back to Hong Kong and play in some other films and a couple of TV series as well, but they are not really martial arts related.
QUINT: I DON'T KNOW IF THIS IS GOING TO TRANSLATE VERY WELL, BUT I HAVE A STANDARD QUESTION THAT I ASK EVERYONE I INTERVIEW. WHAT'S YOUR FAVORITE DIRTY JOKE?
[Lizhi, the translator, cracks up… Liu ponders for a moment]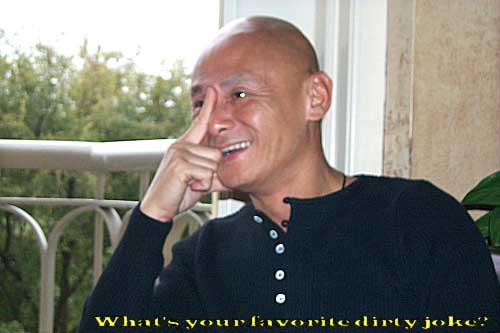 GORDON LIU: If you see some food appearing, go ahead and eat it, but don't try to kill it. Don't try to hurt other people.
All right, so I didn't get the joke either. I asked him to clarify it later that night at the KILL BILL premiere at the Alamo Drafthouse. Basically it's more of a life rule. Don't worry through life. Be kind and good things will happen. He used a metaphor of wanting a good looking girl. Don't be so over anxious that you scare her off. If you play it cool and don't sweat it, then things will work out.
That's the interview, folks, and I must say I had a blast conducting it. I am such a whore for Hong Kong cinema that I can't help but be excited to talk to these guys. I interviewed Stephen Chow last year (read that interview here!!!) and had a similar "Holy shit… Am I really talking to the GOD OF COOKERY?" level of amazement.
If any of you publicists out there have any need to push your Hong Kong star and are having a tough time booking interviews with the "legitimate" press, my email address is below. Please contact me, I'd be more than happy to expose some of these amazing people.
I better get going. I still have that huge R. Lee Ermey interview to transcribe. It's a good one, but good god does that man talk! Keep an eye out for that one, squirts. Special thanks to my buddy Kraken for taking the pictures. I'll be back soon, squirts. 'Til then, this is Quint bidding you all a fond farewell and adieu.
-Quint
email: Tarantino! I demand you return to Austin! It has been two years since the last QT Fest! No more excuses! Sorry, folks… had to get that out… if you want to email me, click here!!!