Hey folks, Harry here... In many ways, Quint and Mr. Beaks get the showiest of tasks here at AICN. I mean, Quint got to talk with John Cleese... for... real. Sure, I end up with the most stories written about me, I get called the most names by talk backers... and as thrilling as that is... I haven't gotten to talk with John Cleese. However, when John Cleese was teaching a class about film & comedy somewhere across the Blighty, he did mention me once. He told his class that there was this guy in Texas living in a trailer house somewhere that's got Hollywood scared to death. I love that John Cleese believes that I'm living in a trailer house. This is why John Cleese rules so hard! Well, not entirely, but it contributes to his coolness in my book. Well, from me, your faithful Texas Trailer Trash Power Guru, to the salty asides of Quint... We present
Ahoy, squirts. Quint here with a short talk I had with a living comedy legend... Tim the Enchanter himself, Mr. John Cleese. I've done around 100 interviews in my time writing for this site and, before that, my high school newspaper (The Lone Star Dispatch of Bowie High!) and while there is always a degree of nervousness before an interview I have not felt straight out terror since my very first interview, which was with George Carlin.
I was 14 years old, a freshman in High School and in beginning journalism class... Not Newspaper, understand, but Journalism. I was a huge fan of George Carlin's work and when I saw he was coming to Austin to do his stand up act, I made sure I got some tickets. I offered to write up the concert for the newspaper. The editor was like, "Sure, why not?" So, I took it seriously.
I stayed after the concert and a dude in a pink t-shirt comes out to talk with the four or five people who stayed behind. His name was Jerry Hamza, one of Carlin's long-time partners and producer of most of his shows. I nervously told him that I wrote for a high school newspaper and would like to interview Mr. Carlin. He gave me his card and told me to call his secretary in New York. "It's just for a high school paper," I told him. "No pressure or anything." "That's why I think he'll do it," Hamza replied.
And low and behold it worked out. A couple weeks later I was on the phone with George Carlin and this man could have torn me a new asshole. I deserved it. I recently dug up the old micro-cassette I recorded the interview on and gave it a listen. It quite literally starts like this, RING RING... "Hello?" "Hi, this is George Carlin." (10 second pause) "Hi!"
But he was supremely kind, gave me some great advice ("Listen, I find that if you go through life and don't give a fuck, you'll find yourself a happier person.") and told me the shitty interview I conducted was still a thousand times better than most of the ones he's forced to do. I know he was just being nice, but he didn't have to say that.


Now I get a phone call asking me if I want to interview John Cleese for the upcoming DVD release of MONTY PYTHON'S THE MEANING OF LIFE (Hits DVD September 2nd!). I quickly assured the nice publicity dude that I would love to talk to Mr. Cleese and soon thereafter realized what I had committed to doing. I was scared. I had heard Cleese hadn't been to kind to interviewers in the past and I knew that he had a very sharp mind. One fuckup on my part and he'd have me for lunch.
This is a rather lengthy intro do this short interview... I only had 15 minutes with the guy... and I apologize, but I think it's important to know where I was when I made this phone call. I studied up on my Monty Python, did some online research and had some questions I was happy with, but my fingers were trembling as I dialed that number... I wasn't worthy to take up 15 minutes of this man's time and I knew it. Would he tear me down, demand I somehow repay him for these lost minutes or would he go the Carlin route and be unnecessarily gracious?
Below you'll find a literal transcription of the interview. I usually go out of my way to write exactly what is said from both me and the interviewee, even if it puts me in a bad light, but here I'm including our pre-interview banter (where Cleese starts interviewing me!), some talk about some side projects I'm working on and even the repeated questions and answers I had to ask for due to my rather shoddy speaker-phone I was using. As far as subject... you'll find everything from some interesting HARRY POTTER news to discussion of MEANING OF LIFE, LIFE OF BRIAN and HOLY GRAIL. Enjoy!
QUINT: HOW'RE YOU DOING THIS AFTERNOON, SIR?
JOHN CLEESE: I'm doing pretty well. I've done... one, two, three, four, five... This is my eighth interview.
QUINT: OH, BOY. I'M SURE I'M DOOMED TO JUST REPEAT THE SAME QUESTIONS YOU'VE ALREADY BEEN ASKED...
JOHN CLEESE: You'd be quite surprised, Eric. You know I've done every single one of these interviews and I've only repeated myself a little bit here and there.
QUINT: THAT'S ALRIGHT. I'LL MAKE SURE TO SCREW IT UP SOMEHOW.
JOHN CLEESE: (laughs) What age are you, young Eric?
QUINT: WHAT'S THAT?
JOHN CLEESE: What age are you?
QUINT: TWENTY-TWO.
JOHN CLEESE: Twenty-two... So, I'm nearly three times older than you.
QUINT: AH, WELL... THAT MAY BE, BUT AH... IF I END UP WITH A TENTH OF YOUR TALENT AND SUCCESS, THEN I WOULD BE VERY HAPPY WITH MY LIFE...
JOHN CLEESE: Oh, you're very sweet. What do you want to do?
QUINT: UM... YOU MEAN IN LIFE?
JOHN CLEESE: Yeah.
QUINT: UM... WELL, I'VE BEEN WRITING FOR AIN'T IT COOL SINCE I WAS SIXTEEN. I'M SURE I'LL CONTINUE ON WITH THIS FOR A WHILE. I AM TRYING MY HAND RIGHT NOW AT WRITING SCREENPLAYS. I CO-WROTE A SHORT FILM THAT WAS SHOT EARLIER THIS YEAR AND AM NOW CO-WRITING A FEATURE SCRIPT.
JOHN CLEESE: Writing screenplays are sooo difficult.
QUINT: TELL ME ABOUT IT. I'M IN THE LAST ACT OF THE FEATURE I'M WRITING...
JOHN CLEESE: Good! Good for you! (Pause) William Goldman. Do you know that great screenwriter?
QUINT: OF COURSE. I'M A BIG FAN OF HIS.
JOHN CLEESE: He's written for stage and he's written for television, he's written journalism, he's written novels. He says screenplays are the hardest. Anyway, listen... I'm on such a schedule. Someone else is going to be on the phone in a little while.
QUINT: NO PROBLEM. LET'S GET THIS SHOW UNDER WAY... I'VE READ THAT YOU'VE BEEN PRETTY NEGATIVE ABOUT MEANING OF LIFE IN THE PAST. I EVEN FOUND A QUOTE FROM YOU CALLING IT A COCKUP. SINCE YOU'RE OUT PROMOTING THE DVD RELEASE, I TAKE IT YOUR OPINION AS SOFTENED A BIT.
JOHN CLEESE: Yes, I have totally changed my mind. I think it is superb. I think it is hard to find words to capture the transcendental brilliance involved.
QUINT: NICE. WHAT WARMED YOU UP TO THE MOVIE?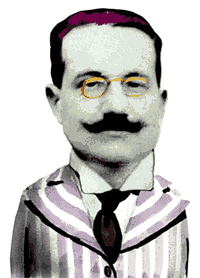 JOHN CLEESE: (laughs) Well, the last time I saw it it was actually better than I remembered it. (laughs) I had always thought that there were some terrific things in it, but I found that the things that I hadn't been so keen on either seemed to go faster than I thought they would or else didn't seem to be quite as lame as I used to remember it. They seemed to be a slightly smaller proportion of the film.
So, there are still things like the first World War thing with the clock. That seems to me to be unforgivably repetitious. But for every one of those, there's an Eric's Universal Cosmos song or Mr. Creosote exploding or Every Sperm is Sacred. There's some very, very funny good stuff in there and when you see the, what I think are the relatively undistinguished comedies that are out there now I would claim that there is more good stuff in MEANING OF LIFE than are in most of those.
QUINT: WHAT'S YOUR FAVORITE SKETCH FROM THE FILM? WHICH ONE DO YOU FIND YOURSELF LAUGHING AT THE HARDEST?
JOHN CLEESE: Oddly enough, I think the one that gives me the most continuous pleasure is Eric's song about the Universe. Laughing? Um... I think the Liver Donor scene is pretty hilarious.
QUINT: WELL, YOU CAN'T BEAT GILLIAM AS A JAMAICAN JEW.
JOHN CLEESE: (LAUGHS) That's great! That's funny... Yes, there's also a lot of dialogue in that tiger sketch... Actually, I like very much a lot of the tiger stuff... All the excuses they give.
QUINT: "WE FOUND IT!"/"WE MADE IT!"
JOHN CLEESE: That's right! Graham (Chapman) and I wrote a great deal more about those guys. I think they were on some kind of expedition and they got captured by a mad Ayatollah who abused them for using toilet paper and various other western obscenities. The others weren't too keen on the material. It didn't finish up in the movie and it wasn't until afterwards when I saw what happened to Salmon Rushdie that I realized I was very happy it was not finished. There would have been a "Fatwa" out on at least two of the Pythons.
QUINT: WHAT'S THE MOST BROUGHT UP OR REQUESTED PYTHON BIT WHEN YOU MEET FANS? I CAN IMAGINE YOU WALKING DOWN THE STREET AND JUST GETTING NOTHING BUT SILLY WALK REQUESTS...
JOHN CLEESE: I used to get that, but I don't get it... at least you don't get it in Santa Barbara. They're much too laid back and courteous. Um... I was in a cheese shop recently, looking very intently at the cheeses, and two people came up to me during the time... one at the start and one at the end of my cheese perusal... and both of them made reference to the cheese shop skit.
It kind of amused me because when I go to a delicatessen to look at cheese I don't immediately think, "This is like the cheese shop skit." You know what I mean. They both made amusing remarks and I rather enjoyed that. I think that gets mentioned along with parrots. Lots of references to parrots. I think those are the two that I hear most of all.
QUINT: WHEN YOU SPEAK WITH FANS OF YOUR PYTHON STUFF, WHAT PYTHON FILM IS MOST ASKED ABOUT?
JOHN CLEESE: Well, this is very peculiar and I don't have an explanation for any of it, but in England LIFE OF BRIAN constantly the most popular. And in America... HOLY GRAIL. I can't quite explain it. I prefer LIFE OF BRIAN myself. I think the first forty-five minutes of HOLY GRAIL is as funny as anything we did. I find THE LIFE OF BRIAN to be more satisfying.
QUINT: FOR ME, PERSONALLY, MY FAVORITE DEPENDS ON WHAT MOOD I'M IN.
JOHN CLEESE: Oh?
QUINT: I THINK I SAW LIFE OF BRIAN FIRST AND I LOVE IT... BUT HOLY GRAIL HAS SO MANY MORE BITS AND CHARACTERS THAT I THINK ABOUT MORE OFTEN... LIKE GILLIAM'S "WHAT'S YOUR FAVORITE COLOR?" BIT AND YOUR TIM THE ENCHANTER... FOR SOME REASON THOSE CHARACTERS STICK OUT MORE FOR ME, THOUGH I THINK BRIAN IS A BETTER FILM.
JOHN CLEESE: How interesting...
QUINT: THAT'S JUST ME, THOUGH.
JOHN CLEESE: No, that's interesting... Maybe... Maybe the characters are more... In BRIAN we're making jokes about more important things.
QUINT: YES... I LOVE ANYTHING THAT POKES FUN AT THE INSTITUTION OF RELIGION. IT'S ALWAYS ENTERTAINING TO SEE PEOPLE POINT OUT SOME OF THE MORE RIDICULOUS DOGMA.
JOHN CLEESE: That's right. Not the foundation of religion, but what the followers make of it.
QUINT: EXACTLY. SINCE WE'VE TALKED ABOUT YOU BEING RECOGNIZED FOR PYTHON, HAVE YOU HAD ANY KIDS RECOGNIZE YOU AS NEARLY HEADLESS NICK YET?
JOHN CLEESE: No. Because...
QUINT: BECAUSE YOUR HEAD IS STILL ON? (LAUGHS)
JOHN CLEESE: Yeah! And with the make-up and all that... I seldom get recognized. Most of the kids now, the young kids, recognize me for RAT RACE which became very popular on video. So, I would say the young kids tend to recognize me from that. Almost entirely from that, really. They kind of get very interested when they hear that I'm in HARRY POTTER, but they can't remember which one I was.
QUINT: WHAT DO YOU THINK OF THE WHOLE HARRY POTTER CRAZE? ARE YOU INTO IT OR ARE JUST KINDA CONFOUNDED BY IT ALL?
JOHN CLEESE: Um... Like most people... Just anything that makes kids read. Anything we can do to reclaim them back from this vacuous world of modern day television.
QUINT: IT IS SOMETHING TO SEE YOUNG KIDS CRACKING BOOKS THAT ARE 870-SOMEODD PAGES.
JOHN CLEESE: It's fantastic! Let's just hope someone else starts writing.
QUINT: HAVE YOU FILMED YOUR PART IN "AZKABAN" YET?
JOHN CLEESE: In what?
QUINT: IN "HARRY POTTER AND THE PRISONER OF AZKABAN."
JOHN CLEESE: Oh, I'm not in it.
QUINT: YOU'RE NOT IN IT?!?
JOHN CLEESE: No... or at least I don't think I am. The producer tried to get a hold of me at some stage, but I think he got embarrassed. I heard that I wasn't in the third one, but that I was going to be back in again for the fourth. I haven't spoken to anyone involved in the HARRY POTTER movie about it.
QUINT: WELL, I'M GLAD YOU'RE STILL IN "GOBLET OF FIRE..."
JOHN CLEESE: Well, I haven't heard from them for ages, but I was told I was going to be in the fourth one. [A PHONE HAS BEEN RINGING ON HIS END DURING THE LAST QUESTION...] Now, listen. I've got the next person on the line, but I'm very happy to chat a little bit more if you've got anything else you're dying to ask.
QUINT: I HAVE MAYBE ONE OR TWO MORE QUESTIONS. IS THAT ALRIGHT?
JOHN CLEESE: Oh yeah.
QUINT: I READ THAT YOU WERE WRITING A SUPERMAN STORYLINE CALLED "TRUE BRIT" FOR DC. IS THAT TRUE?
JOHN CLEESE: Well, my beloved assistant Howard is writing the story, but I'm helping him here and there with a few comments and a few suggestions.
QUINT: IS IT STILL COMING OUT IN DECEMBER?
JOHN CLEESE: I don't know... (To someone on his end...) When's the Superman story come out? (Pause) Next Spring.
QUINT: I HAVE A STANDARD QUESTION I ASK EVERYONE I INTERVIEW AND I'M VERY INTERESTED TO HEAR YOUR RESPONSE... WHAT'S YOUR FAVORITE DIRTY JOKE?
JOHN CLEESE: How interesting... My favorite dirty joke... Oh yes! I like this... Why are firemen's balls bigger than policemen's balls?
QUINT: WHY?
JOHN CLEESE: (Pause) They sell more tickets.
There you have it, squirts. As you can tell, he ended up being extremely courteous and kind. And a good interview, too. Lots of interesting stuff in there. No Nearly Headless Nick in PRISONER OF AZKABAN, but definitely in GOBLET OF FIRE? Hmmmmm....
I'll be back soon with yet one more interview and a cool script review on top of that. 'Til that day, this is Quint bidding you all a fond farewell and adieu.
-Quint
email: Due to a virus attack that has been filling up my Yahoo account to capacity, I've temporarily changed my contact email to aicnquint@aintitcoolmail! Click here or you can try my regular aicnquint@yahoo.com!!! Don't be surprised if it bounces back atcha, though!!!