Hey folks, Harry here -- Quint's day started off at a hotel with up close and personal time with Robert Englund, Sean S. Cunningham and Ronny "I Spill Lots of Blood" Yu! Let it also be noted that Quint spared many a look at his legs by wearing long pants. The Kraken had been hoping that Quint would arrive in his pleated blue cheerleader bottoms, but Quint was... modest this day! Here he is with some potentially ass-kicking news!
Ahoy, squirts. Quint here just returned from the AICN FREDDY VS JASON super-awesome camp event. The thing was a blast (with the only deterrent being a loud, obnoxious cocksucker wearing a milk cow white and black cowboy hat who thought he was God's gift to comedic film commentary that sat beside me through all of FvJ and the first half of the glorious SLEEPAWAY CAMP... you know who you are and you should be ashamed of yourself!!!).
This morning I interviewed Robert Englund, Sean S. Cunningham and Ronny Yu... Those full interviews are in the process of being transcribed, but I thought I'd give you folks this cool bit of news I got from Ronny Yu. Here's a bit from my interview with Ronny and Sean that I'll finish transcribing and have into Knowles in the next 2 or 3 days...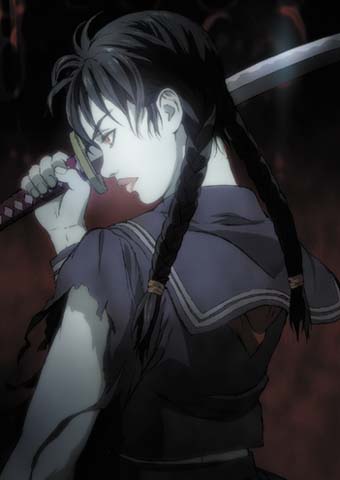 QUINT: I KNOW YOU'RE DEEP INTO PUBLICITY ON FREDDY VS JASON, BUT WHAT HAVE YOU GOT LINED UP NEXT?
RONNY YU: I read a comic book, a Japanese comic book, a long time ago... not too long... three, four years ago, called BLOOD: THE LAST VAMPIRE. There an animation movie... And I'm trying to adapt that one... trying to get the rights to that one...
QUINT: DOES IT TAKE PLACE ON A MILITARY BASE?
RONNY YU: Yes. Yes, yes, yes, yes, yes.
QUINT: I'VE SEEN THAT ONE. IT'S PRETTY DAMN COOL AND CREEPY.
RONNY YU: That's what's really interesting. You've never seen a vampire that took place on the... the... the... army base. The military base.
QUINT: I REMEMBER THE DESIGN OF THE VAMPIRES IS WHAT GOT ME... KINDA LIKE A MIXTURE OF TRADITIONAL WEREWOLVES AND VAMPIRES.
RONNY YU: It's a bit combination. So, I'm trying to develop a script of an English version.
I don't know about you folks, but this has gotten me terribly excited. I have never seen the comic book version, just the short cartoon, but after watched FvJ I am completely confident that Yu is the right man for this (presumably) live action adaptation. I had one or two very minor problems with FREDDY VS JASON (on the whole it was a kick-ass flick), but none of them lay with Yu's direction. I can't really imagine how much fun he'd have with a project like BLOOD: THE LAST VAMPIRE... If the amount of blood spilt in FvJ is any indicator, then he's going to need an Olympic-sized swimming pool filled with corn syrup and red dye #5 to take on a project like BLOOD...
At any rate, I'm very tired. I'll get to work on these transcriptions very soon as well as my full review of FREDDY VS JASON. 'Til that day, this is Quint bidding you all a fond farewell and adieu.
-Quint