Hey folks, Harry here... On October 3rd of this glorious year, Joe Johnston is going to be unleashing his HIDALGO, a film based on the purported to be true story of Frank Hopkins, as played by Viggo Mortensen. Frank's story, like so many stories of the Old West is one buried in tall tales and flights of fancy, and it is a "True Story" at least as Frank Hopkins would have liked us to believe, but is it? Well, that's what "The Long Riders' Guild" has been researching and it just may be that Frank Hopkins was one doozy of a fibber. I also am rather astonished by Disney's Publicity Person for stating so plainly that Disney is just a machine grinding out product... Rather astonishing to see that in such black & white text. Here ya go...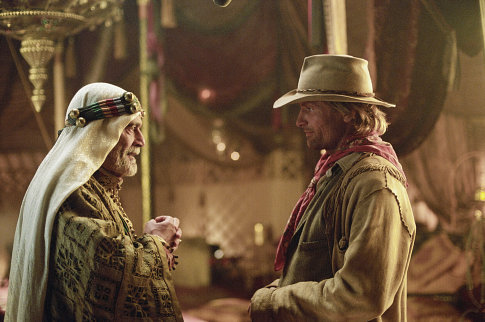 Greetings,
The Walt Disney Studio is widely publicising its forthcoming movie, 'Hidalgo,' as "based on the true story of Frank Hopkins, the greatest long-distance rider of all time."
The Long Riders' Guild is writing to let you know that the film is actually based on a tissue of lies.
If he can be believed, Frank Hopkins had more adventures and met more famous people than anyone else in American history. He claimed to have won more than 400 endurance races, been a US army dispatch rider, a buffalo hunter, the star of the Wild West Show, to have taught frontier lore to Billy the Kid, and to have won a 3,000 mile horse race across Arabia on his mustang stallion, "Hidalgo." In addition, Hopkins claimed to have been friends with Teddy Roosevelt, Buffalo Bill Cody, Wild Bill Hickok, Crazy Horse and Queen Victoria, to name but a few.
Sixty academics, researchers, librarians, genealogists, authors, and experts assisted The Long Riders' Guild in an unparallelled international equestrian research project which has proved that nothing Frank Hopkins said can be verified. Frank Hopkins has thus been shown to be wearing the double crown of the biggest equestrian hoaxer, as well the biggest Old West liar, of all time.
However Nina Heyn, Disney's Executive Director of International Publicity, is defending the $80 million movie, which stars Viggo Mortensen. Speaking to a British journalist, Heyn said, "No one here really cares about the historical aspects. Once a picture has been shot, people move on to others. We're like a factory. Its like making dolls. Once the latest doll is out we go onto the next one. if it transpires that the historical aspects are in question I don't think people would care that much."
The Long Riders' Guild would like to invite you to learn the truth about Frank Hopkins by visiting our website, www.thelongridersguild.com. From the home page, please click on "The Hopkins Hoax."
Sincerely
The Long Riders' Guild