Hey folks, Harry here... Over at CHUD they scored a nice crisp clear shot of Thomas Jane from PUNISHER, after Access Hollywood ran a tease for the upcoming trailer, which Superherohype.Com captured, which was featured on CHUD even earlier today. Thus the inbreeding of the media continues, by the shot finding its way here... Click on the CHUD link for a bigger version.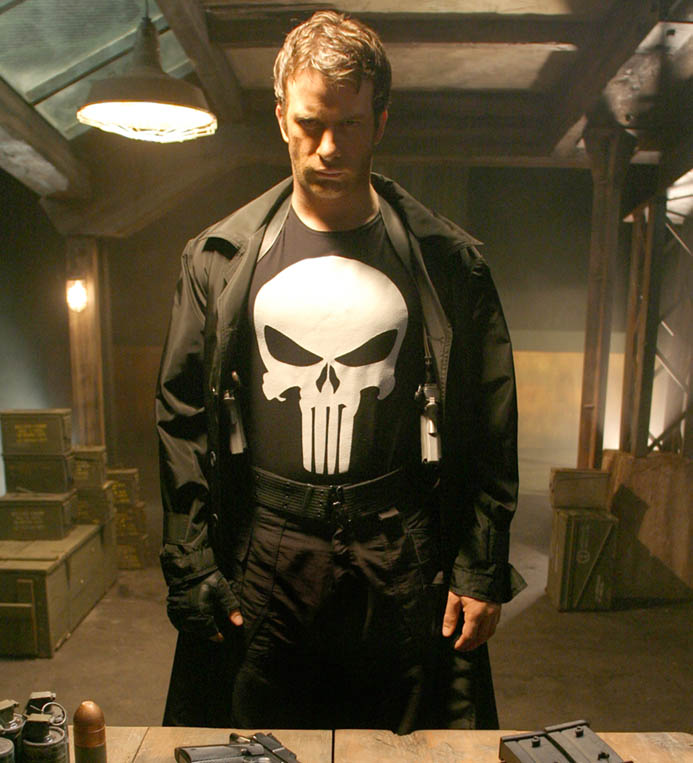 Ok... First off, I hate the photo. I think it sucks. Thomas Jane doesn't look like he's the Punisher, he looks like he's a lead-paint drinking Punisher fan told he has to move out. The lighting in the shot sucks. The background lighting sucks. There's no atmosphere to the shot. This doesn't at all have the class or the look of the MARVEL films we've come to love recently. This looks like some USA straight to video crap. OK, just being honest here... I hate this.
I'm also slightly worried about the project. Avi Arad seems excited about it, but it is being directed by first time director Jonathan Hensleigh and at one time there were some great Michael France scripts for this thing. Now Hensleigh has, up till this time, made his living as a screenwriter.... Earlier in Marvel History he was attempting to take over HULK, and he took perfectly wonderful scripts by Michael France and John Turman and turned them into a steaming load of shit script that was greenlit and was set to start shooting, till the project... THANK FUCKING GOD, was derailed. I hear, that Hensleigh has again turned in his own draft on PUNISHER. Avi said they had a great script, so for the time, I'll take his word on it, but I do know that Avi also was telling people years ago on HULK that they had a great script, and that was NOT TRUE. THAT SCRIPT SUCKED ASS. And it was by this same guy, who has this current badly lit shot of Thomas Jane looking dumbfounded in a Punisher T-Shirt that he got at the Comic Shop down at the corner. But what a cheap looking photo. I'd love to see the new script on this, because right now... I'm a little scared of this project . I don't think it looks too hot!
-- New Stuff --
Harry here again... Well Artisan sent me the official 5 meg file of this shitty look picture. Here's what they had to say for themselves...
Marvel's unstoppable vigilante THE PUNISHER hits the screen in a new action thriller directed by Jonathan Hensleigh, renowned screenwriter of genre blockbuster The Rock, Armageddon and Die Hard: With a Vengeance. Thomas Jane (Dreamcatcher, The Thin Red Line) headlines the film, which will be produced by Marvel Studios' CEO Avi Arad (The Hulk, Spider-Man, X-Men) and veteran producer Gale Anne Hurd (The Hulk, Aliens, The Terminator). Artisan Entertainment will release The Punisher in Summer 2004.
As you can see, "THEY" think this is serious... and it is... Seriously damn awful looking. Look at that set, the look on his face... just dreadful