Hey, everyone. "Moriarty" here with some Rumblings From The Lab.
This has taken me entirely too long to post, and I apologize to Olivier over at Animated Movies, who was not only good enough to tip us off to this, but who also does a bang-up job with his site.
Here's what he had to say, and what he had to share, when he wrote us over the weekend:
Hey Harry!
Olivier here from Animated Movies. Wanted to share with you and your readers some exciting art from Disney's next - and for now, last - traditionally animated feature films: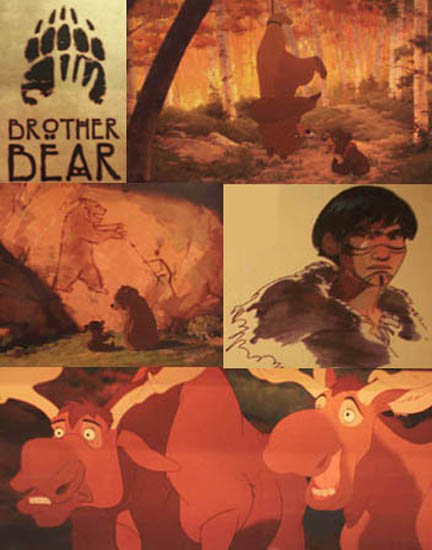 BROTHER BEAR (November 2003) looks visually stunning, with breathtaking landscapes. The official plot is as follows: "Long ago, as the warming earth shrugged off the final frigid embraces of the Ice Age, there were three brothers. After a tragic bear attack takes the life of the oldest brother, impulsive Kenai kills the bear in revenge, only to be magically transformed into a bear himself. The middle brother Denami comes upon this bear and, thinking it killed Kenai, vows his own revenge. Now brother hunts brother and Kenai's only hope for survival is to befriend his own worst enemy, a grizzly cub named Koda. In the end Koda truly transforms Kenai by showing him the real meaning of brotherhood."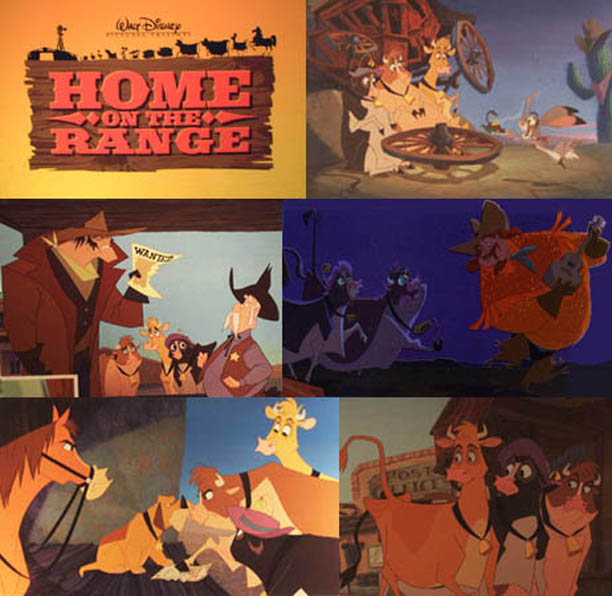 HOME ON THE RANGE (2004): this is the project I am personally most looking forward to; a western comedy with music by Alan Menken! The project has had a bumpy road but is reportedly turning out really well; it follows the adventures of three dairy cows (Roseanne, Judi Dench and Jennifer Tilly) that must capture a notorious cattle rustler to save their family farm.
After these two, it will be CG all the way for the Mouse House...
All the best and keep up the great work!
Olivier
You, too, man. If you want to see more of these two films, make sure you check out Olivier's site. This man's got ink and paint in his blood, he's so nuts for animation. Thanks for the tip.